Wasing Park Wedding Photographer
Mandy & Nathan's Wasing Park Wedding in Reading, Berkshire
As wedding photographers, we love taking pictures of weddings in summer. We must admit - nothing beats a fantastic summer day when everything is so bright and beautiful. Clear blue skies, great smiles of bride and groom and fantastic venue - you just cannot ask for more.
Wasing Park is a stunning countryside wedding venue located in the heart of the Berkshire countryside. Even when you are just driving there you already feel something special - all the rush and the noise of large cities and motorways fade behind. Wasing Park has amazing and well-maintained grounds that make a perfect classic English countryside with rolling hills and tall trees surrounding a narrow and twisting path. And what could be even better to see such a venue in full blossom in the middle of the summer?
Everything was great on that wedding day where plenty of guests came to witness and celebrate the marriage of Nathan and Mandy! There was plenty of fun tons of laughter - the wedding party was a massive success and we would love to say Nathan and Mandy Thank You for trusting us with their wedding pictures. We hope you will enjoy watching a small selection of Wasing Park wedding photos!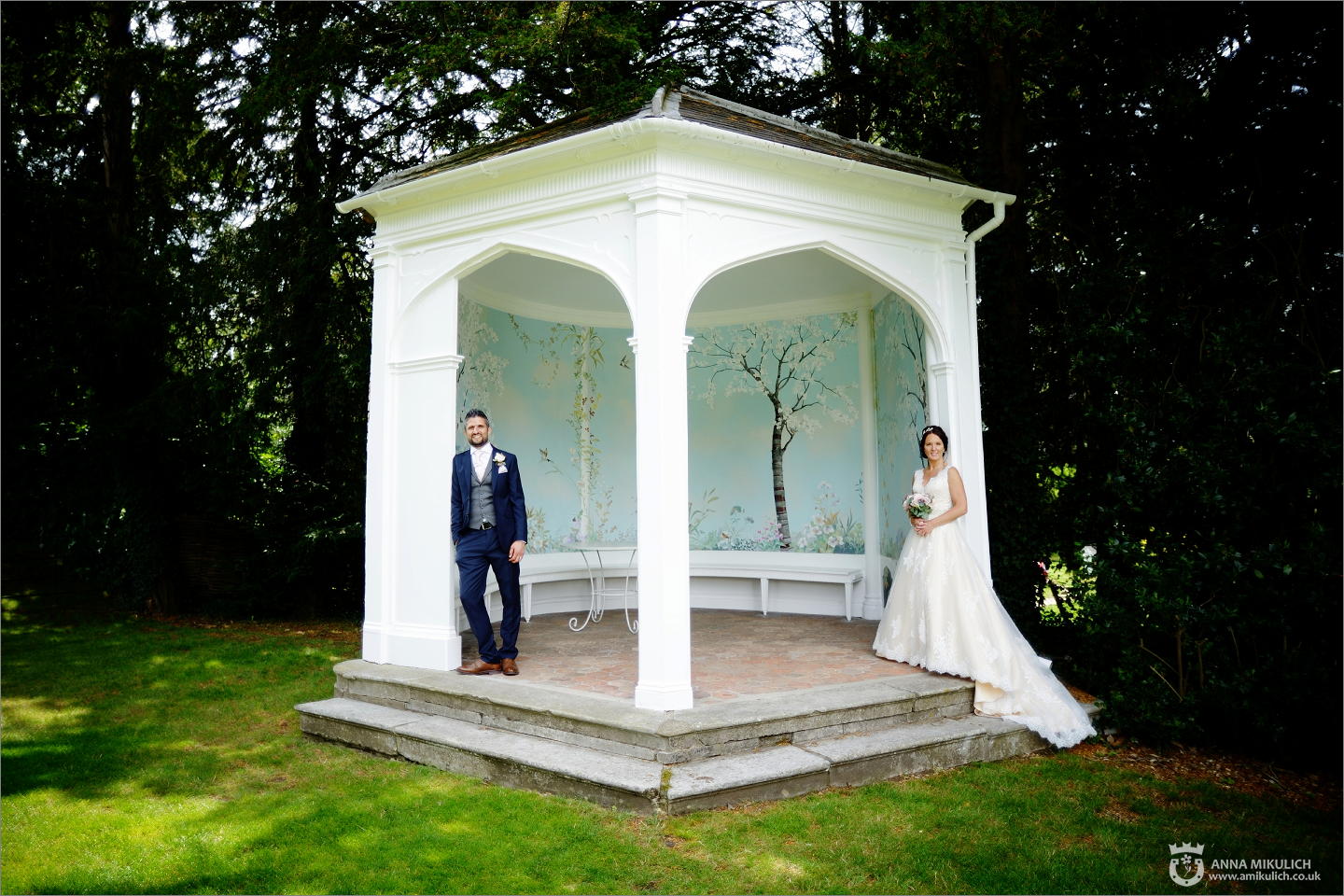 Wasing Park is full of little cozy places that you can use to escape. It gives you a truly unique setting for making unforgettable memories with your loved ones.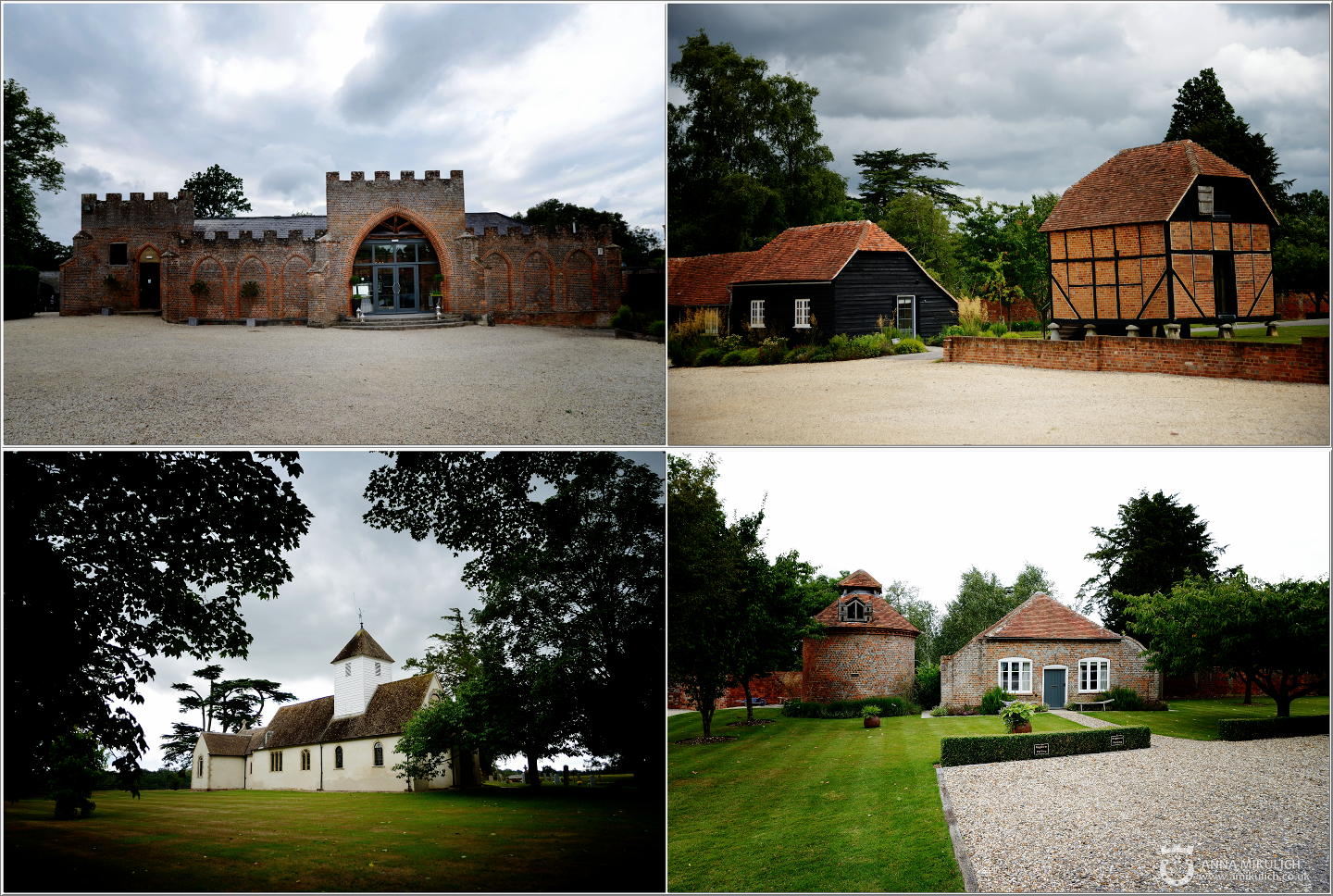 There is great visual diversity at Wasing Park - here you can see an endless field full of wildflowers, an old chapel and a funny looking grain storage building standing on its twisted but very strong stone legs. The main venue itself is the true work of architectural art - it looks like a castle that dominates the landscape. Wasing Park provides an amazing selection of wedding photography opportunities and this is why we love it so much!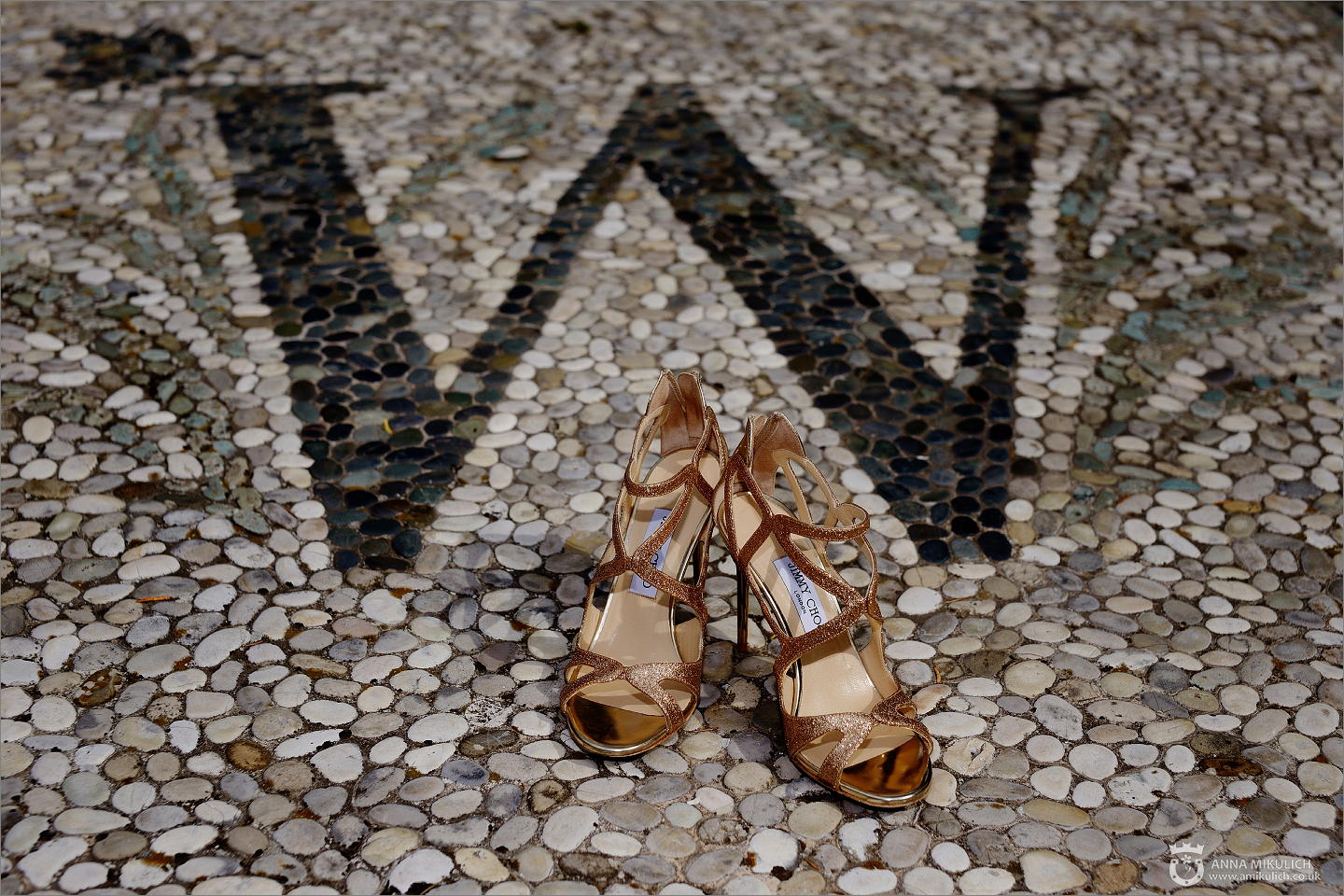 The wedding days are full of details. Our job as wedding photographers is to capture most of them - we understand that some items are very personal, they would be kept safe for years carrying that emotional message from that very special wedding day.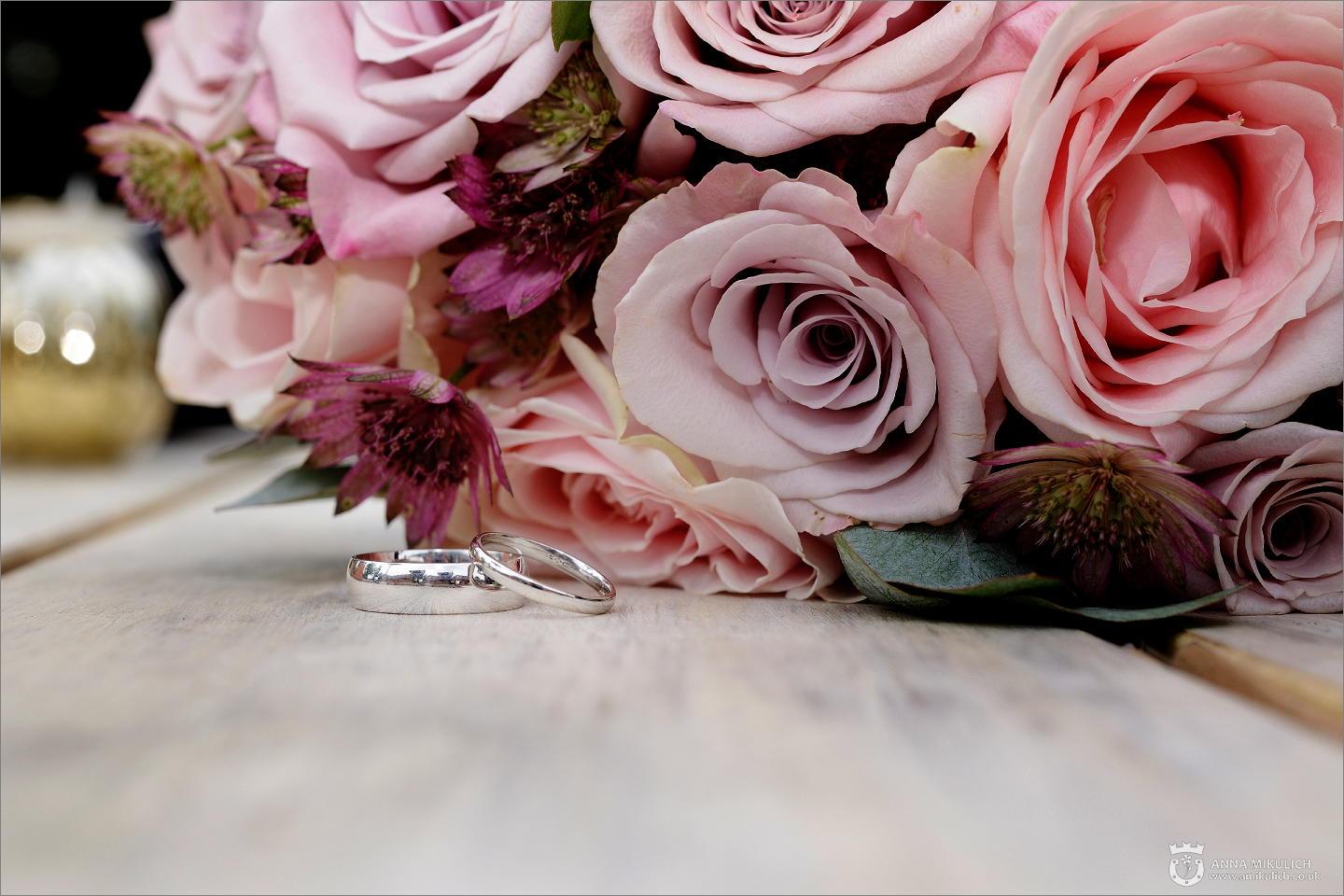 We love taking pictures of wedding rings. It is not that simple both technically and artistically. First of all, they are all different. All different shapes, thickness, styles, and decorations. Sometimes, we see the rings being an object of special historical connection that lasts through generations. We understand how important those wedding rings are to our happy couples and always trying our best to make that great shot. Second of all, the rings are small and tricky to get pictures of. We are using special macro lenses to get close enough and multiple flashes set up to make sure the shine and glitter!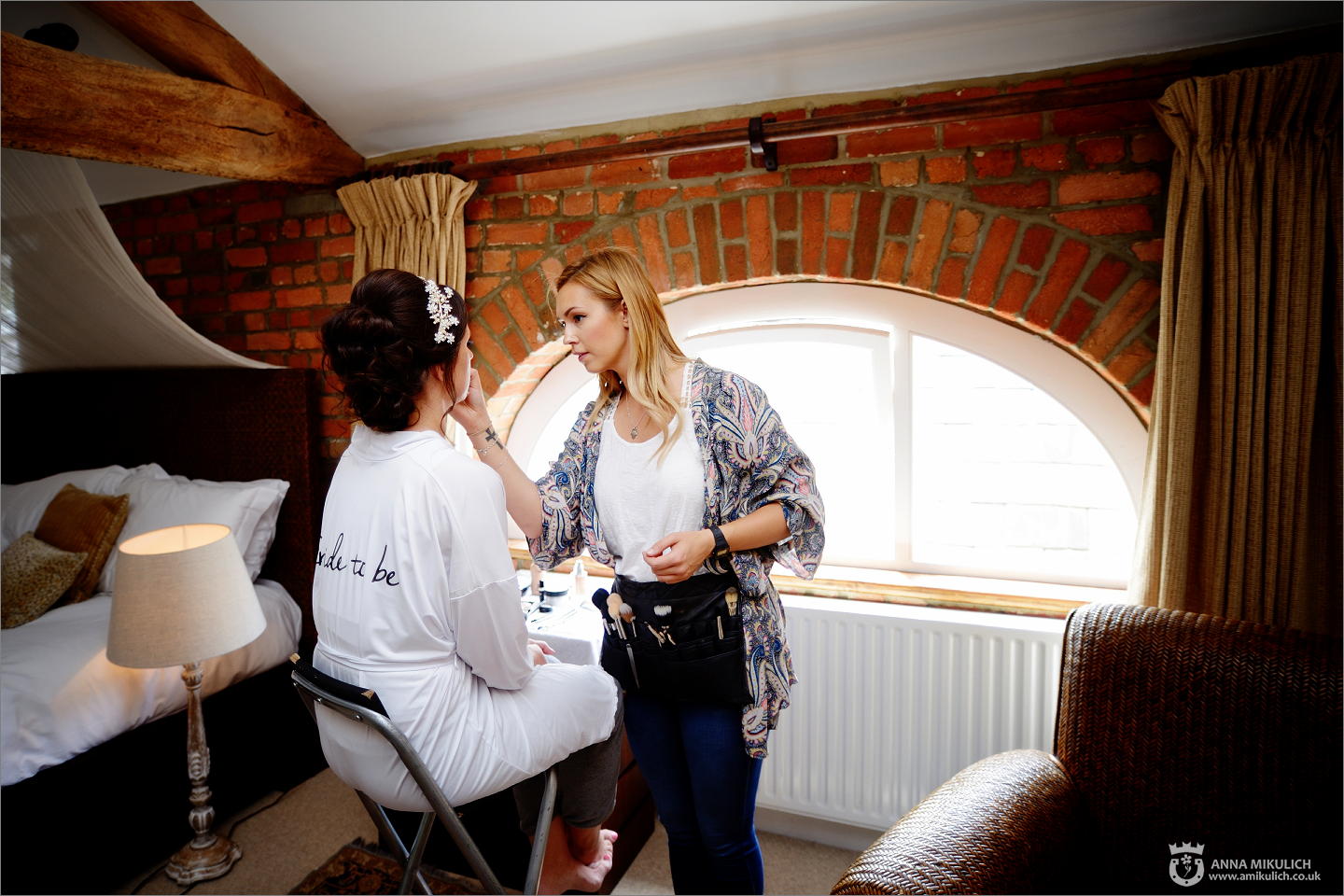 Our wedding photography day starting with bridal preparation. Usually, we come well in advance to start the day at a quite relaxed pace. All of us, the photographers, the happy couple, the guests are about to have a long day full of events and fun ahead. It is really important to start the day right. Here we have a beautiful bride getting ready for her very special day. Off we go!
The wedding day is full of details. Bridal preparation is a special part of the day where we have that only chance to take the great pictures of wedding flowers, decorations, small bits and pieces as well as The Wedding Dress on their own. We love putting a wedding dress in a doorway or in the window for that stunning looking picture.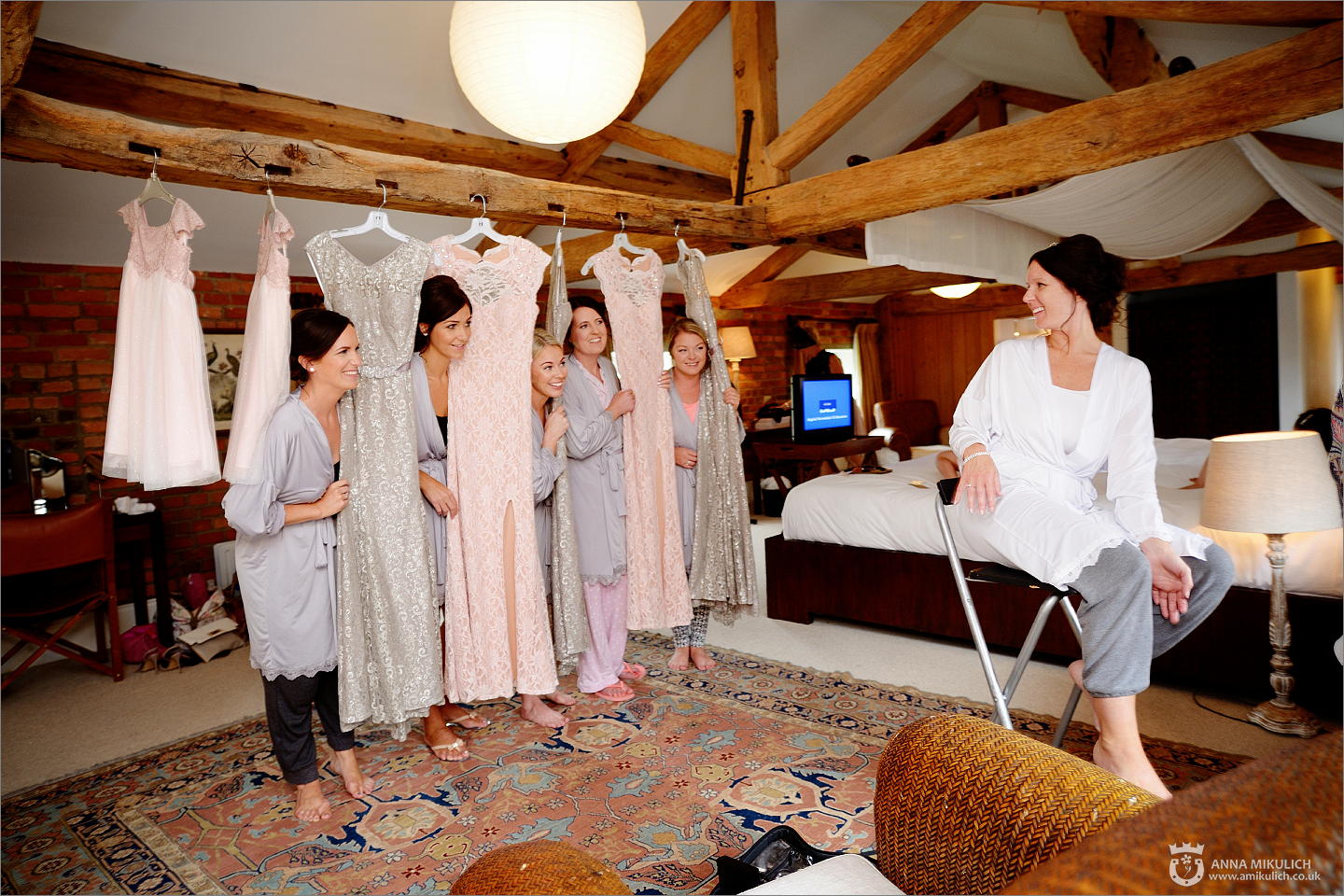 We cannot say how much we love the wedding full of positive people relaxed and having fun for the entire wedding day. What could be better than a frolic bridesmaids helping to cheer up the bride? We must reveal you a secret to great wedding pictures at once - all it takes is to have people having fun! Relaxed, smiling people enjoying that very special day - this is a success for wedding pictures.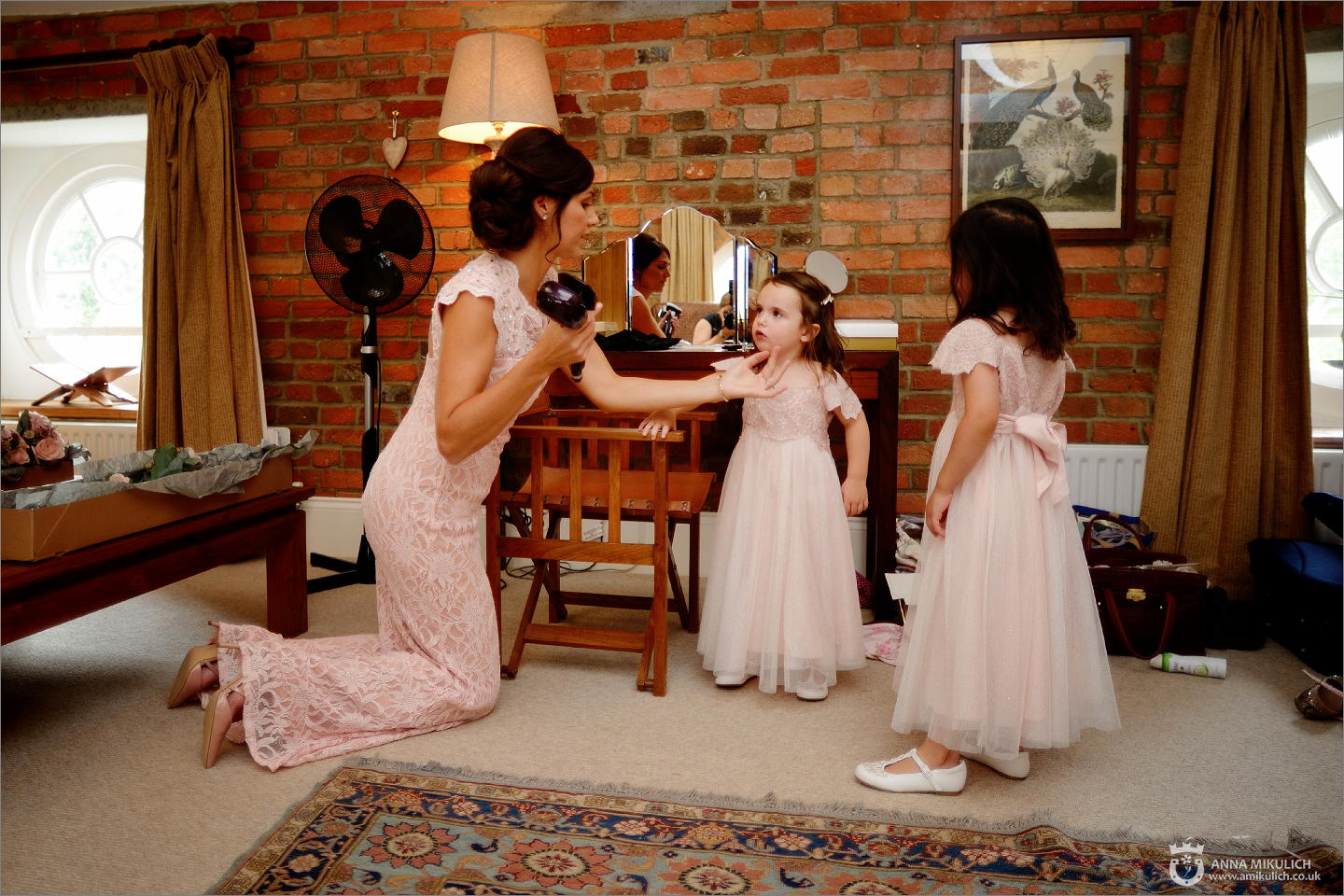 Here we have stunning flower girls. We love watching those little girls and boys that are on a Special Assignment that day. They take it so seriously! Their wedding dresses and costumes are fantastic, and we sure that they would have great laughter in years to come when they will grow up and see those pictures again!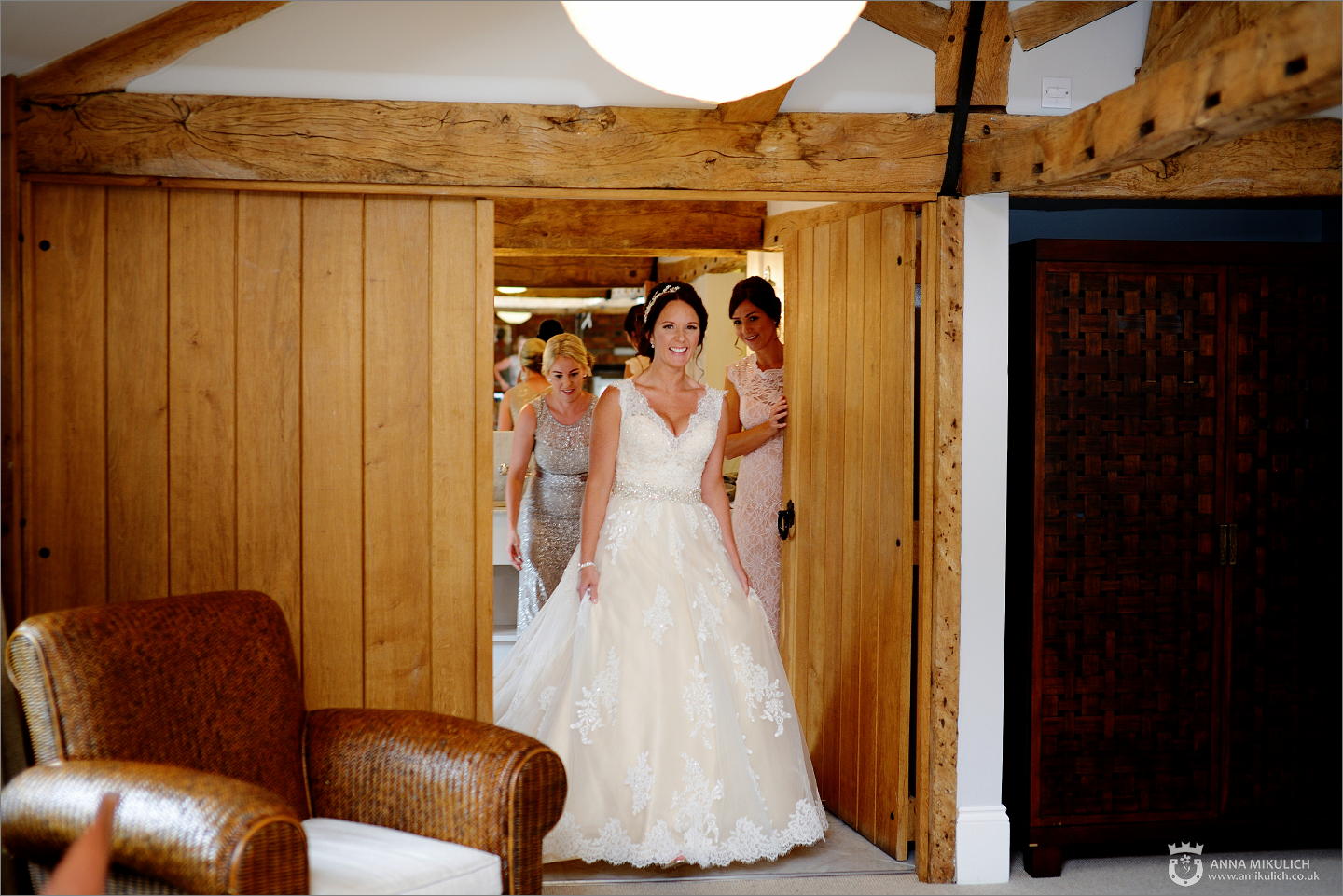 All the preparations are completed. Time is flying by, and we have just a few moments to admire how beautiful Mandy is today! Aww!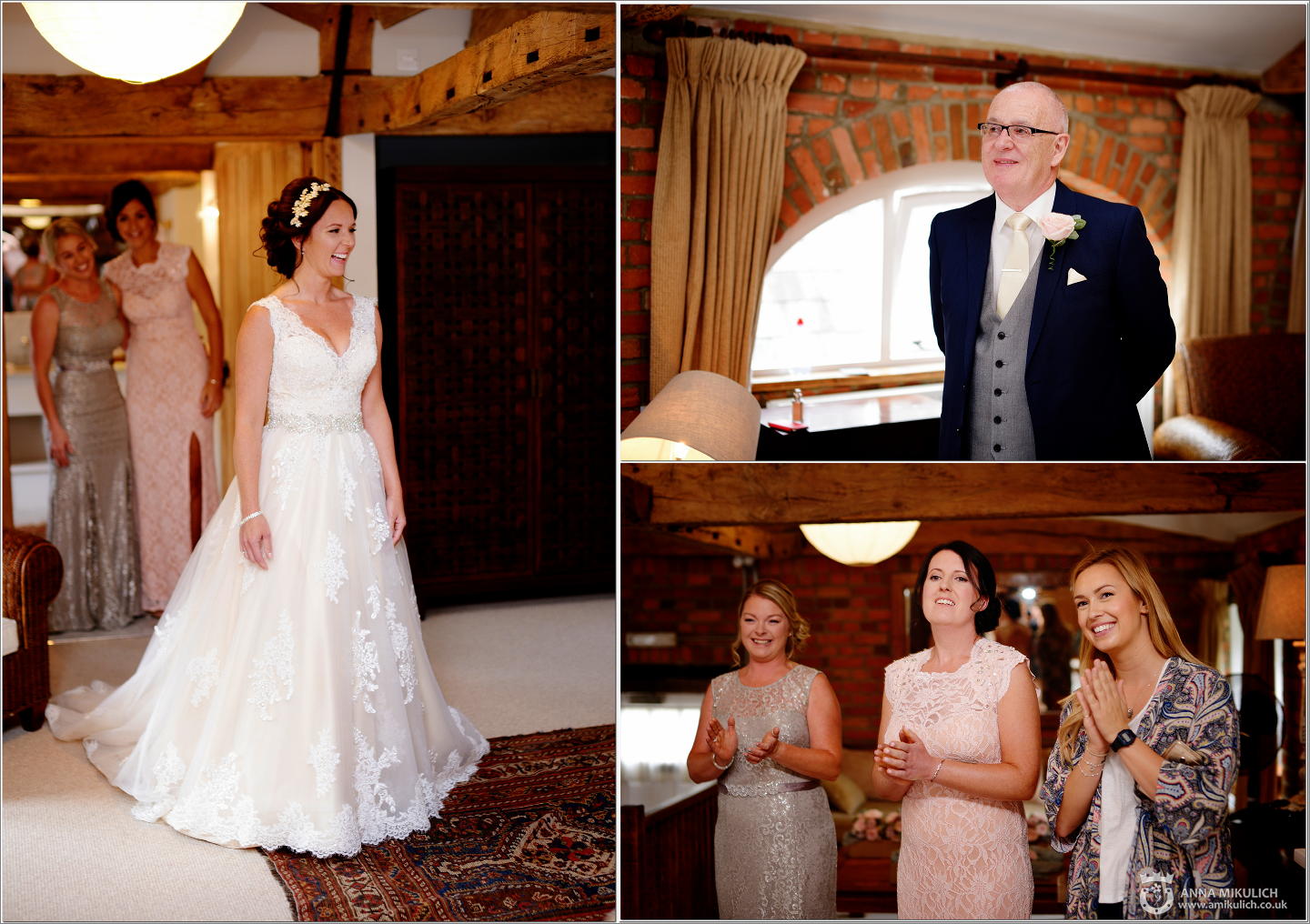 This is a very special day not only for our bride and groom but to their parents too. They are so proud and happy that they witness their children taking the next major steps in their lives. Just look at the father of the bride shining with happiness! This is the moment to remember!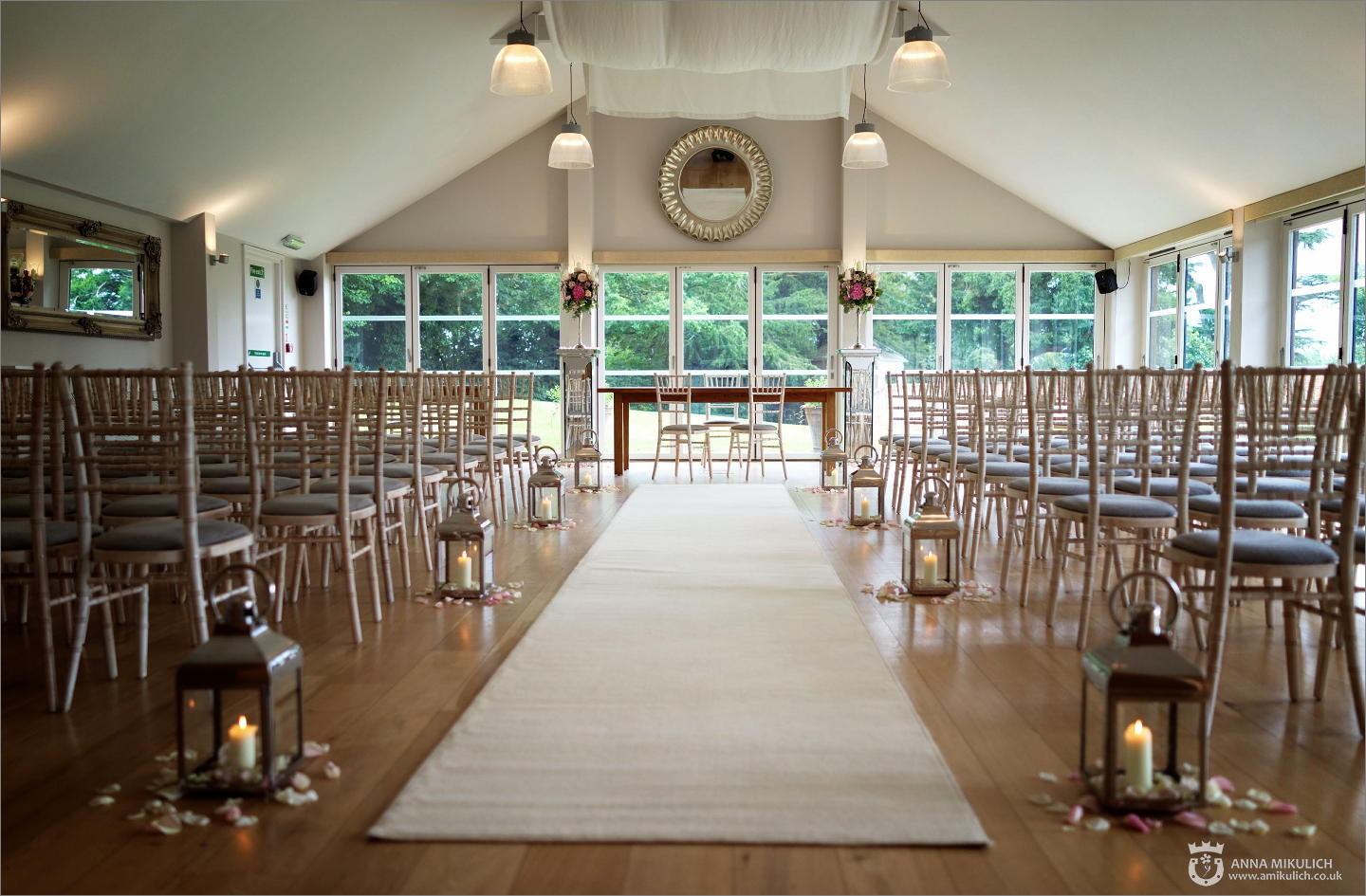 While everyone is busy with the preparation, we seize the rare opportunity to take the picture of the ceremony venue. Wasing Park did it the right way - it is light, bright and very spacious. It is a great hideout on a hot summer day. Beautiful decorations and wedding flowers are making this ceremony room standing out. This ceremony room would be full of guests waiting to witness something great to happen right in front of their eyes very soon.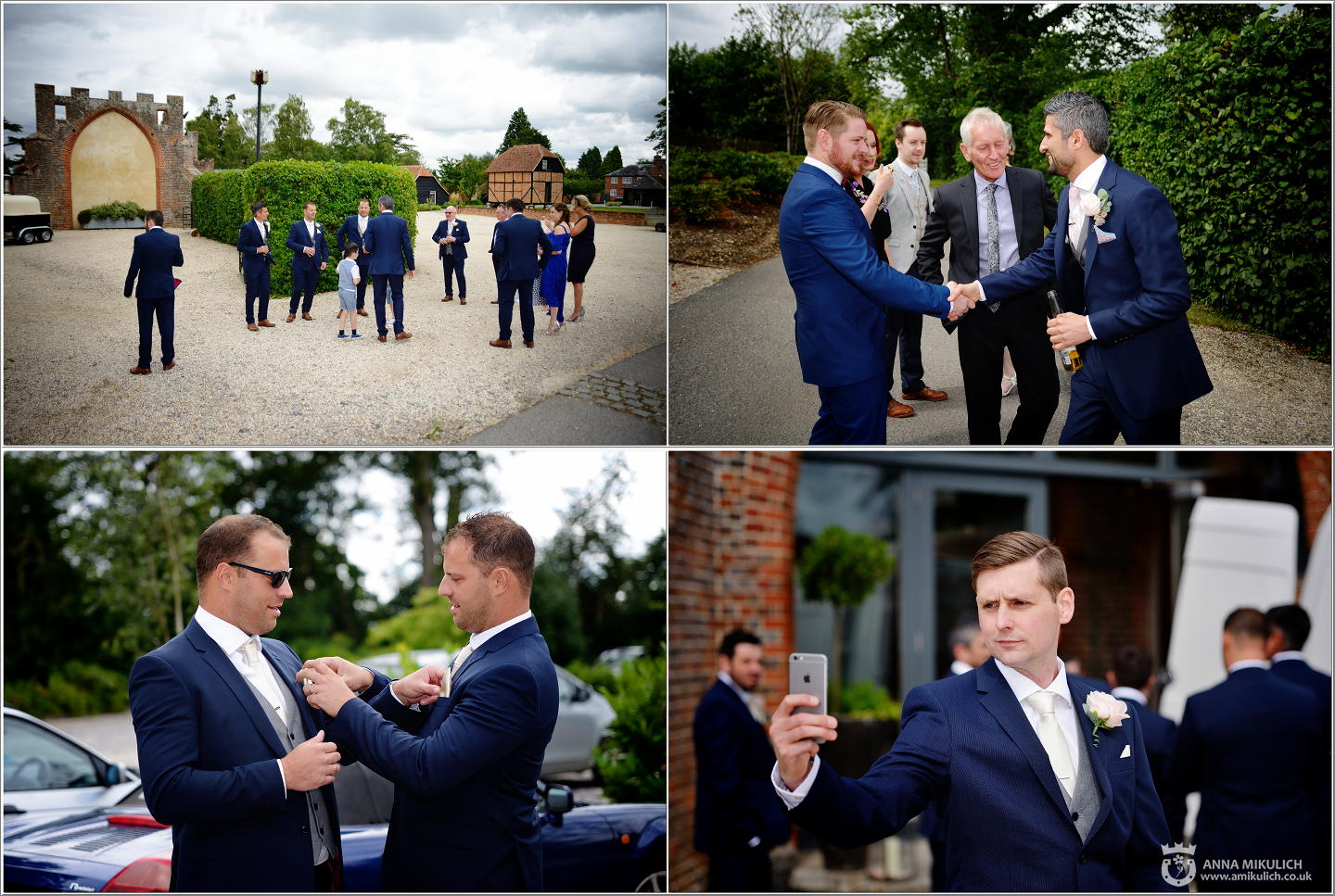 The groom's party arrives. Boys are super-efficient today - they look great, everything goes on time. All it takes is just a few checks to see if the flowers are aligned properly, and everything else is sharp! So, they are ready to go!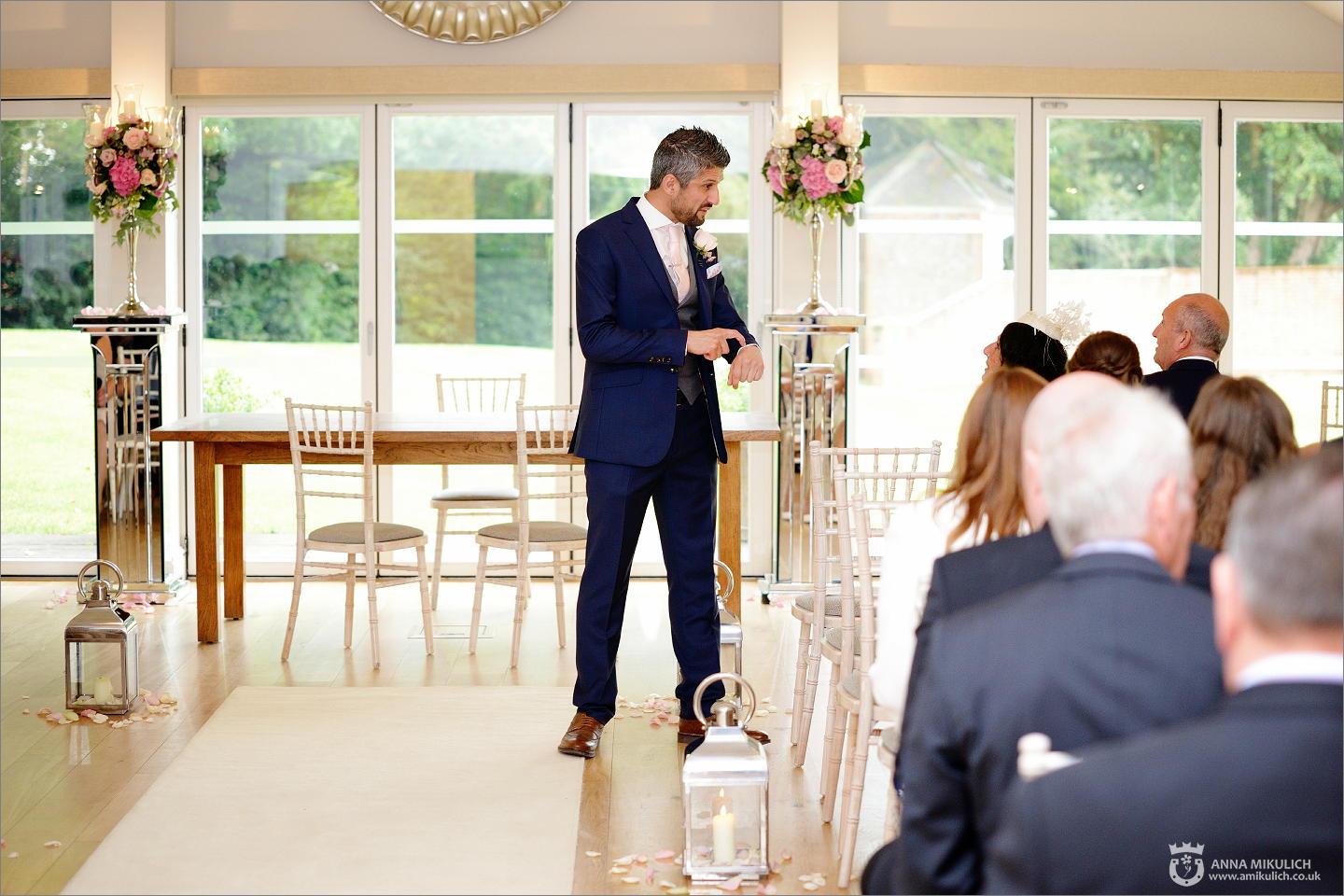 You can feel the excitement and anticipation in the air. The guests are here, and everything goes according to the plan. Still, we see people checking their watches and smartphones - they are eager to start. Just imagine, it is not only the bride and groom were getting ready for that special day. Many of the guests traveled far to get there. When the long journey is behind they cannot wait any longer, and they want to see our beautiful bride and groom together.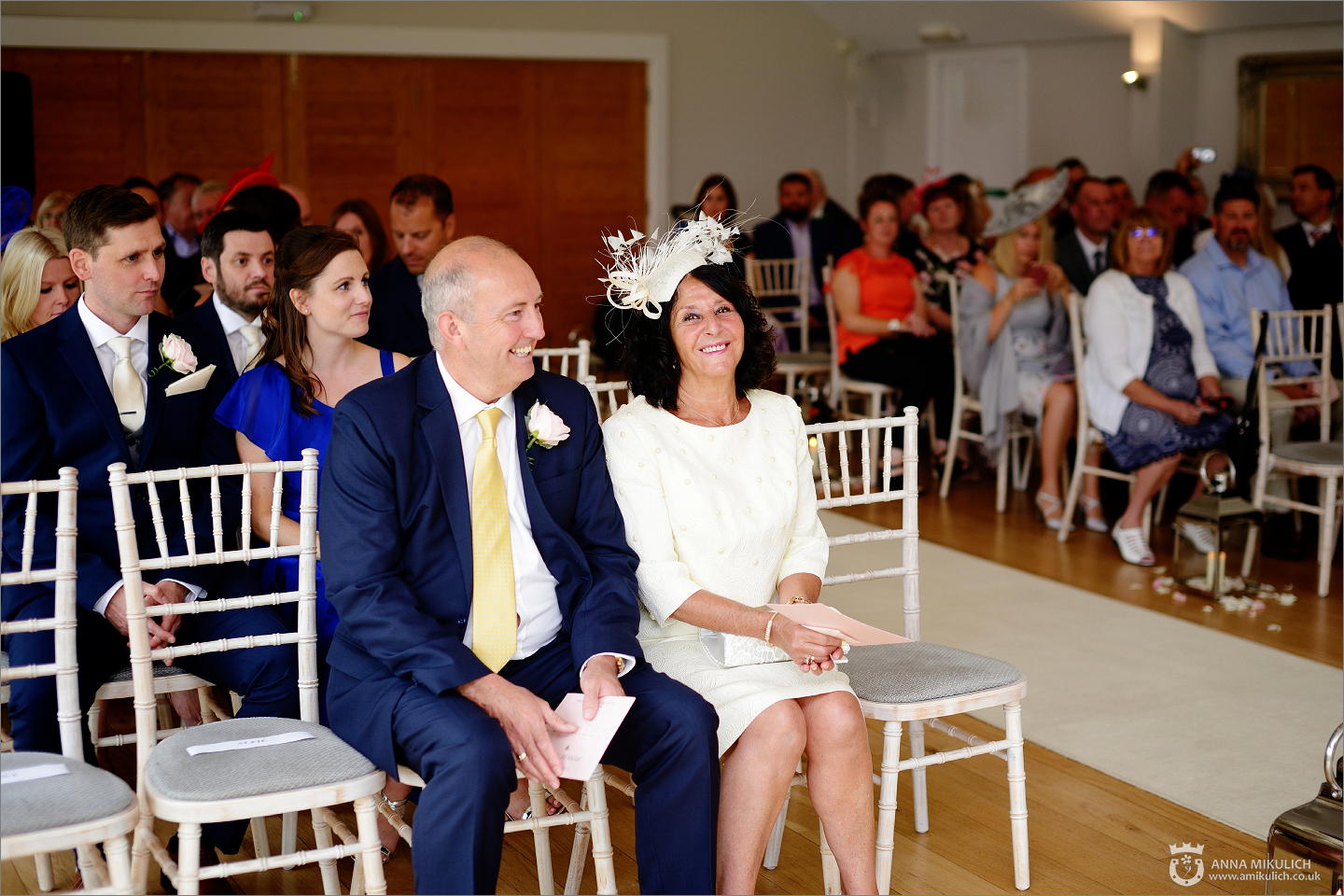 The best places in a front row are allocated for the most important people in Nathan and Mandy's lives - their parents.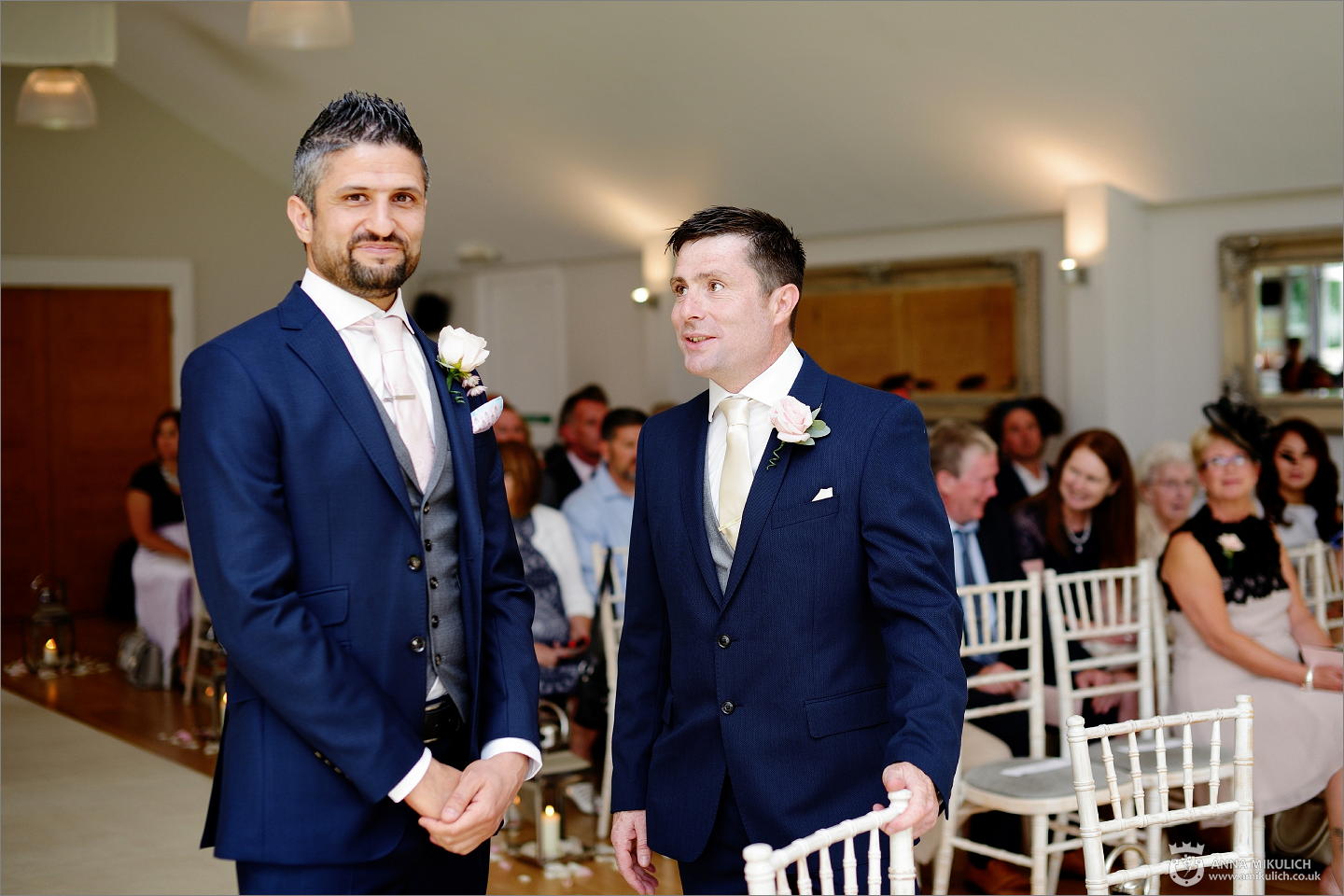 The very final checks: groom - check, the best man - check, the wedding rings - check! We are just moments away when everyone would be asked to stand up and greet the bridal party. The wait is almost ower. As wedding photographers we happy to have two photographers. It helps us a lot during a limited time and space on major events of the wedding day. Here, one of us is already taking pictures of guests arriving and the groom waiting, while the other wedding photographer of Anna Mikulich Photography team is still with the bridal party taking pictures of their very final preparation steps and along their way to the venue.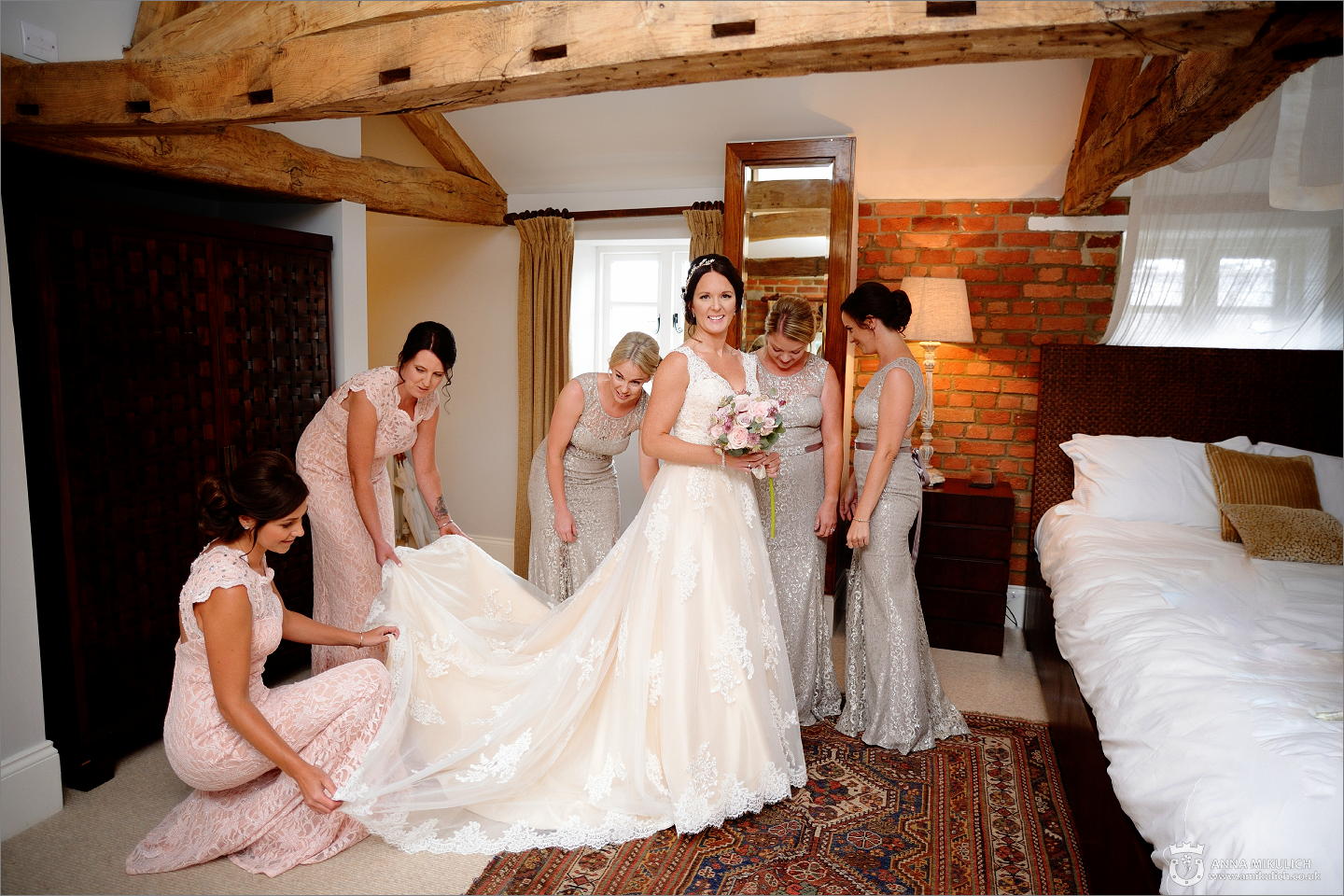 Everything is ready, and our beautiful bridesmaids did a great job helping Mandy to get ready for the wedding ceremony. Just a few final touches and off we go!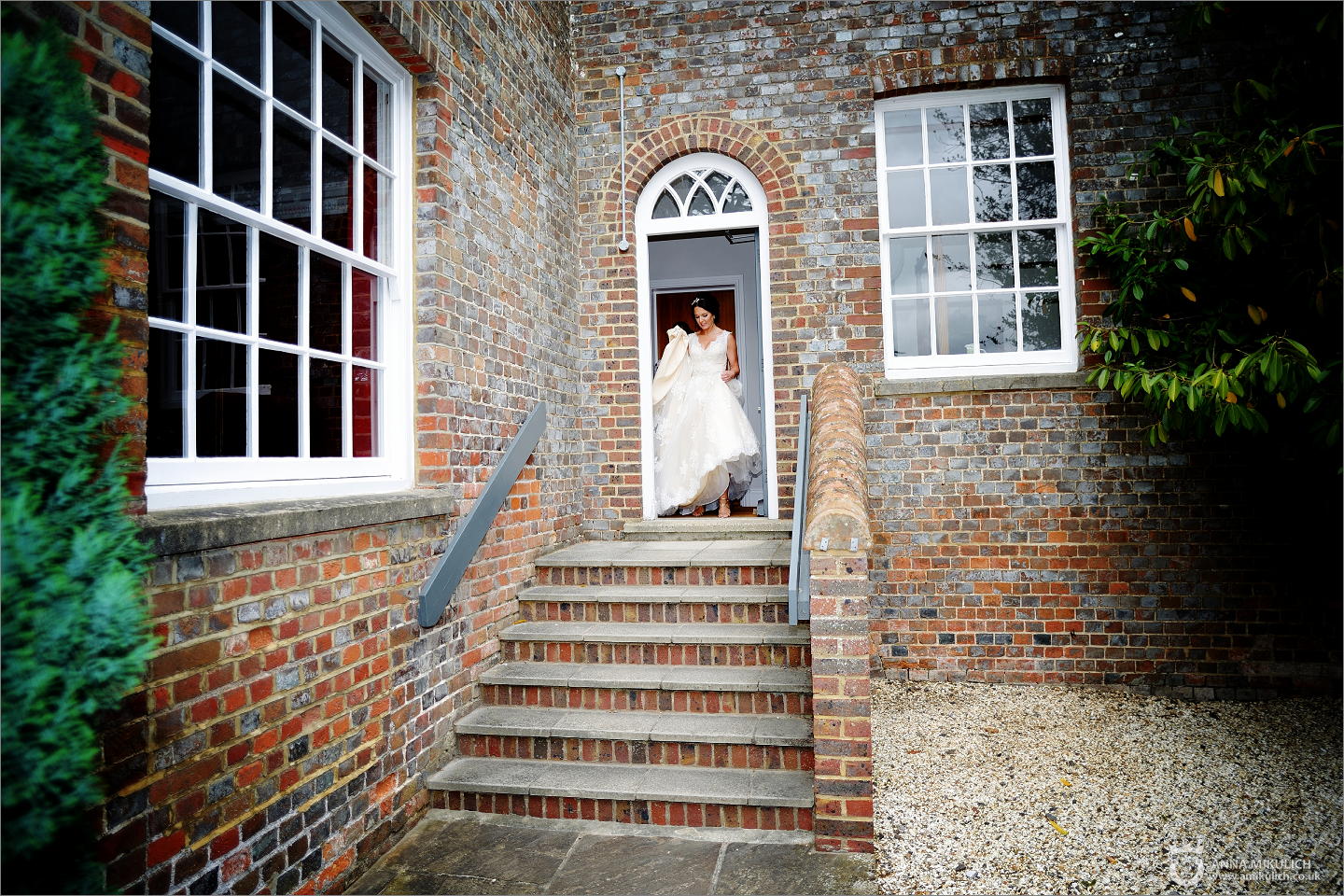 Now it is on! Our beautiful bride leaves her suite and starts her journey to the ceremony venue.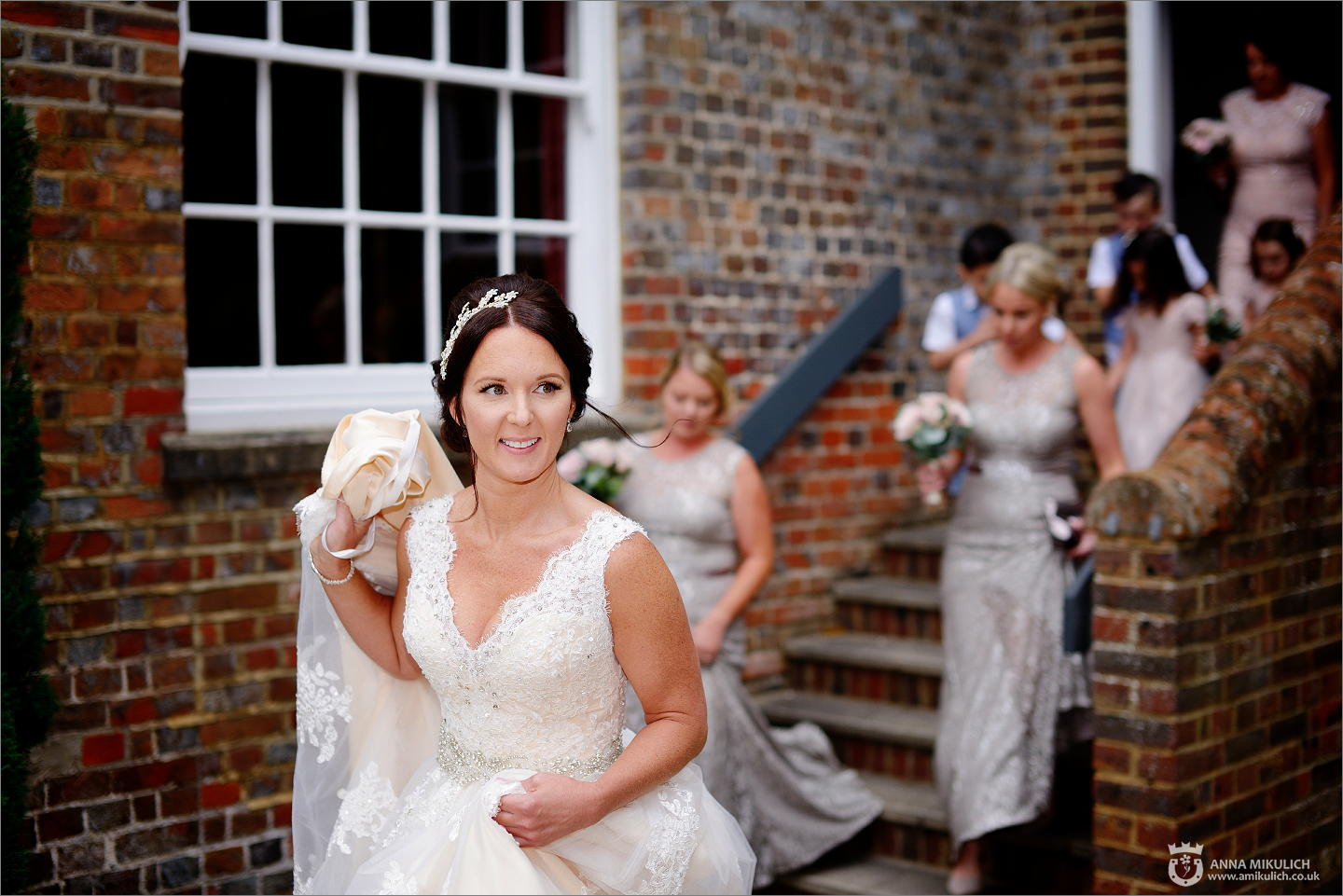 The bridal party arrives at large. You can see our bride gleaming with happiness - all those months and days of planning and preparation are in the past - now it is time to celebrate and have a great party!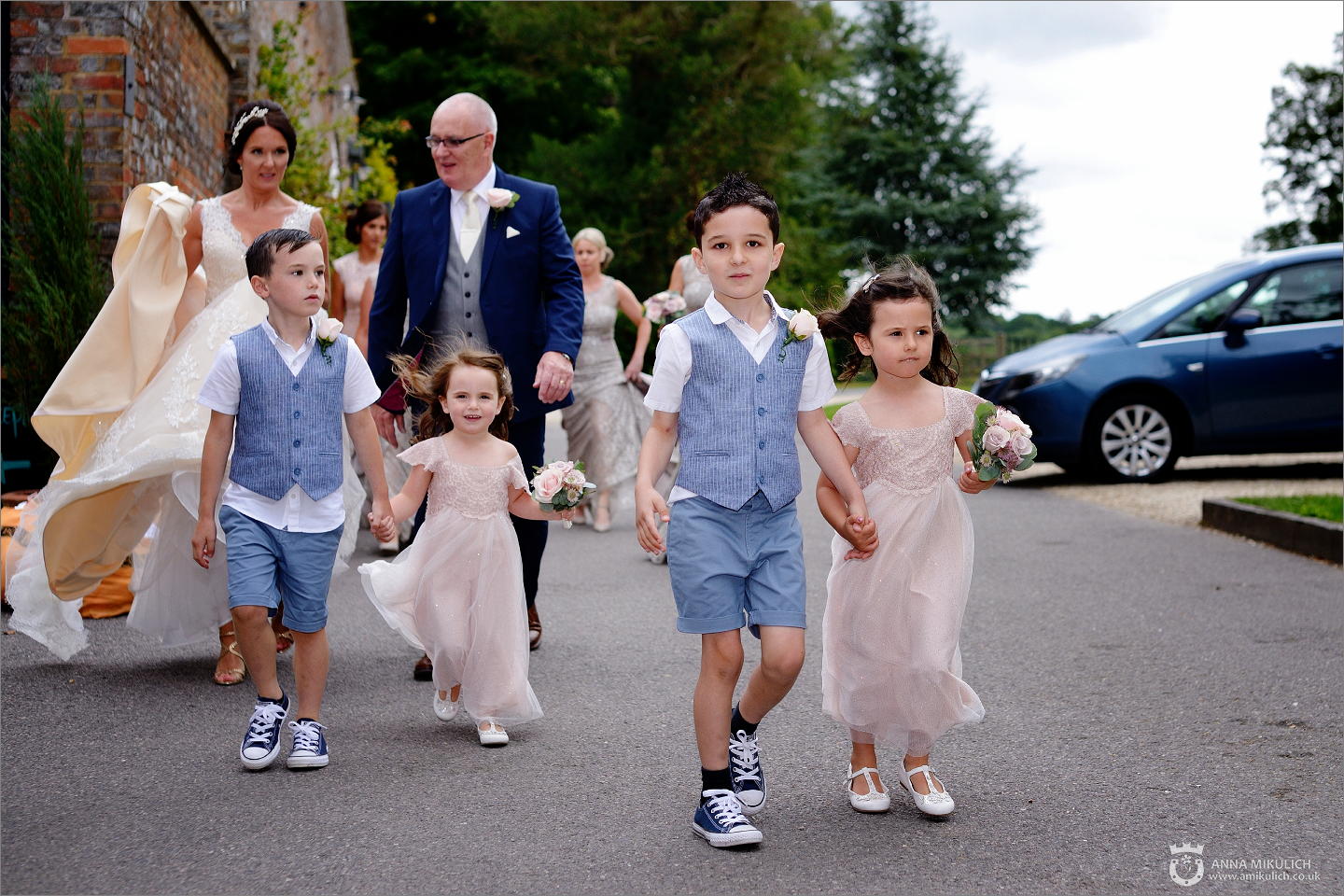 Wasing Park is a great venue with all major locations both scattered around not too far from each other. It is a very short walk from a bridal suite to the ceremony hall, and it gives that important break to compose yourself and relax looking at all of those beautiful views that Wasing Park is full of.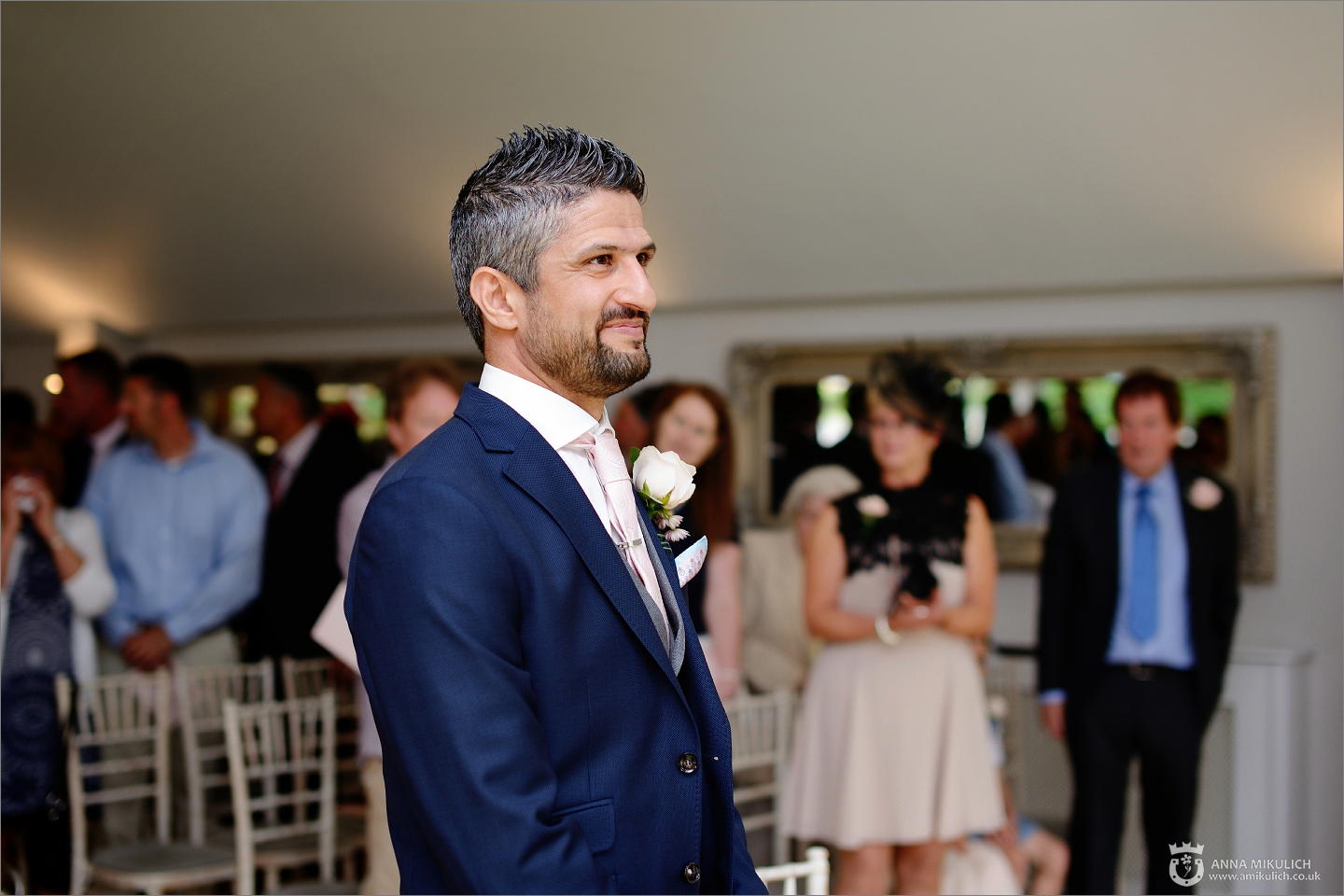 So this is it, the tension and excitement reach its peak. The guests are asked to stand up and greet the bridal party.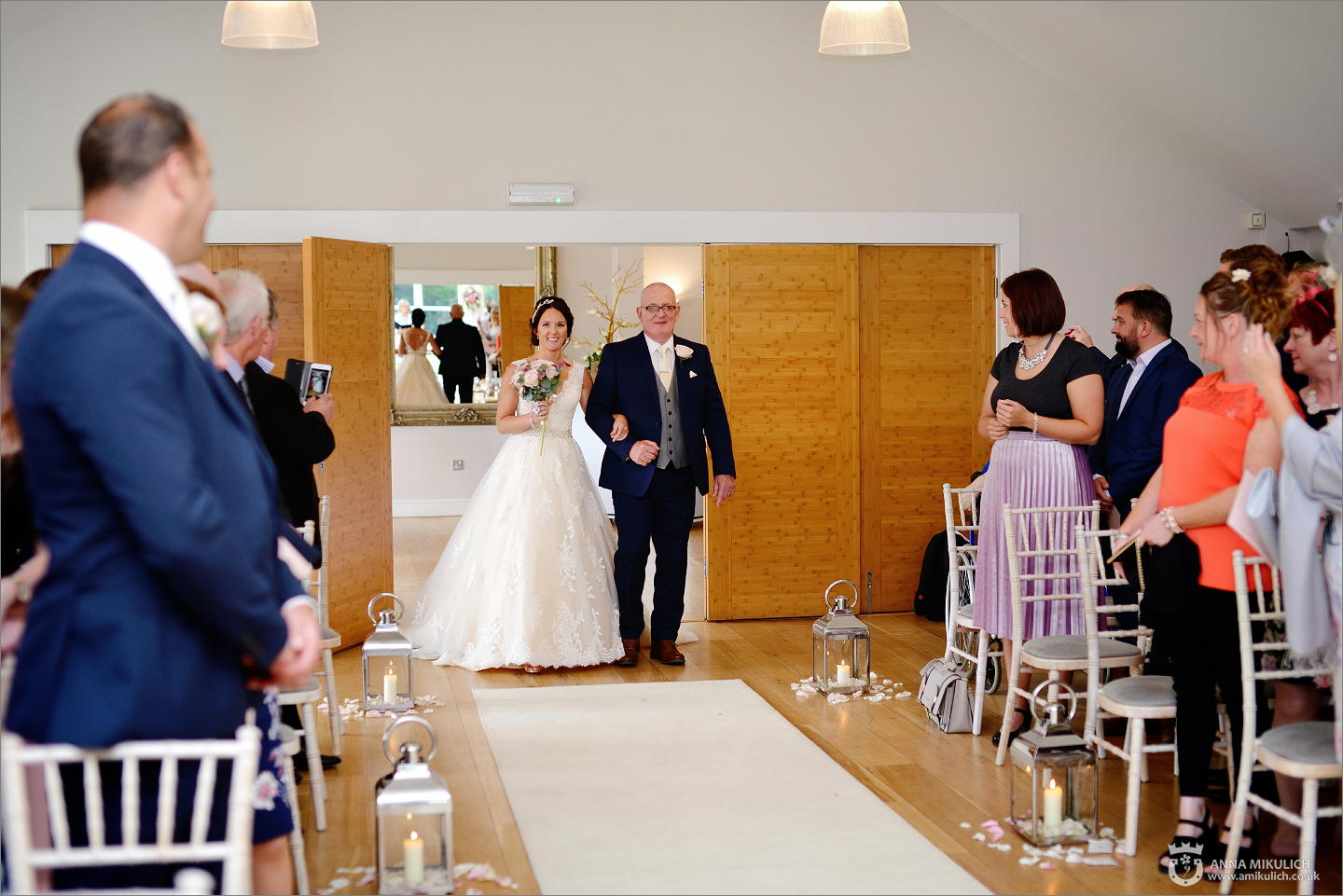 Those are the moments that require skill and experience for wedding photographers. Everything is happening so fast, and there is no chance to go back and take the pictures of the bride entering the ceremony. It is now or never. We raise our chances by having two wedding photographers carefully placed in strategic places and ready to take great wedding pictures.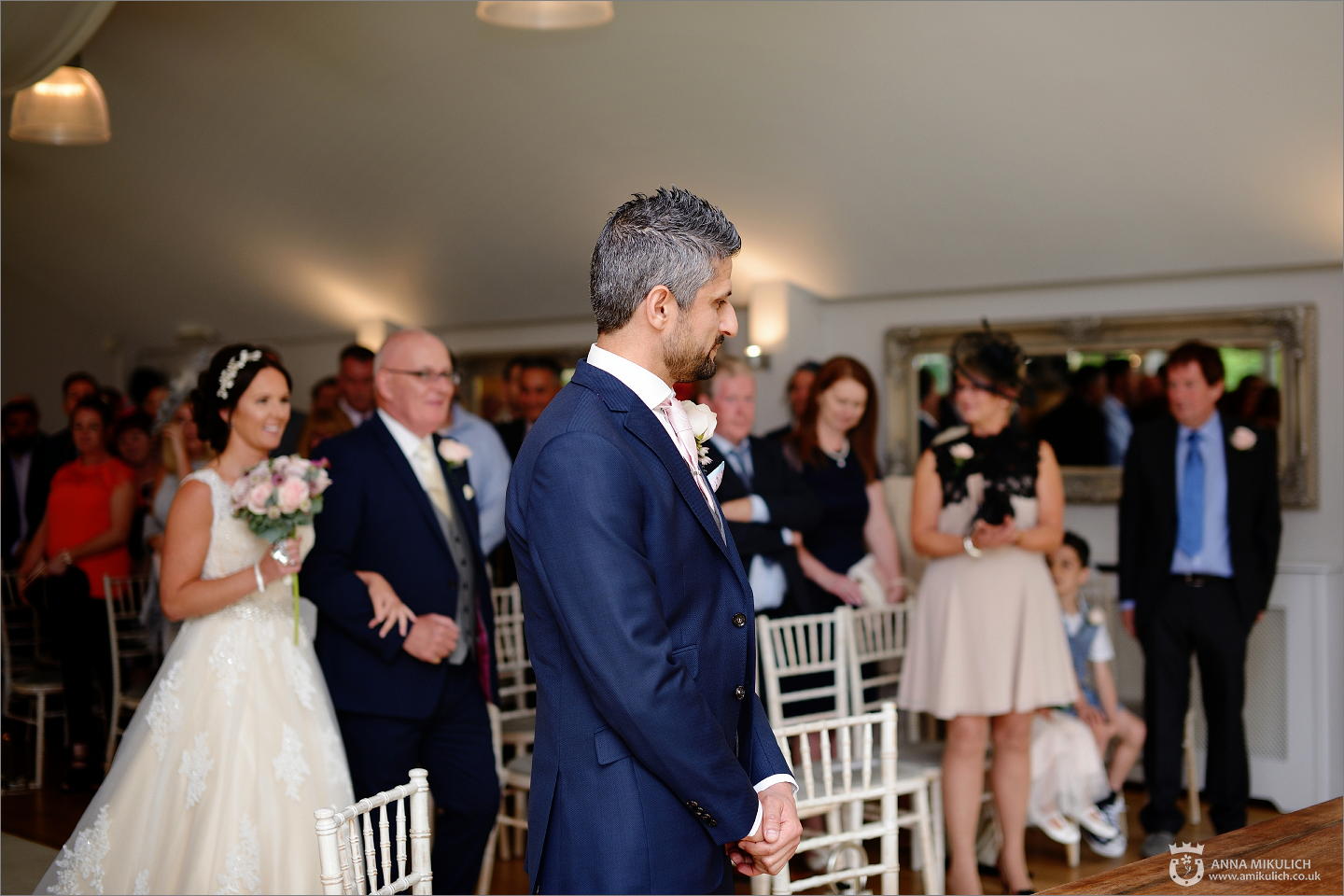 This must be one of the most emotional moments of the entire wedding day. This is the very first time when Nathan will see Mandy in a wedding dress, and just look at how beautiful she is!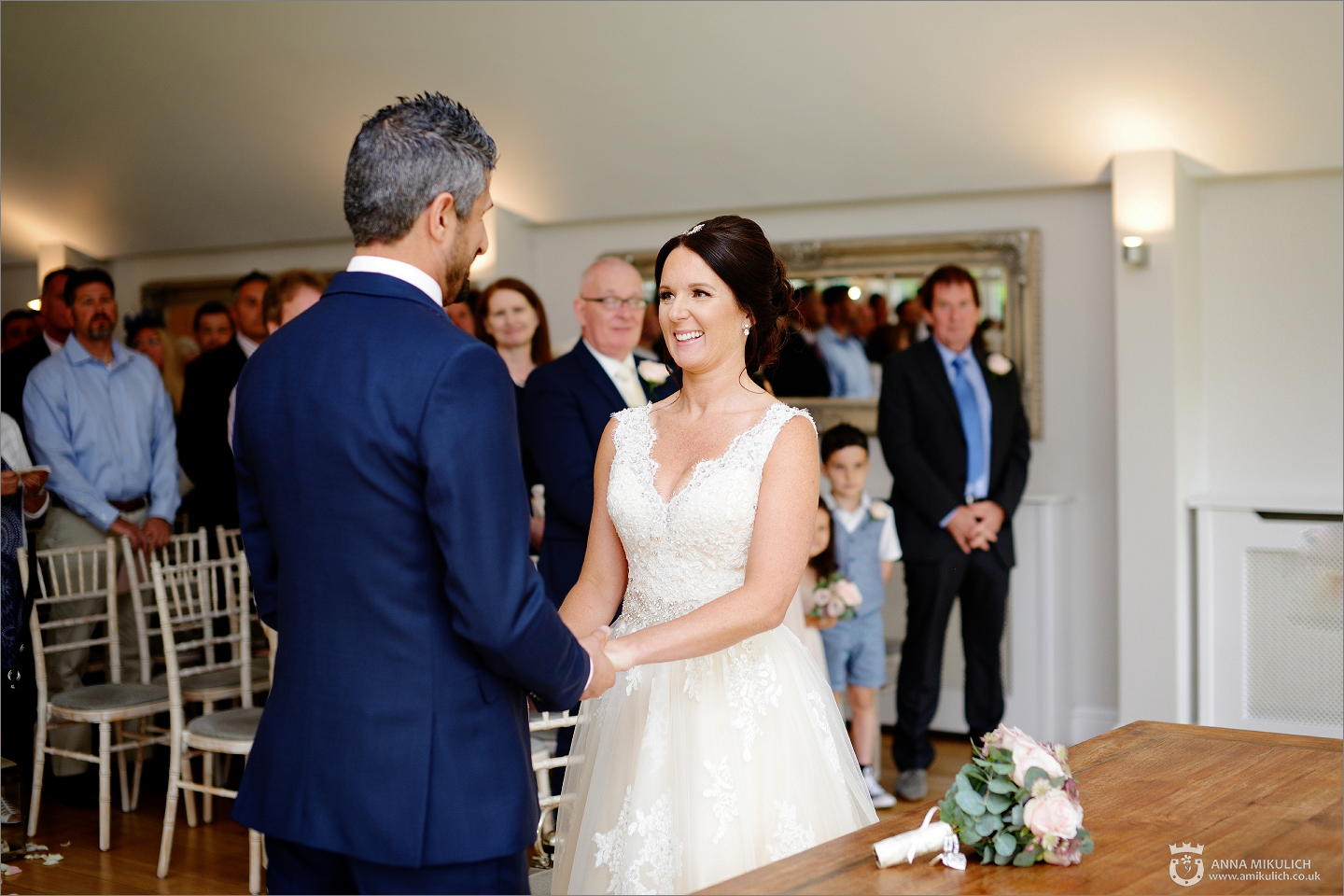 We must admit we smile all the time when we see such beautiful and happy people loving each other. Just look at their smiling faces. How happy and cheerful they are today!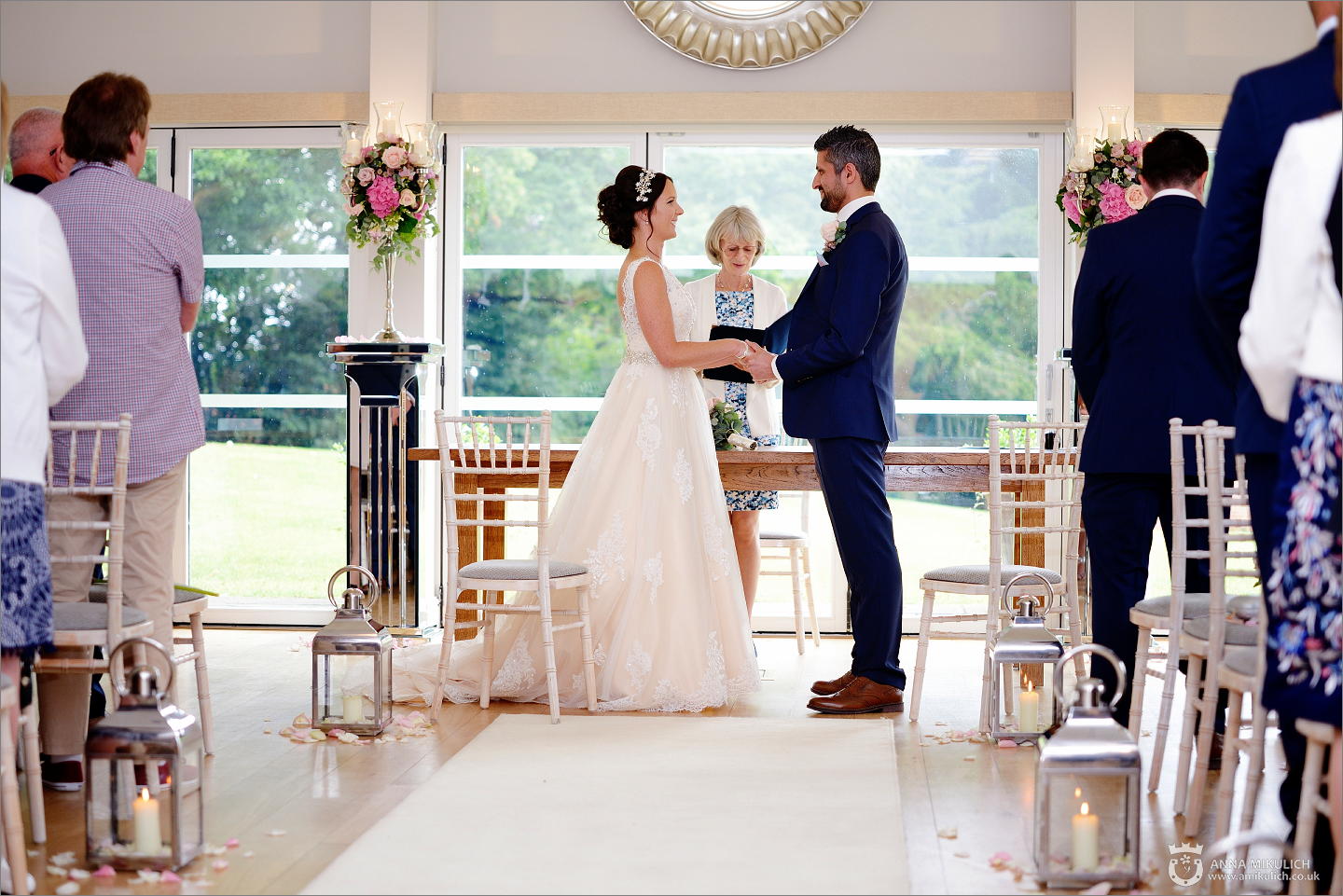 This is why you have to have not one but two wedding photographers on your wedding day. It provides a unique ability to take a very different perspective for the most important moments of the wedding day. With great pictures like this, our bride and groom will have a chance to see how their wedding ceremony looked like from their guests.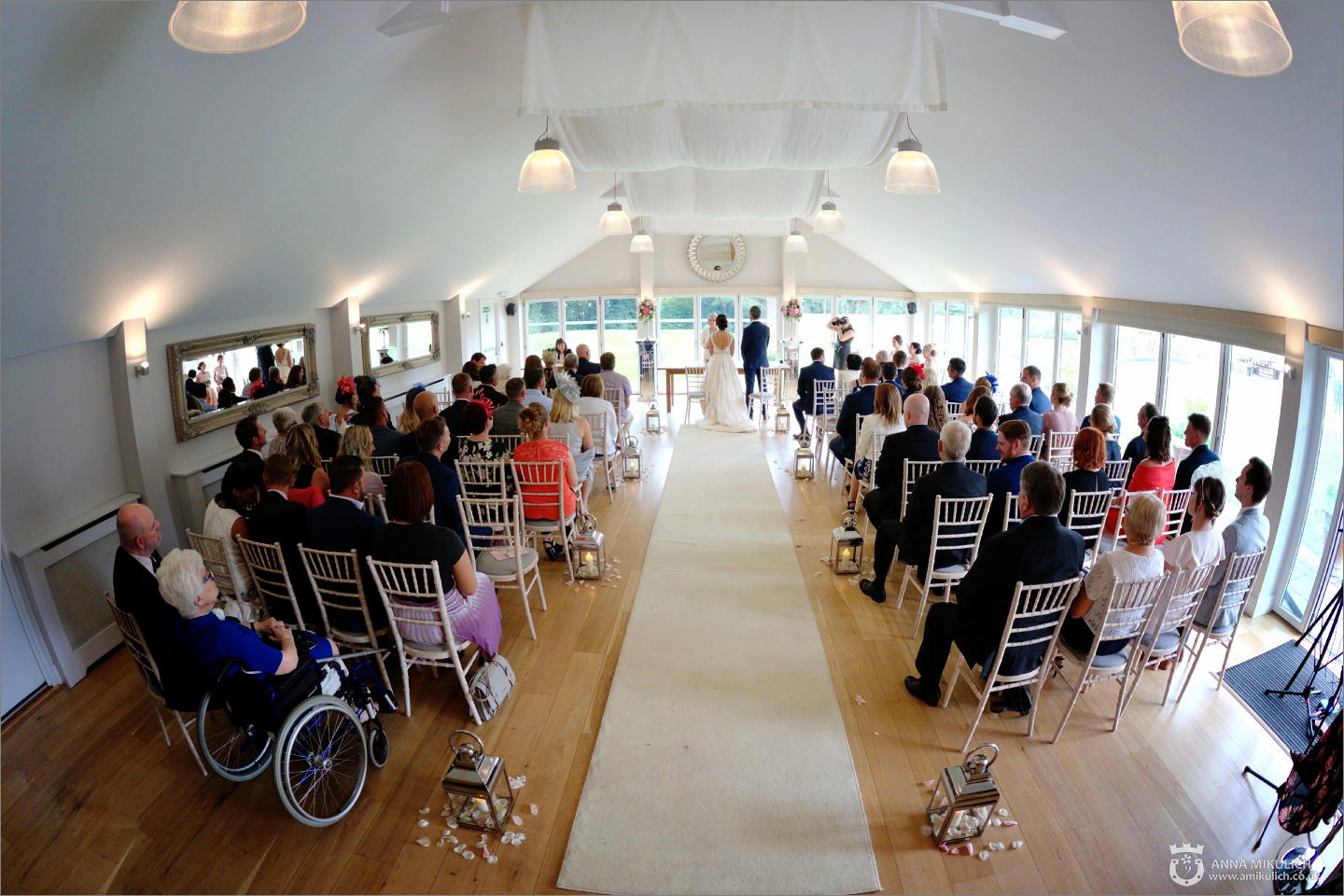 As experienced wedding photographers, we have a variety of equipment to take creative pictures. We love ultrawide lenses that allow us to capture the entire ceremony in a single shot.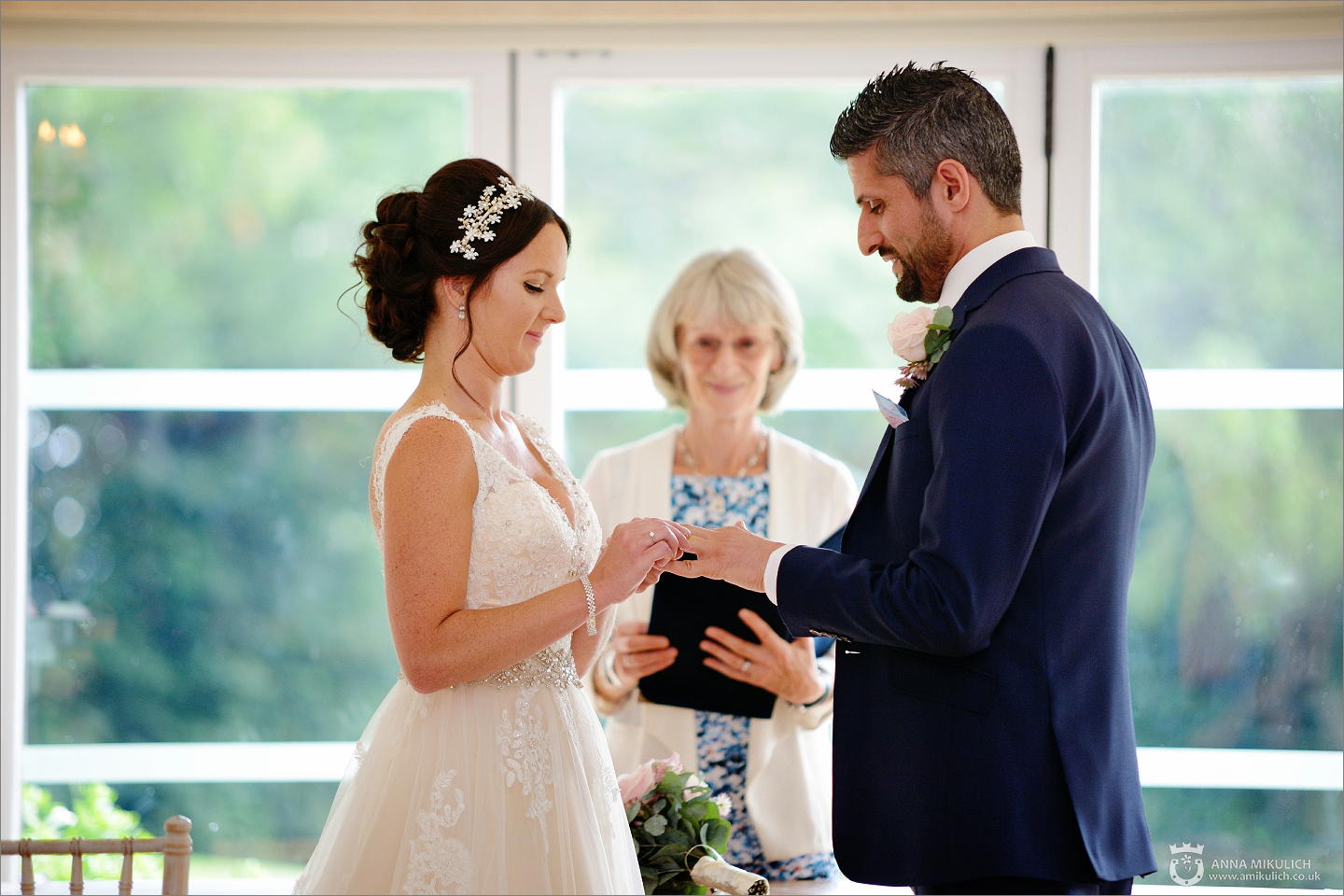 This is an amazing and beautiful tradition - the exchange of the rings. 'The ring has no beginning and has no end' - this phrase is the essence of two loving hearts that decided to spend their lives and enjoy each other forever.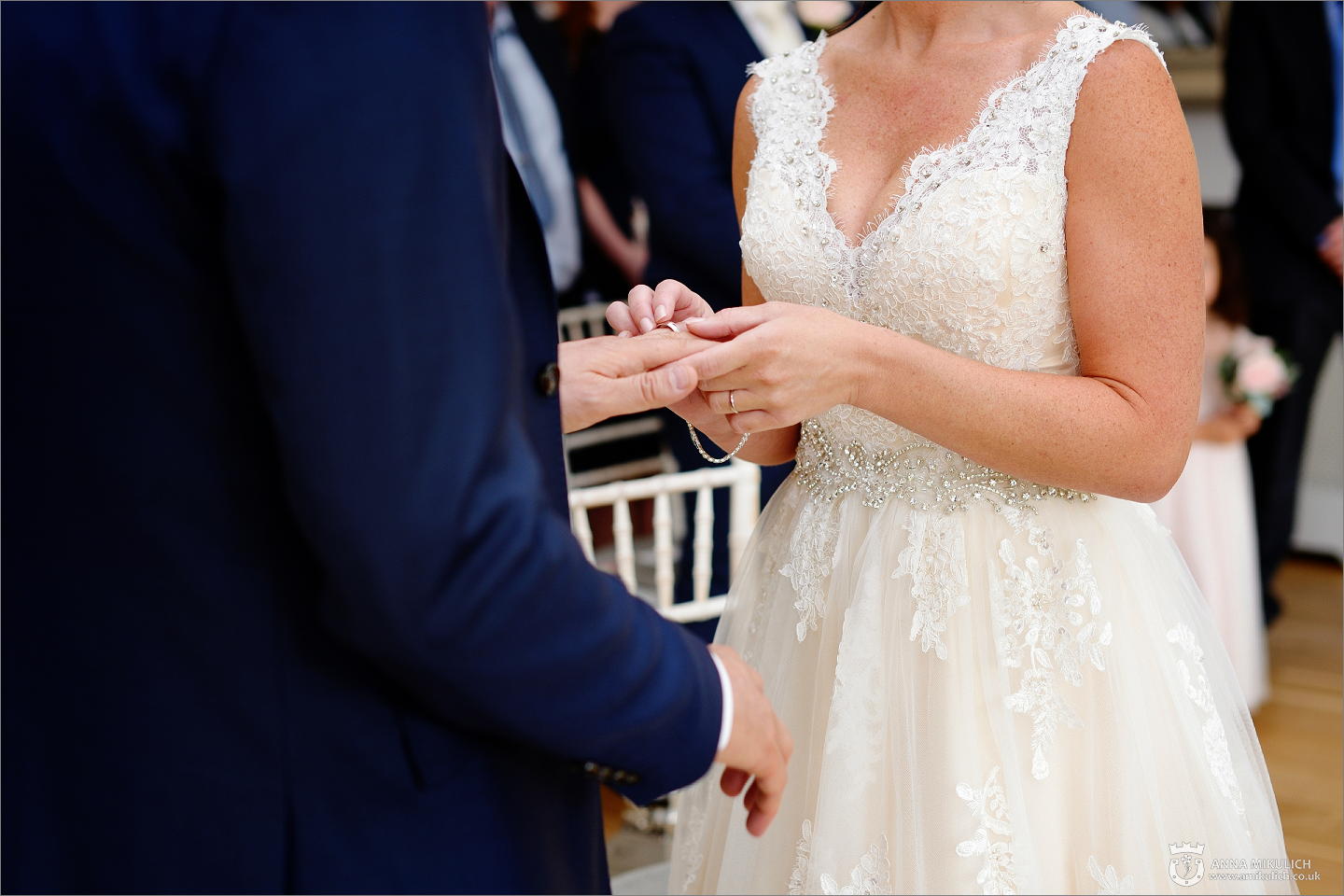 By combining cameras with different focal length lenses we are working hard to provide our couples with diverse and excellent pictures.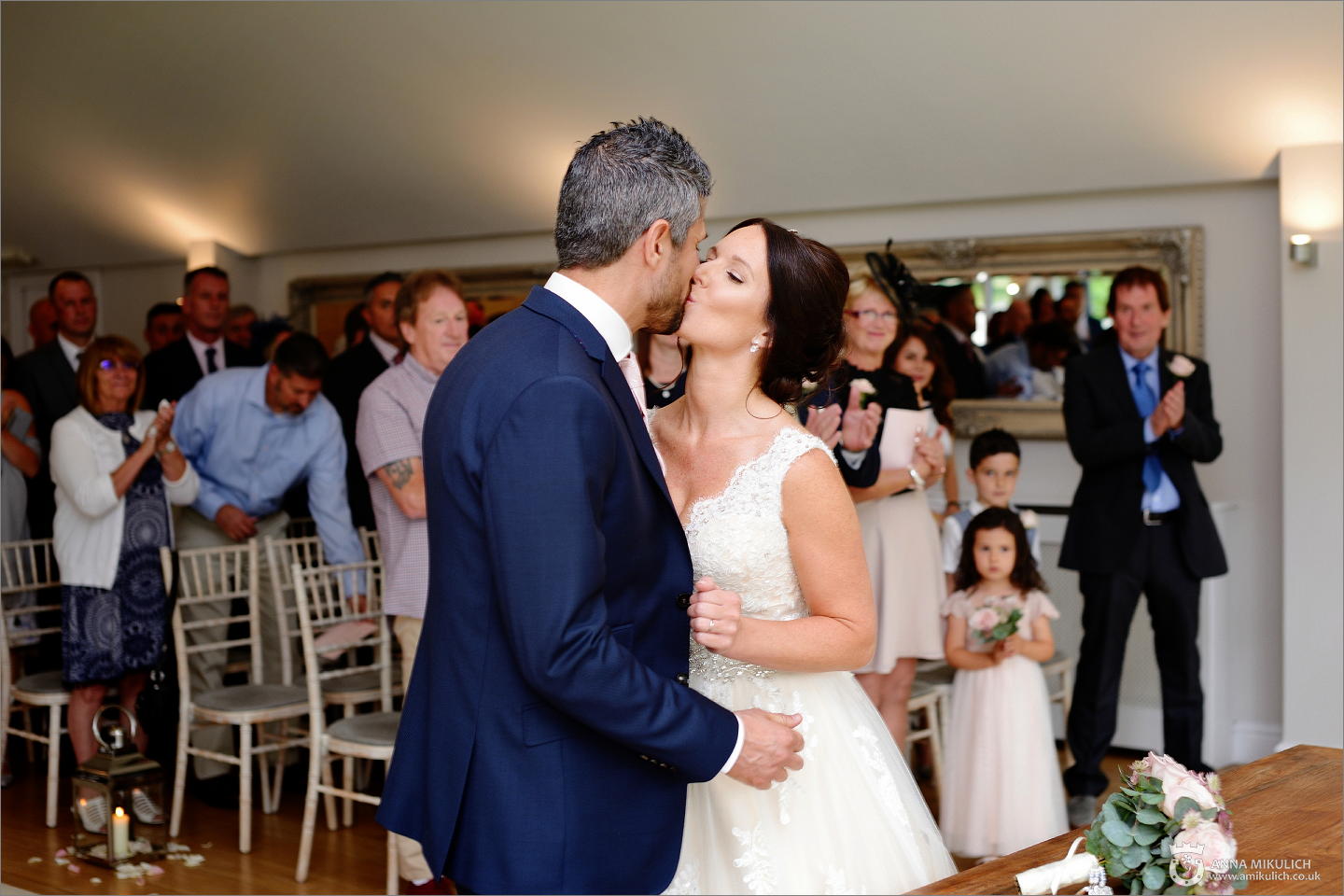 This is the pinnacle moment of the ceremony - our couple waited for so long to be declared husband and wife and to hear that magical words: 'Now you may kiss the bride!'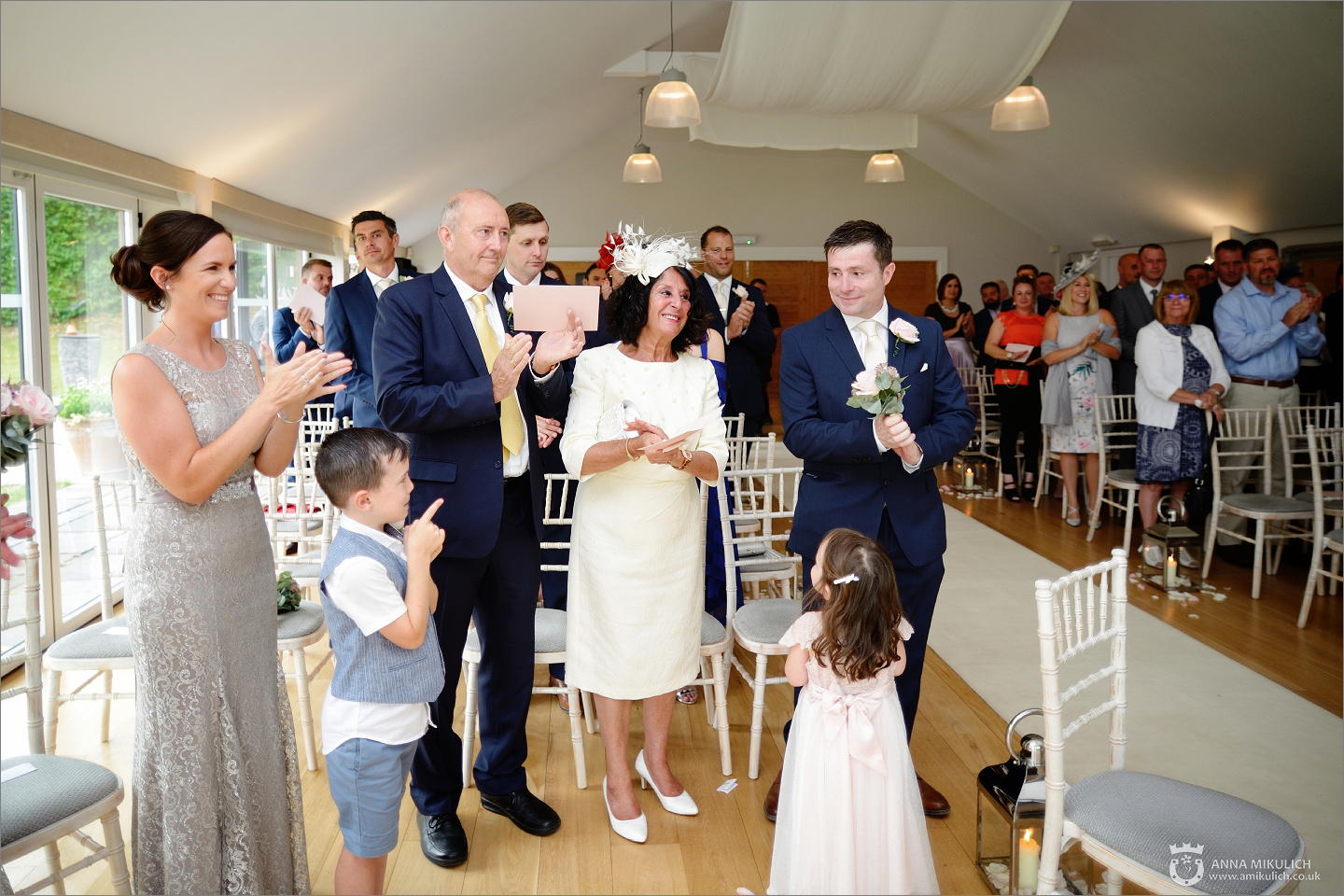 The guests are excited! They have witnessed Nathan and Mandy becoming husband and wife, and they will remember them to be so happy and beautiful on that wedding day.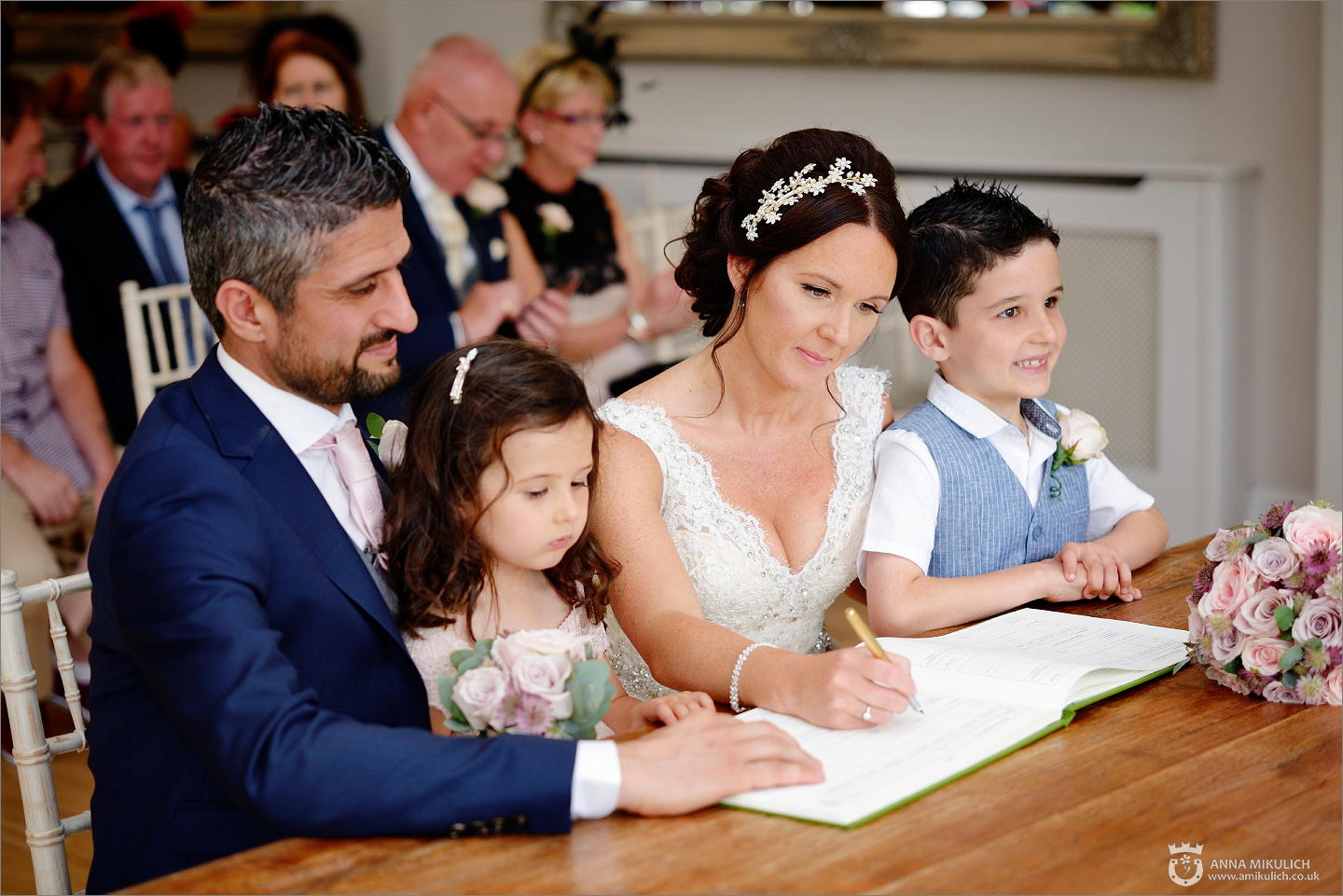 Of course, you need some little help when you sign the registry :)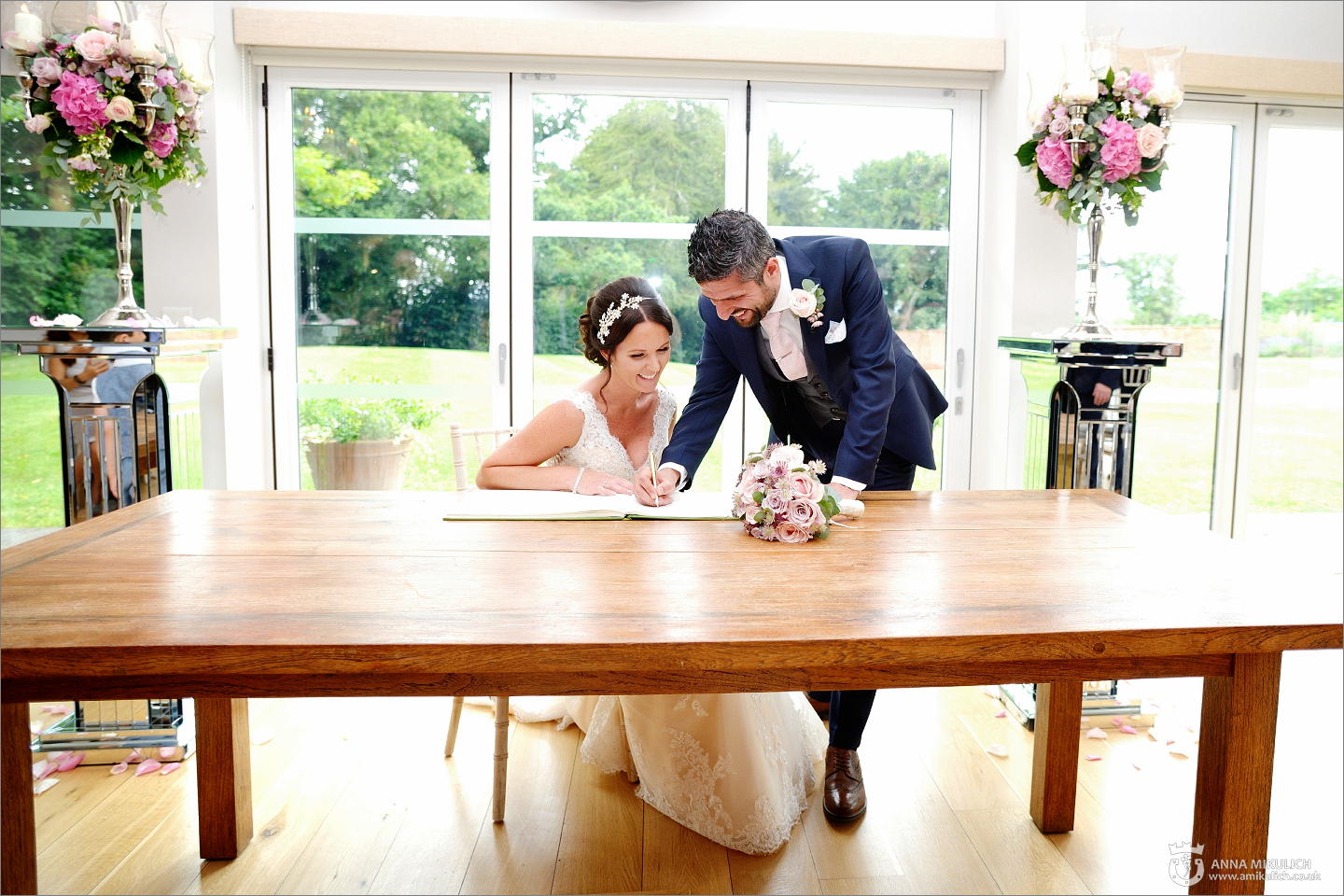 All is left iso finish some formalities and open a new chapter of the new family.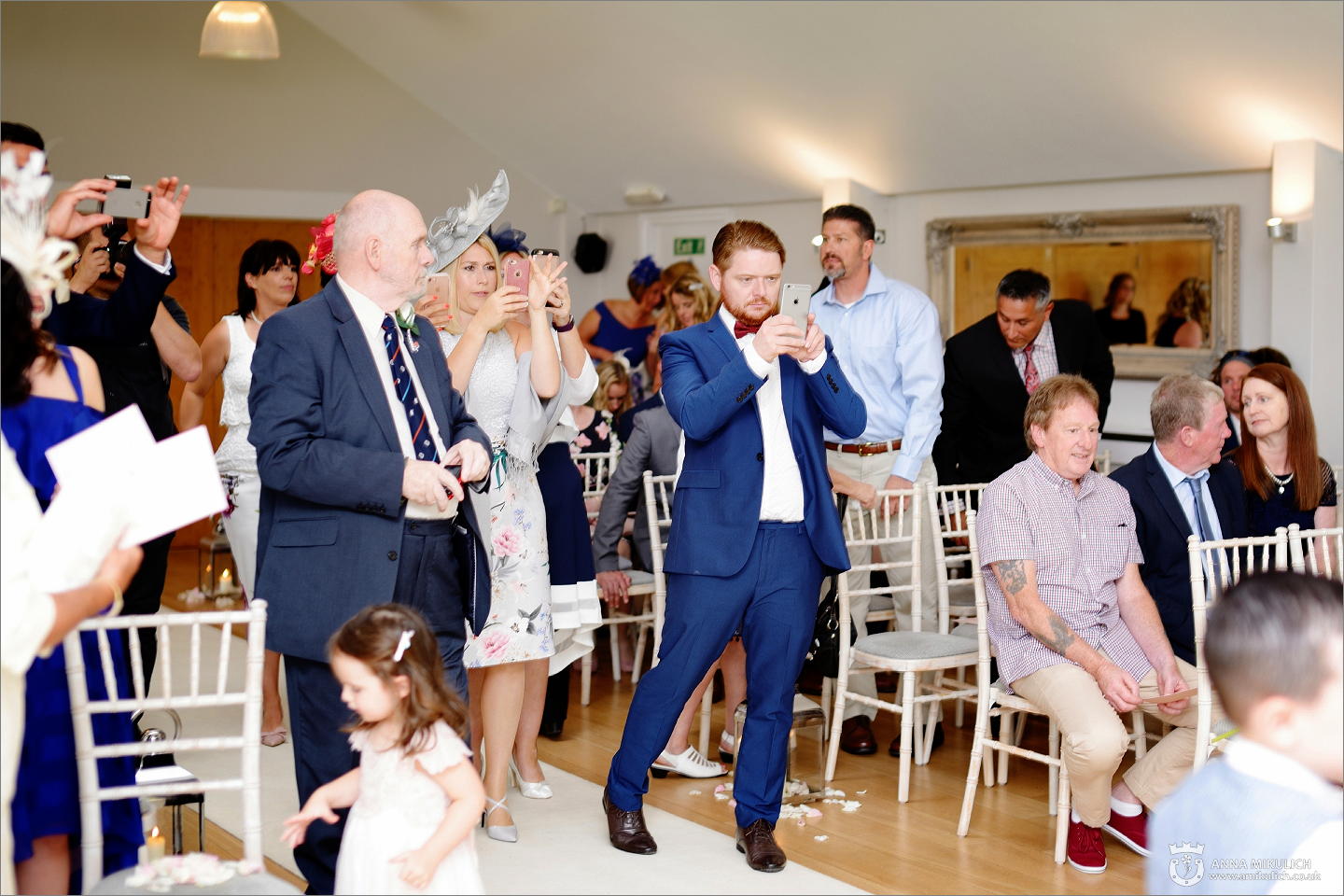 We live in a modern world of social networks where it is important to be the first to share and tweet the great news! We love taking pictures of the guests using their smartphones and cameras as they are so occupied with controls.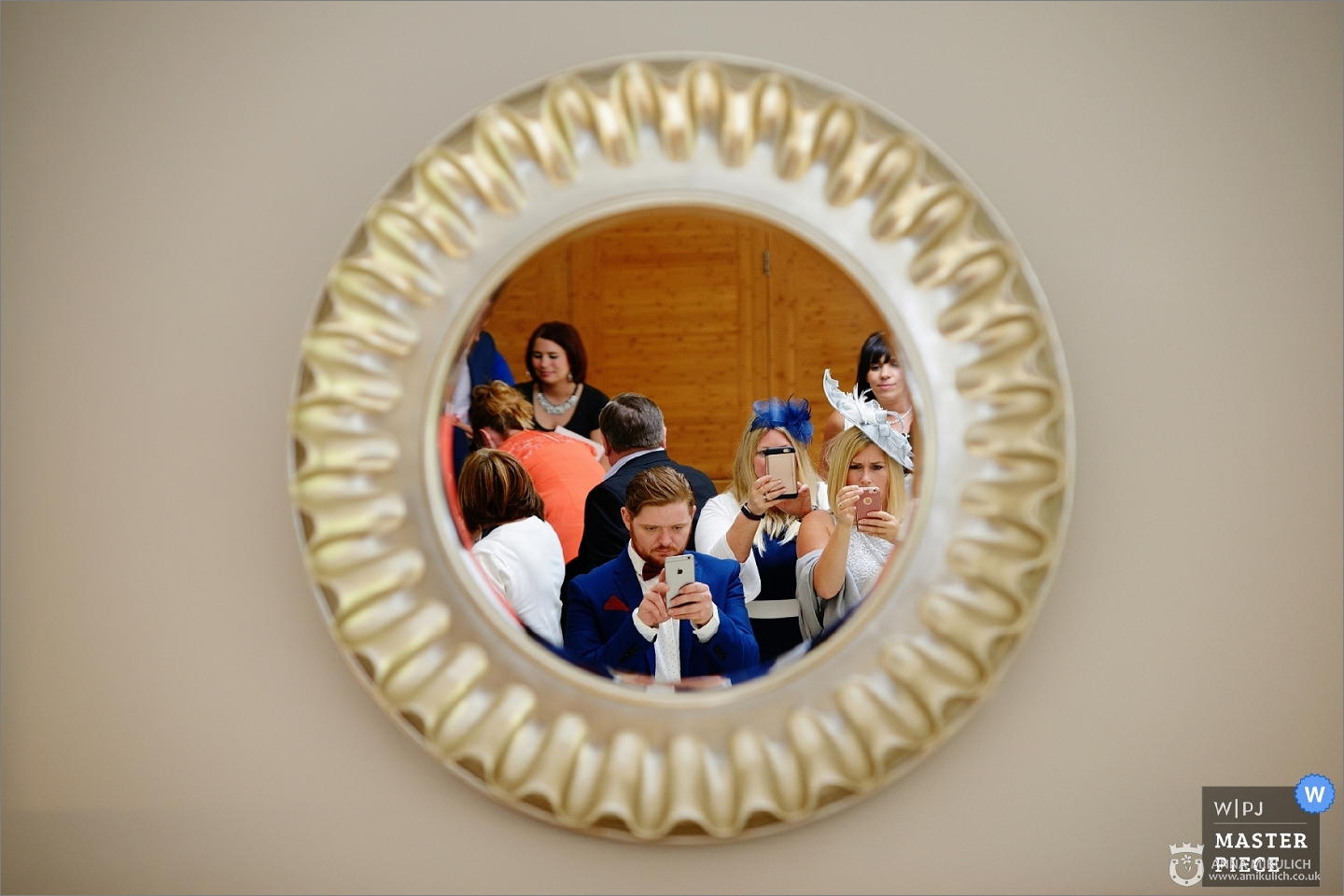 This is one of our many award-winning wedding photography pictures. Here we tried to capture the wedding day using unusual viewpoints and perspectives. We hope you will like this picture as the jury deed.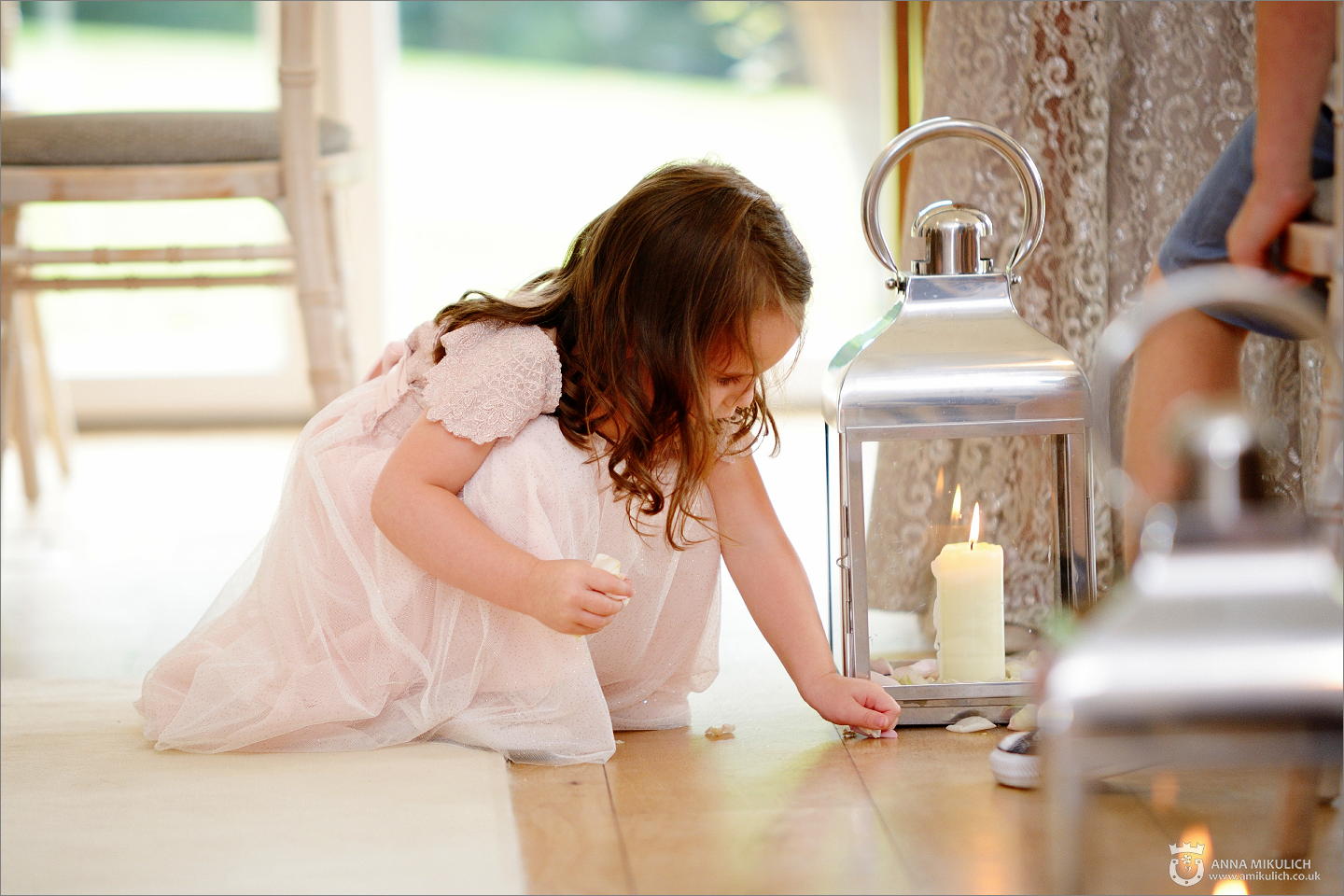 It is great to see many kids on a wedding day. They bring noise, laughter, and energy to any wedding. They look so special in all of those 'big' dresses and costumes. Love them!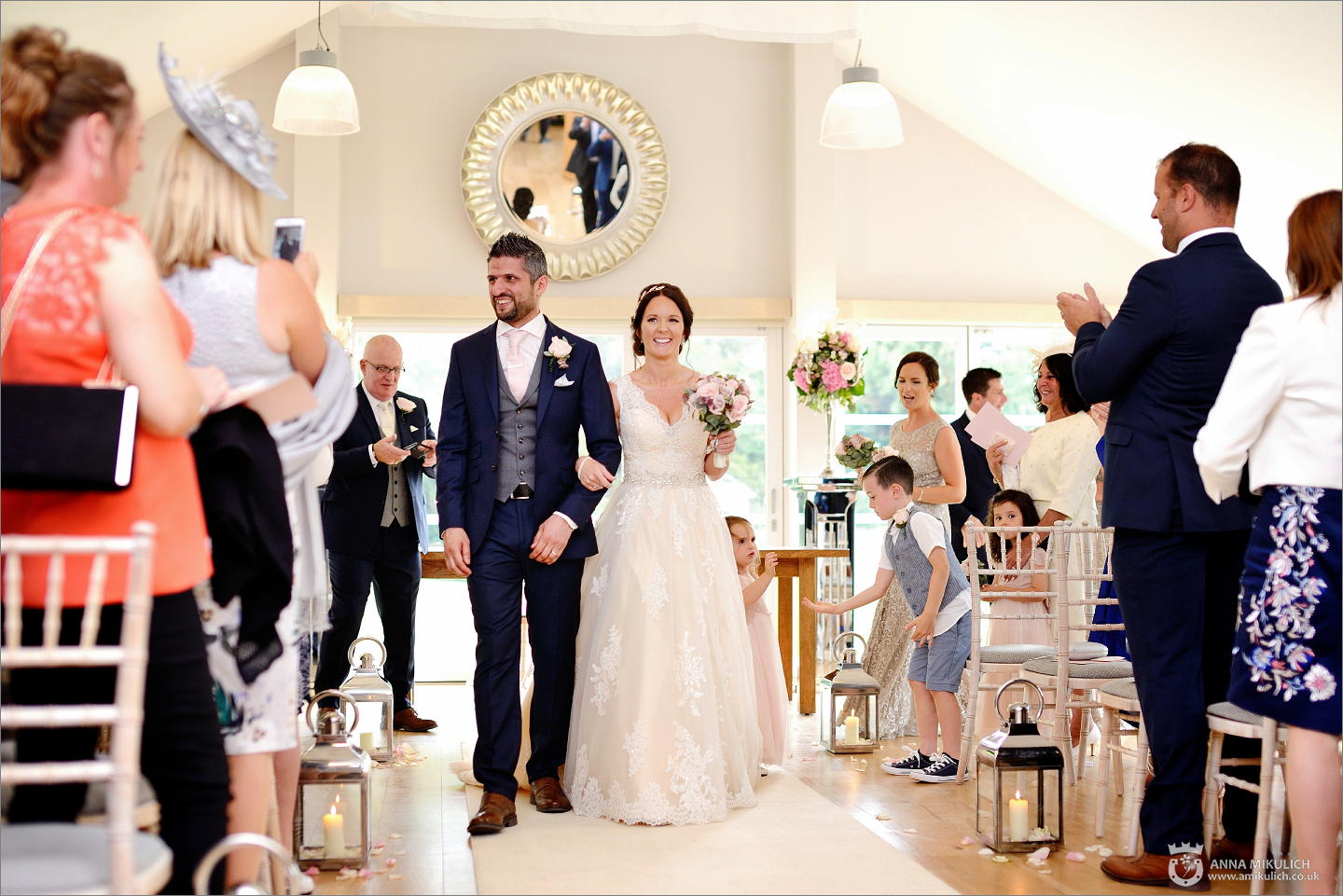 'Please stand up and welcome Mr. and Mrs. Smith!' - hurray!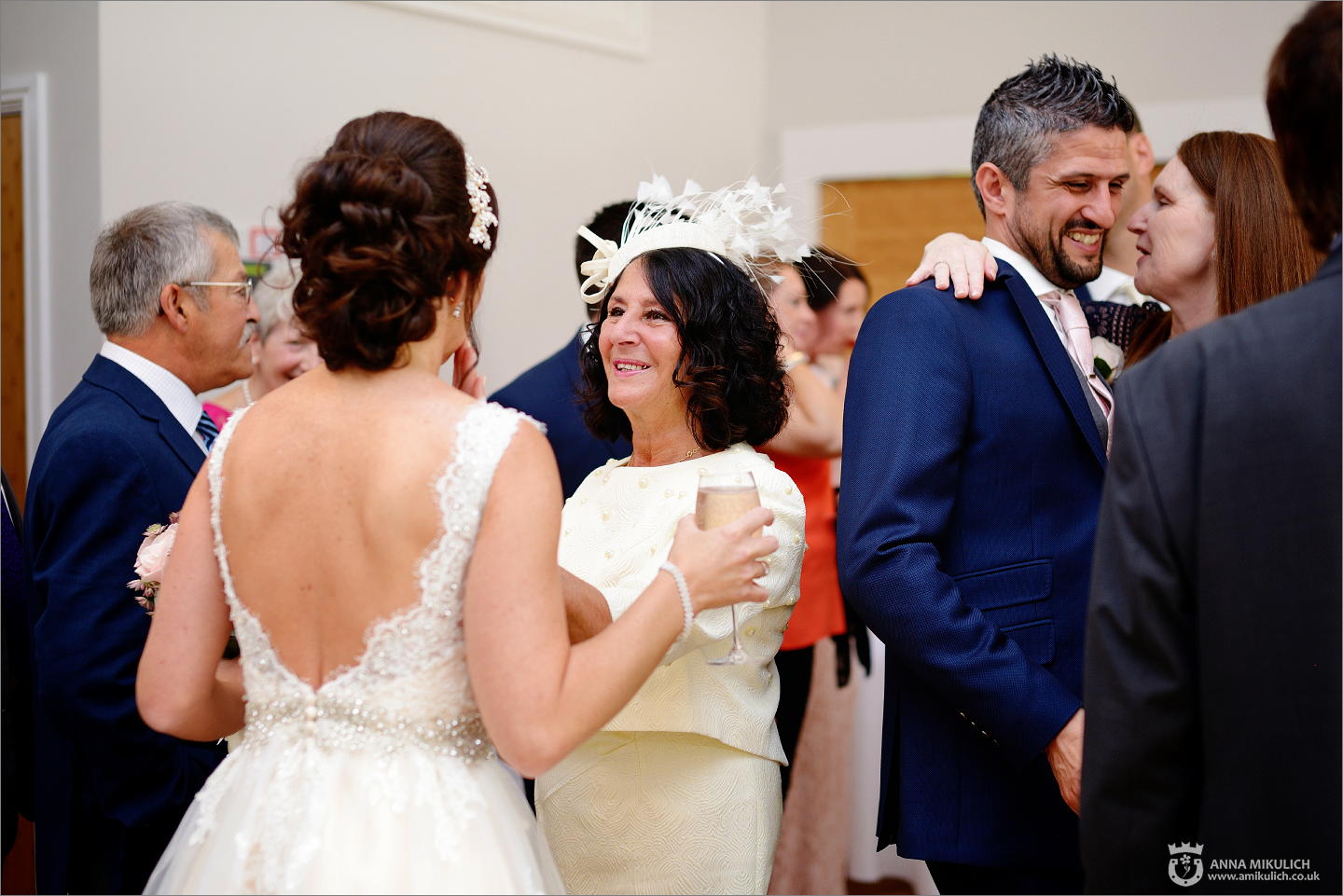 Now it is time for the warmest congratulations from family and the best friends.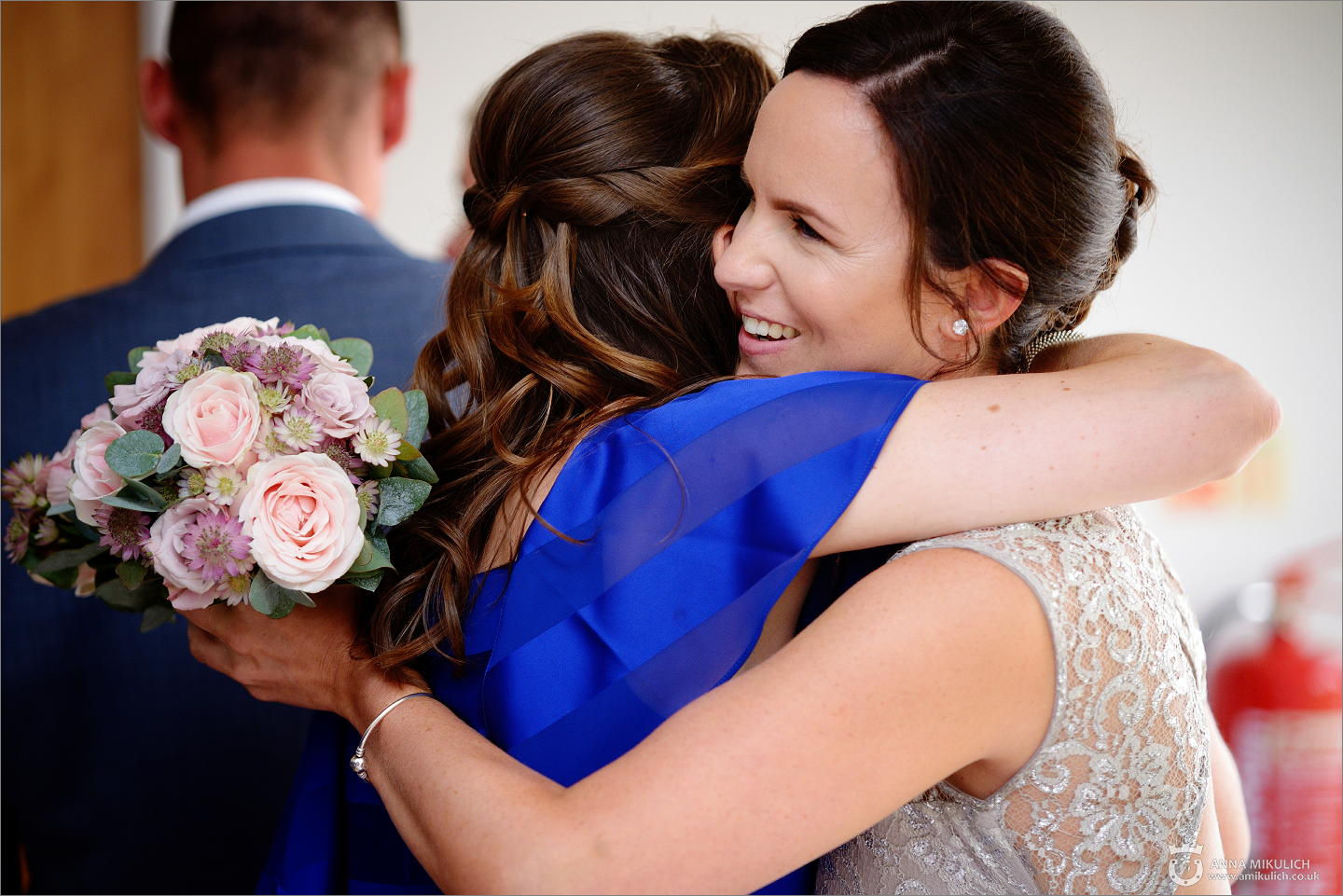 This is the time to share the joy and excitement of the wedding day!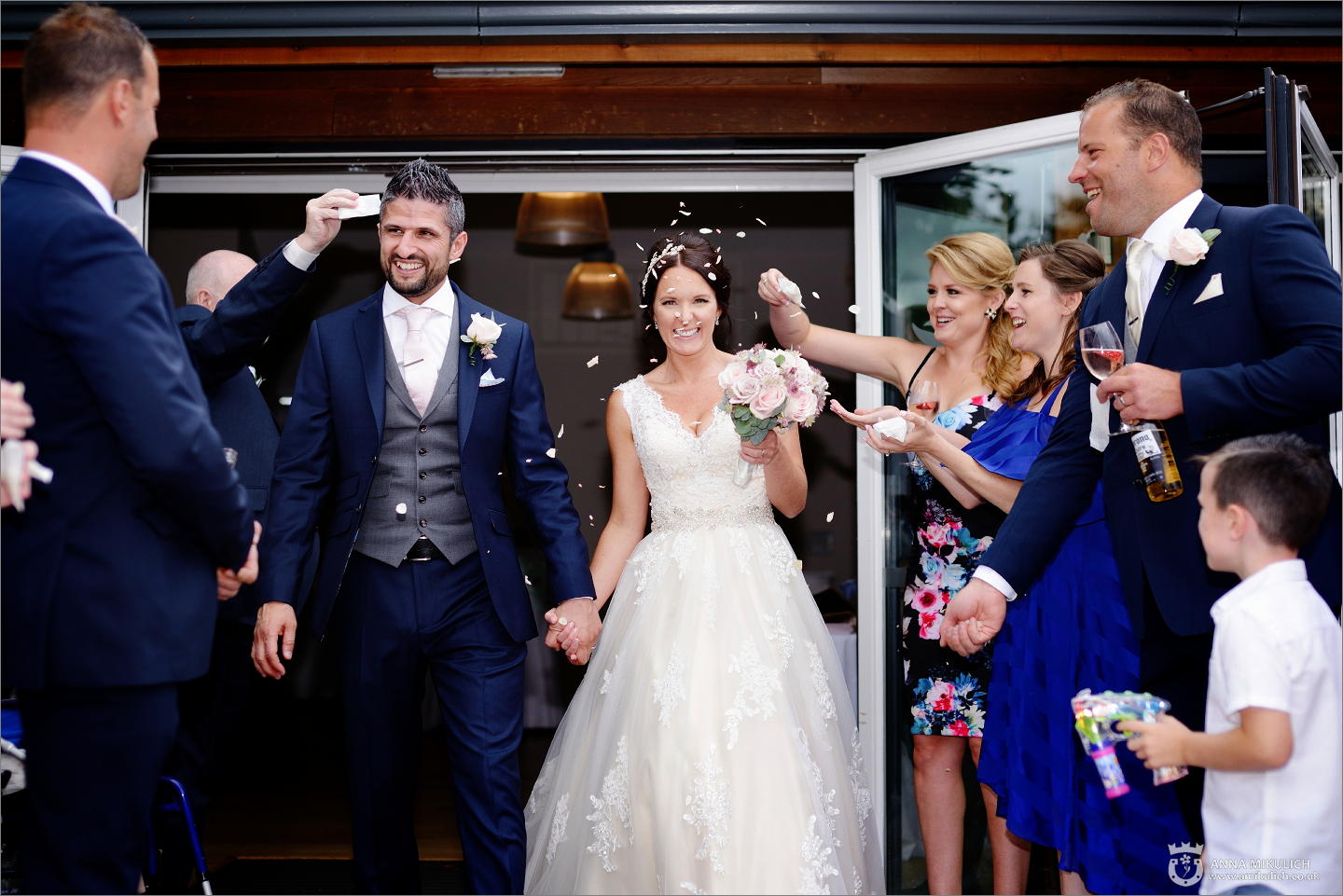 Confetti is just amazing. There is no other way to put it - it brings the broad smiles onto the faces of the guests, it is a tightly packed action where the happy couple dashes trough the torrent of colourful particles full of giggles and friendly cheers! It is very challenging for us, the wedding photographers - not only we need to be at all places at once, we need to make sure we will have the sharp pictures capturing the right moments! Everything is so fast there!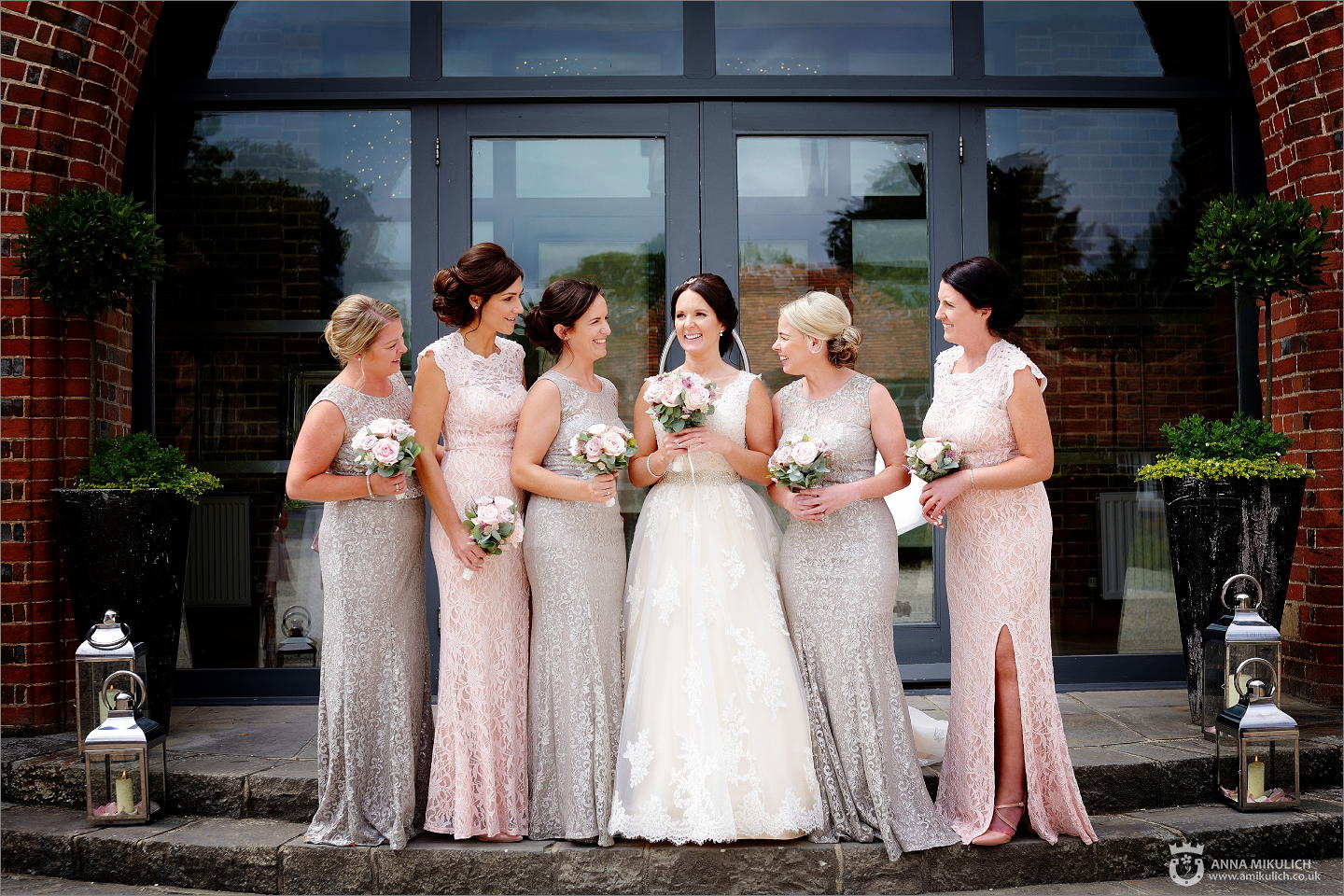 Even the formal pictures must be enjoyable. We are always trying our best to take the most unintrusive approach and make those 'posed' pictures quickly and efficiently. We care about the time of our happy couple on their wedding day!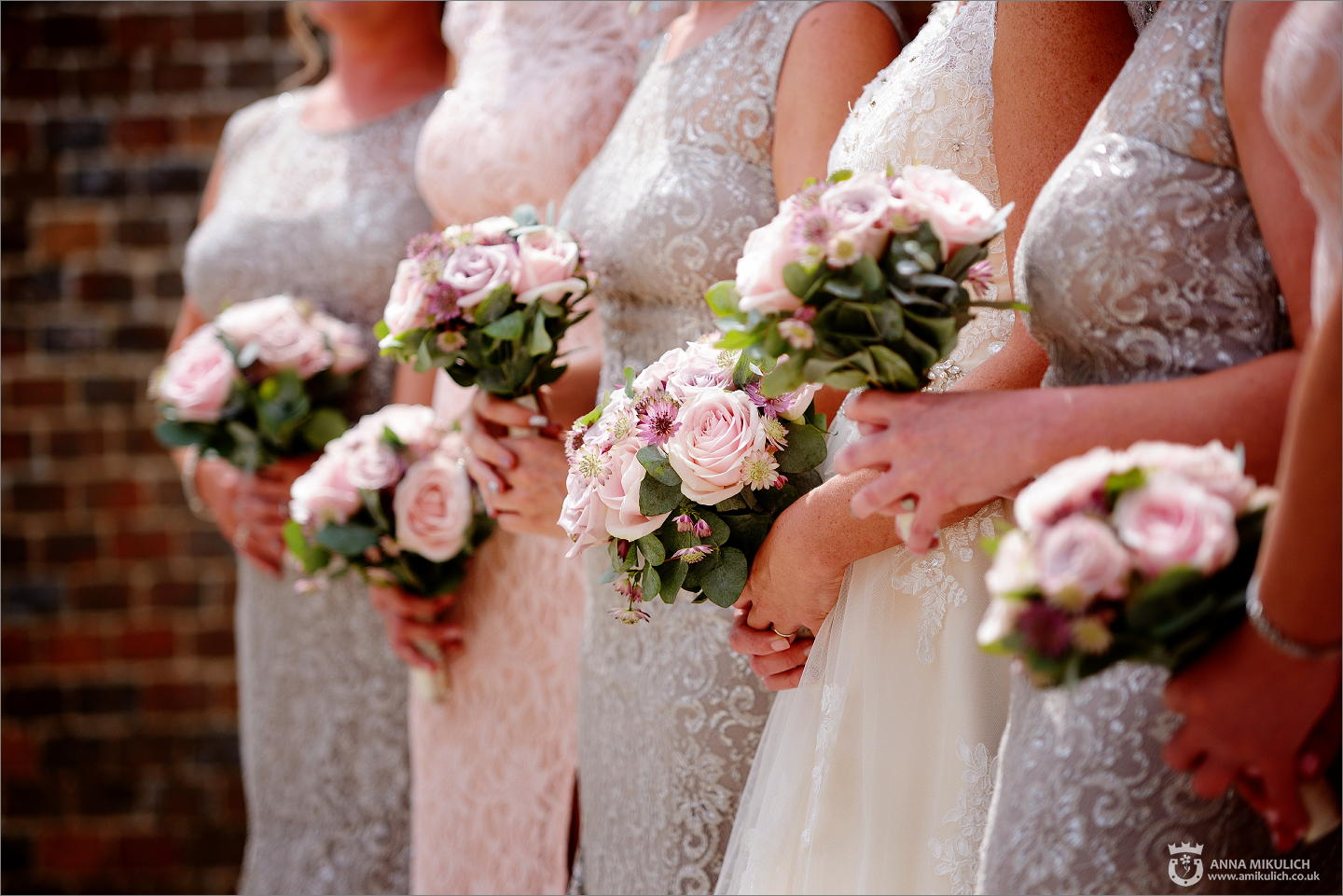 This is one of our signature shots - we have found that everyone loves it. It is both simple and tricky. All it takes is to have stunning bridesmaids with their flowers, the correct use all of your experience, properly set up flashes to make that picture that just pops.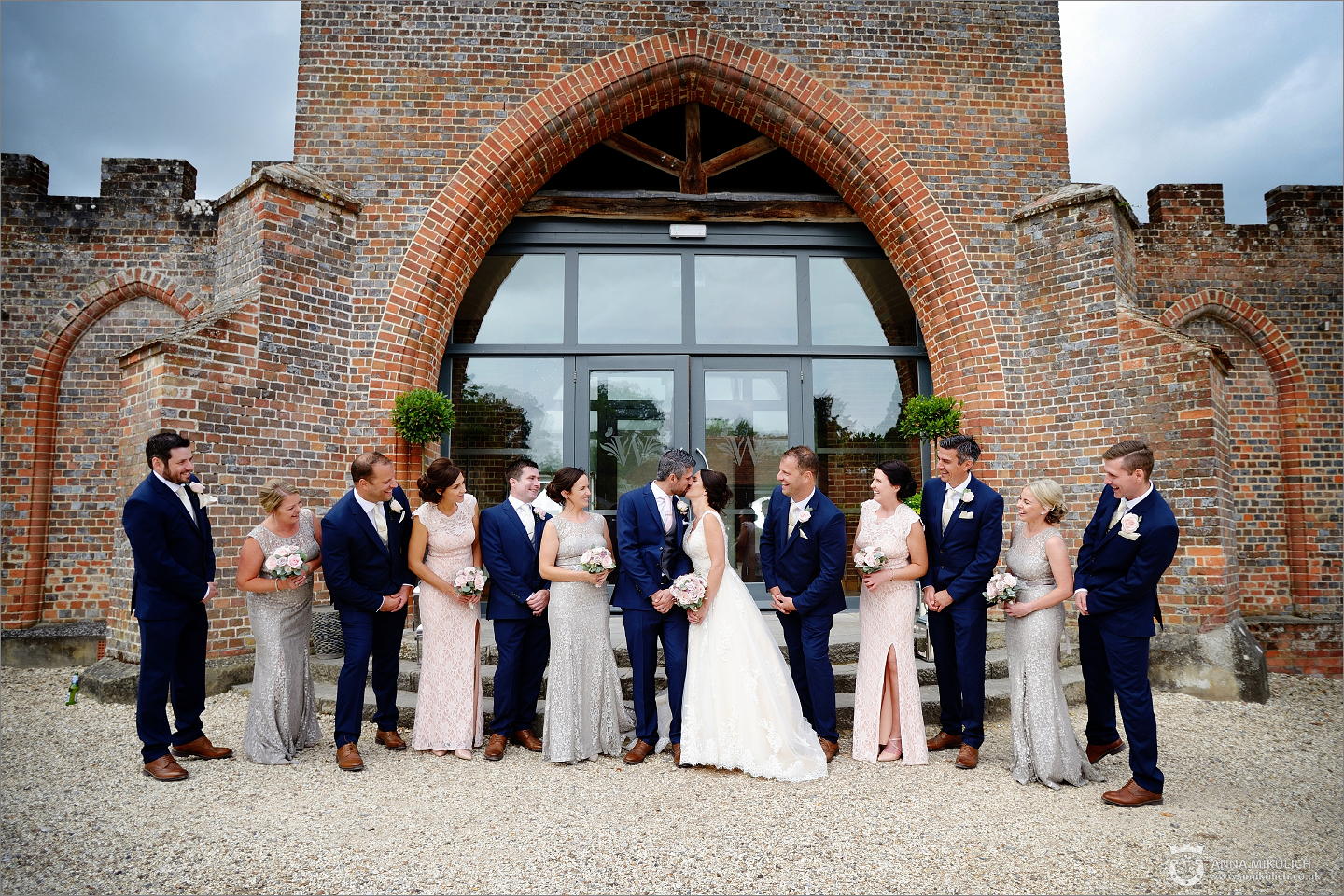 We love this particular picture. It is not only a proper framed and sharp picture - it is not about the technique - it is about the memories. Just imagine looking at this picture in 10 years remembering everyone celebrating your wedding day!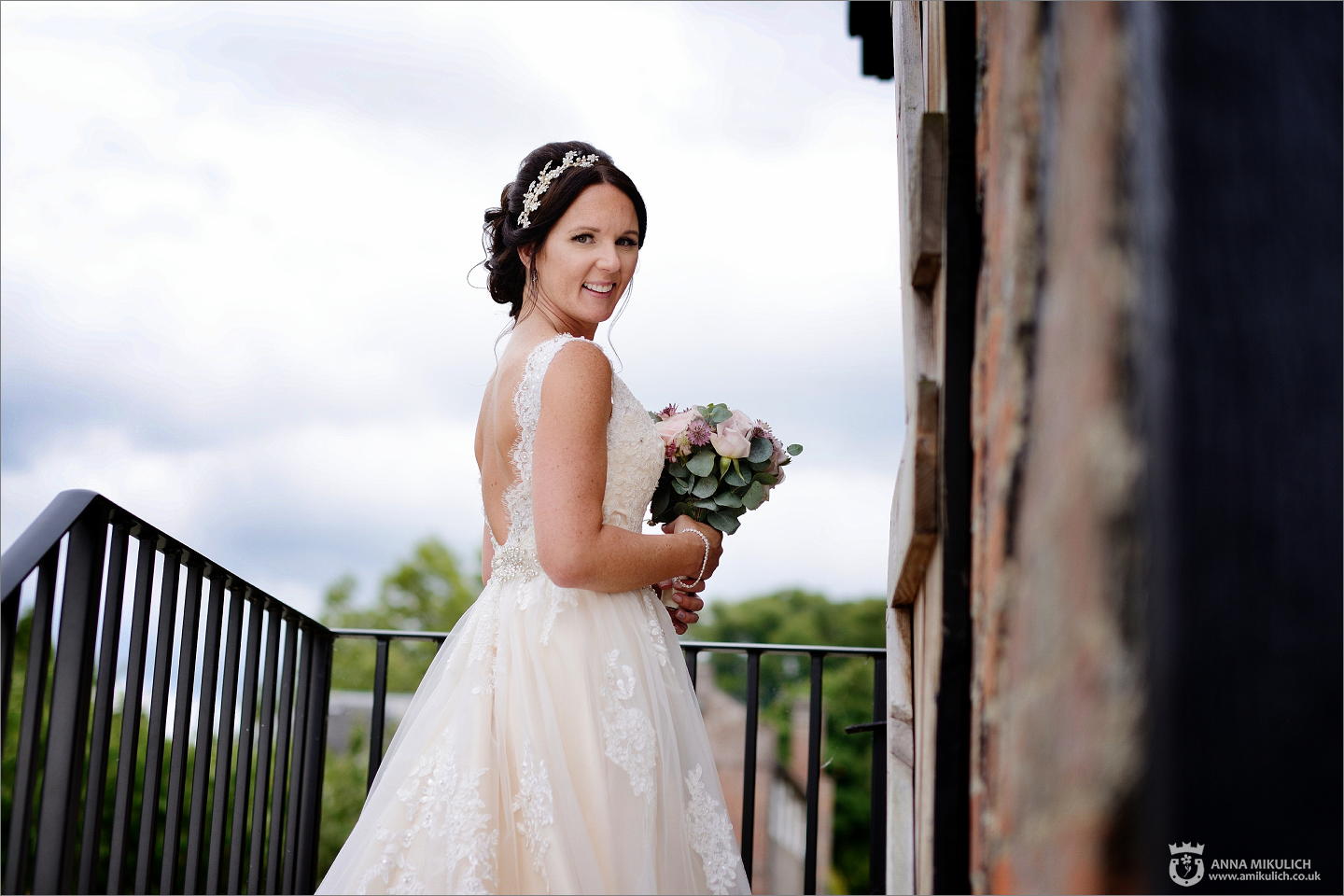 Our beautiful bride looks dazzling! We love taking pictures of people that are so natural with great smiles and amazing poses.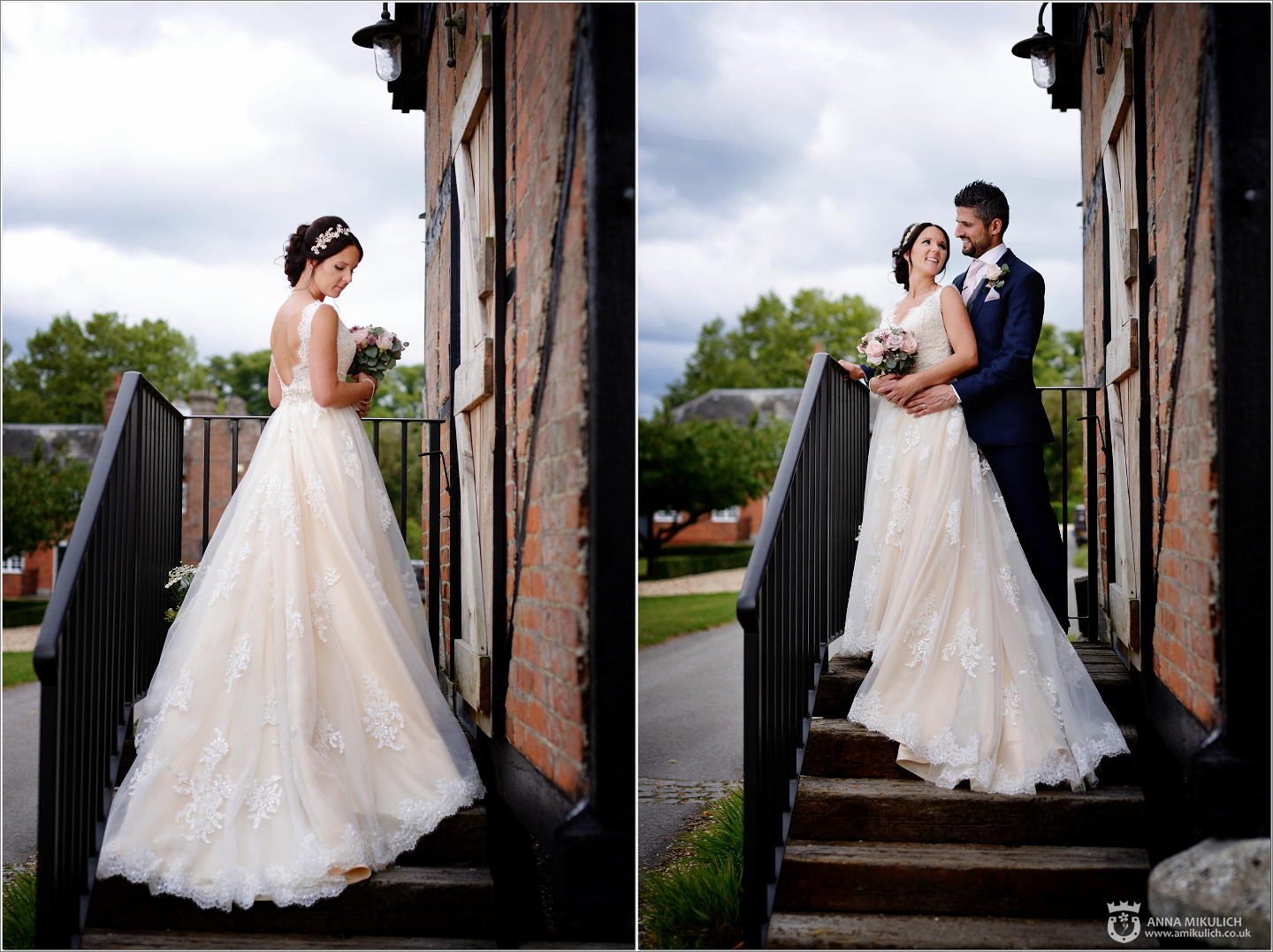 As we have mentioned earlier - we totally admire the people that are so natural and relaxed with posing - they are excellent to look great in posed and camera-aware pictures. Of course, we as wedding photographers are more than happy to suggest a particular pose that would look great and very natural in a picture.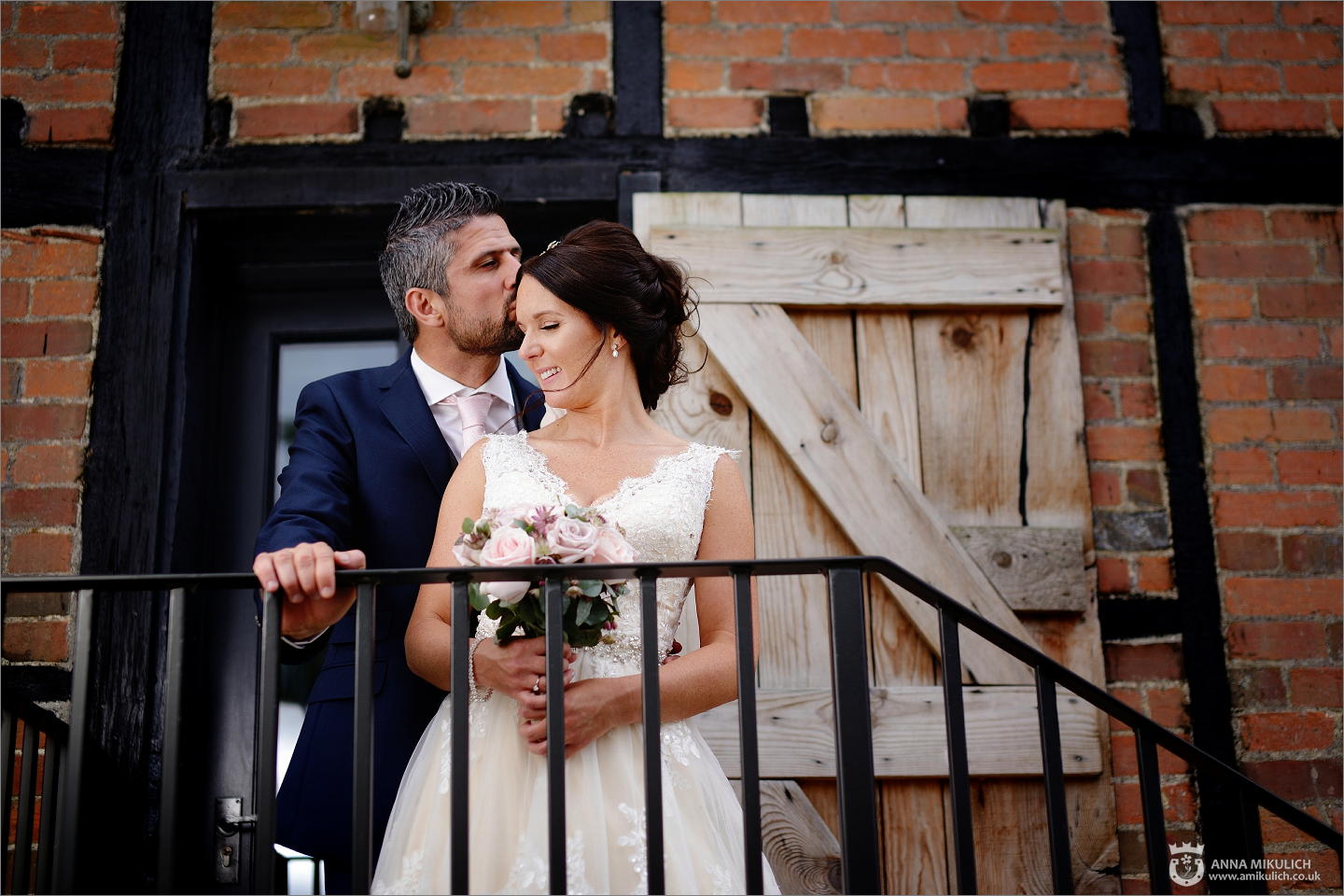 Even days and months after taking those pictures, we are smiling ourselves, remembering that fantastic day in the middle of the summer at Wasing Park.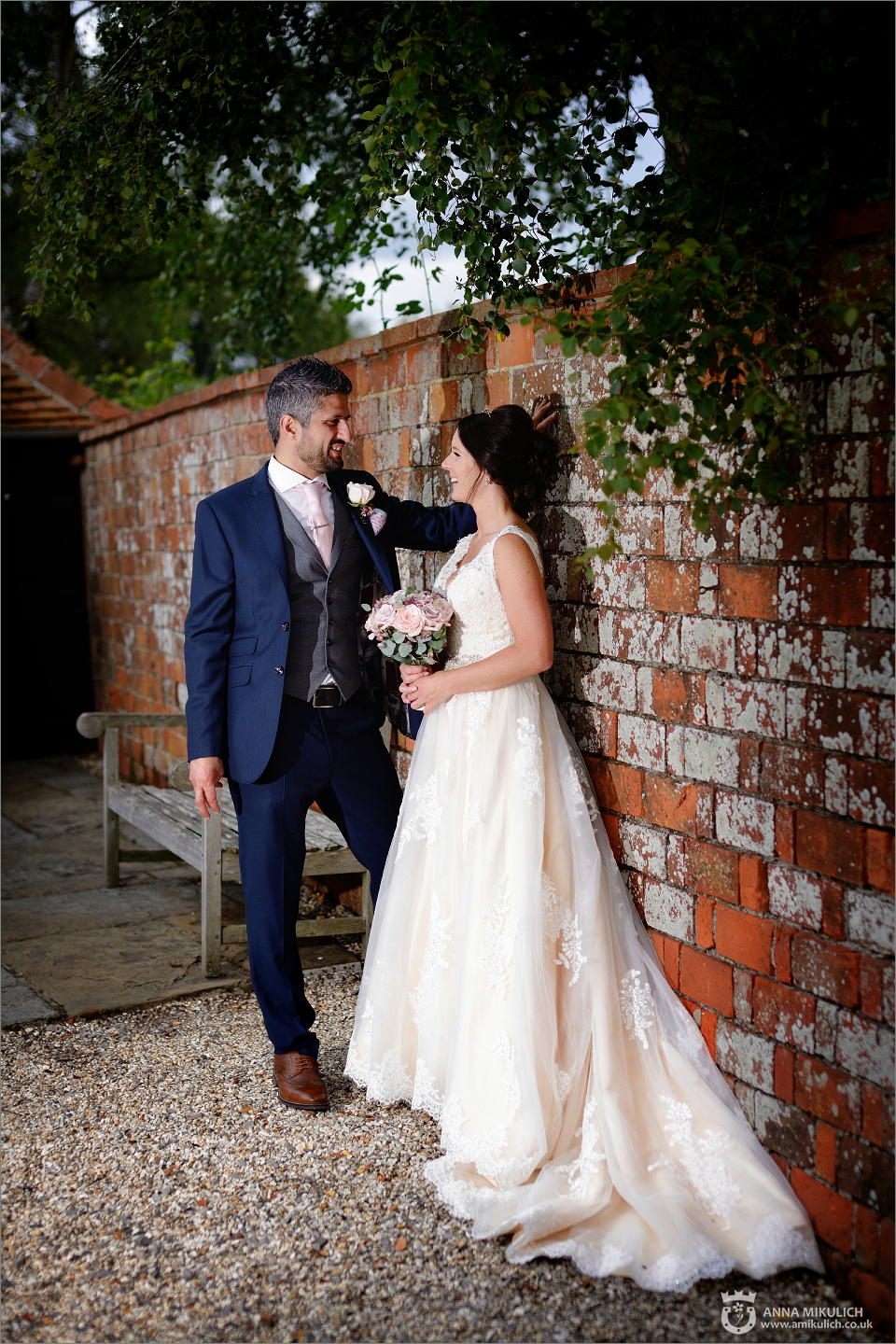 Wasing Park is a very convenient and picturesque venue providing us lots of opportunities and backdrops for amazing pictures. Beautiful spots are not far apart, which saves a lot of time for everyone on a wedding day.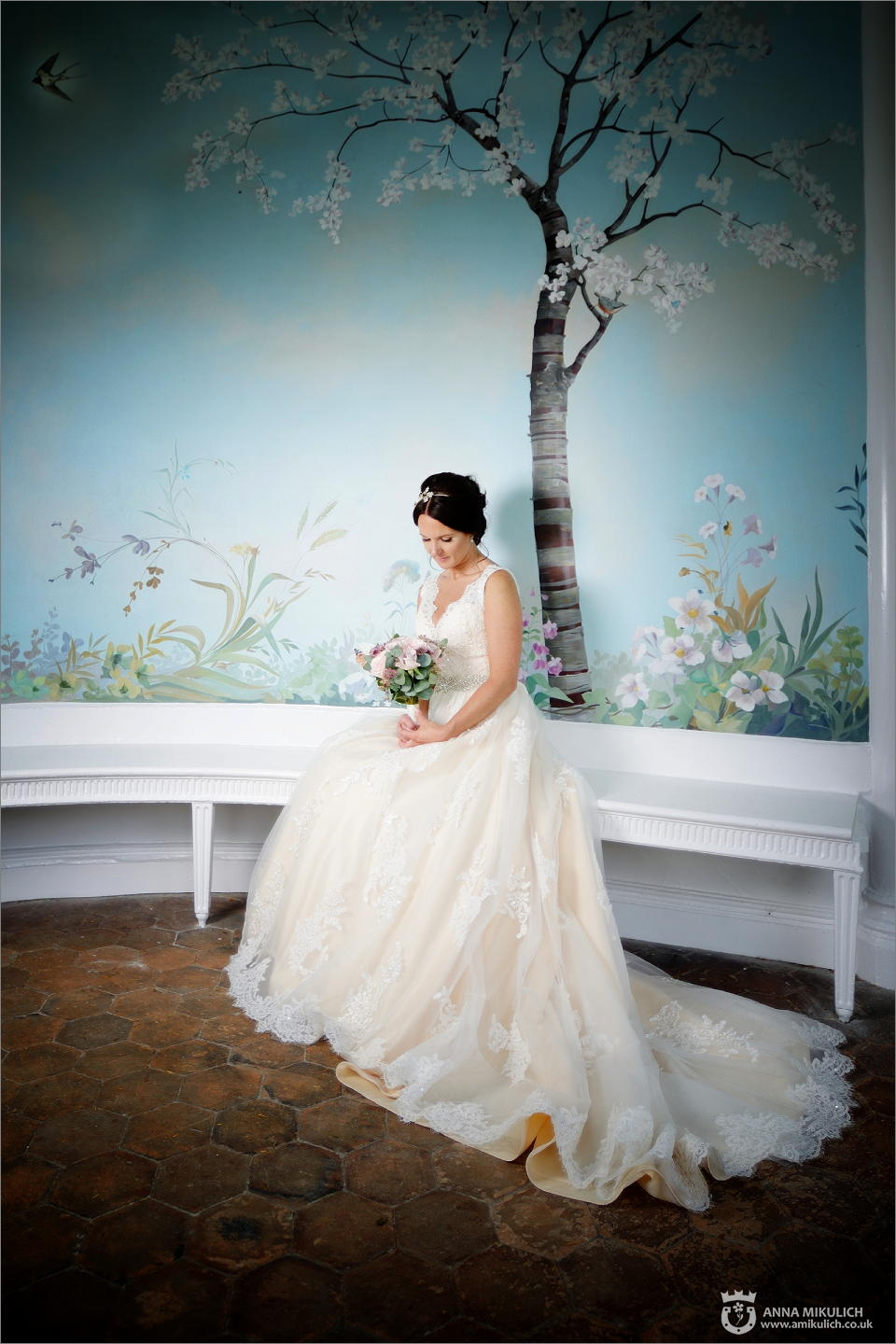 The Summer House at Wasing Park is located in the shadow of big trees, and it is a natural place to hide for the noise of an energetic wedding day. It is a great place to catch a breath and take a gorgeous picture or two.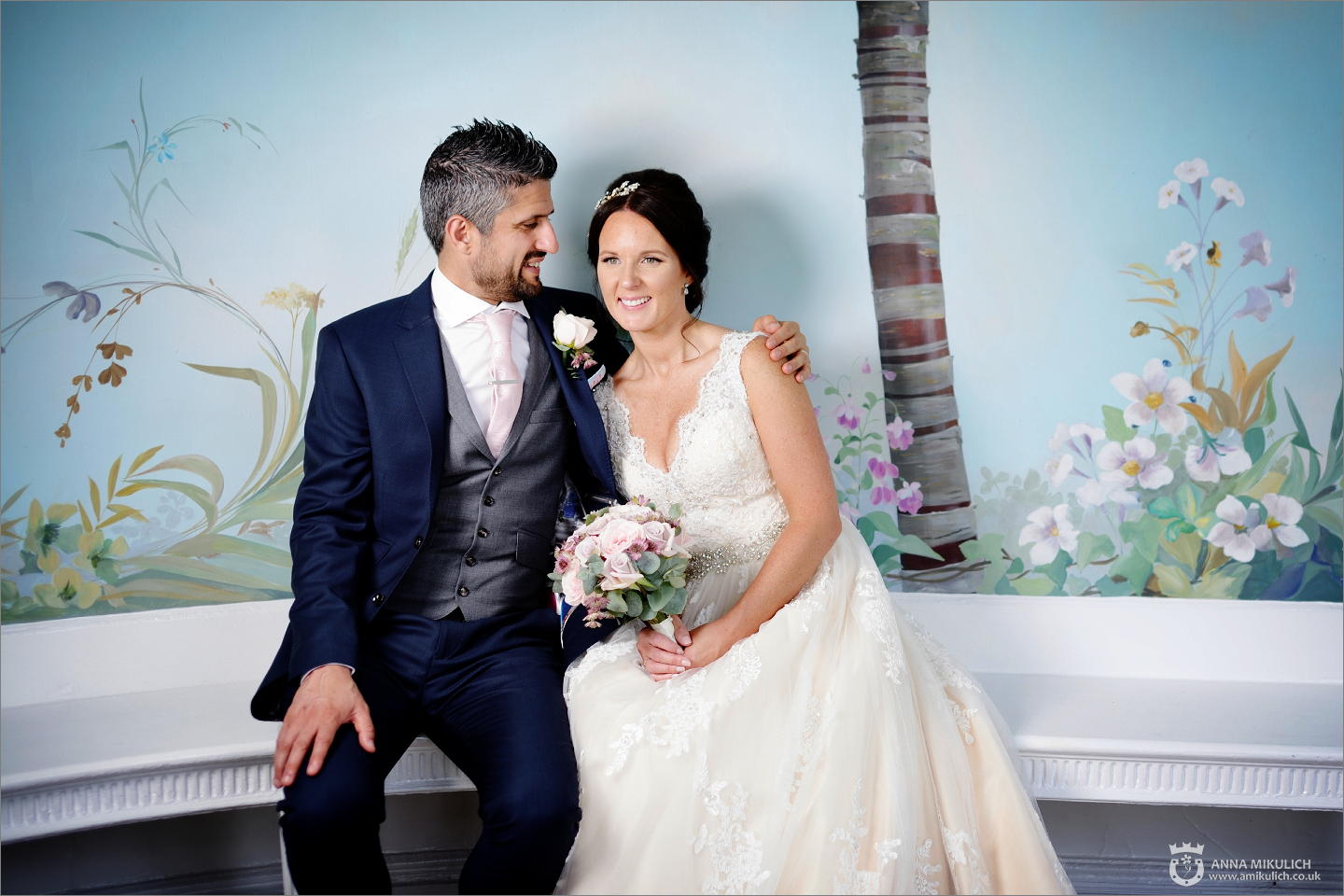 Just look at our happy couple - they are shining the happiness and love. Well done, Natan and Mandy!
There is a small chapel right in the center of Wasing Park which looks really nice in pictures. Although, it is surrounded by tall trees and it is a bit dark out there - we brought some creating lighting with flashes and diffusers to make some impressive pictures there.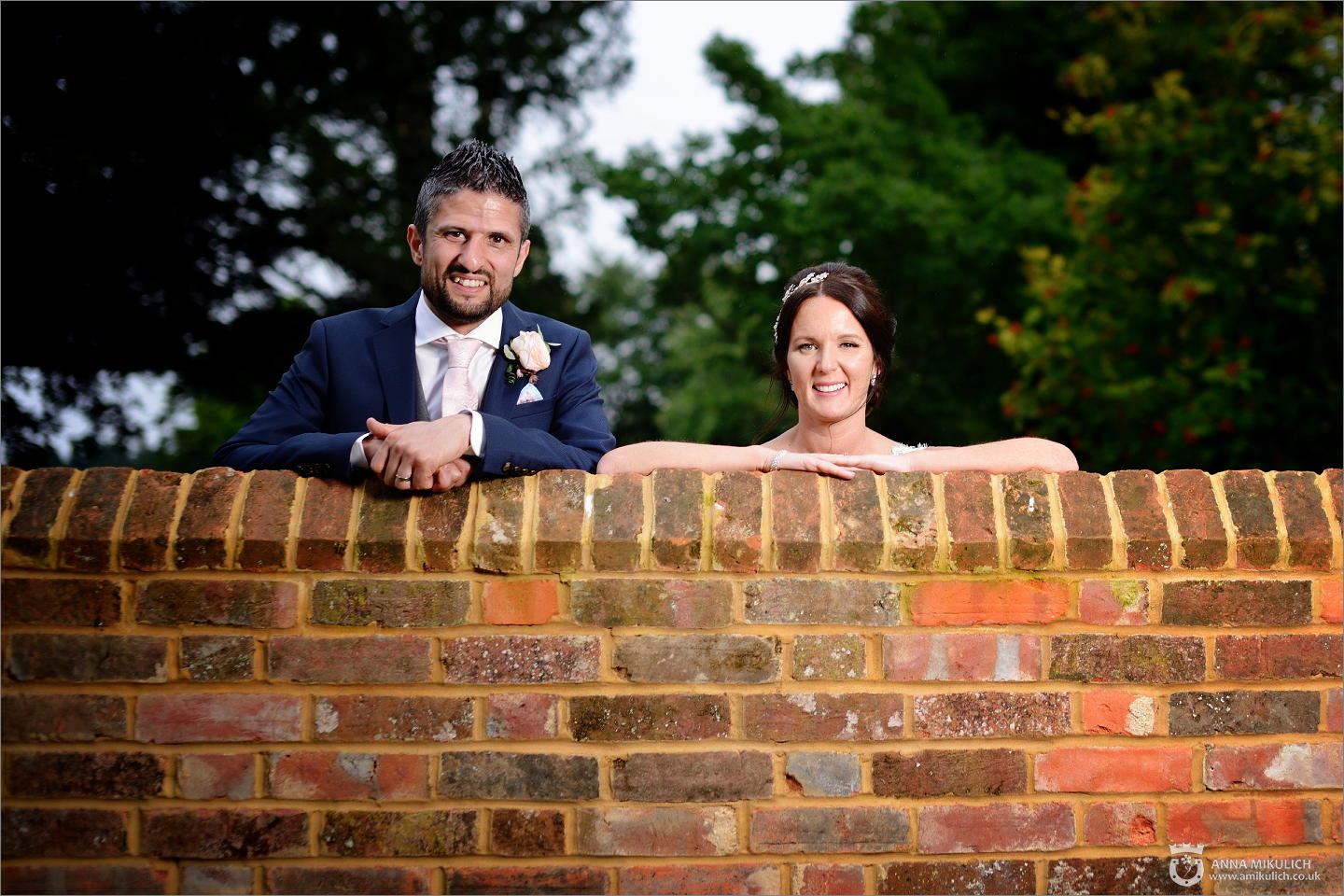 We love taking playful pictures, they are impulsive and there is nothing serious about it - it is all about the fun!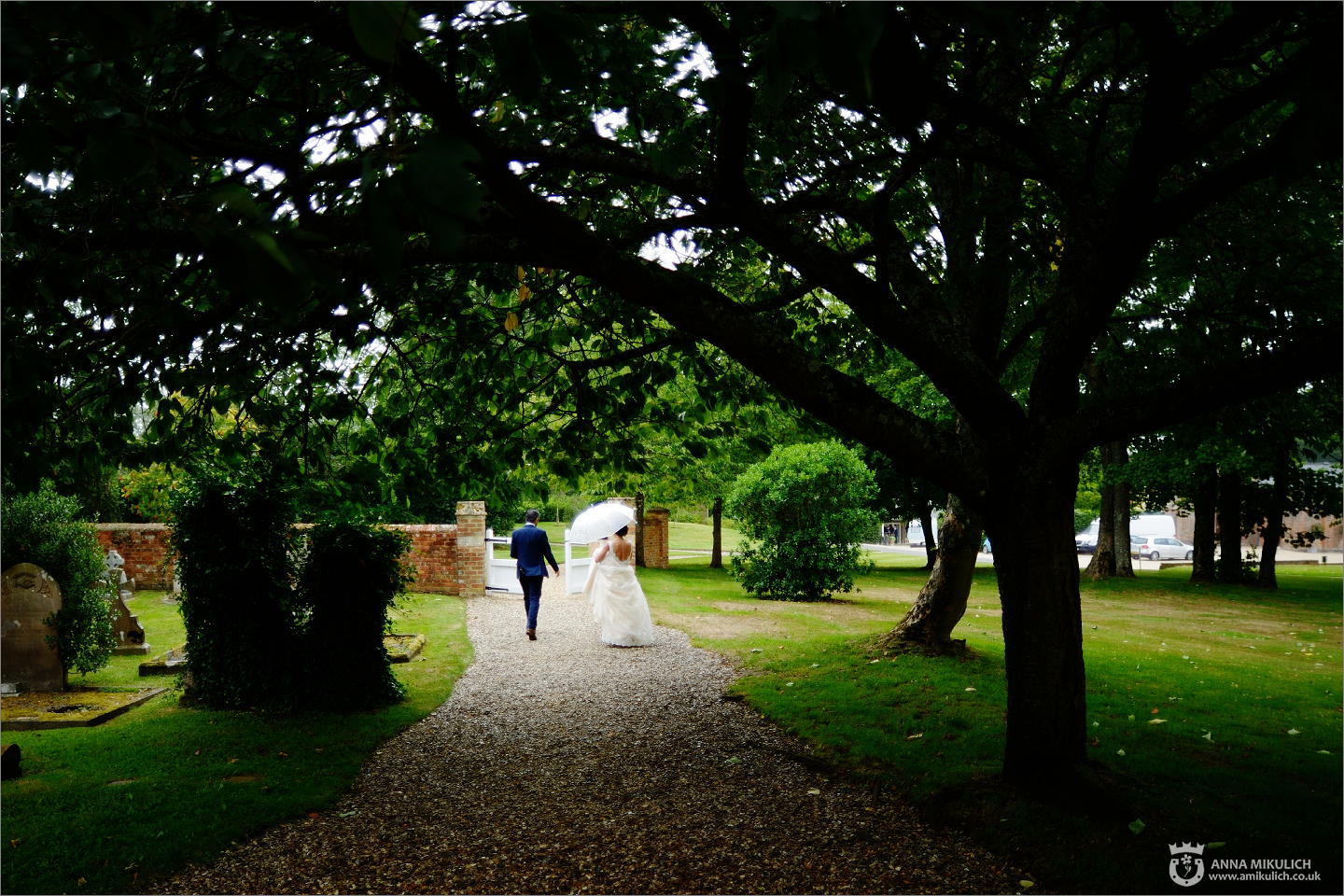 Even in a middle of the summer it is not a surprise to see an occasional drizzle for few minutes. We had a deep blue sky a minute ago and all of a sudden everything changed. We always carry a spare umbrellas that we are happy to offer to our happy couples when the weather is betraying us!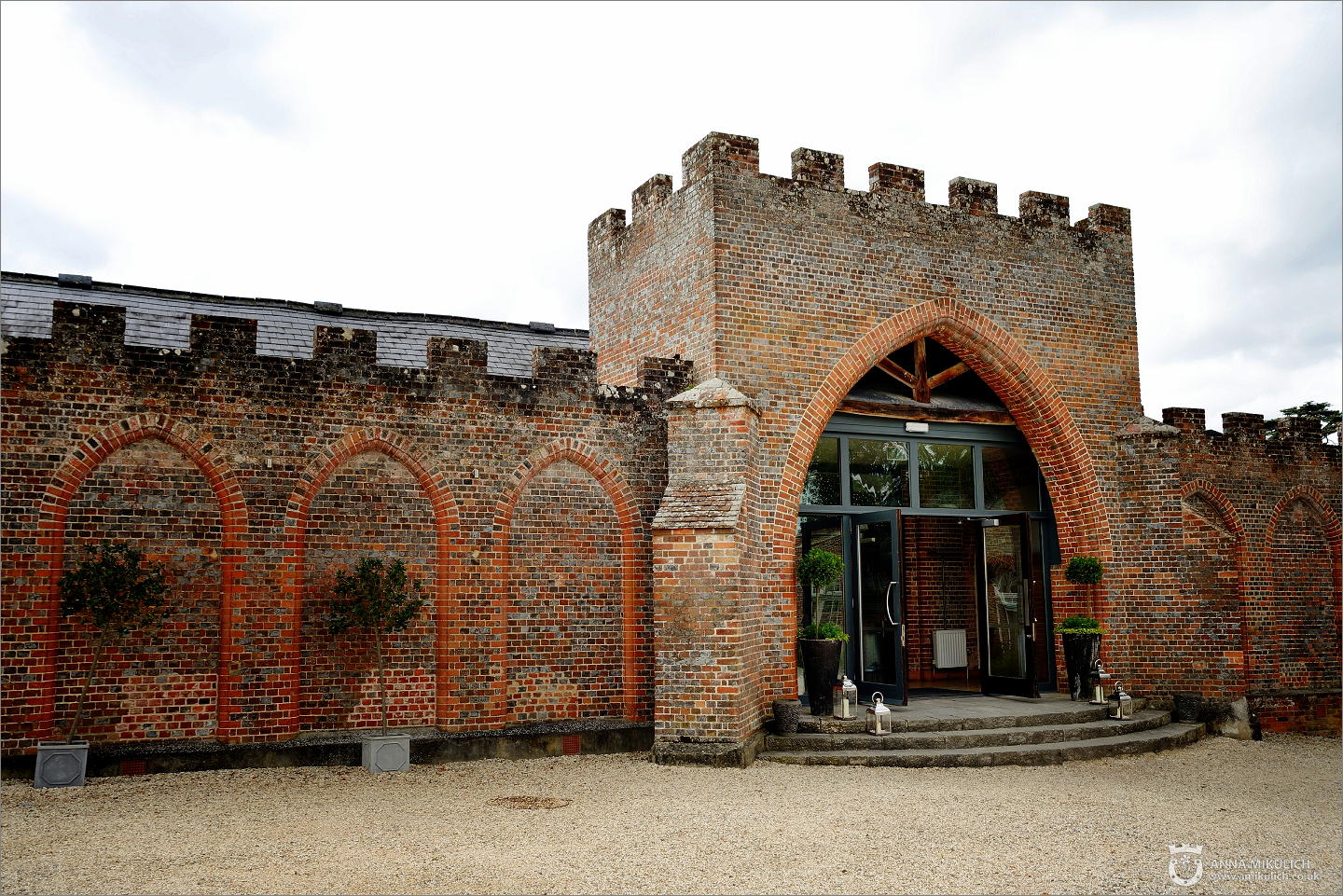 Just look at this stunning example of architecture. This is a barn that always dreamed to be castle. The proportions of the barn and elaborate brickwork make an amazing view.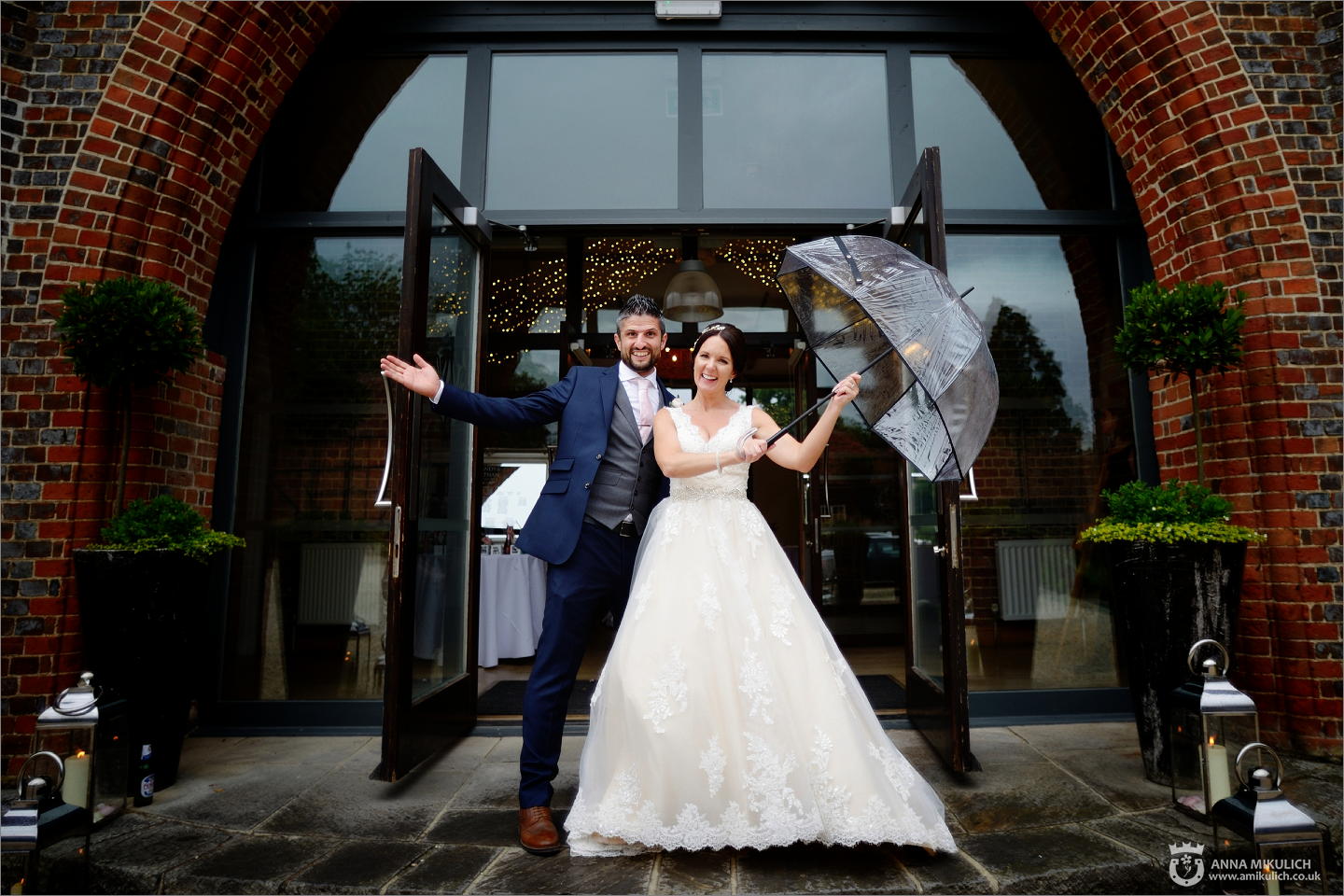 So we did it! Not only we have narrowly escaped the short rain we had a moment to take this smashing picture in the front of the reception venue. We believe our happy couple will not remember the rain chasing them but rather how happy they were on a wedding day! Just look at those happy faces!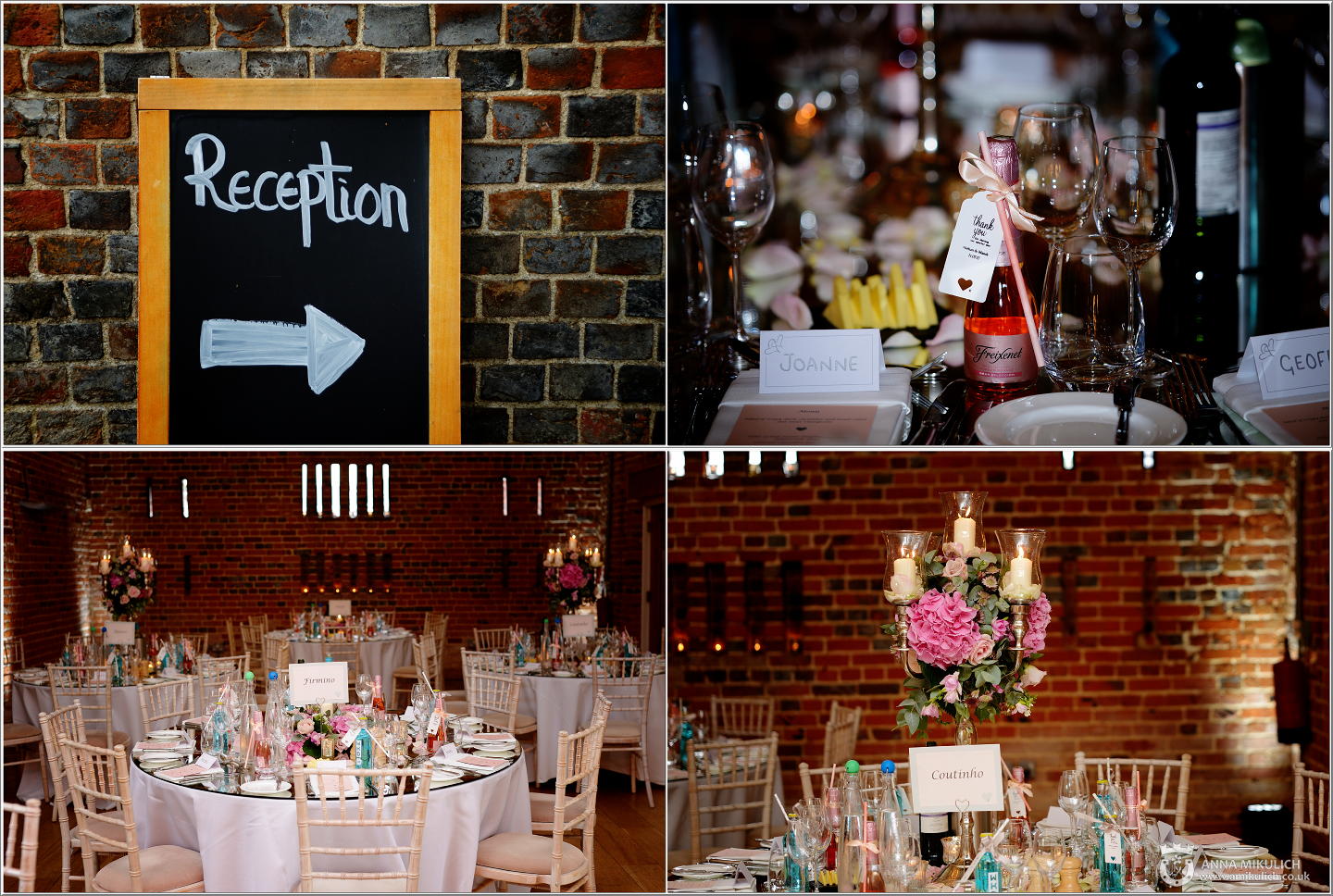 The barn was lavishly decorated and looked realy lovely. The tables were assigned with a football team names, there were small gifts and wedding favors as well a some entertainment packs for the little guests! Everyone was taken care of!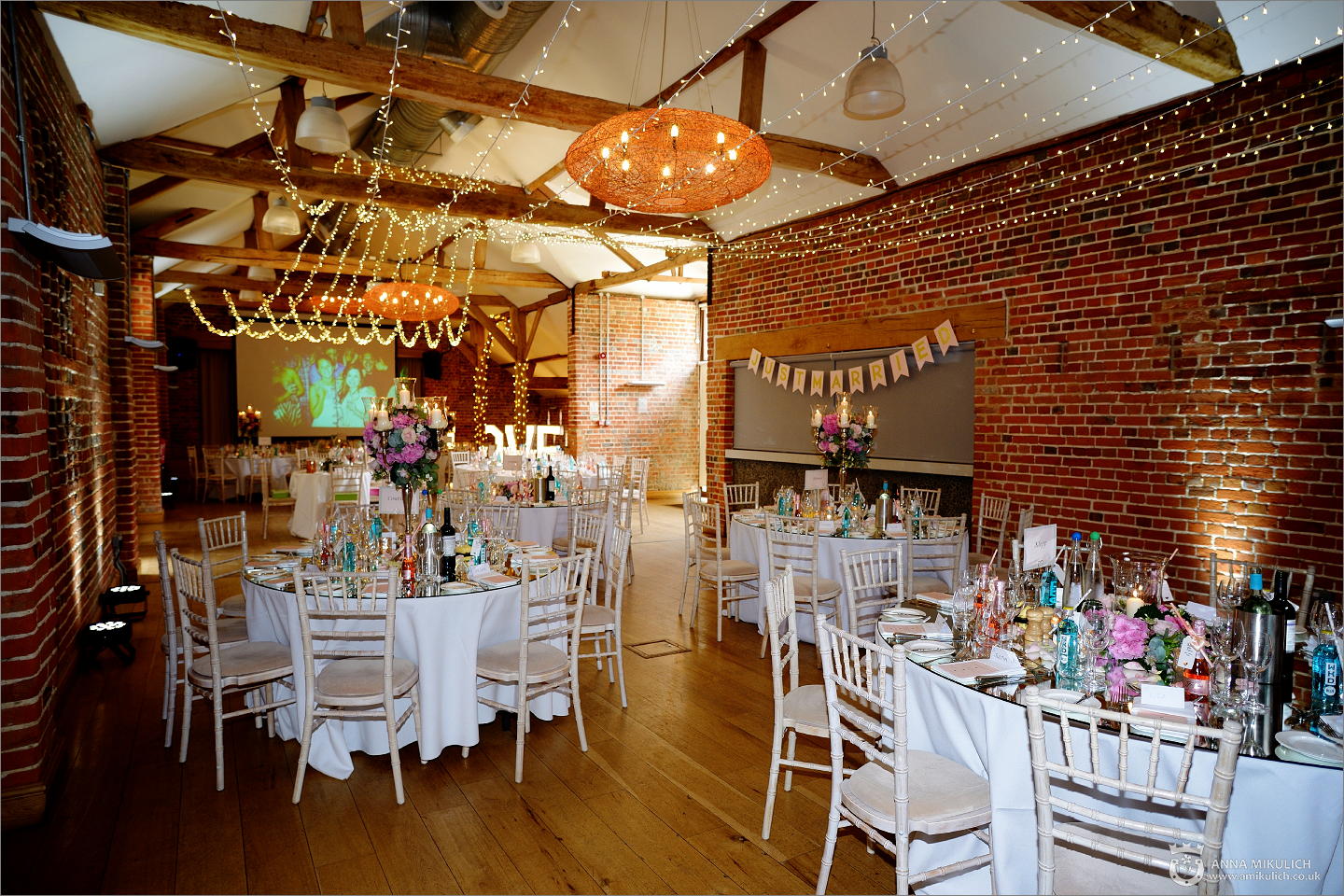 This is how the great barn of Wasing Park looked like on that wedding day. Beautiful, isn't it?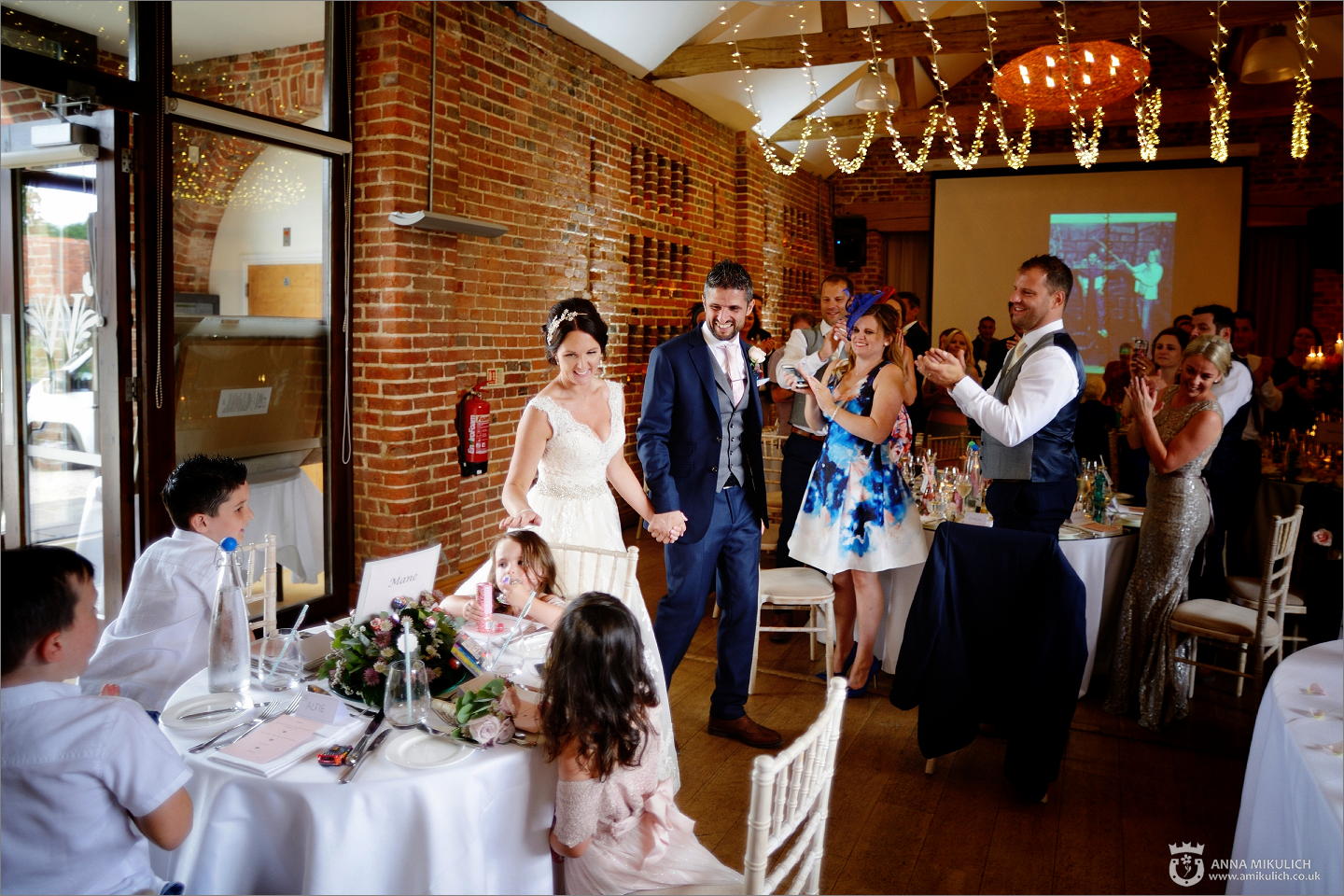 The big entrance of Mr. and Mrs. Smith!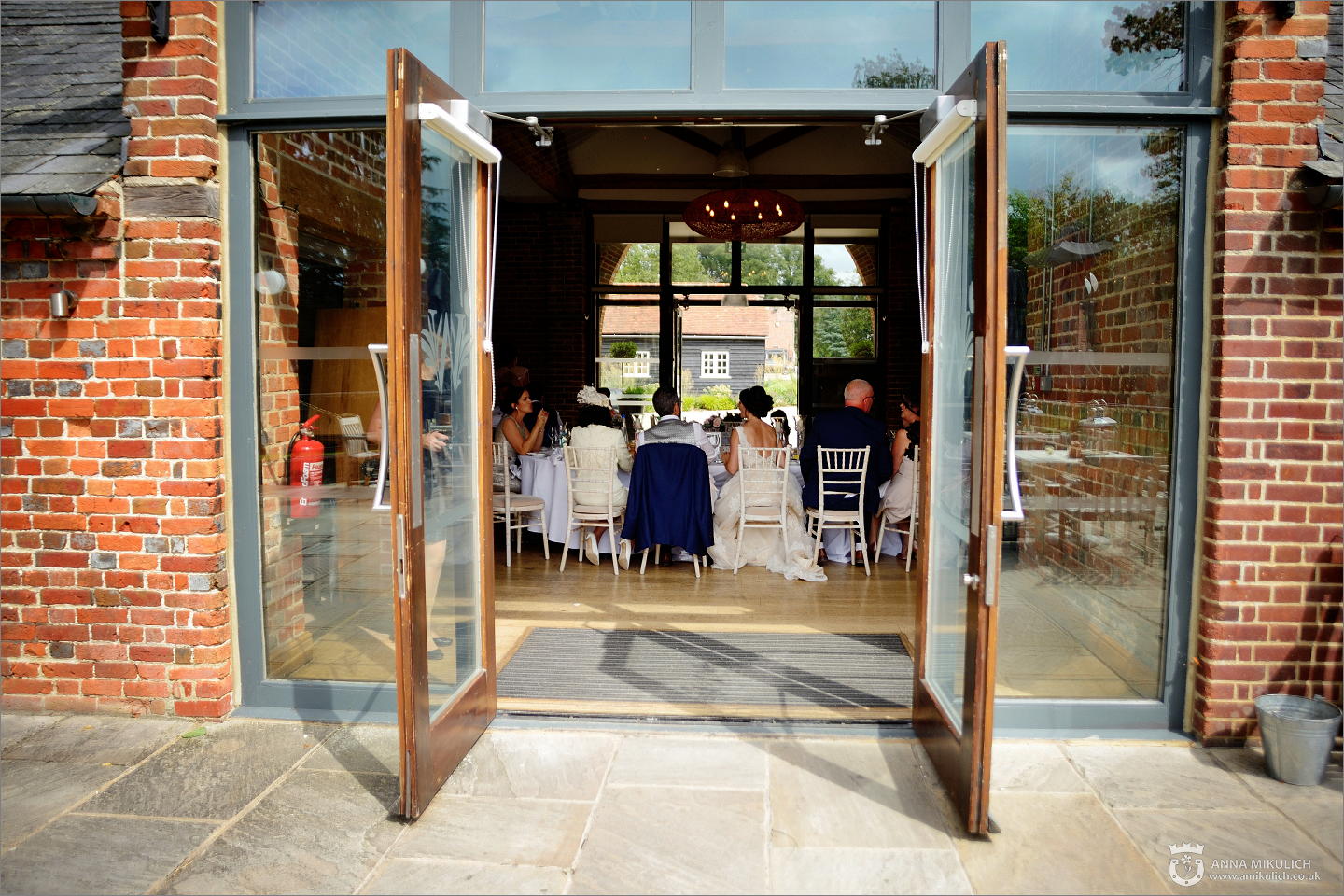 So the party is now officially on! The time to celebrate the marriage of two loving hearts! Wasing Park is a perfect choice to host a wedding!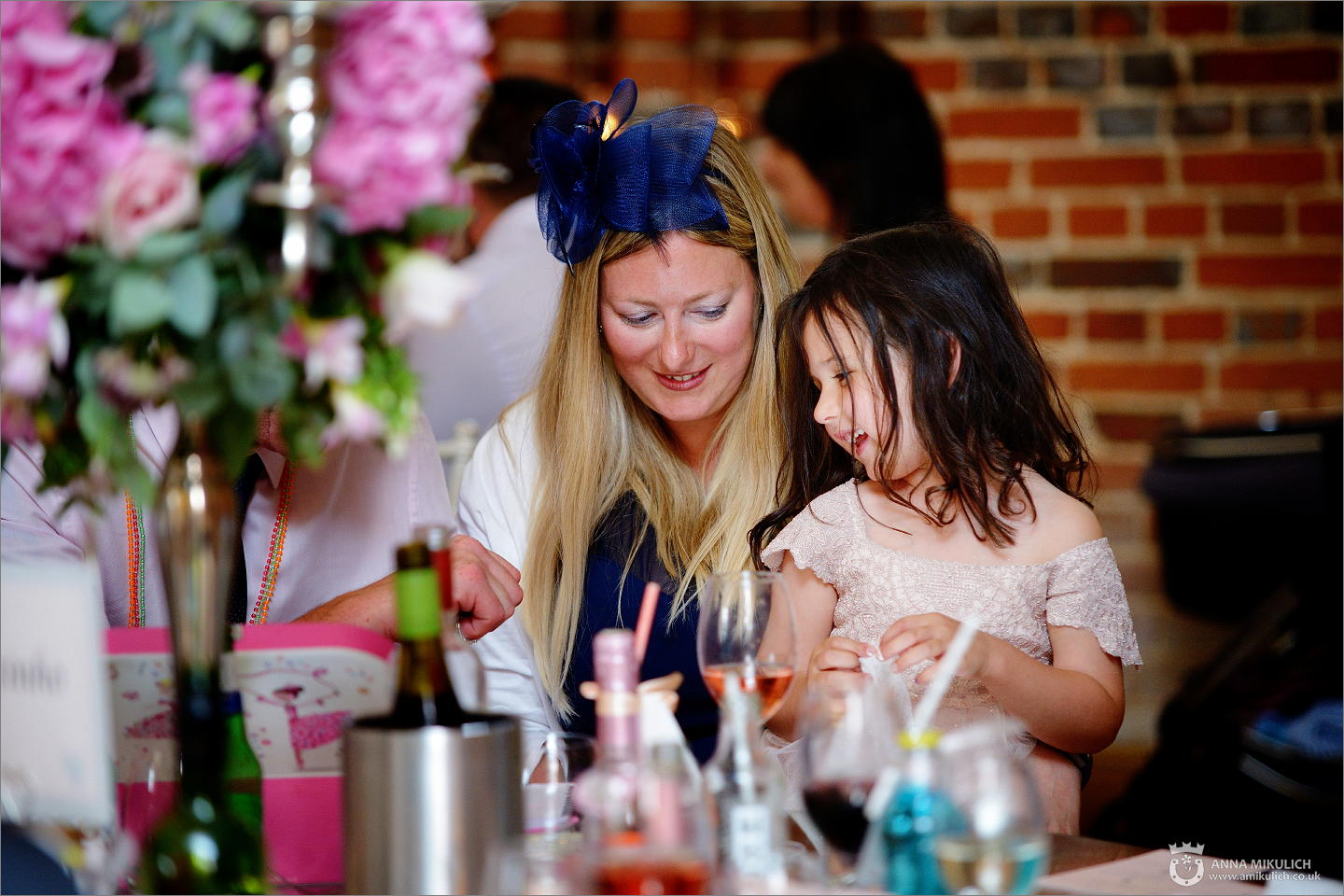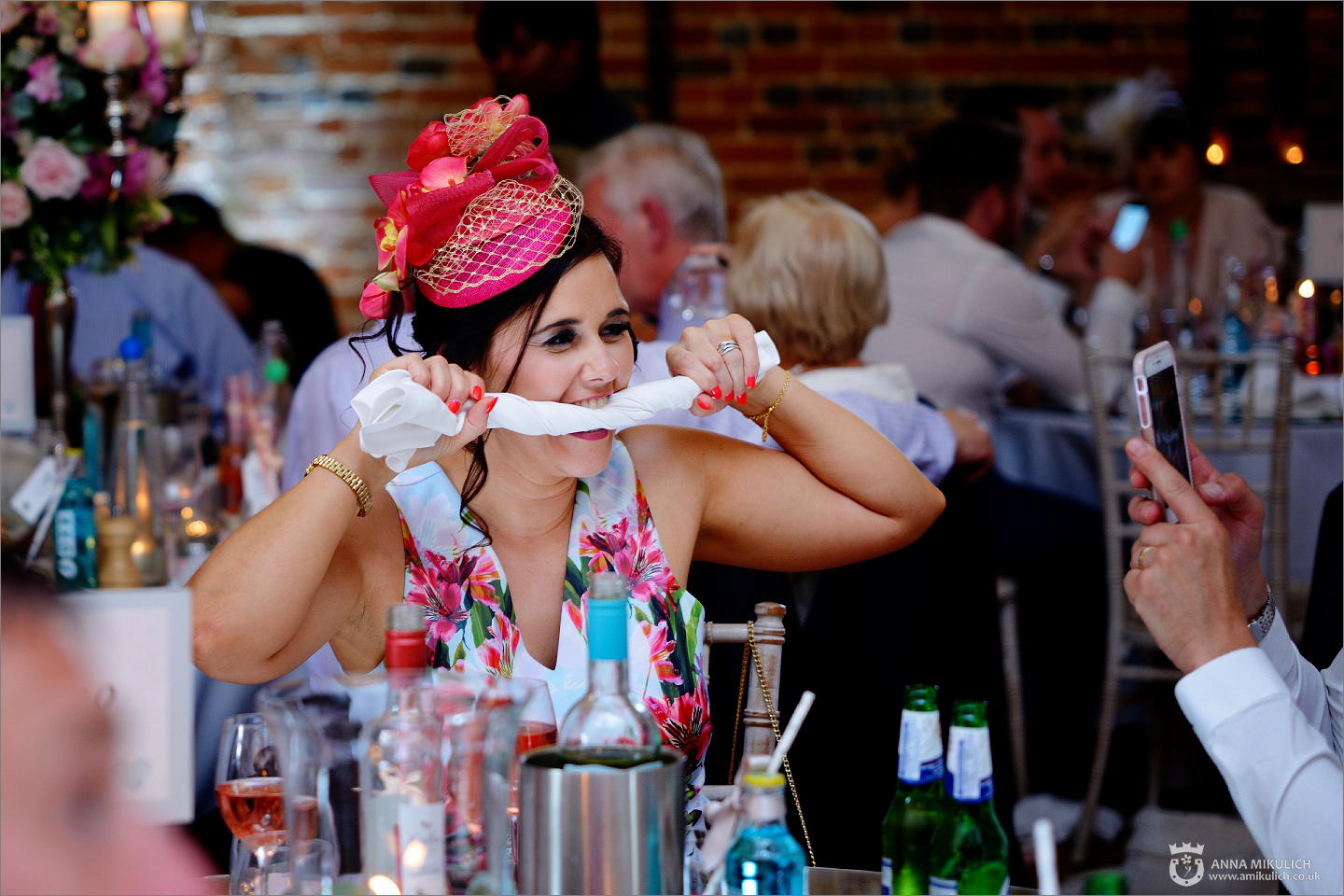 Positive people are always the source of some great pictures to remember!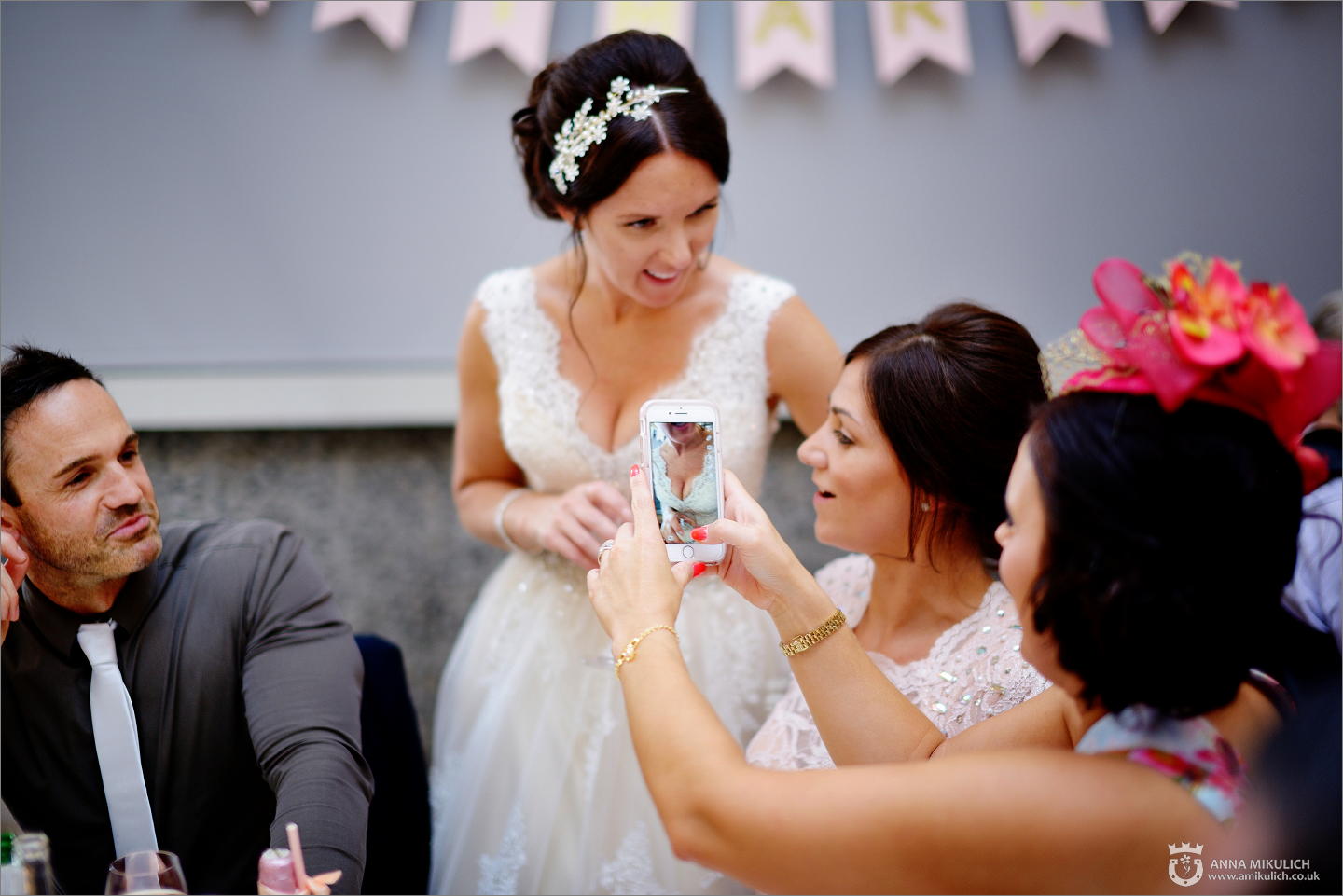 The wedding day is the chance to bring in your friends and relatives.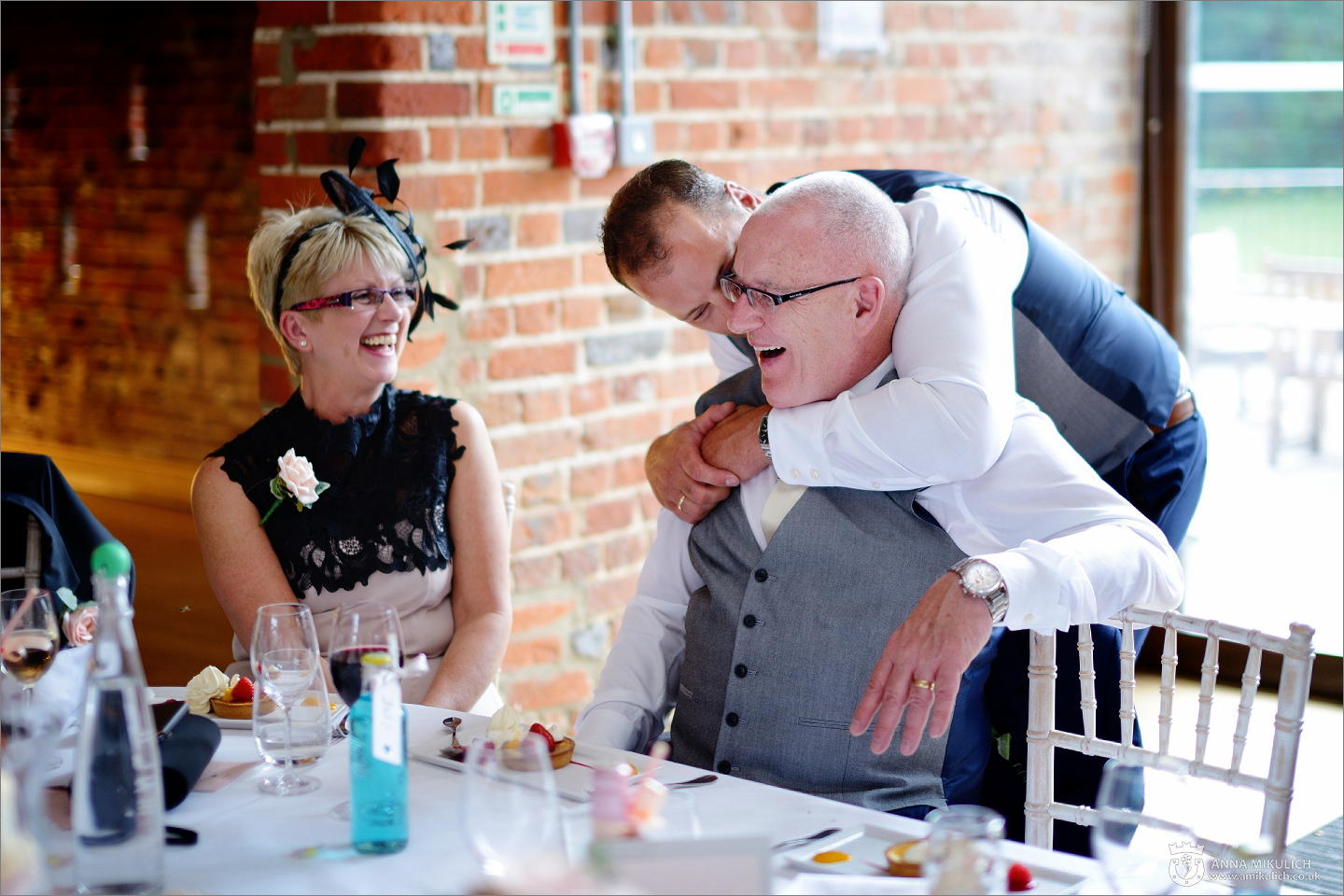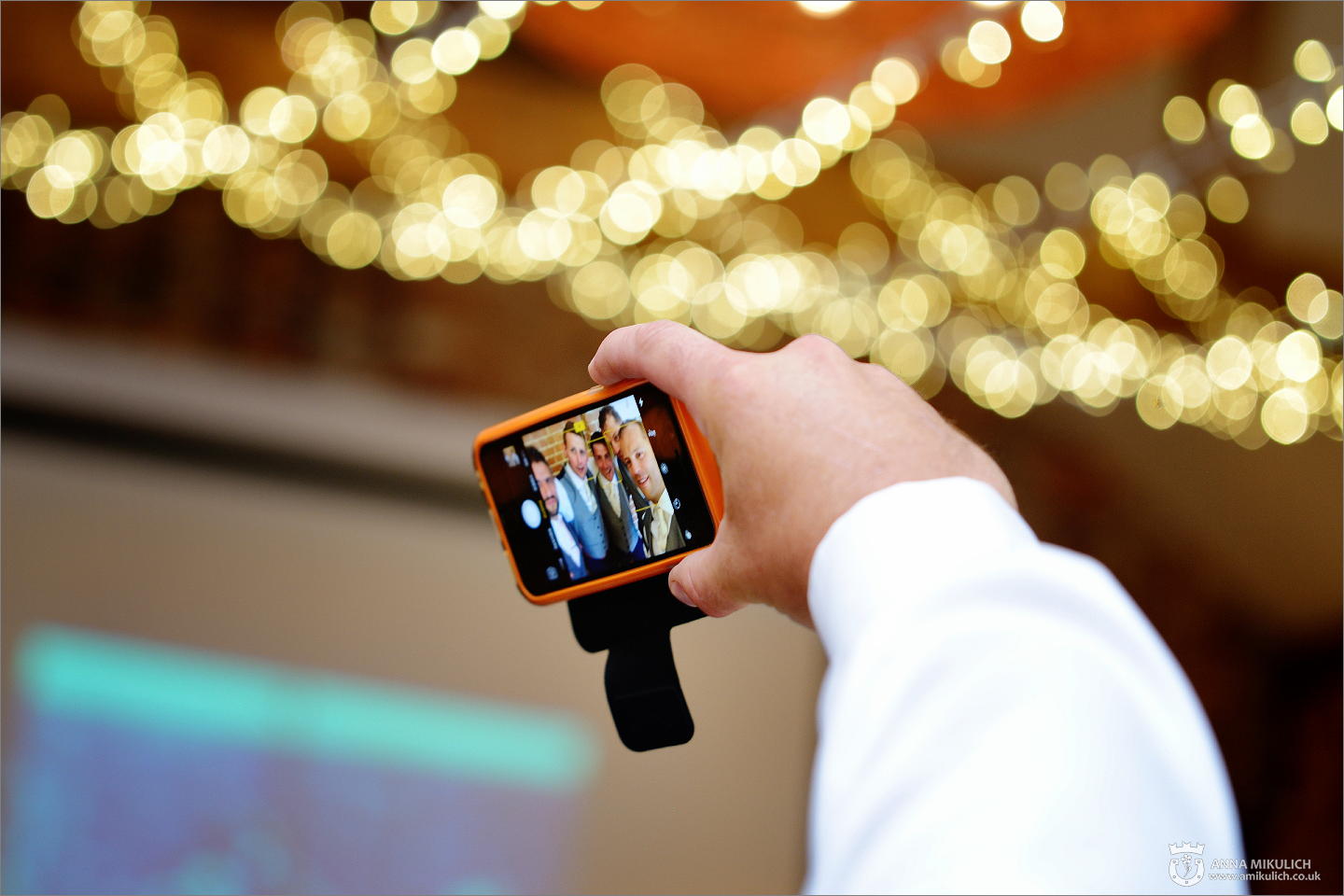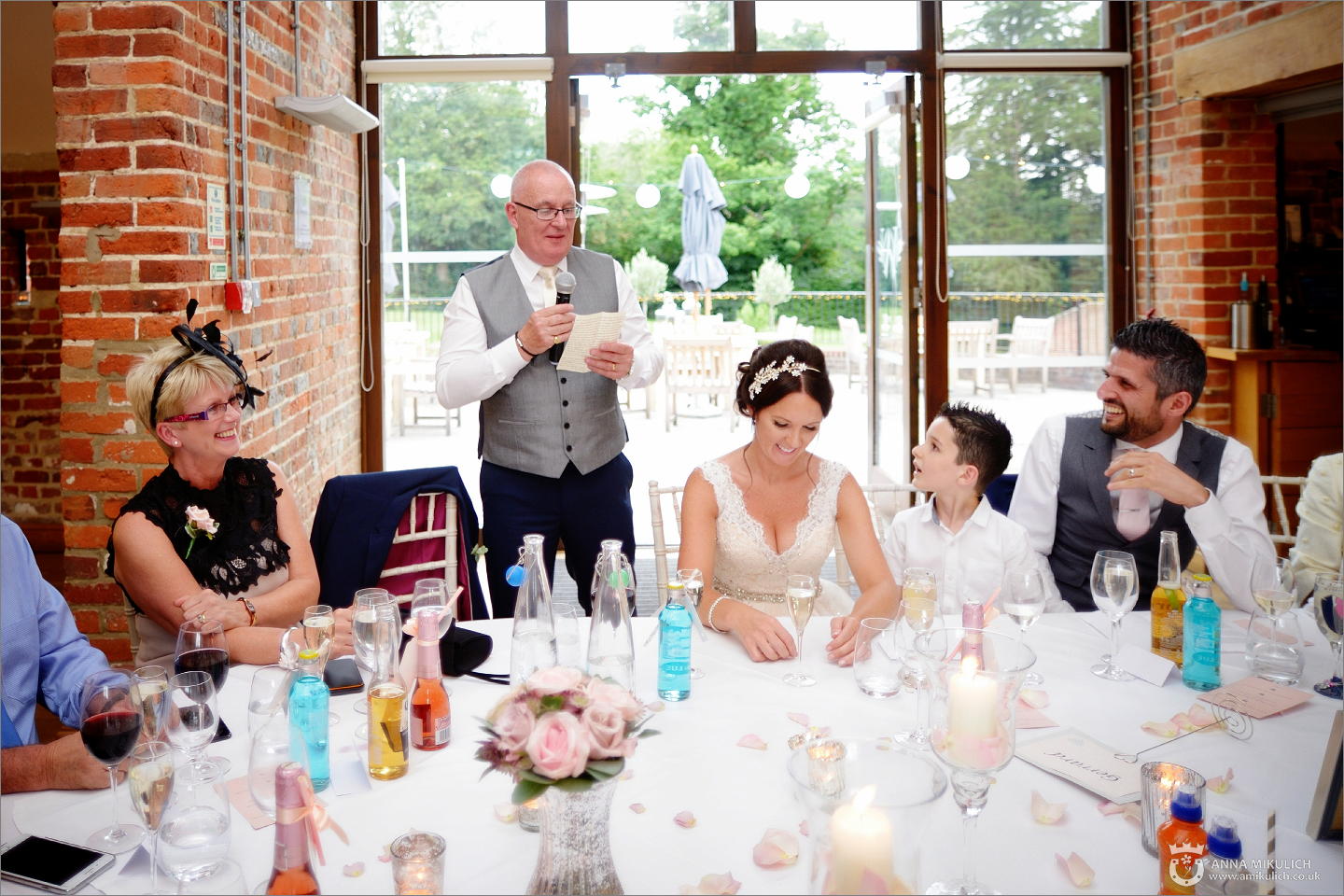 The father of the bride speech time. Some wise and cheerful words to be said. This is a very emotional part of any wedding - as this is the time to remember true family values and great stories from the past.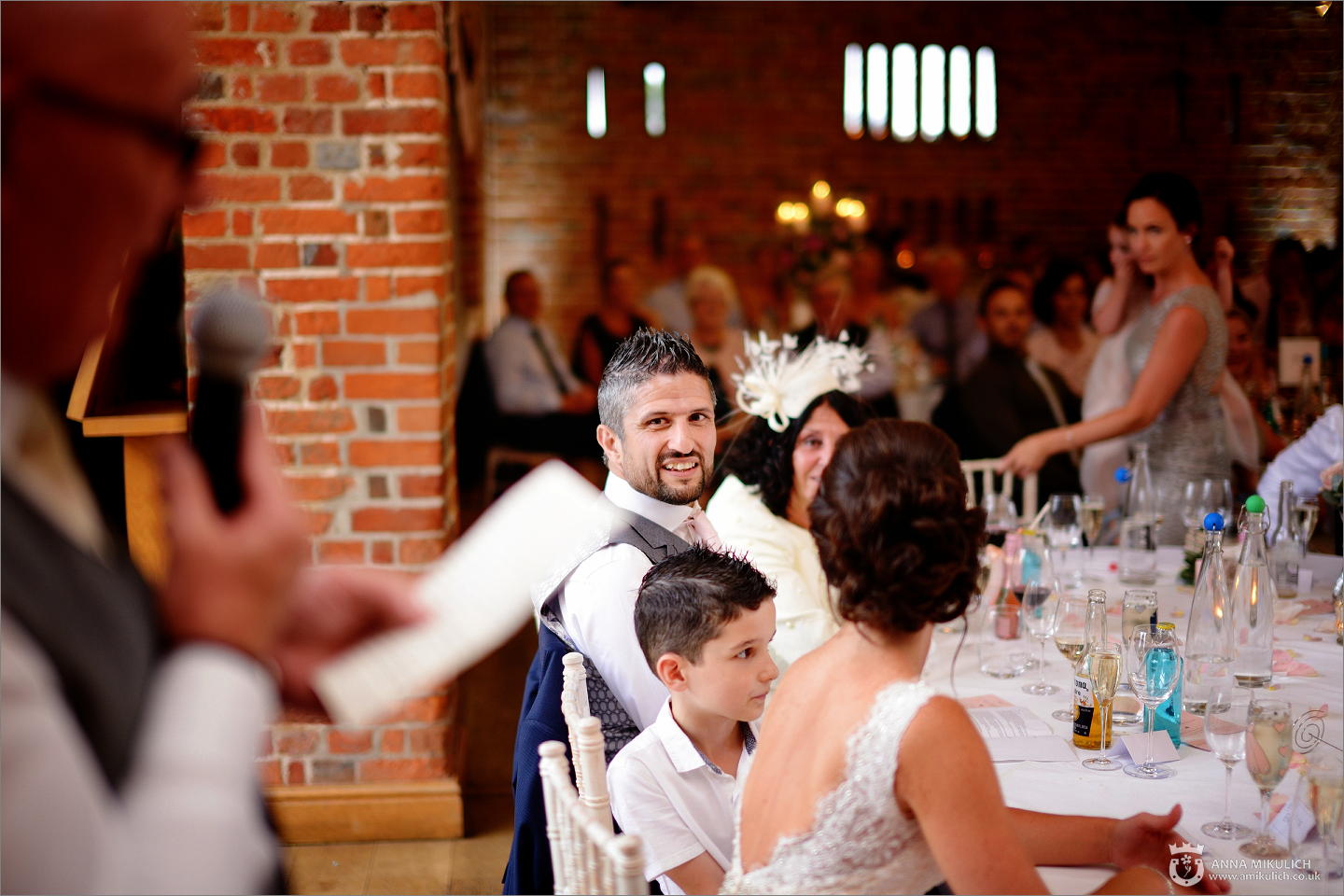 Some people are very moved by the great words said during the speeches.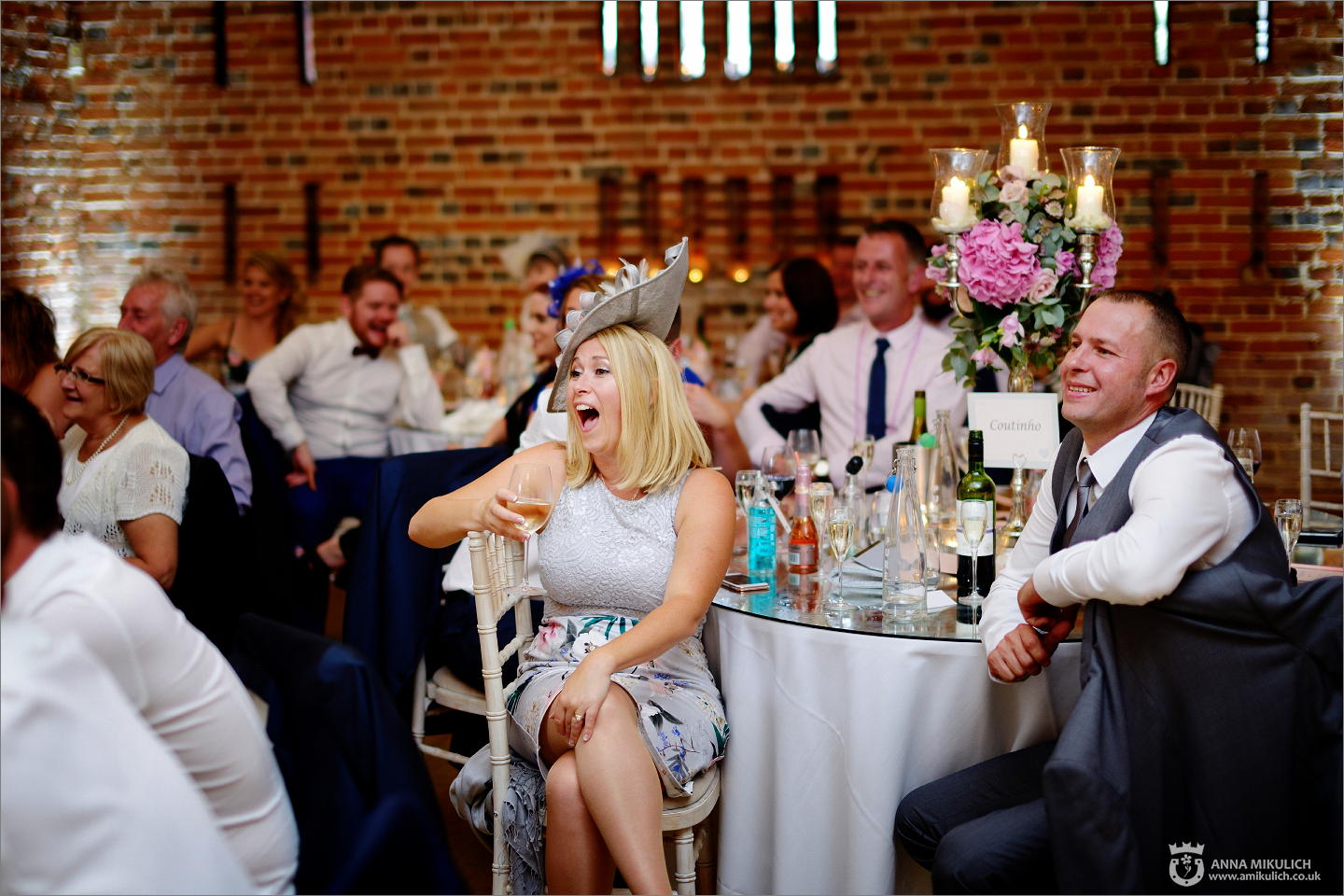 Speeches are there not only to share the wisdom of generations. It is a time to remember those hillarious stories and situations with unexpected endings - there is always something great to laugh at!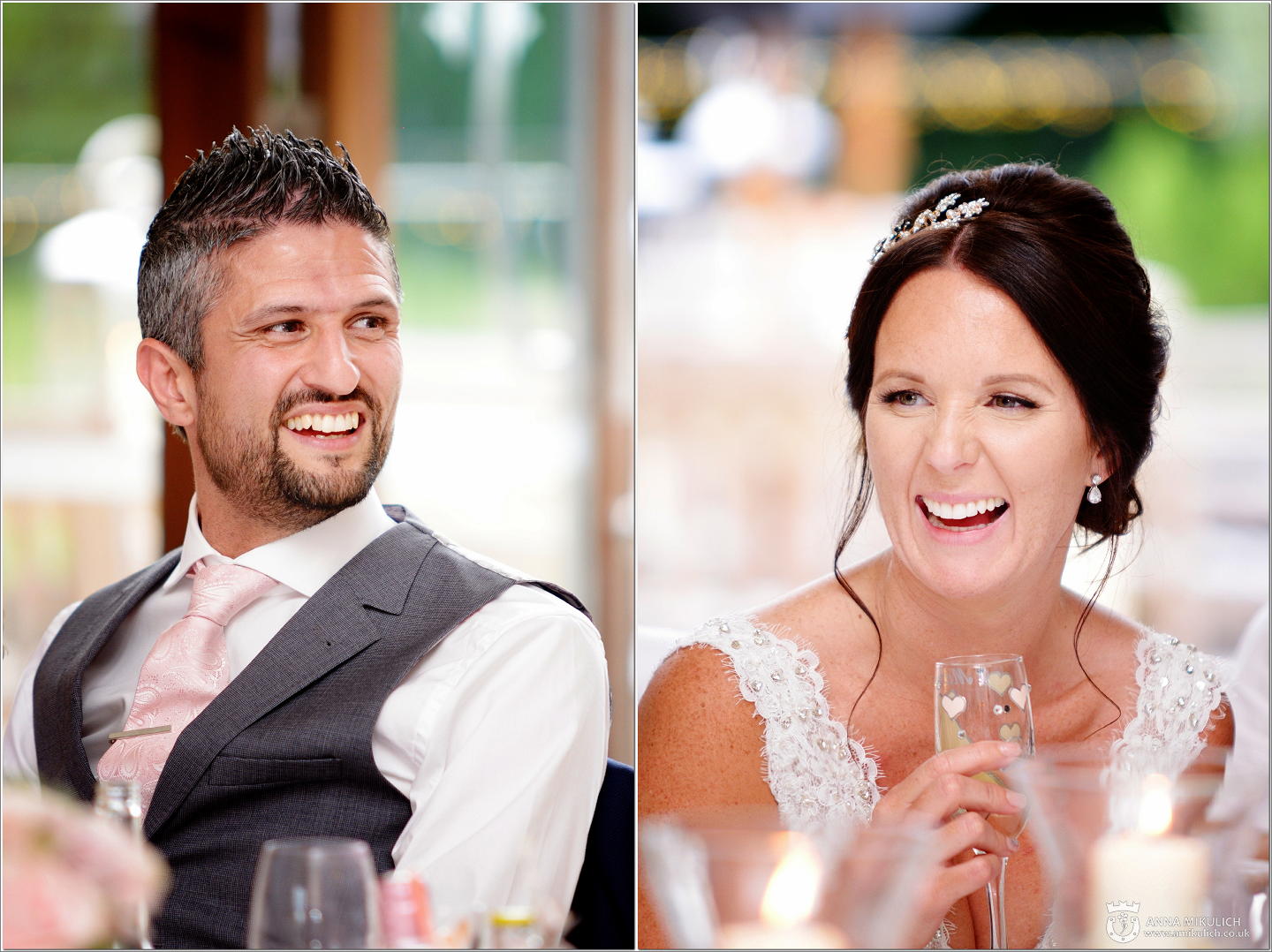 Our happy couple is enjoying the speeches in full! No wonder - they are the primary characters of those entertaining stories!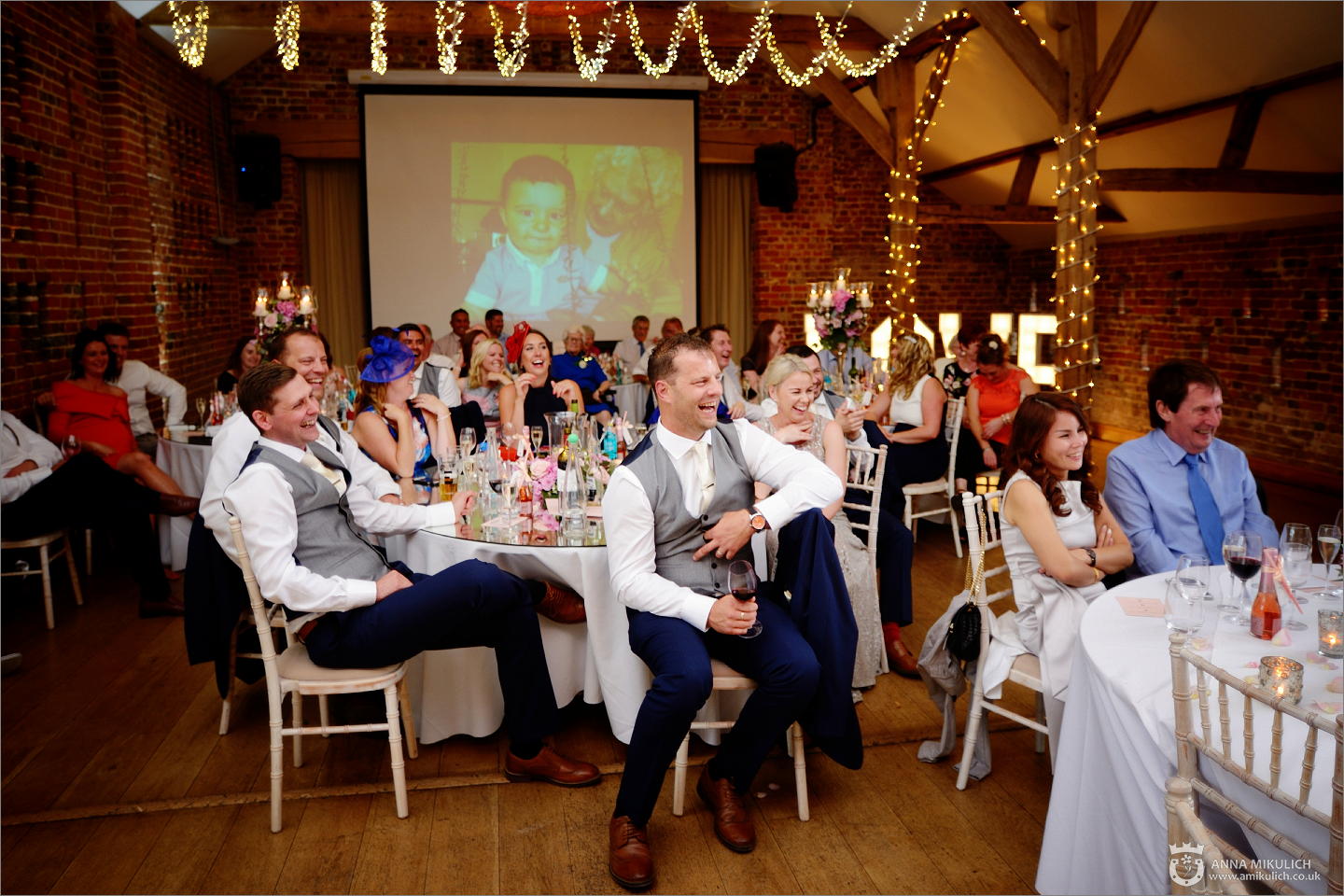 We must admit - we are having great time during the speeches too. Some of those stories and speeches are so hilarious so we cannot stop ourselves from laughing and we still need to take the pictures!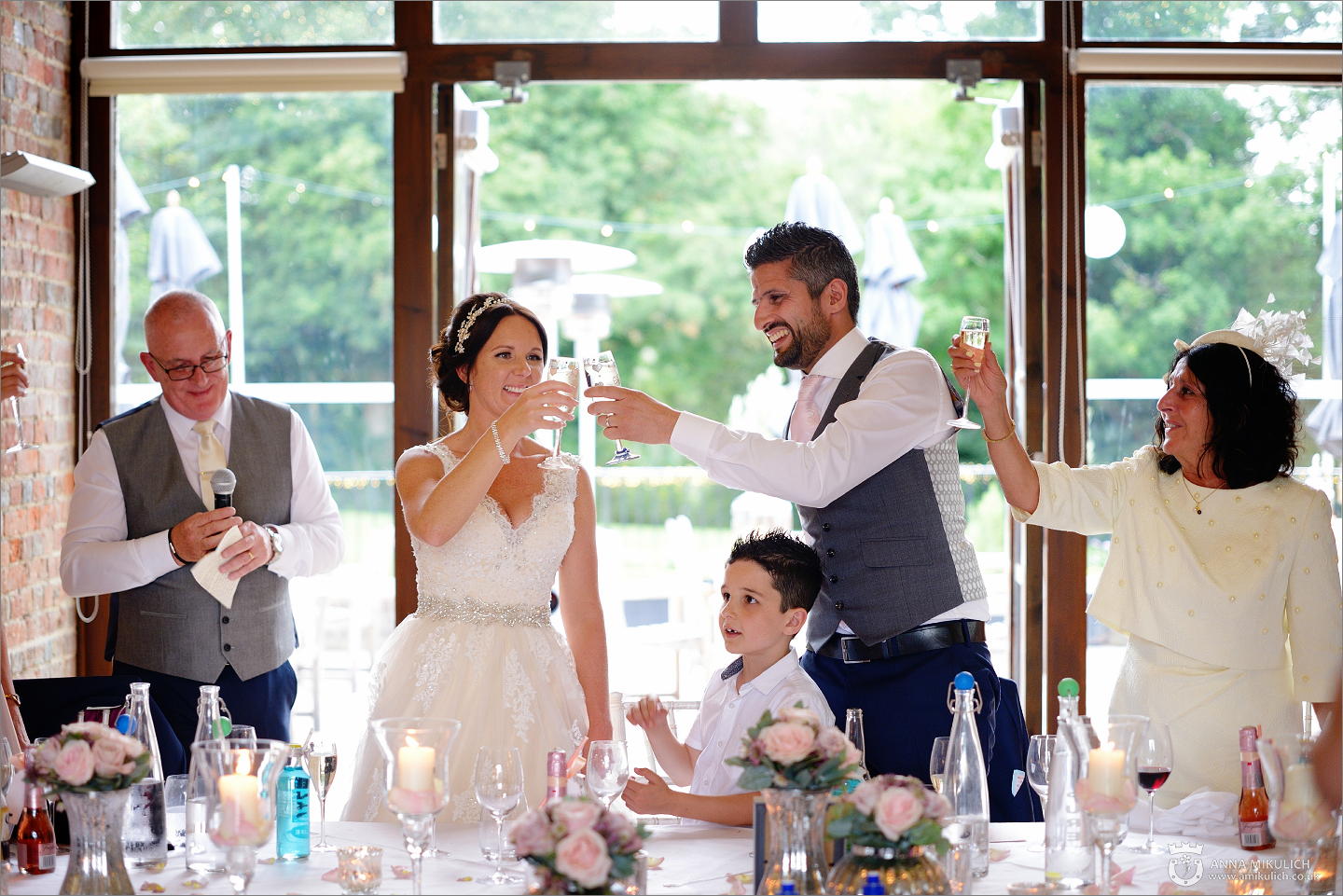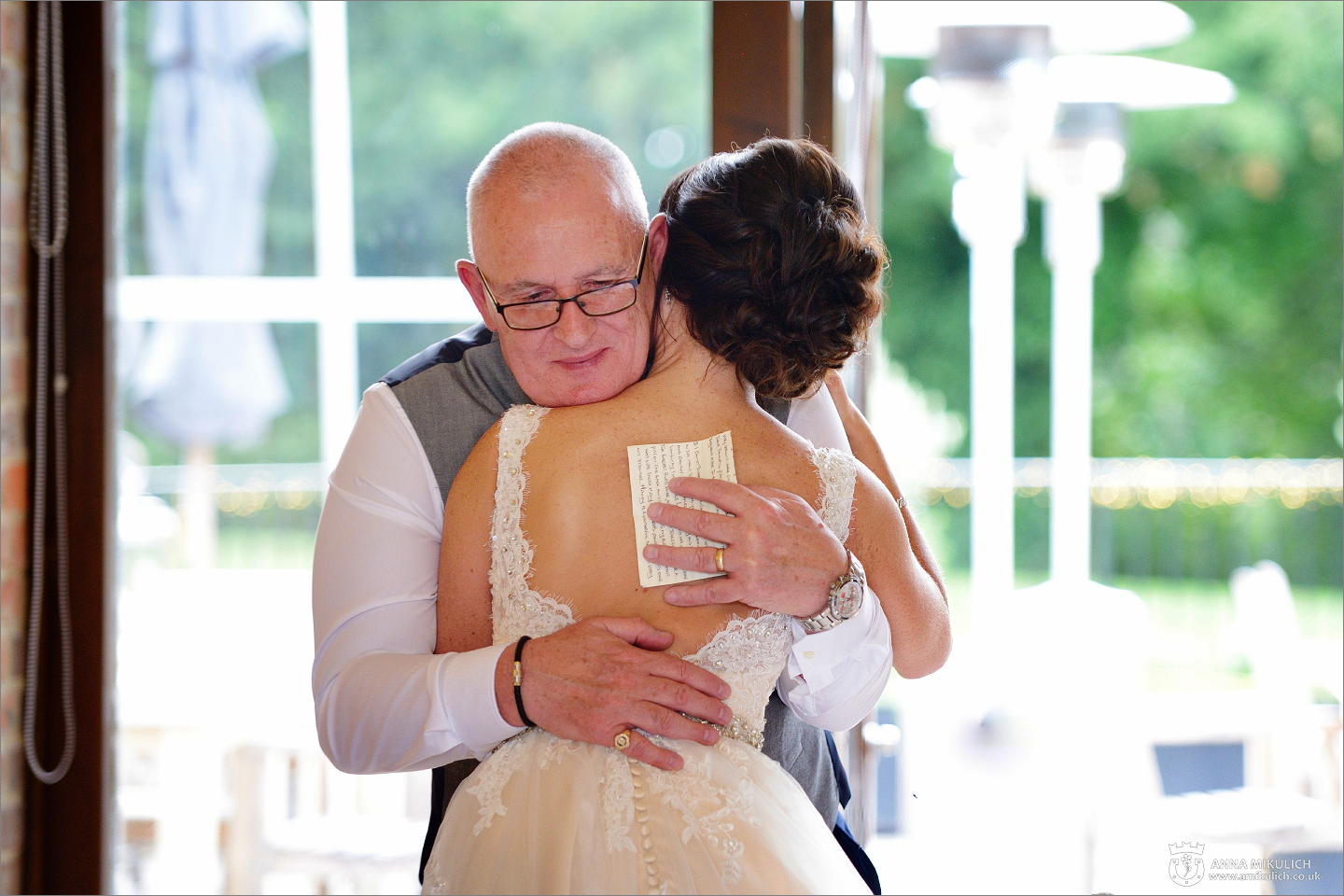 It is hard to understimate the parents love. You can see it in the way the parents look at their growing and independent children, the way they admire them and proud of their steps in life.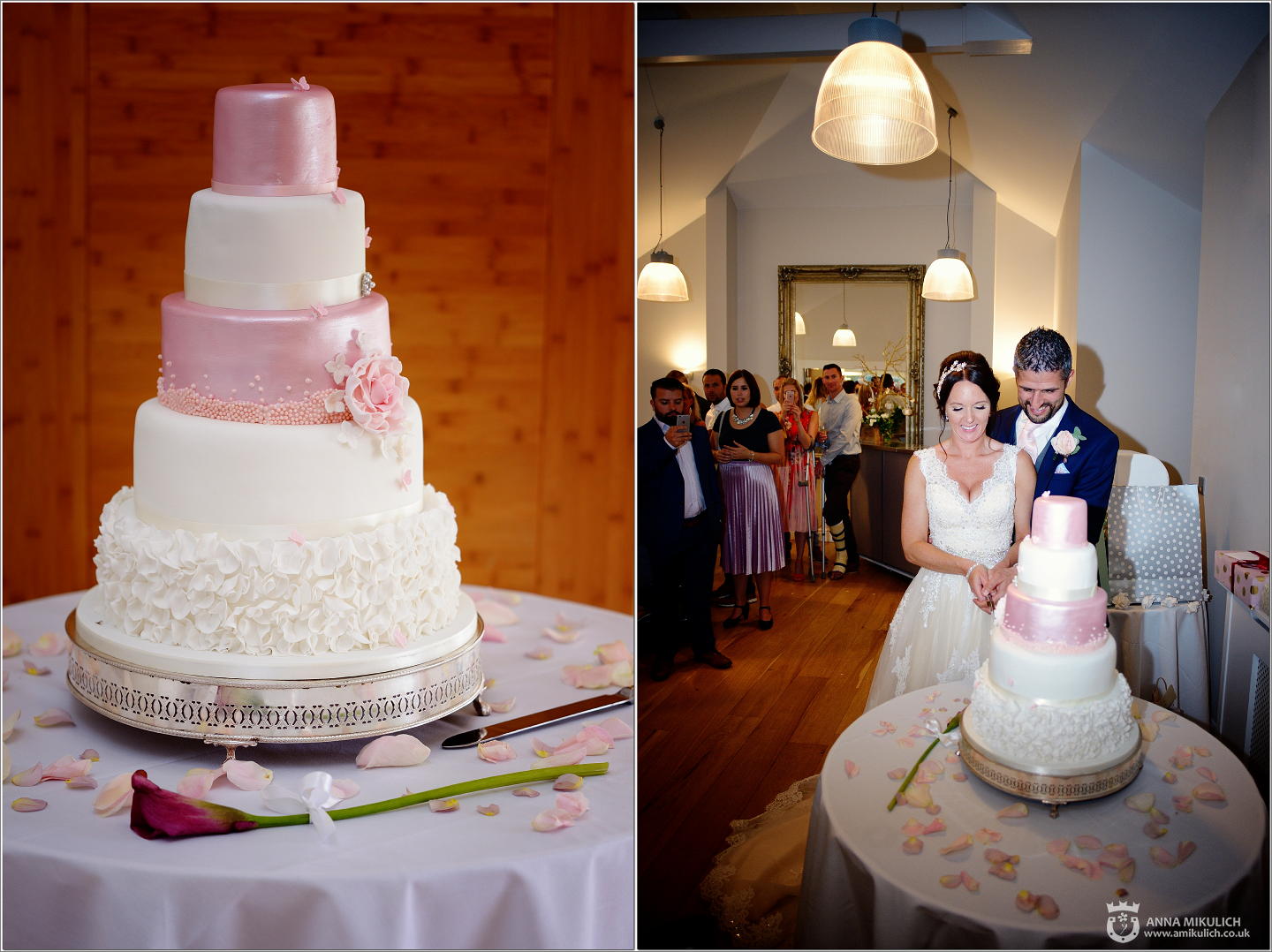 Another beautiful and very symbolic tradition - the cake cutting! We are, the photographers, are all set and ready - everyting will be very quick and we must take all the pictures we need at once!
Sometimes our couple 'just making a scratch' on the cake before it will be taken away and cut into pieces but not this time! Well done Nathan and Mandy - you made a run for its money for that cake! This is how you do it!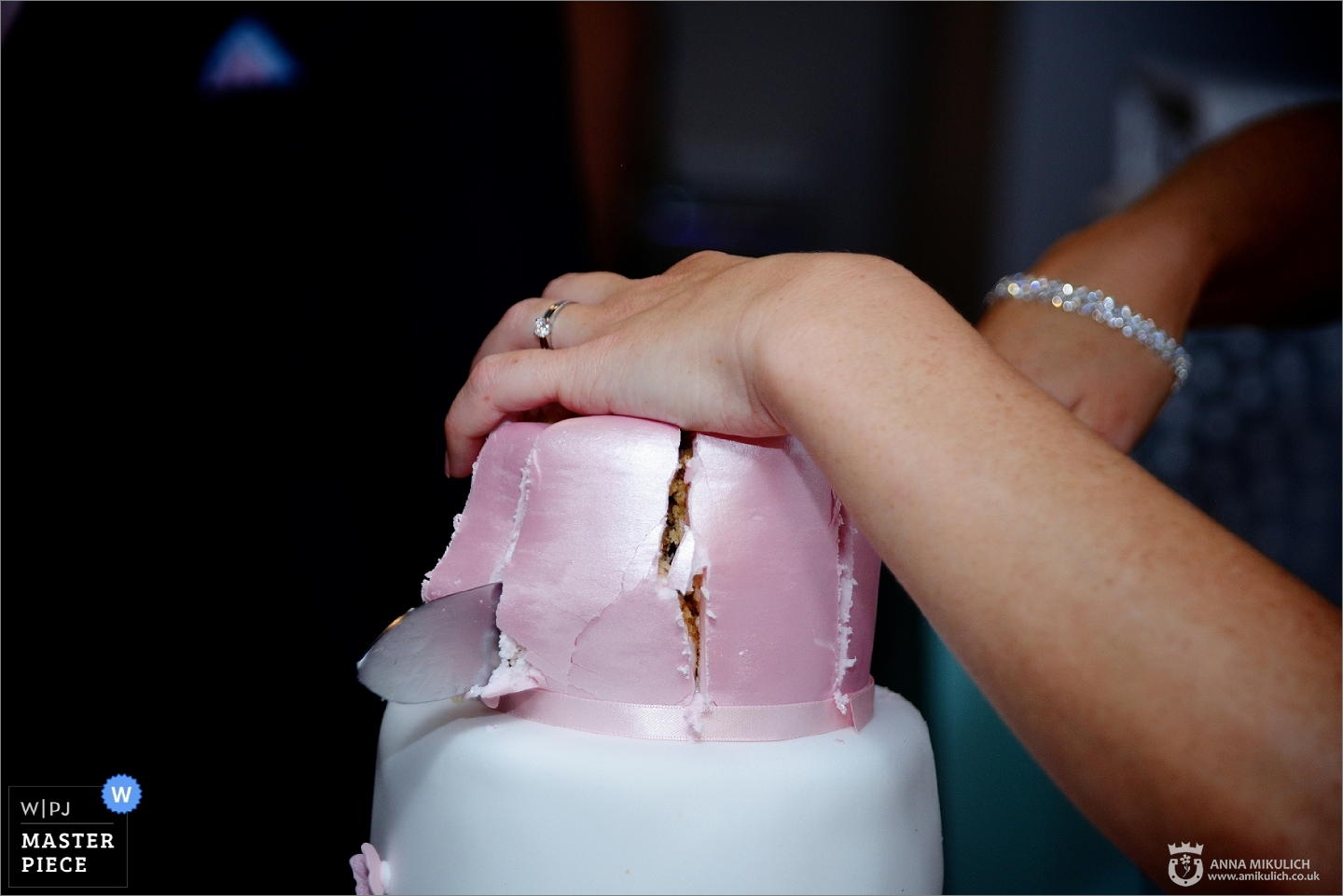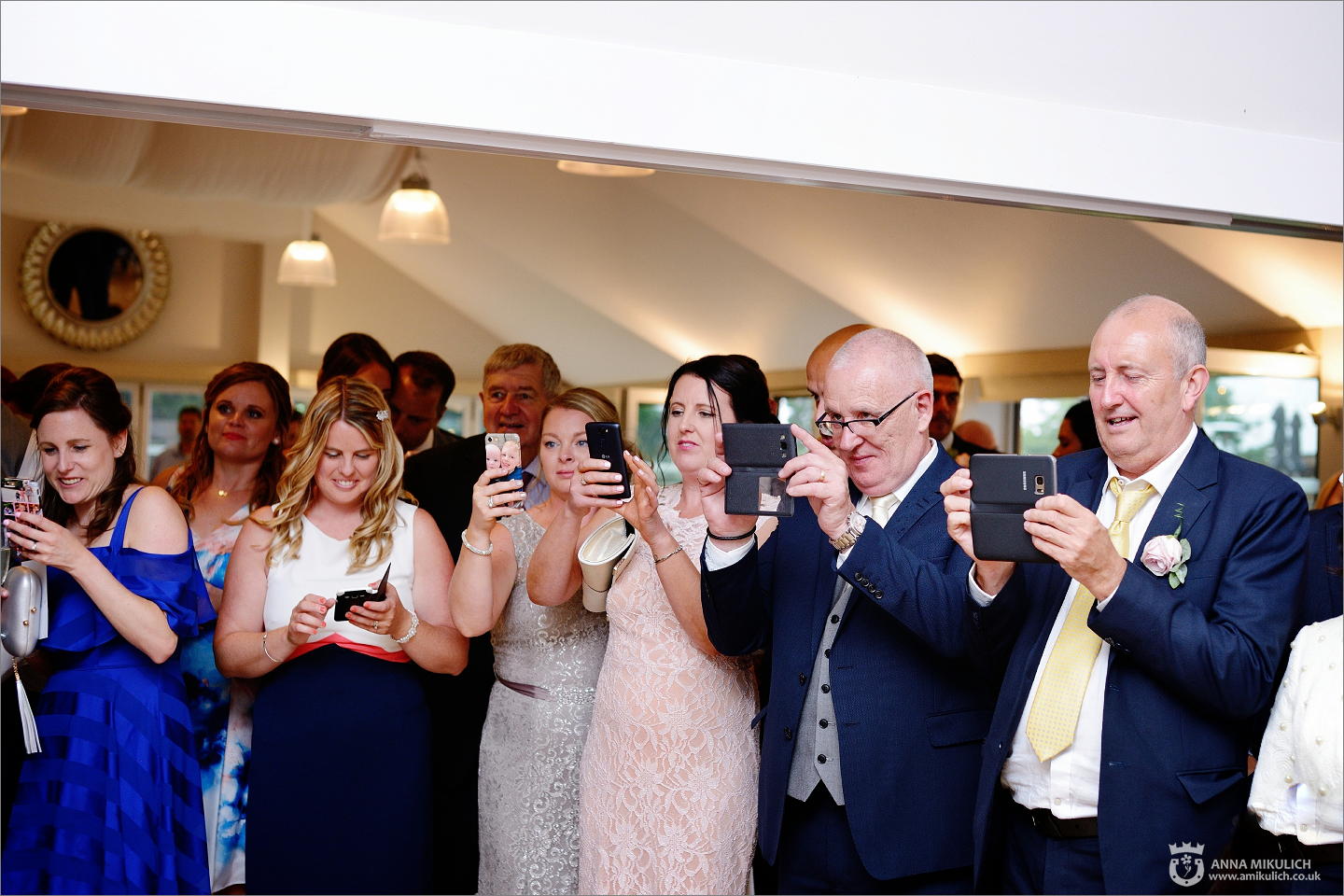 The guests are thrilled by the way our happy cople deals with the cake! No one expected that!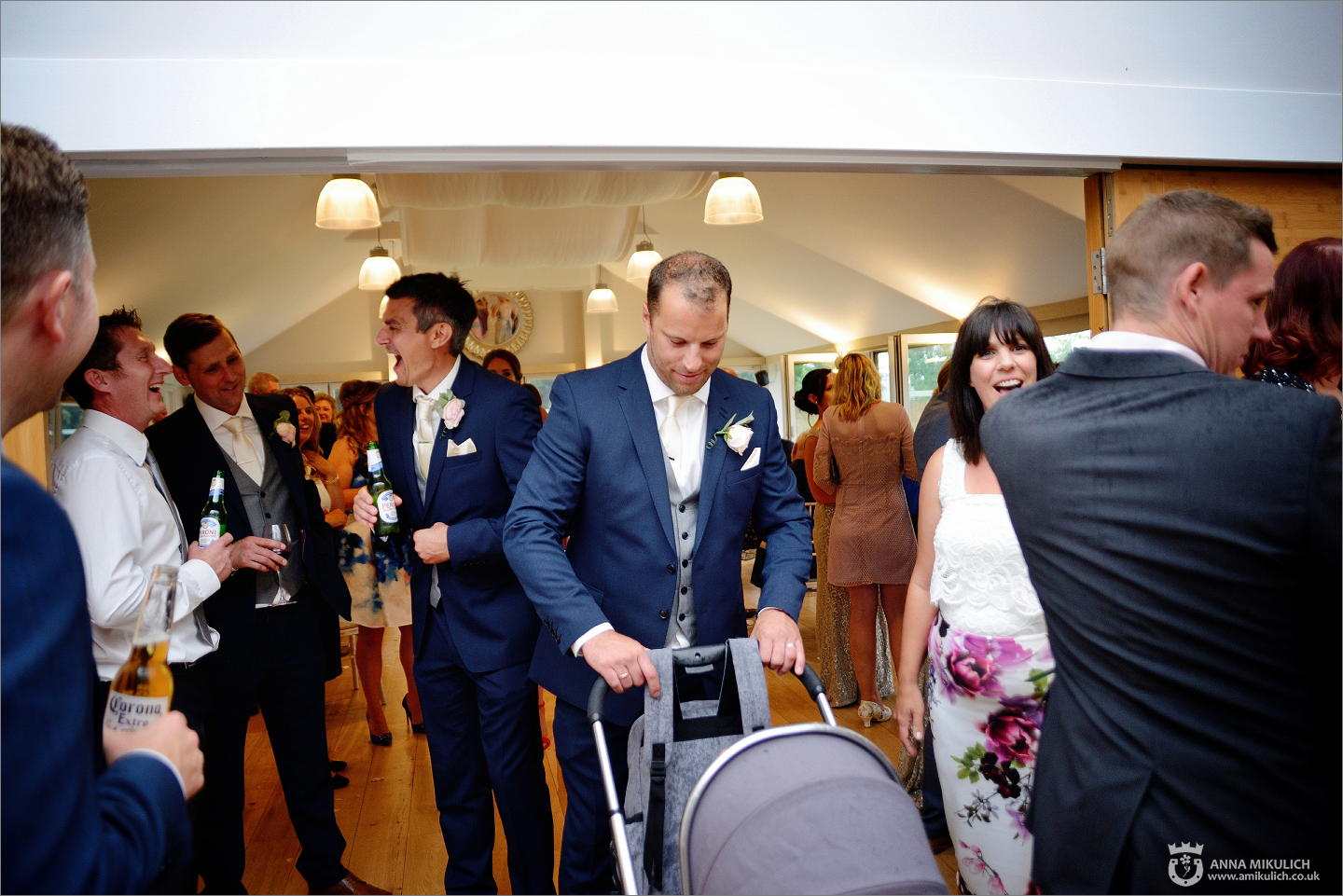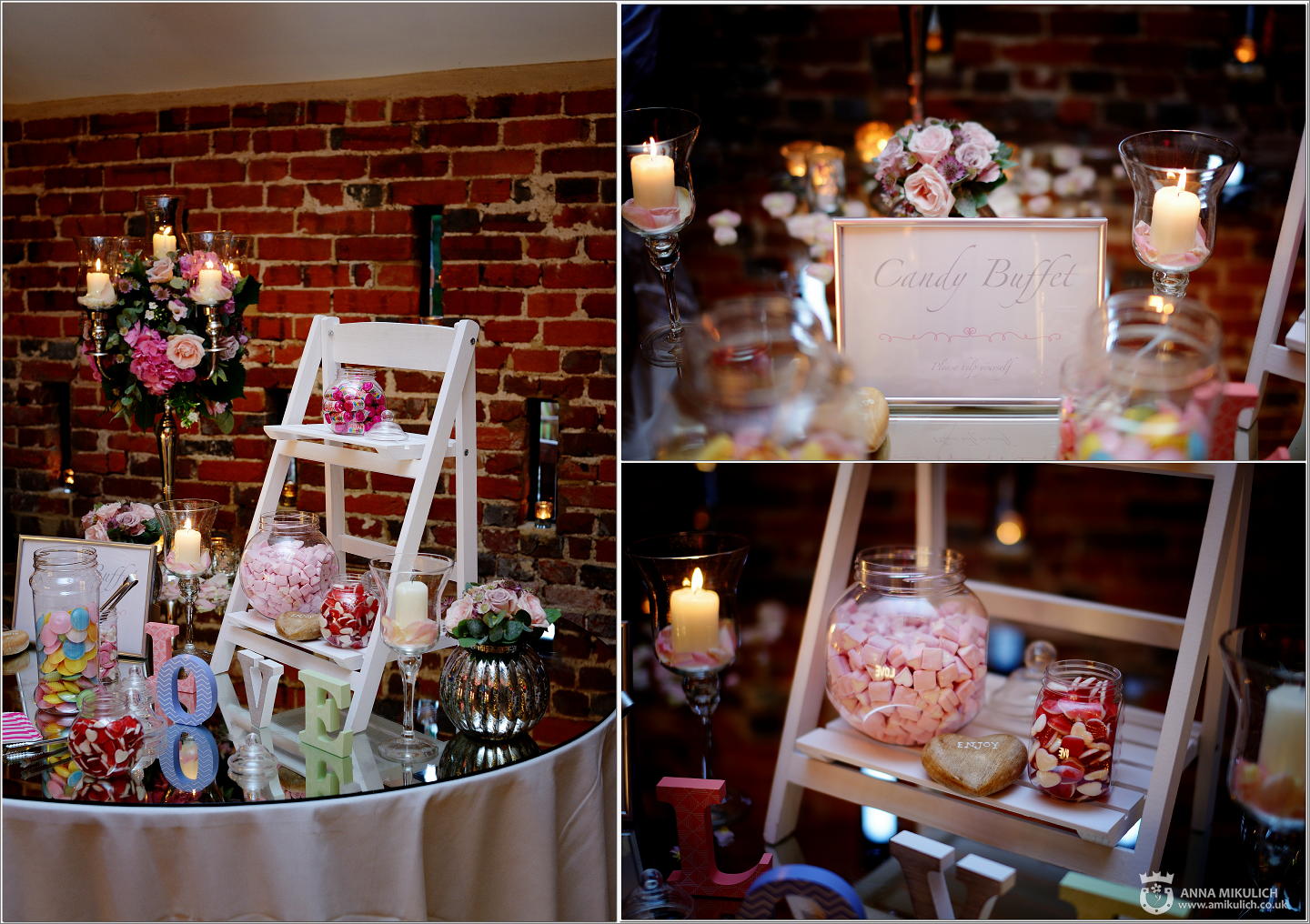 Evening treats! Delicious!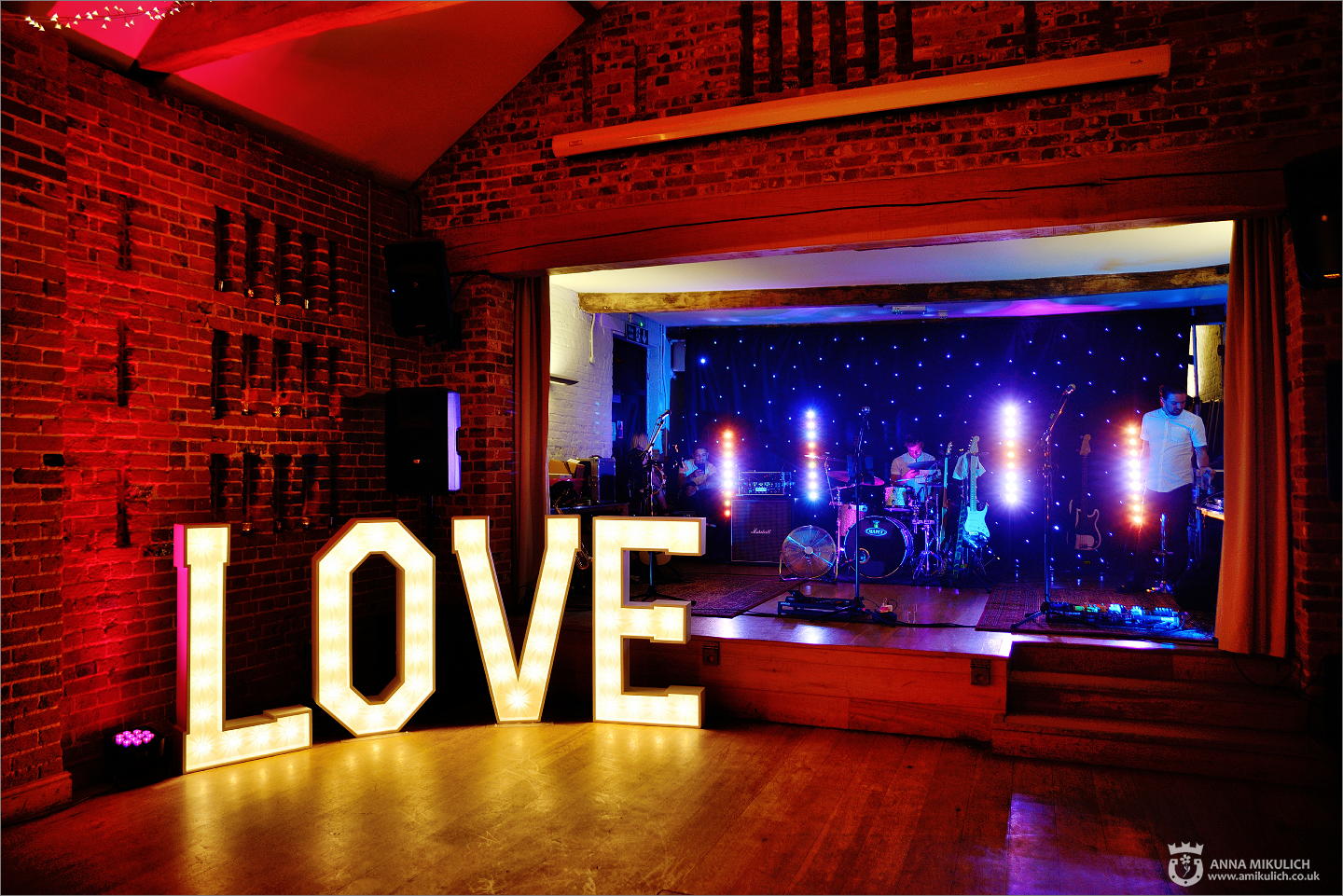 The dancefloor is all set! It is empty now but in a second we will see the first dance! It always requiring extra efforts from wedding photographers to do it right. All the lights would be switched off - so it is dark and harder to focus. We need to be creative with lights by not ruining the atmosphere of the moment and still taking great pictures to remember.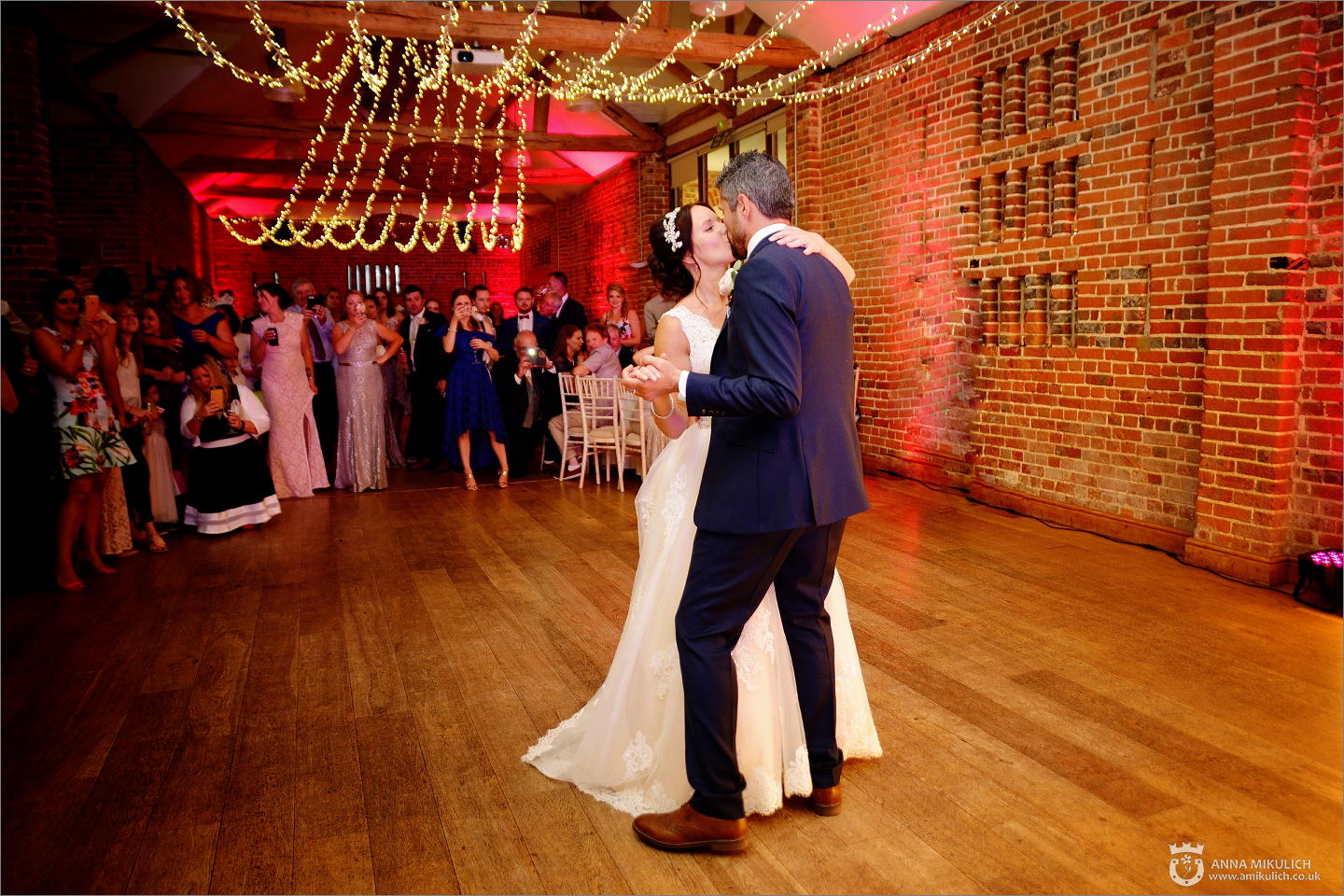 So this is it - the first dance. Everyone fell quiet and enjoying the elegant Mr. and Mrs. Smith performing their first dance as husband and wife!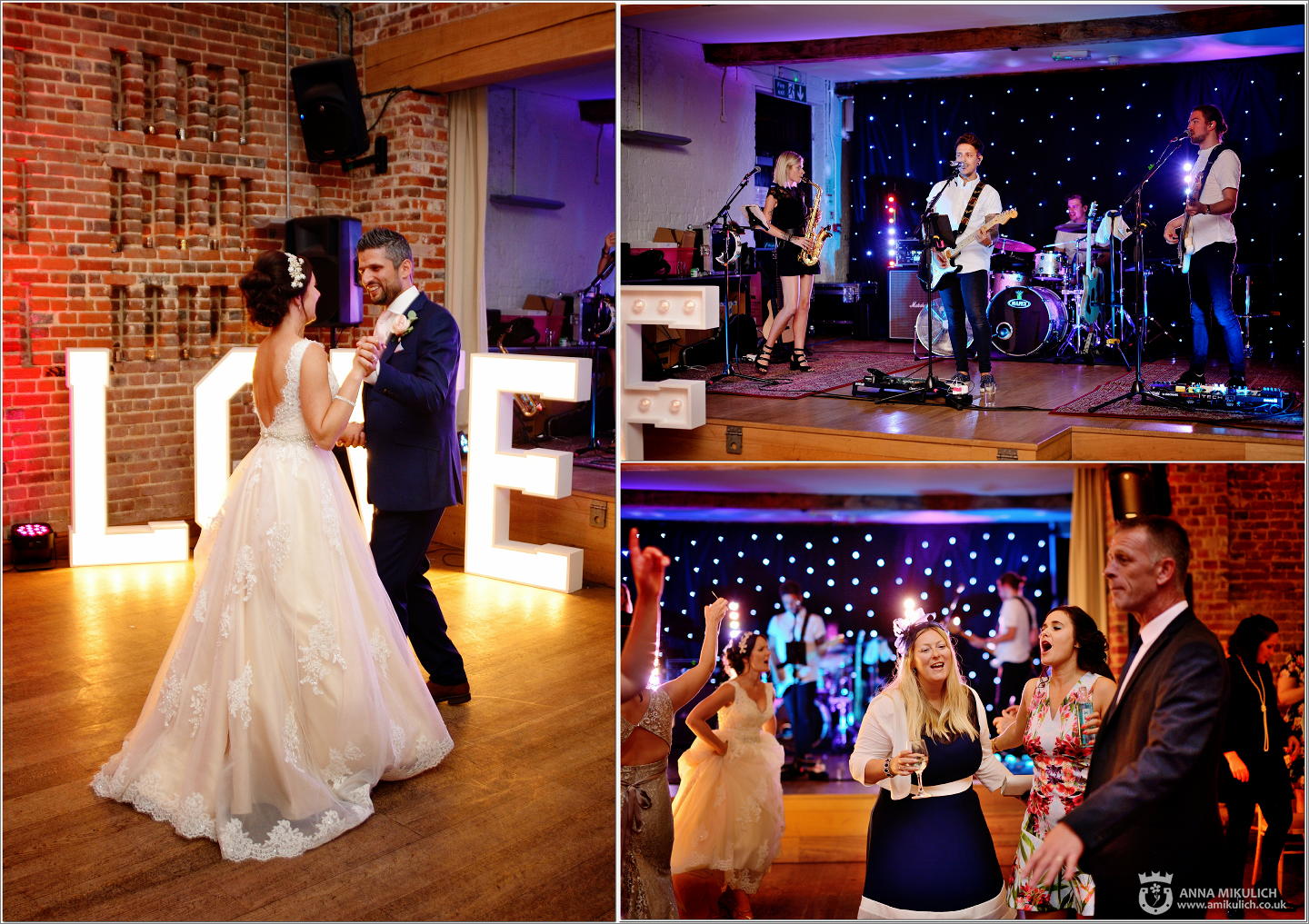 With all the formalities over now, it is time to partying! It was a long day for everyone full of exciting events and amazing views. This day deserves to last a bit longer. This is the time for the evening guests to join the party and celebrate the marriage of Nathan and Mandy!
We hope that you like the pictures from the wedding day of Nathan and Mandy in the Berkshire wedding venue - Wasing Park. We did enjoy taking pictures at Wasing Park - it is a great venue full of photographic opportunities. We were lucky to witness the marriage of Nathan and Mandy here - they were just amazing and shining with happiness. It was a real pleasure taking pictures during their wedding day!
It would be great to hear from you if you are planning a wedding at Wasing Park or you are looking for the perfect Berkshire Wedding Photographer. Please contact us at Anna Mikulich Photography to check our availability, and we will be happy to describe to you the way we are doing wedding photography as well as to listen to your requirements and preferences. We hope to hear from soon! :)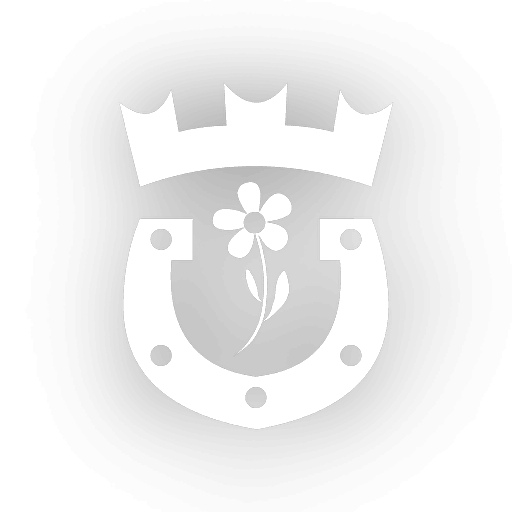 Anna Mikulich
wedding photography
Wedding Photographer Hampshire | Wedding Photographer Surrey | Wedding Photographer Berkshire | Wedding Photographer Oxfordshire | Wedding Photographer Basingstoke | Wedding Photographer Winchester | Wedding Photographer Farnham | Wedding Photographer Reading | Wedding Photographer Oxford | Wedding Photographer Portsmouth | Wedding Photographer Southampton | Wedding Photographer London | Wedding Photographer Guilford | Wedding Photographer Woking | Wedding Photographer New Forest | Wedding Photographer Petersfield | Wedding Photographer Alton | Hampshire Wedding Photographer | Surrey Wedding Photographer | Berkshire Wedding Photographer | Oxfordshire Wedding Photographer | Basingstoke Wedding Photographer | Winchester Wedding Photographer | Farnham Wedding Photographer | Reading Wedding Photographer | Oxford Wedding Photographer | Portsmouth Wedding Photographer | Southampton Wedding Photographer | London Wedding Photographer | Guilford Wedding Photographer | Woking Wedding Photographer | New Forest Wedding Photographer | Petersfield Wedding Photographer | Alton Wedding Photographer
Copyrights © 2021 Anna Mikulich. It is not allowed to use any materials and media from this website witout granted permissions. This website uses Google Analytics service for purposes of performance and accessibility analysis only. This service is using webbrowser cookies technology to track website visits. By using the website, you agree that it is allowed to place these types of cookies on your device. If you see this website snown with errors - please let us know! We are wedding photographers, not website developers - but we will try to sort it out! Website administration: admin@amikulich.co.uk