Hampshire Wedding Photographer
Hannah & James's outdoor Wedding at the Vineyard Maze in Hampshire
Welcome to the selection of pictures from Hannah and James' wedding at Vineyard Maze, Fullerton Estate, Hampshire.
It was the day to remember! The beautiful rolling hills, the bright yellow crops in the fields ready for harvest, the bittersweet smell of wildflowers and the vast, seemingly endless sky of the deepest blue. James and Hannah could not have wished for a better day for their relaxed outdoor countryside wedding party!
Here is a selection of those pictures full of summer warmth!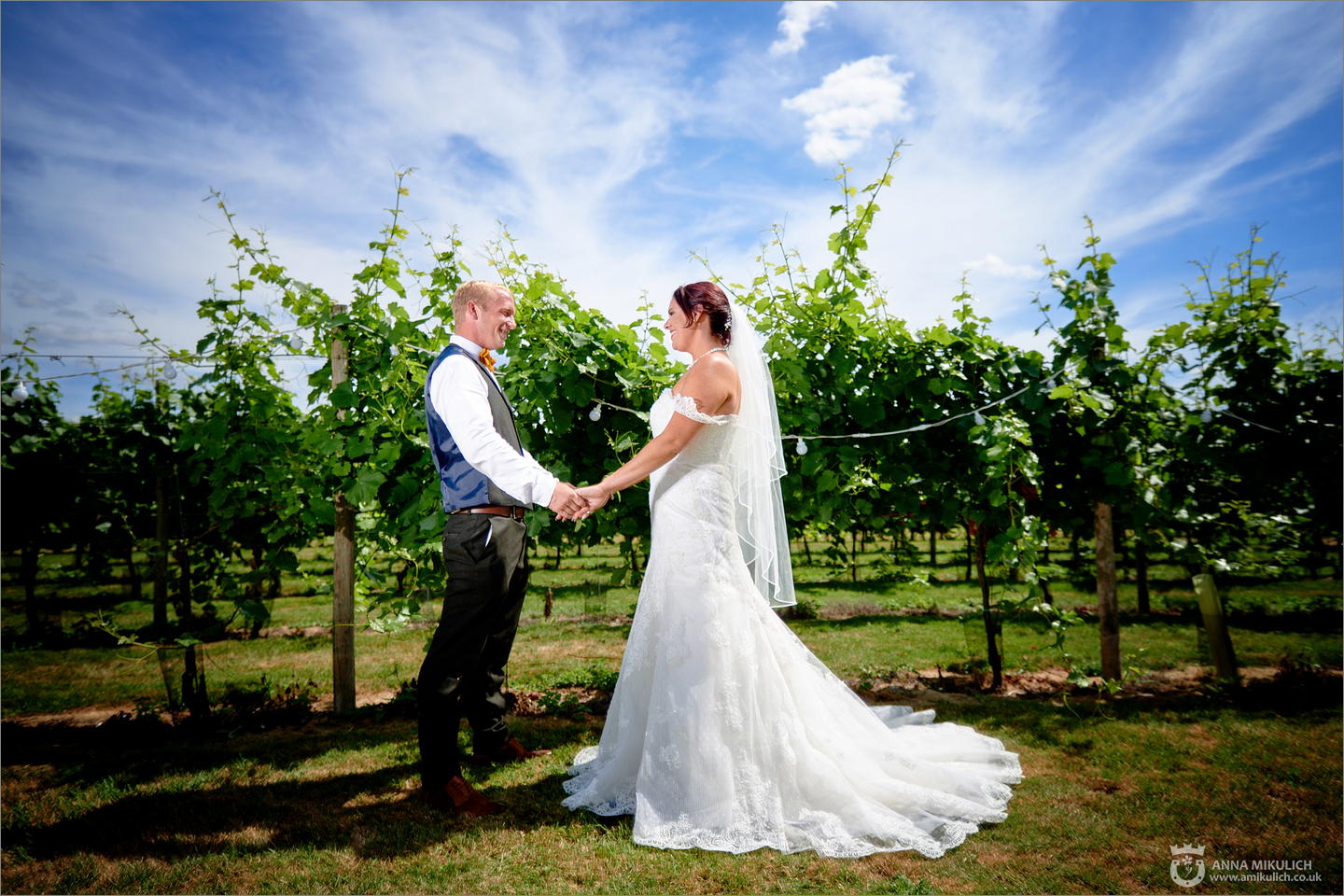 Welcome to Fullerton Estate! This venue is located between the beautiful market town of Stockbridge and Winchester. Surrounded by fields and river Test this estate is so tranquil and very special! Hannah & James were blessed with amazing weather on that hot day in August!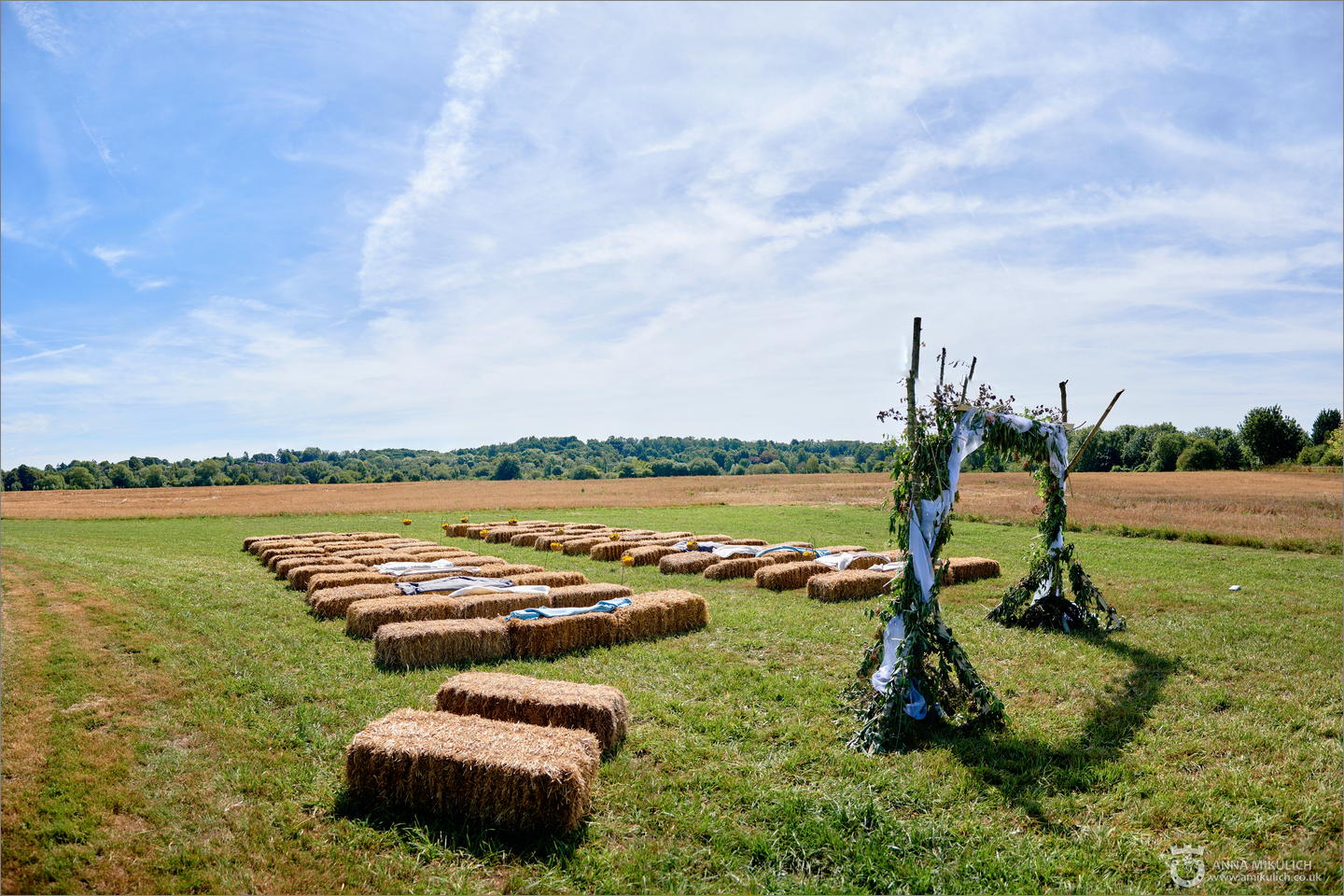 The venue and decorations were the perfect match for the rural countryside around. Many days after we look at this picture - the smells of hay, grass, and wildflowers are all there.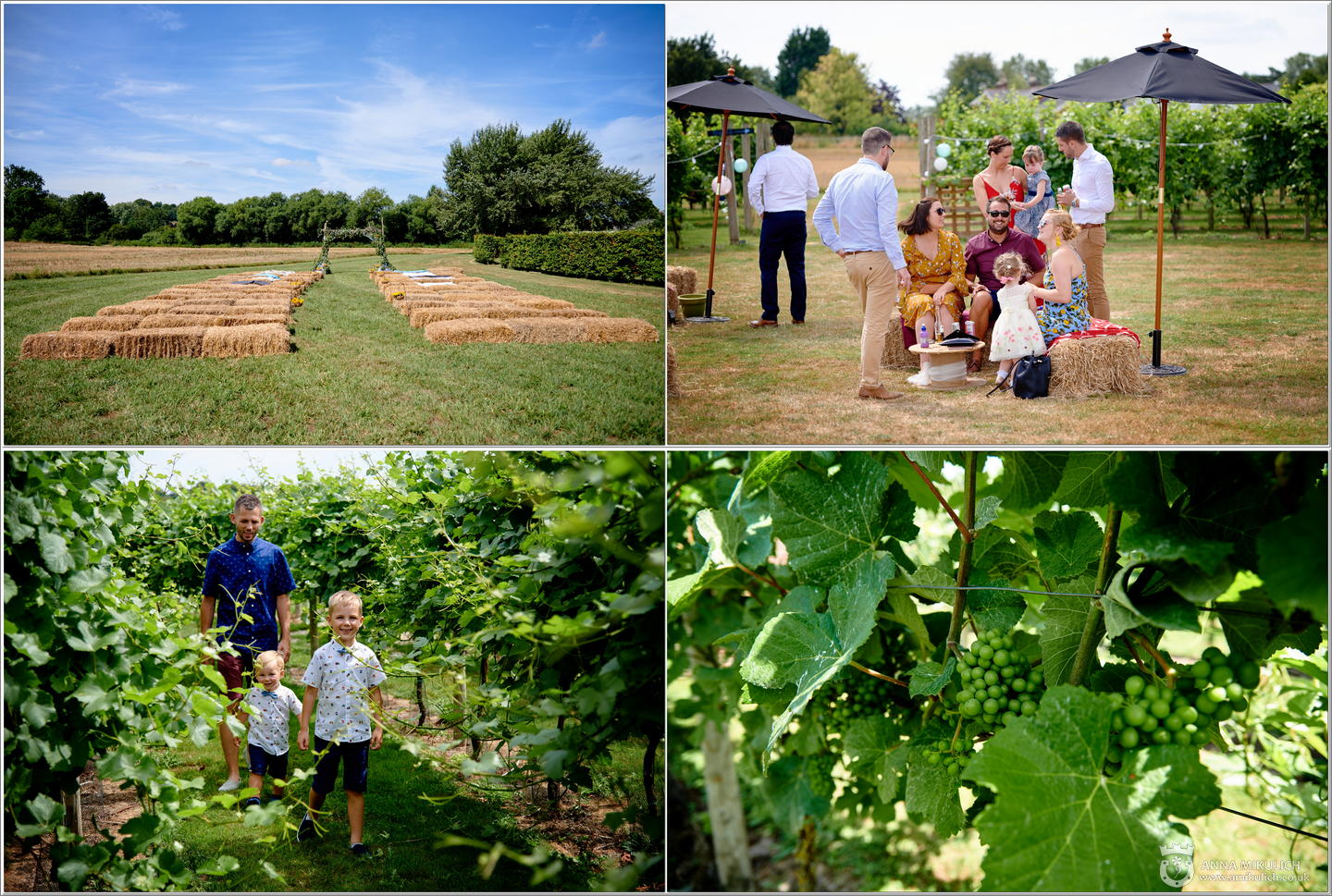 We joined the guests at the Vineyard Maze for the outdoor ceremony. Just moments before we were busy taking pictures of Hannah and James's bridal and groom preparations in Basingstoke, Hampshire. Taking pictures in direct sun is a challenging task for any photographer. Nevertheless, those bright pictures are full of vivid summer colours - we did a good job to capture them.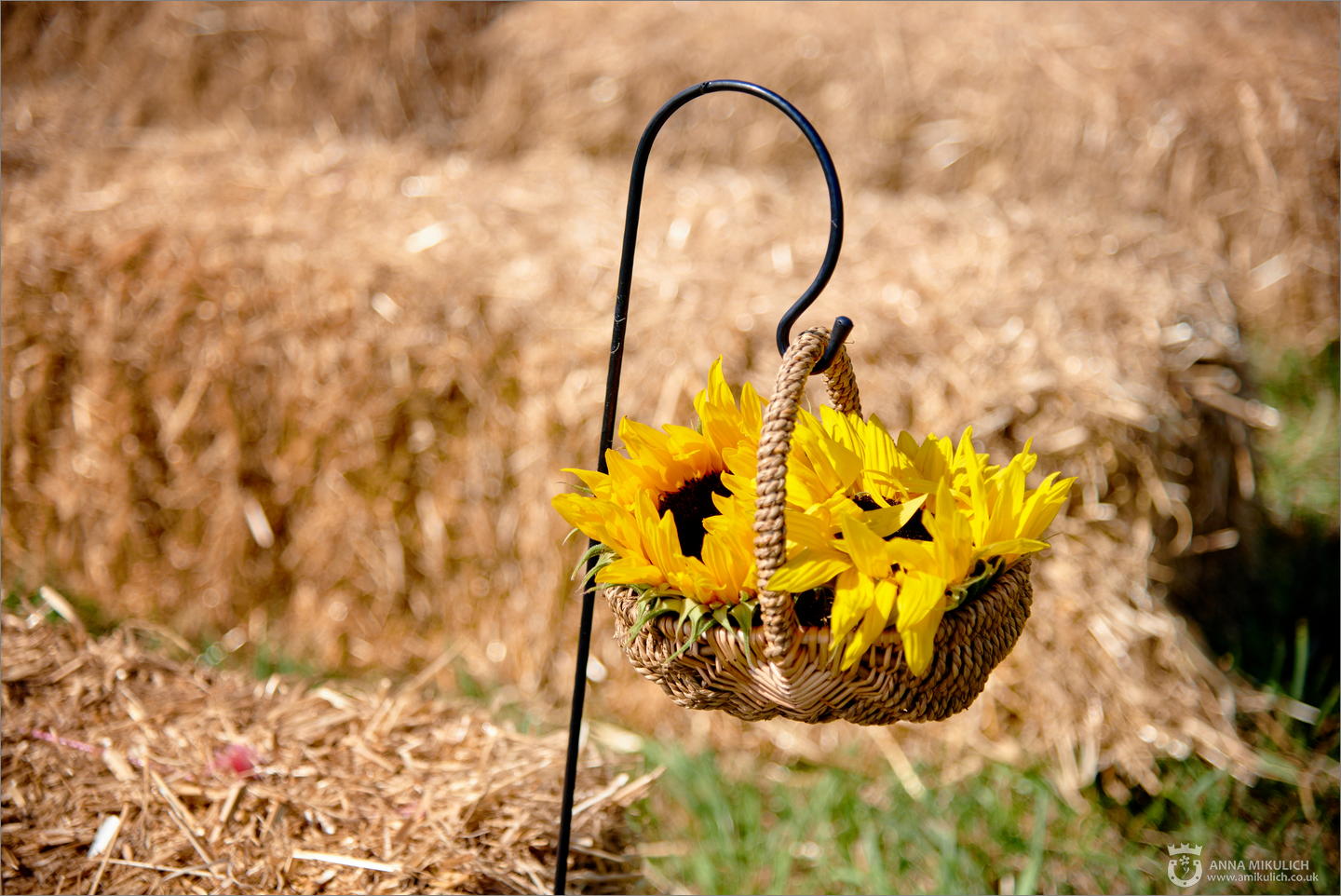 We loved the choice of flowers! They matched the spirit of this vineyard wedding so good! The flowers were supplied by Rabbit and the Rose florists.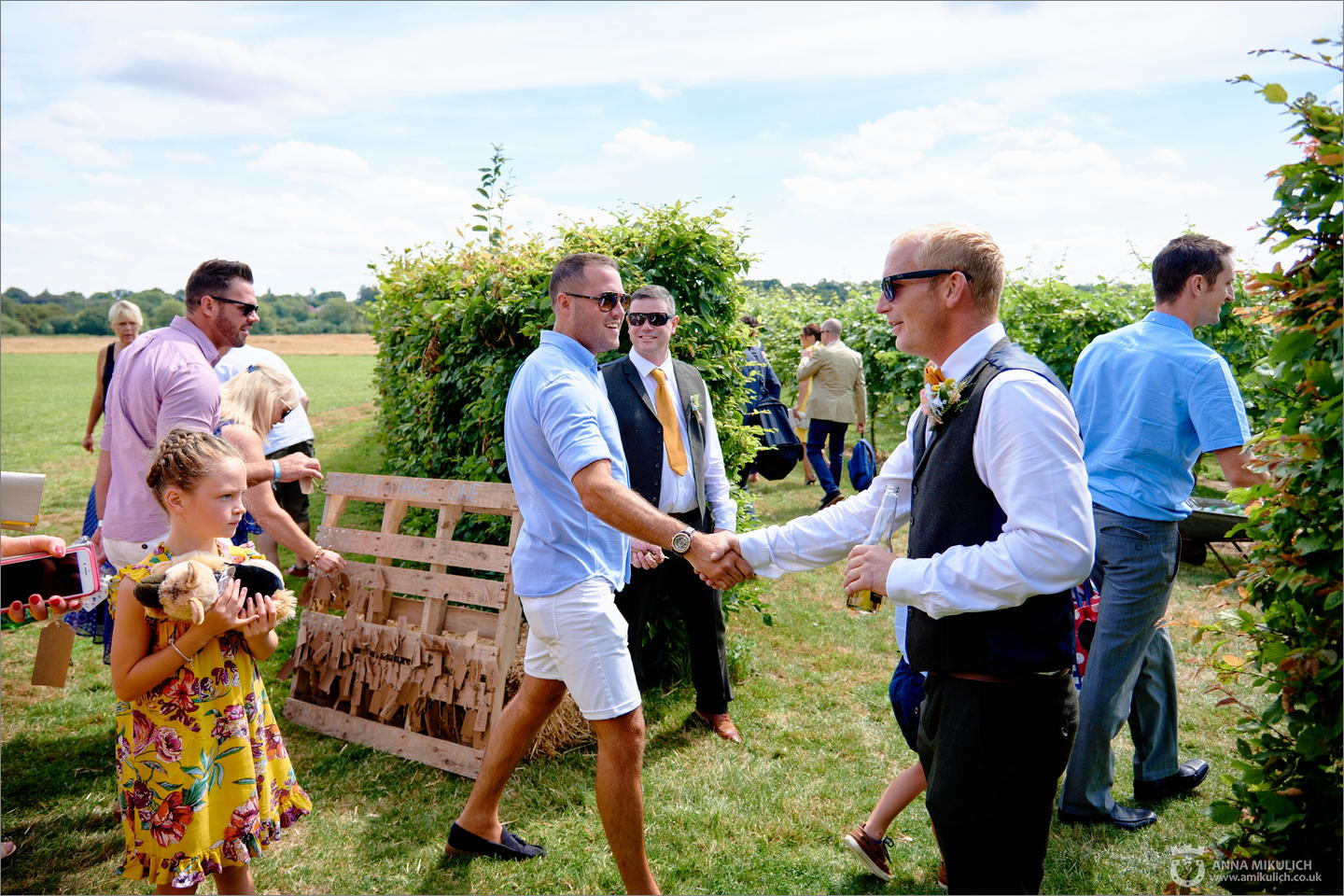 The guests start to arrive! You can clearly see the expectation of something great to happen in their smiley faces. The moment everyone was waiting for so long is getting closer!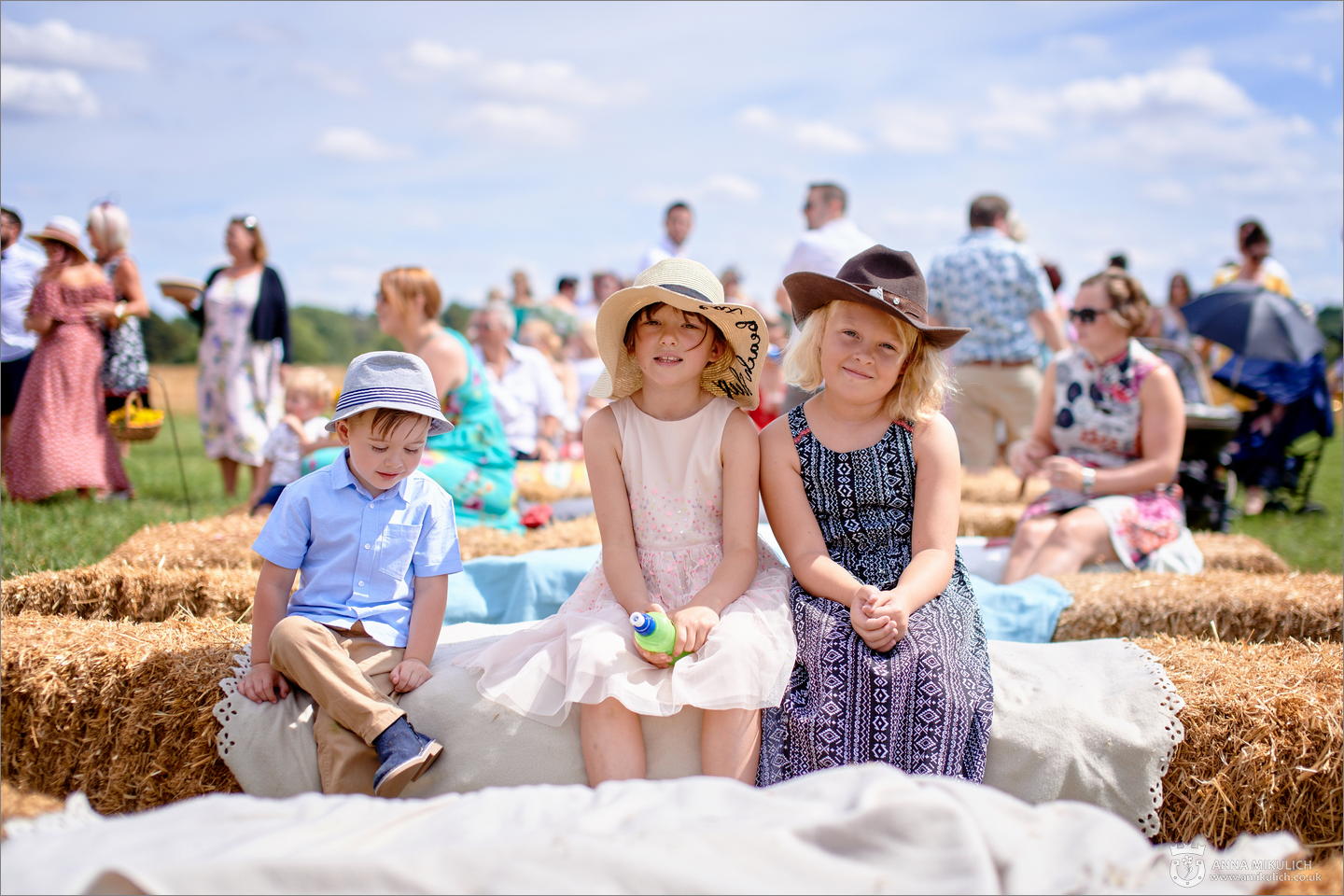 The weather was just amazing for that wedding! You clearly could not wish for a better day. Everyone enjoyed an amazing open-air ceremony on that stunning day in August.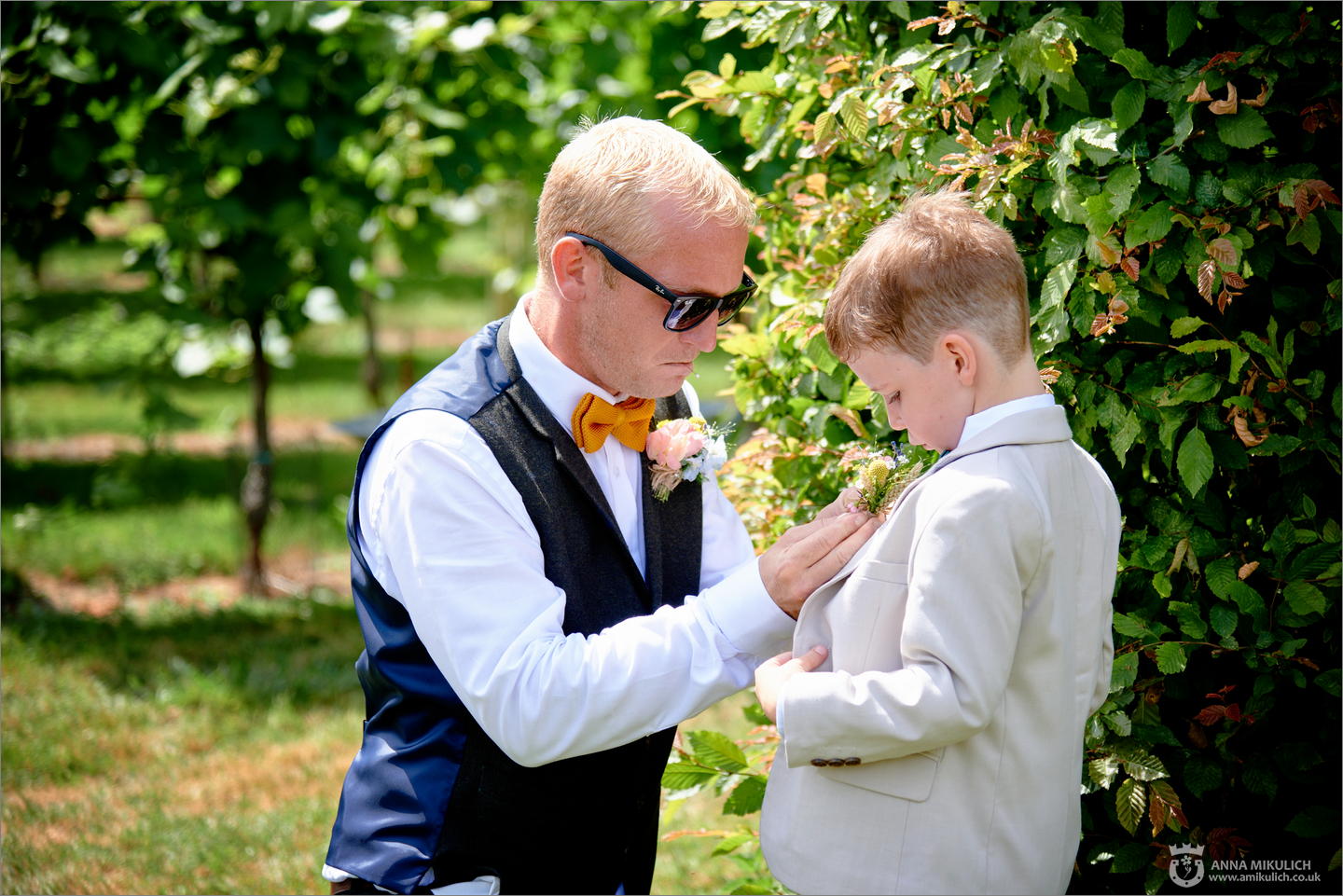 Checking the final details. Everyone must be ready!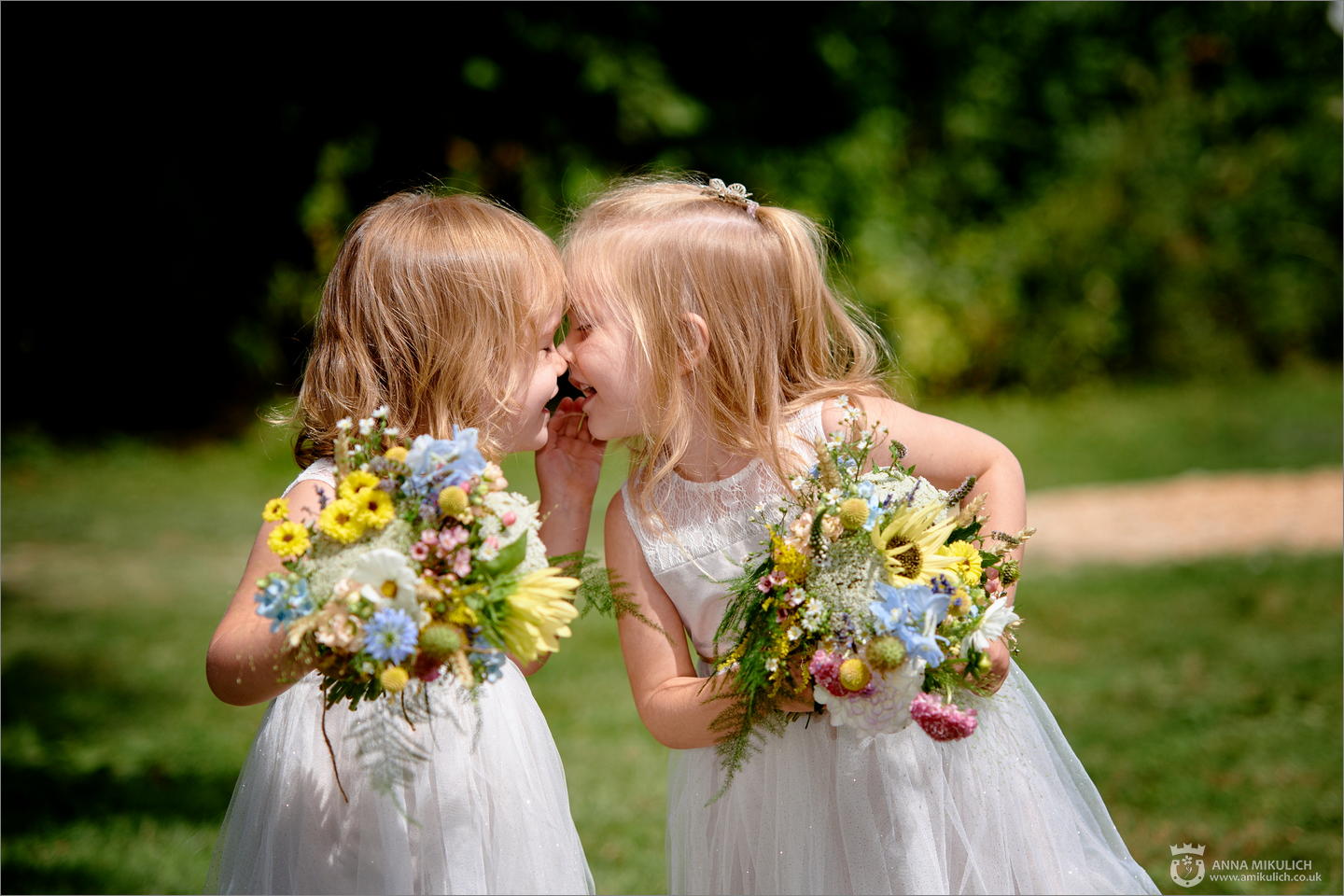 Time for little secrets! The flower girls were so adorable!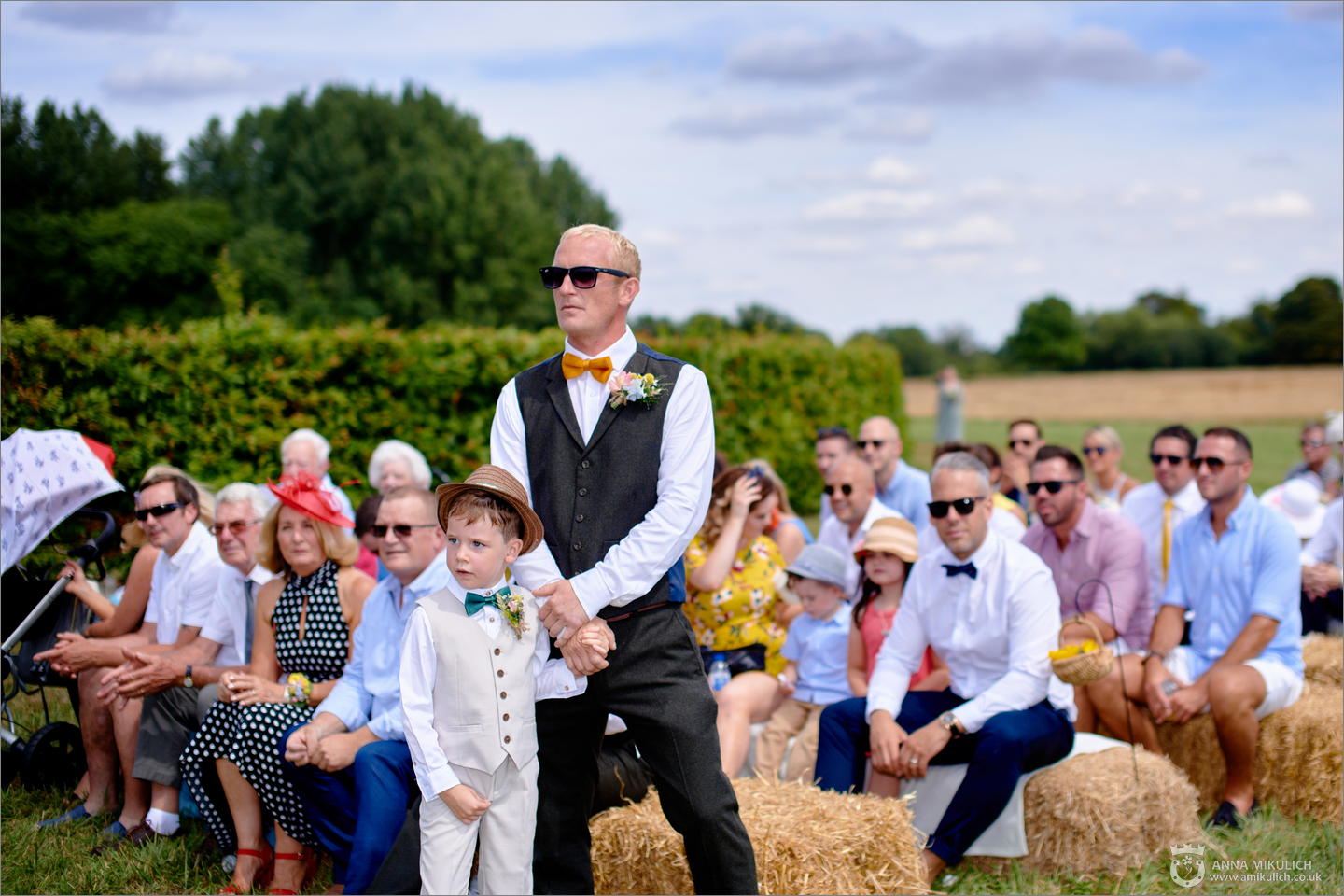 The last minutes and seconds before the arrival of the bride. This moment of expectations and thoughts. Just mere a moment before everyone will see the beautiful bride appearing for the first time.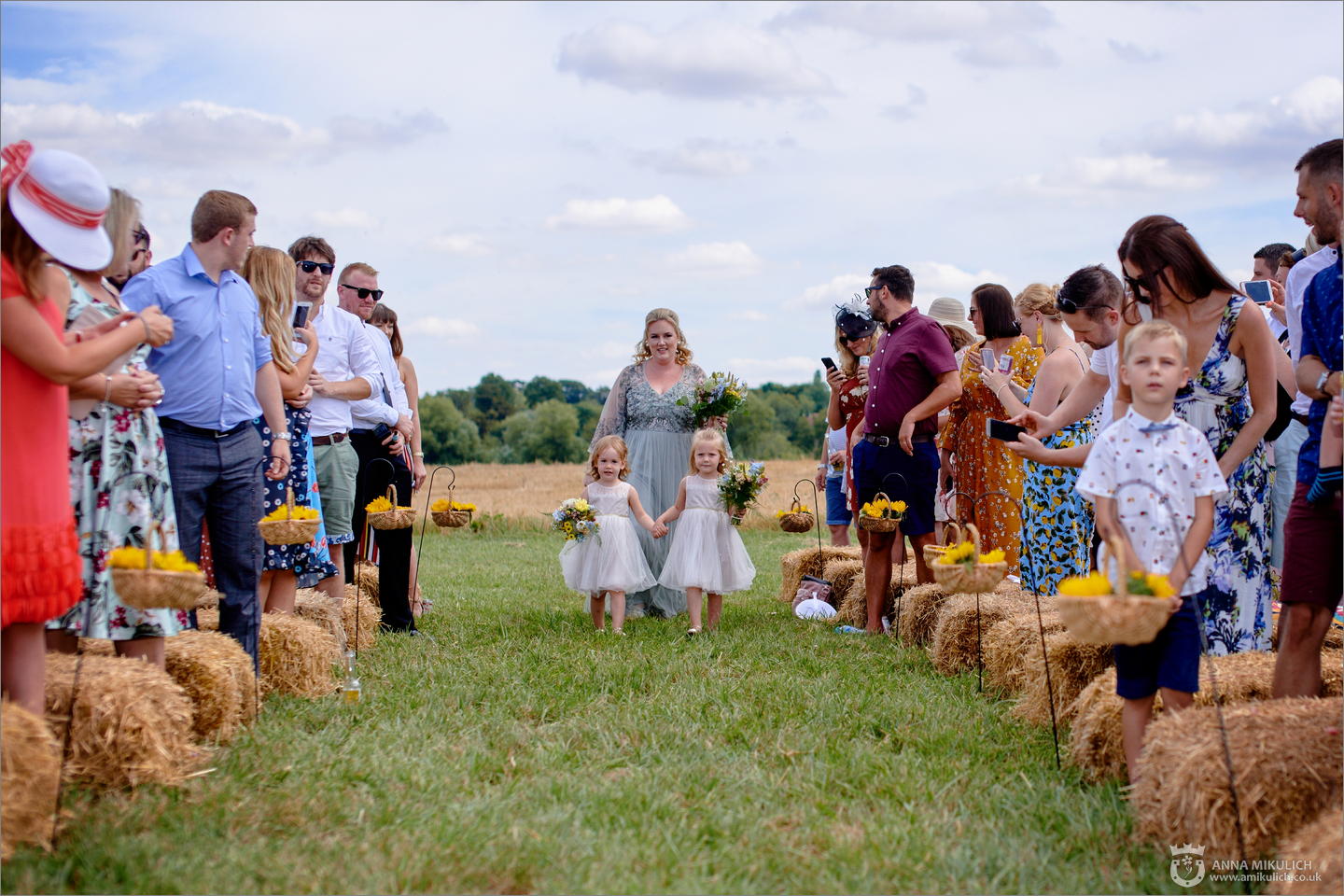 Here is the moment everyone waited for! The bridesmaid with amazing flower girls is there! What a sight!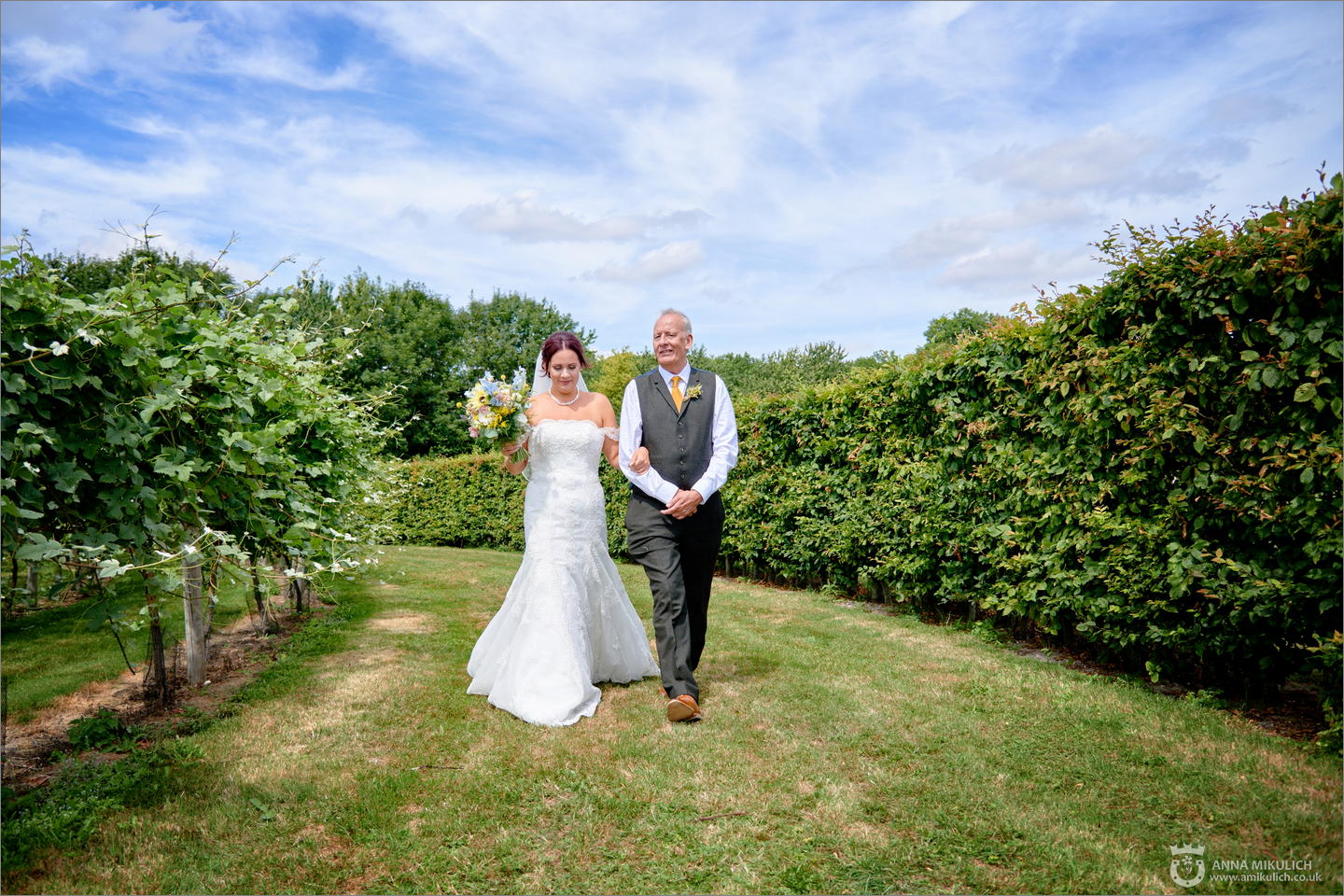 The father of the bride is leading his lovely daughter to the ceremony. While most of the guests never see this part of the wedding - we are so happy that we are capturing those delicate moments!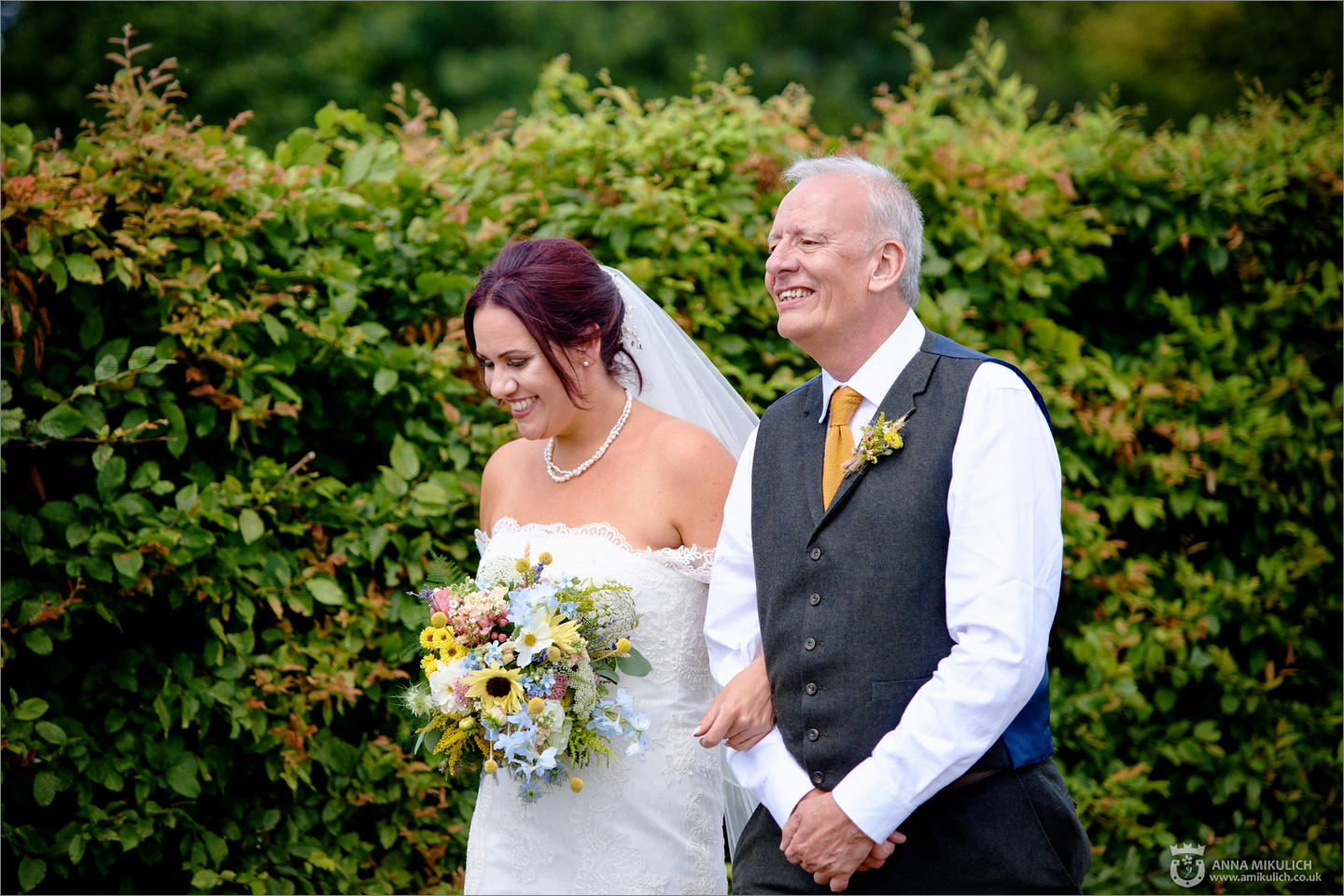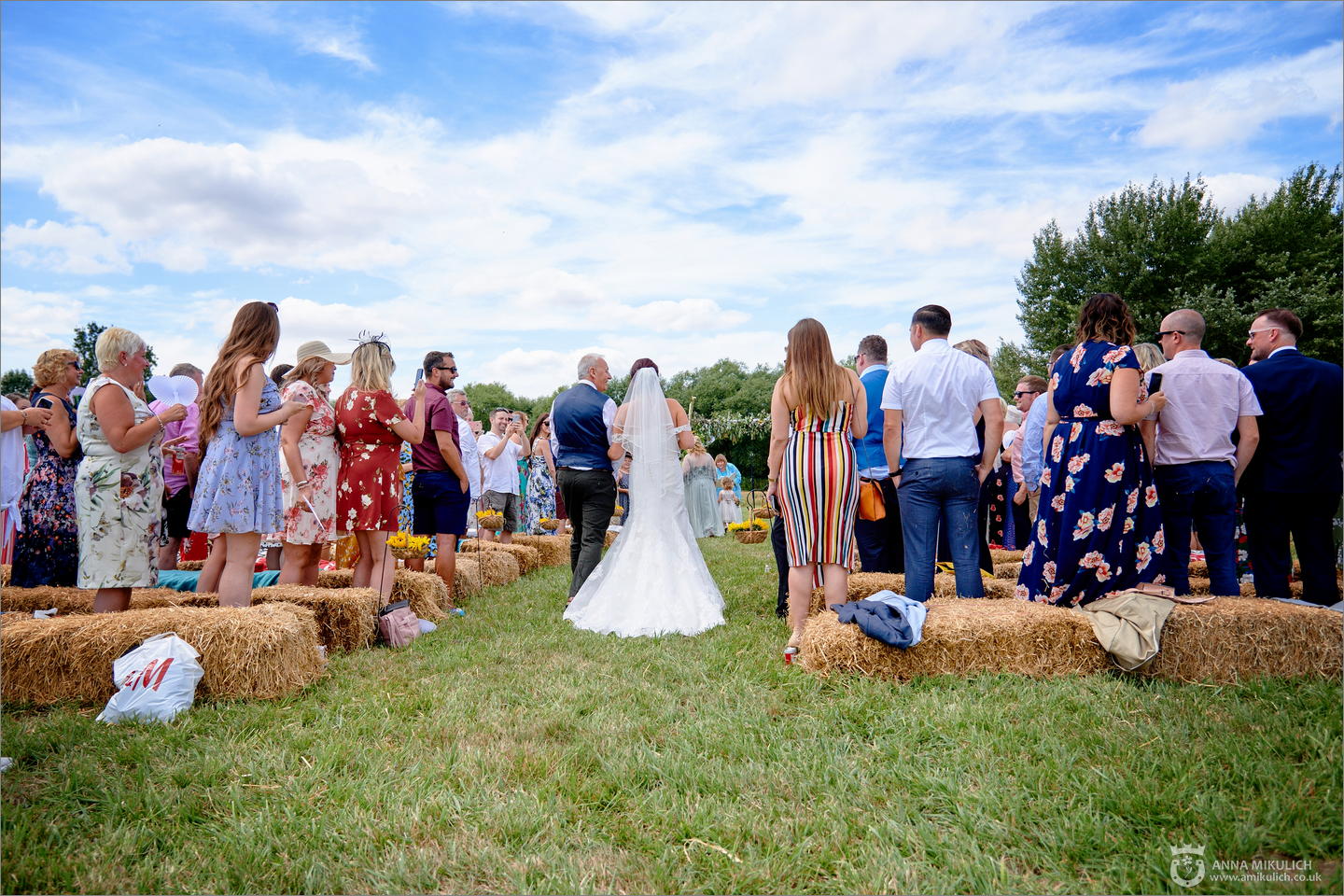 The arrival of the bride! All eyes on her!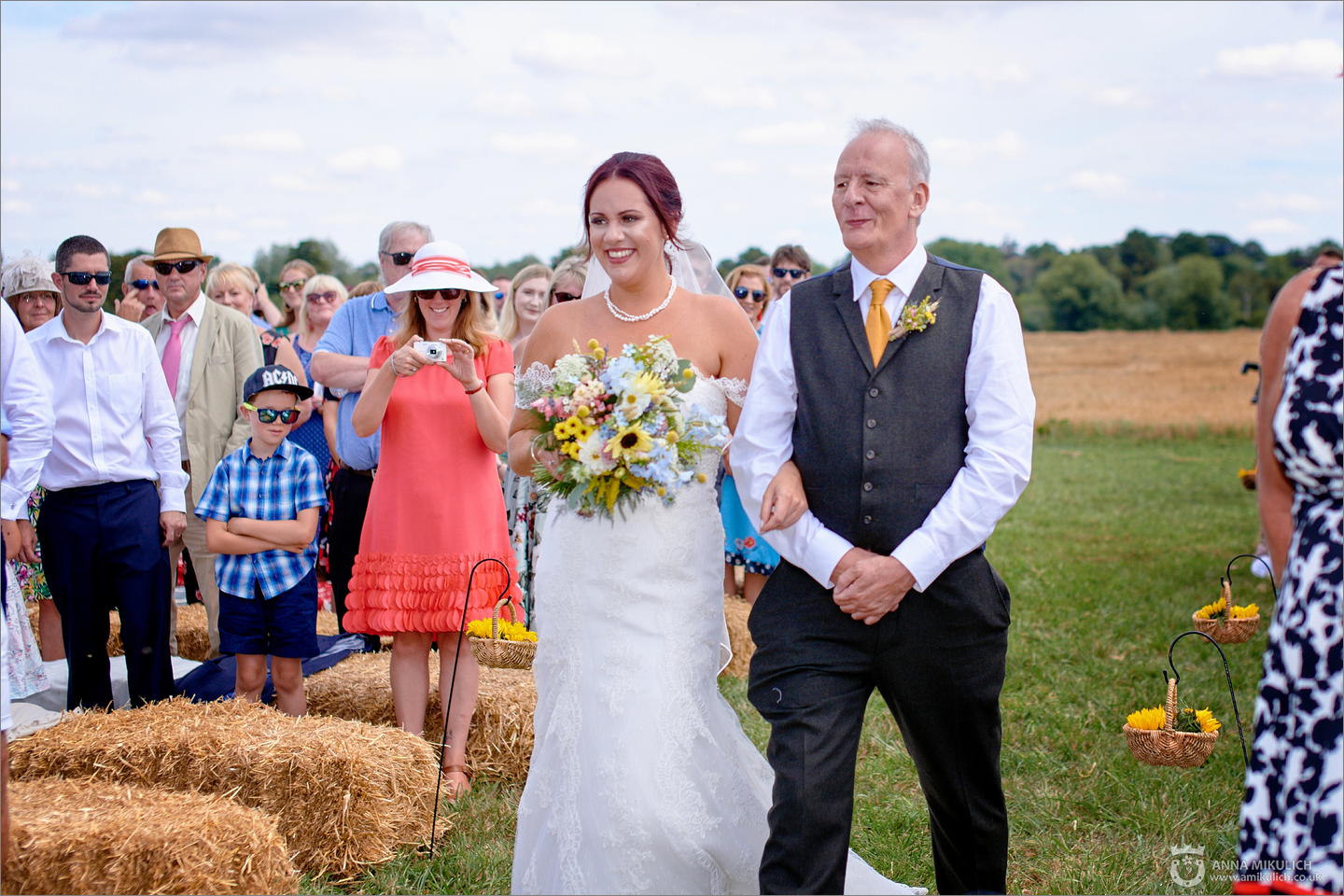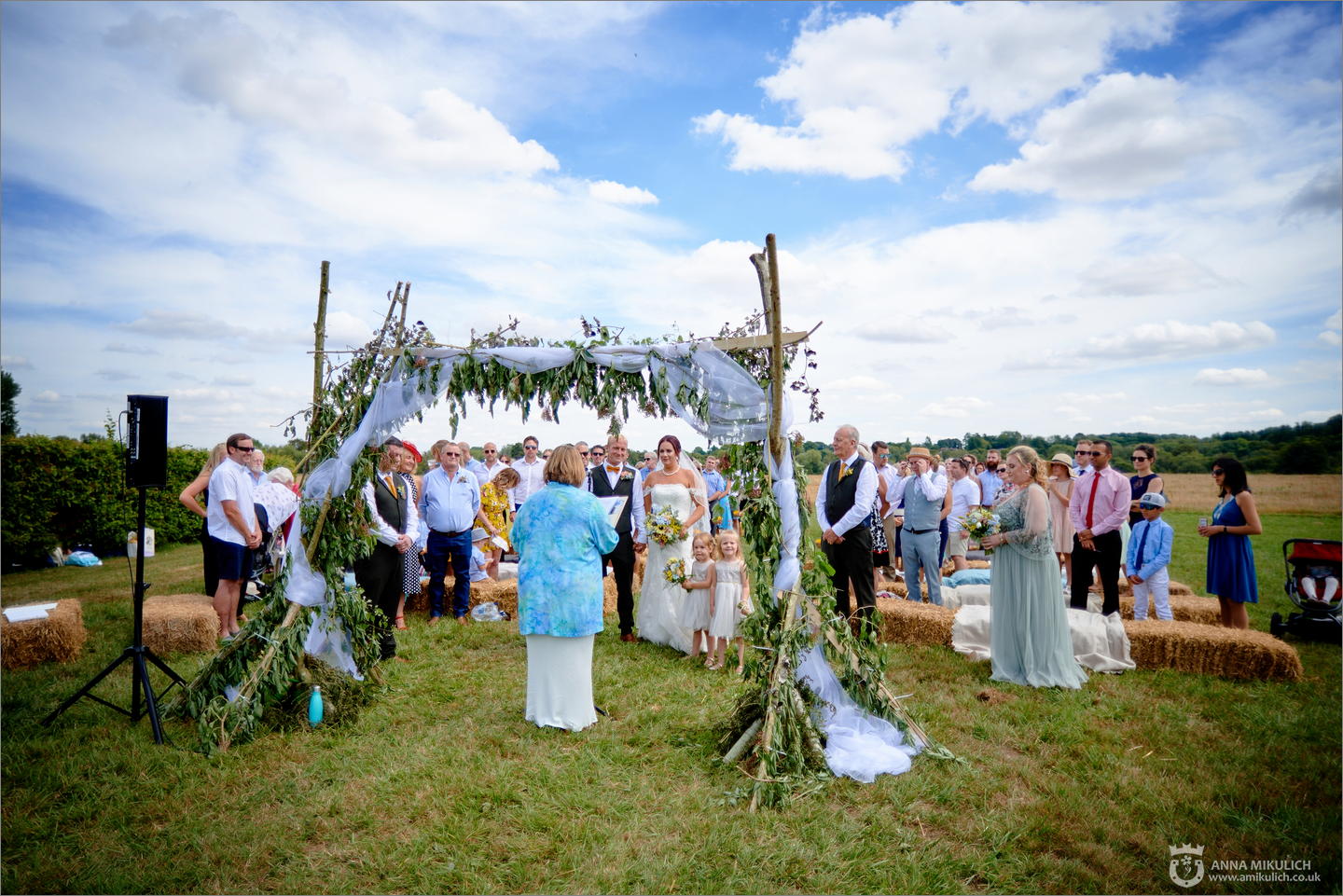 Hannah and James had a very relaxed and beautiful ceremony. The guests enjoyed looking at the beautiful couple saying their vowels. Everything was just great!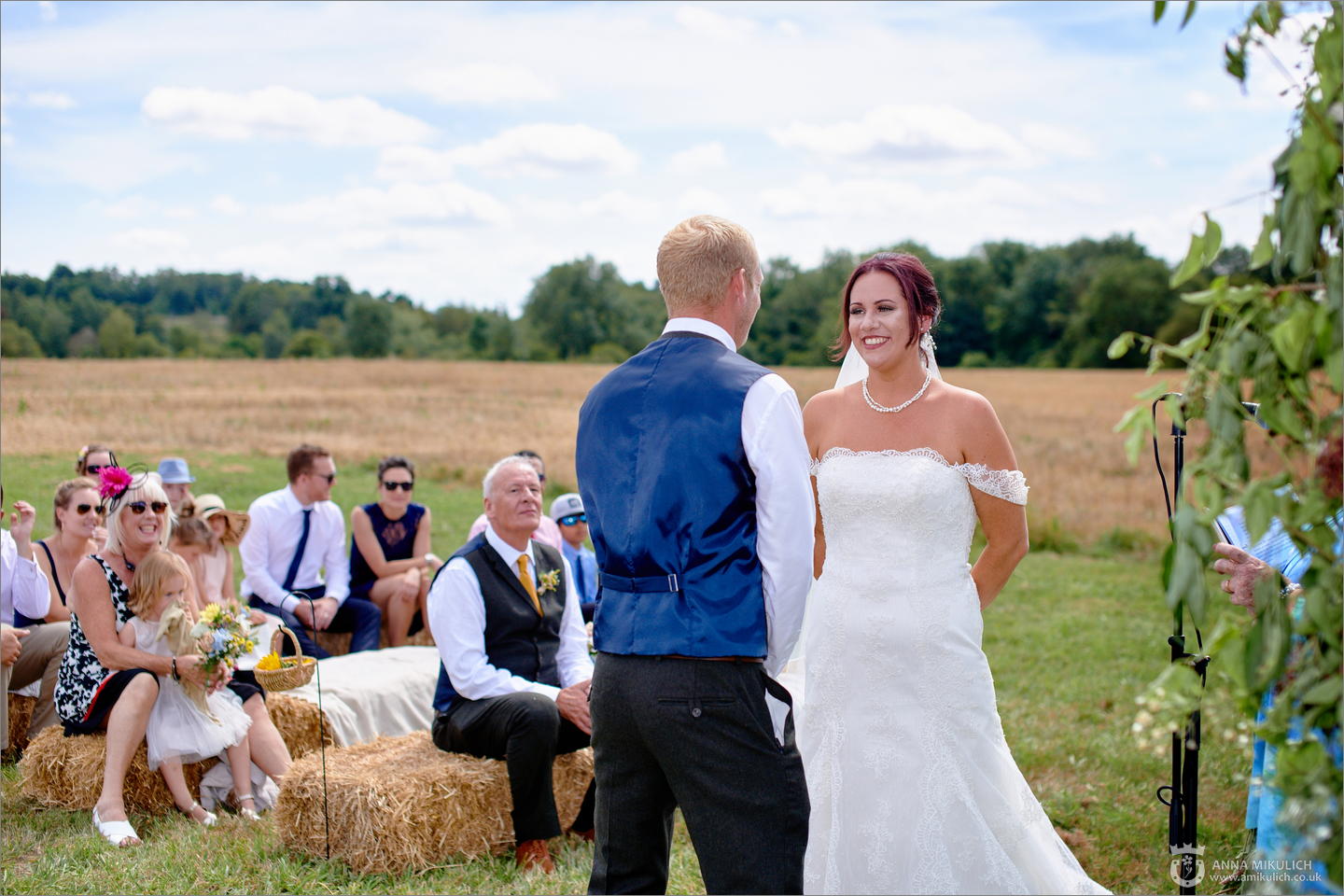 It is always a good thing to have two photographers at the wedding. While one of us is taking pictures from the back, the other is taking gorgeous pictures of the happy couple right at the front at the same time.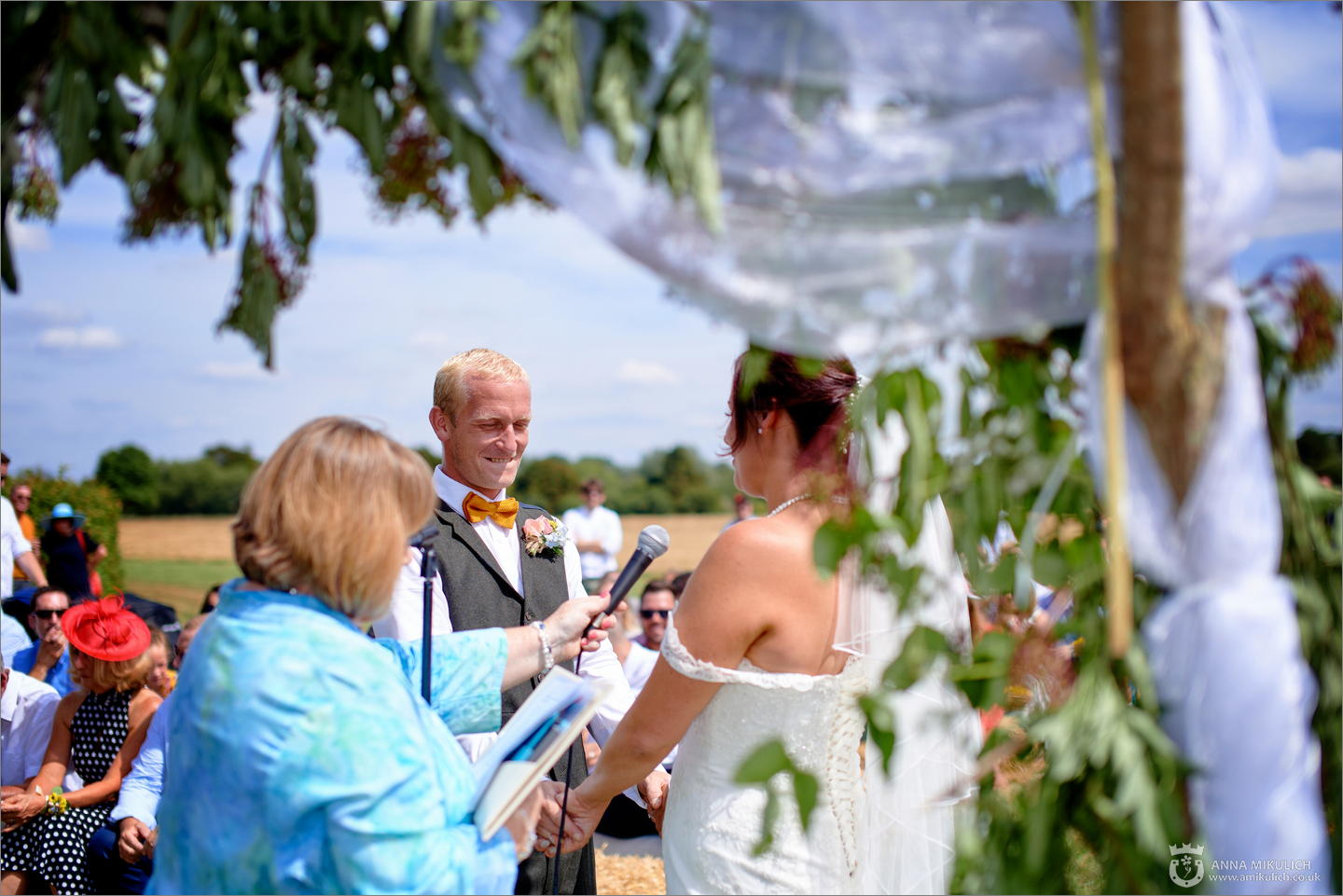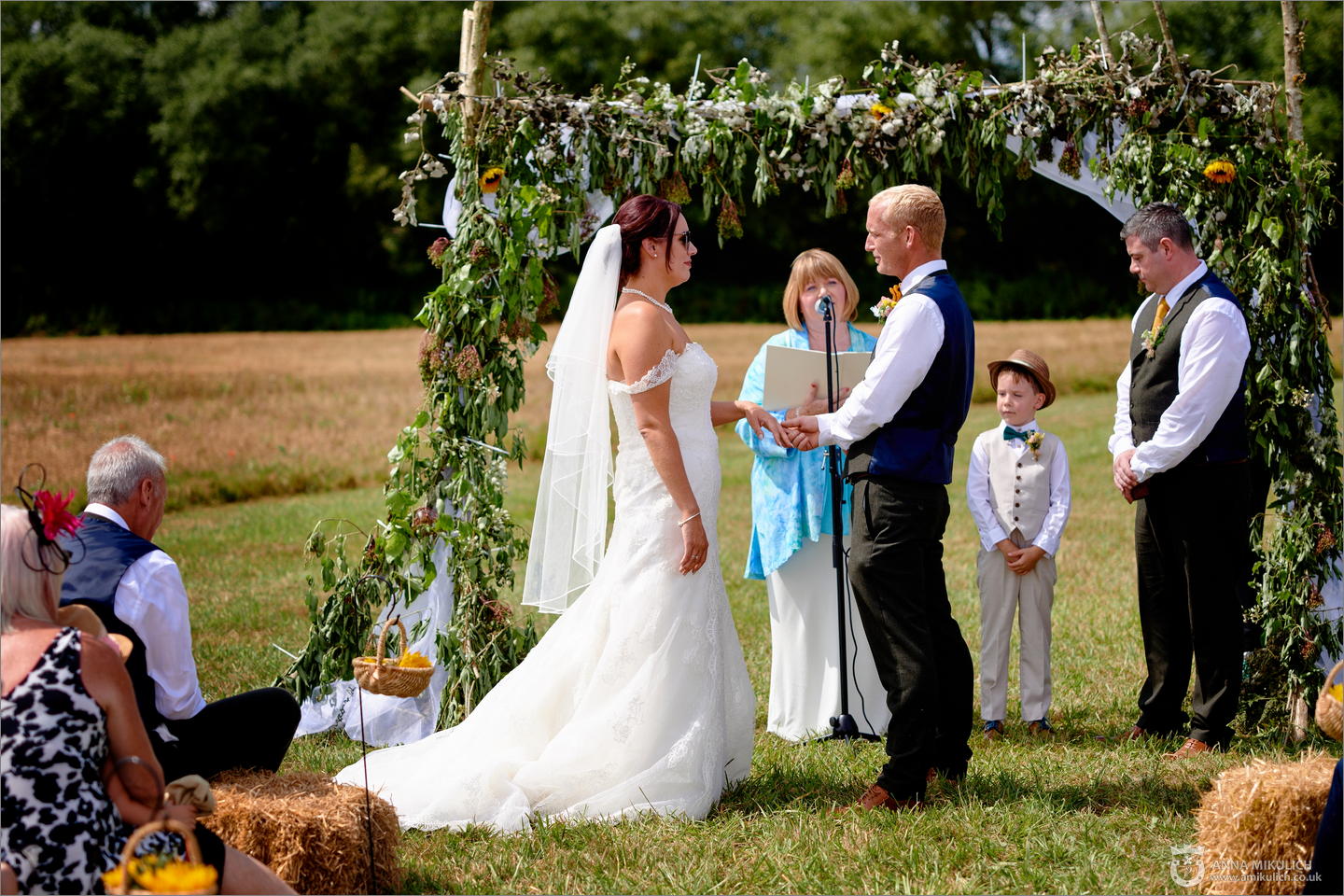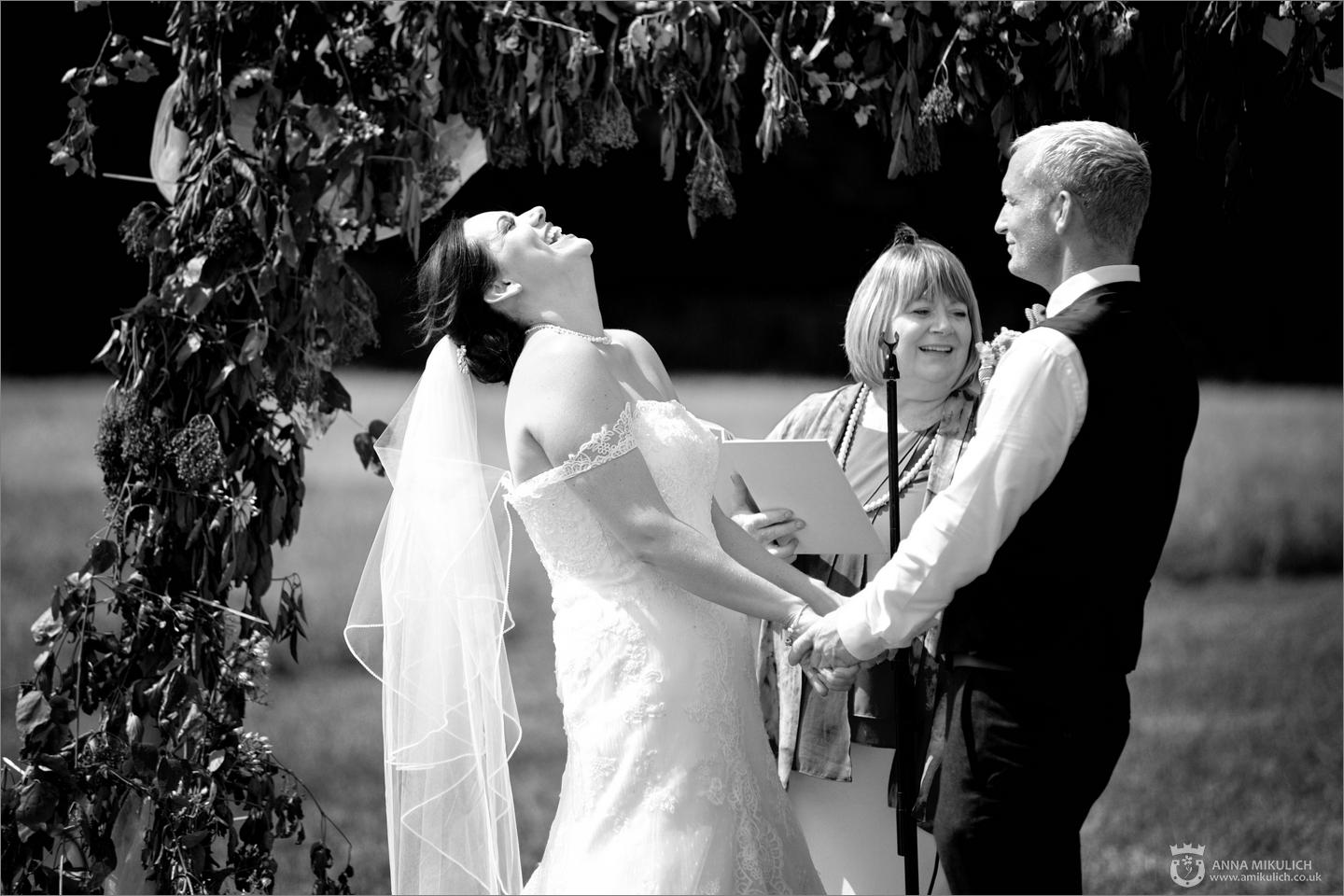 There is always time for a good laugh! We love and treasure such moments a most!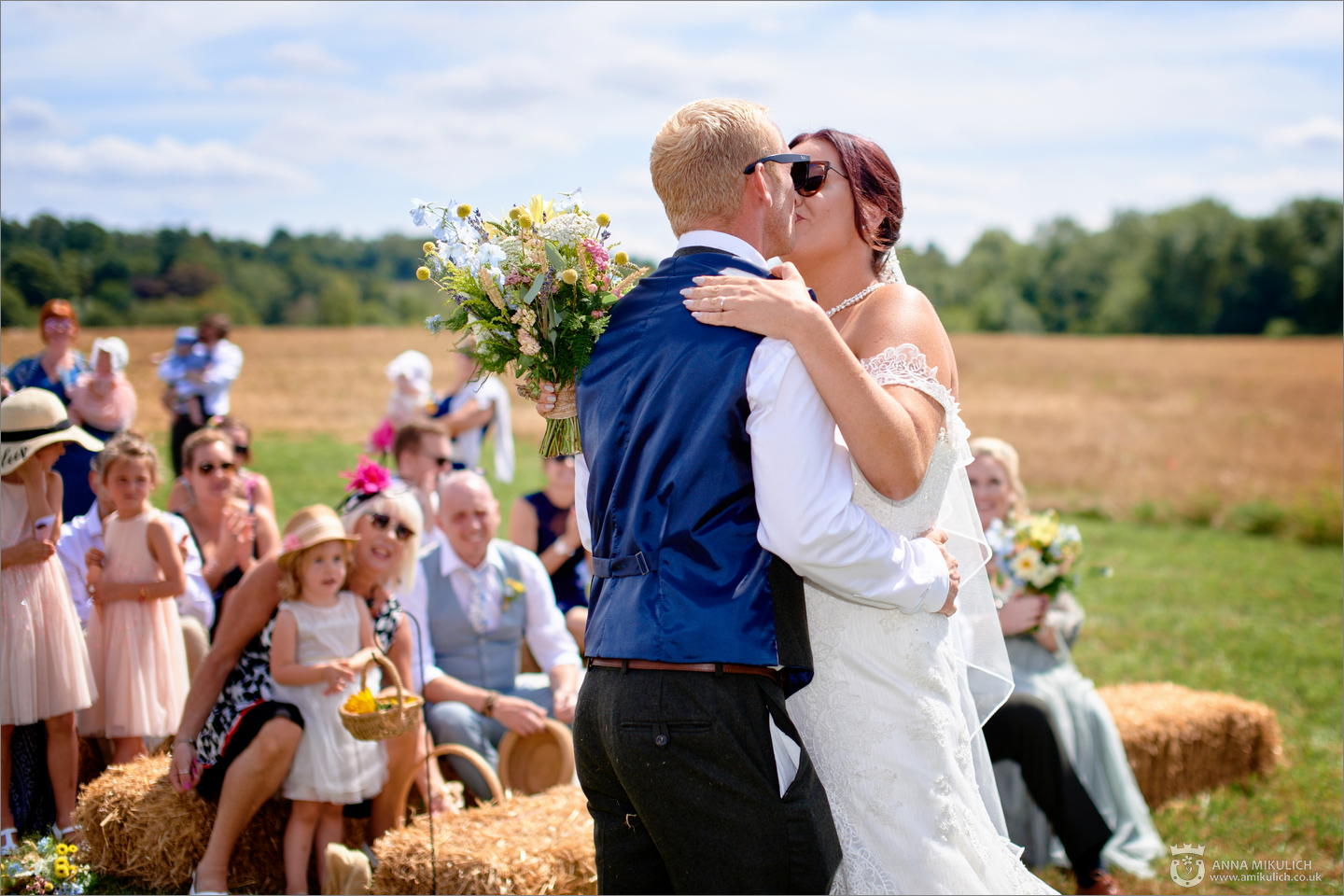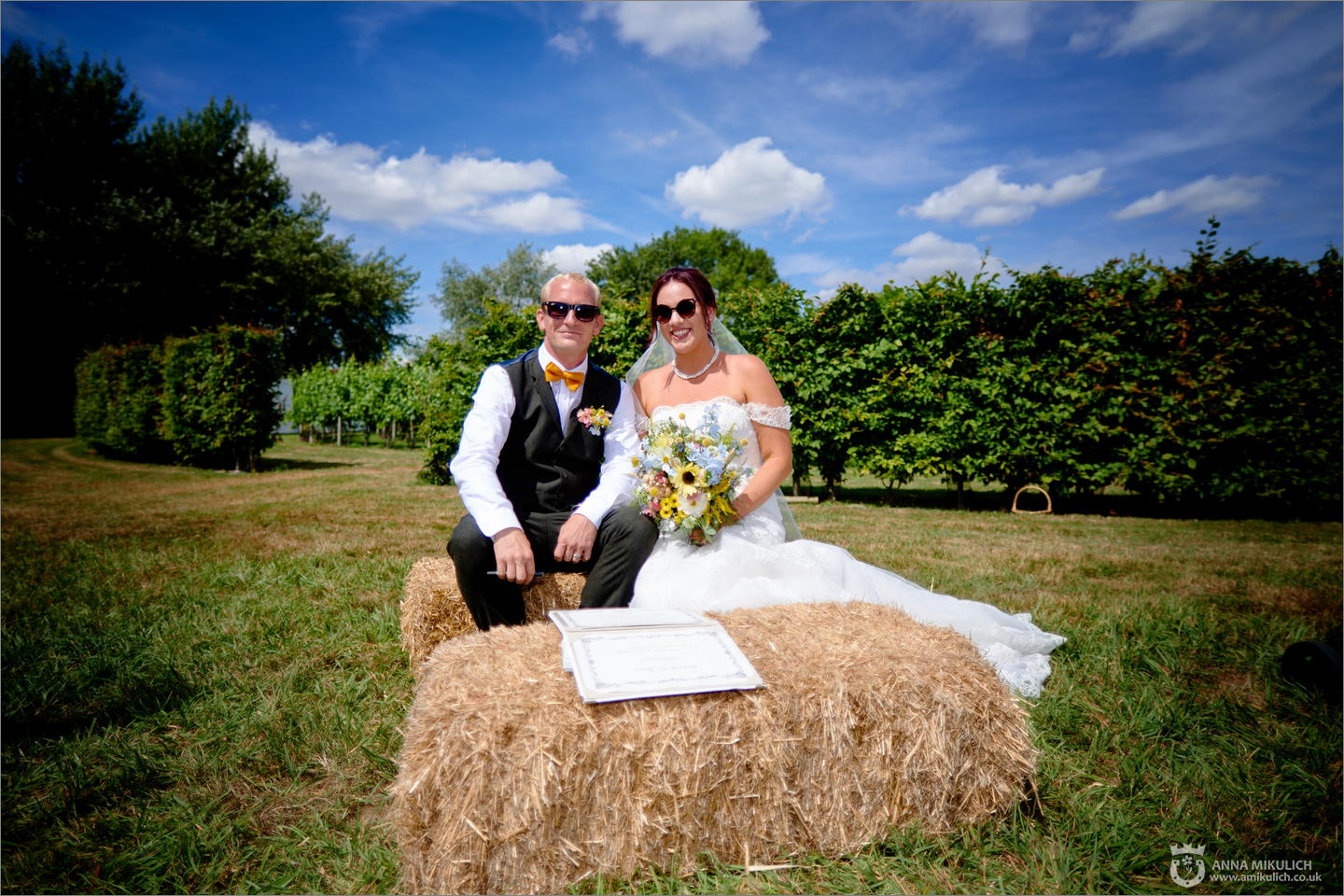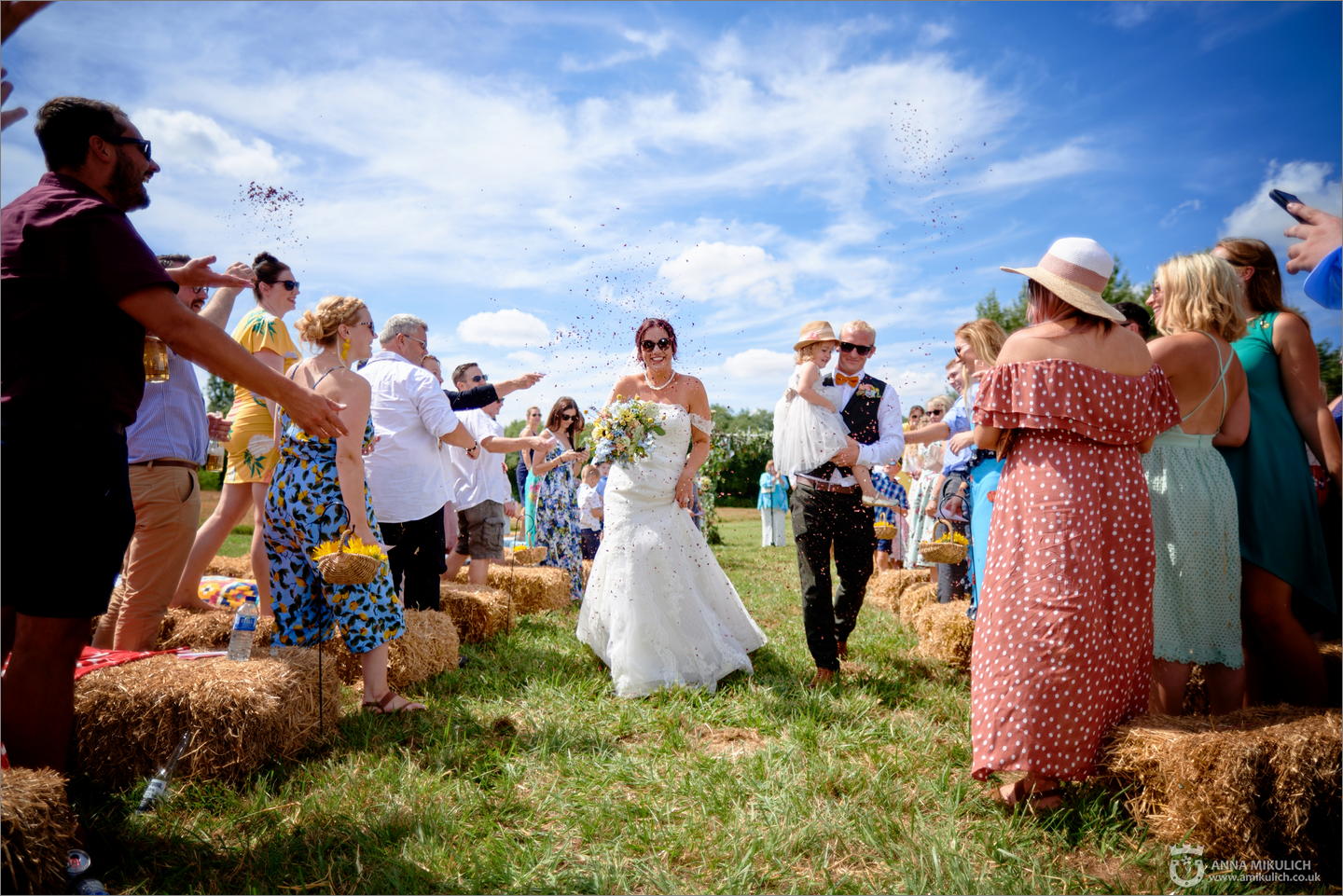 Now it is time to celebrate! Best wishes to Hannah and James! We love confetti shots! Everything left aboard - just fun and smiles!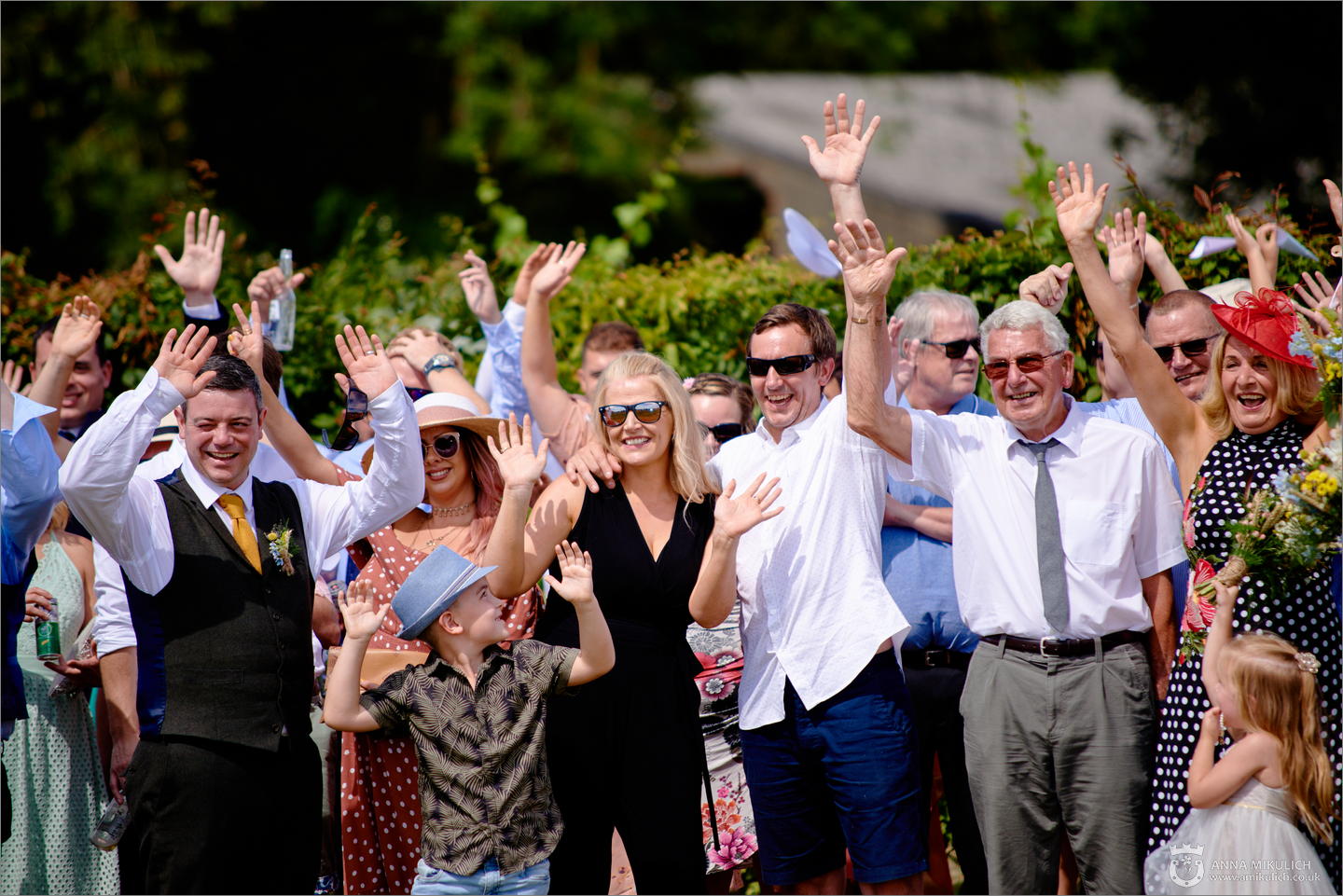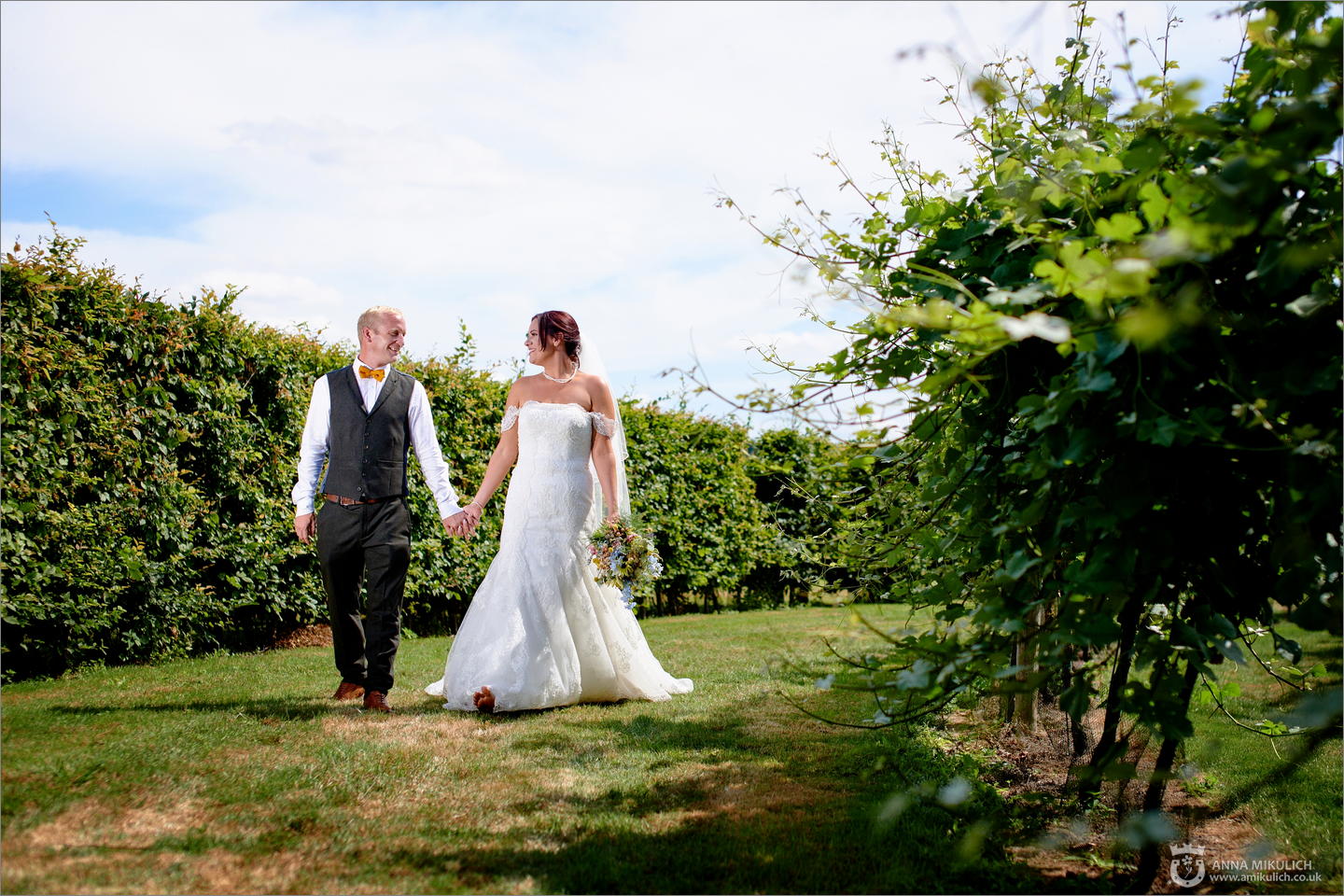 The vineyard looks great in summer. Its narrow paths full of leaves and shadows gave us a unique opportunity to take some delicate and intimate pictures of our newlyweds.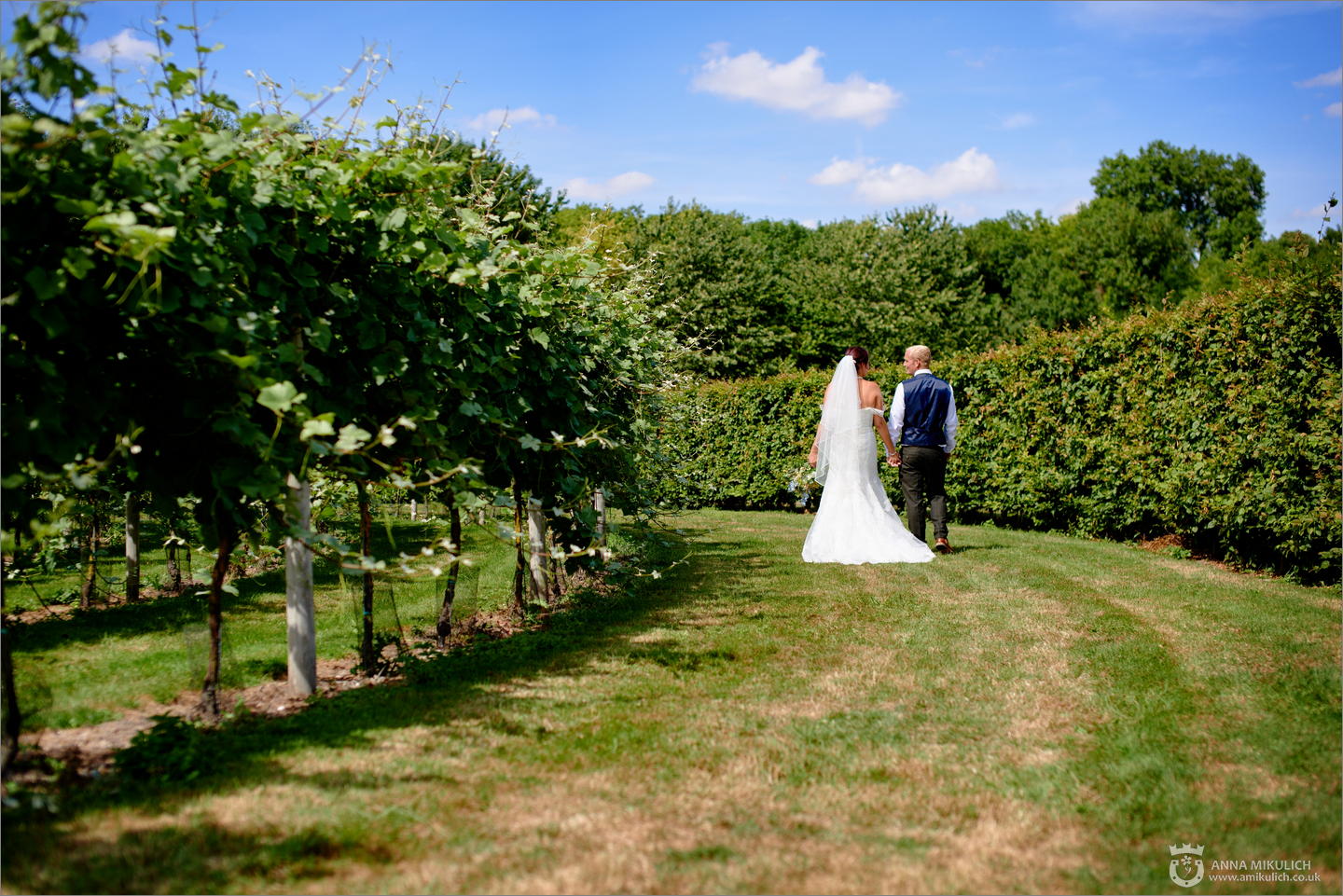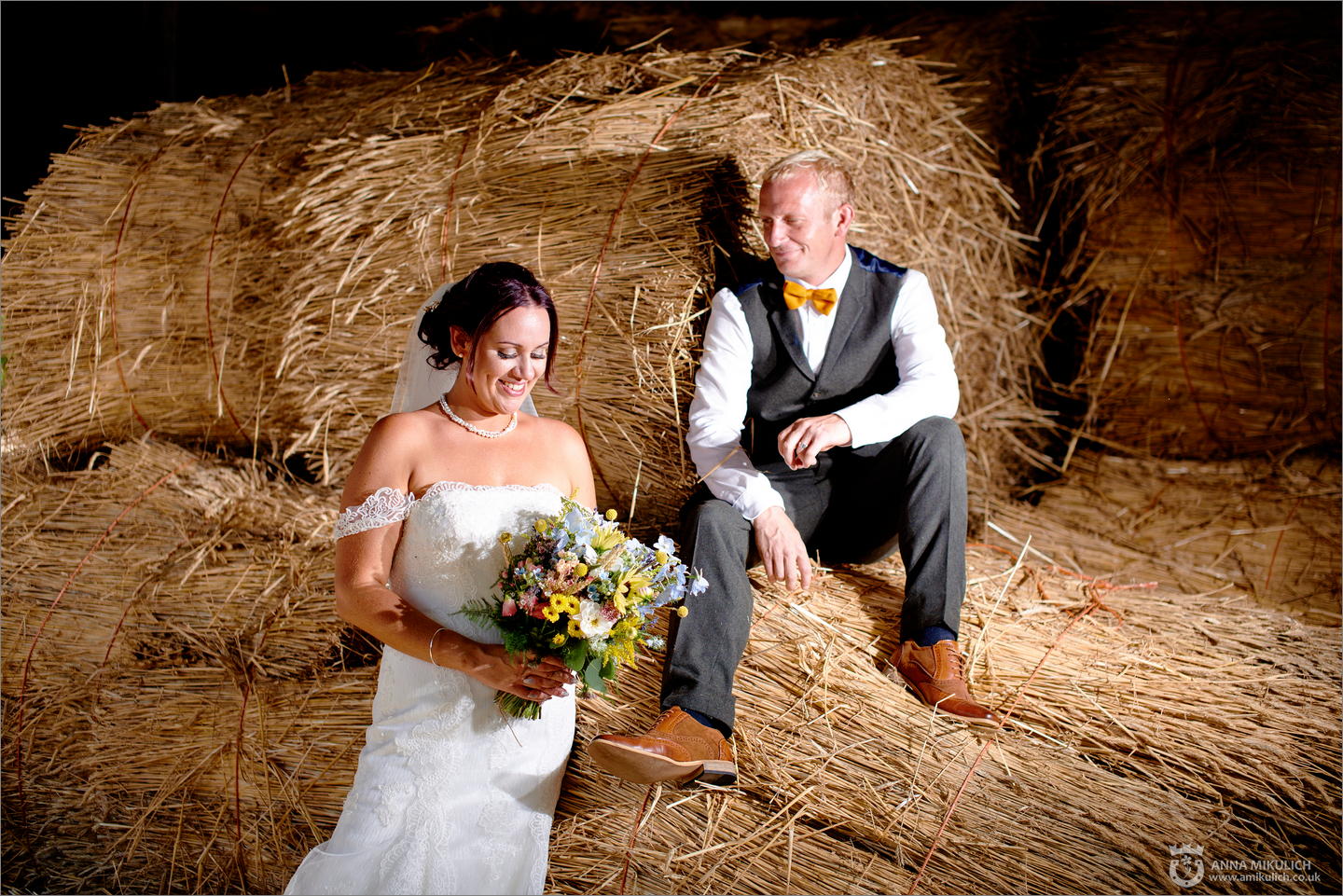 We could not pass by this lovely stack of hay. This location is quintessential countryside background for this lovely wedding. It is efficient teamwork of happy couple (being nice and beautiful) and us, the photographers - working hard, changing cameras, lenses and playing the light setup.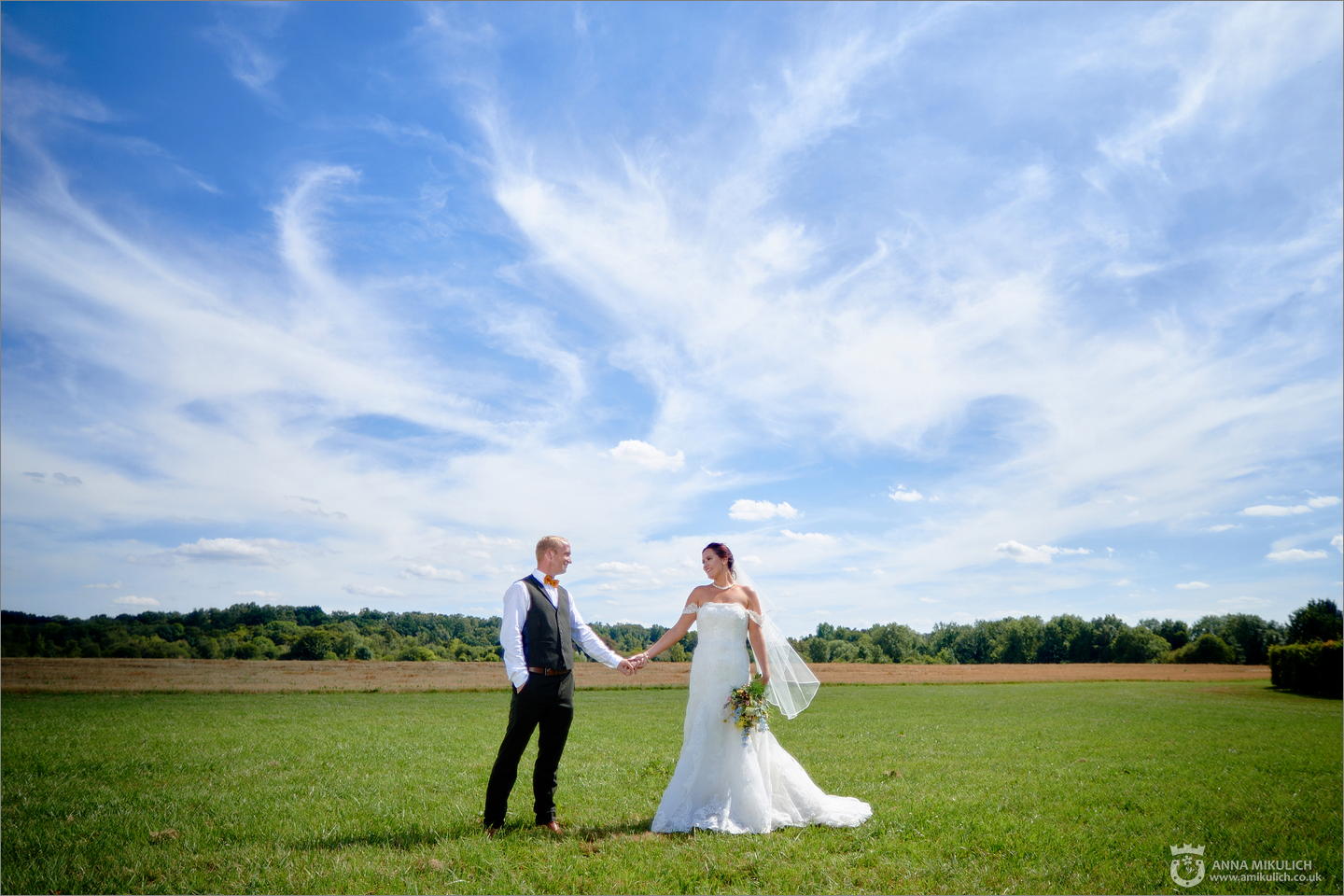 That day this overwhelmingly vast world belonged to just two of them!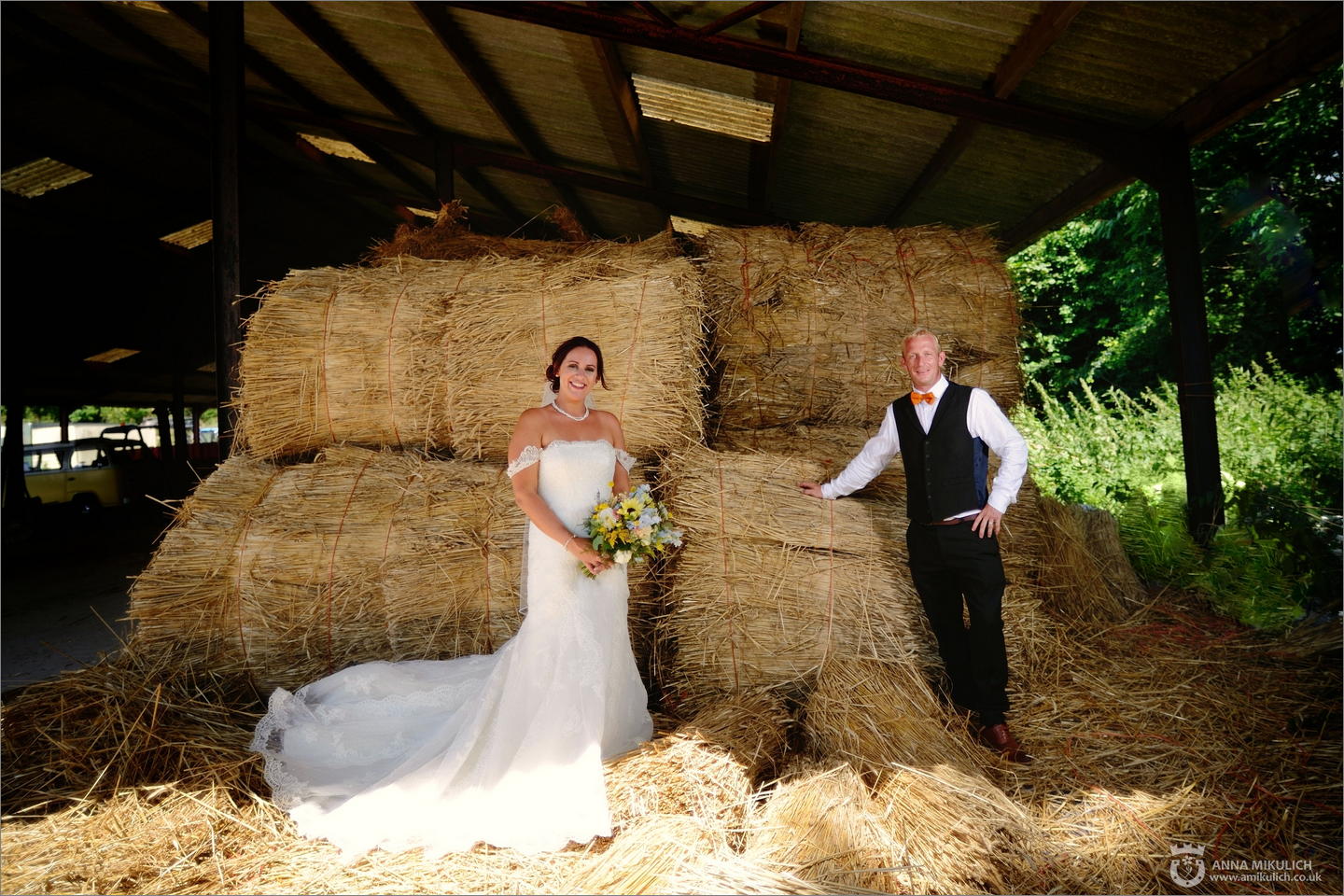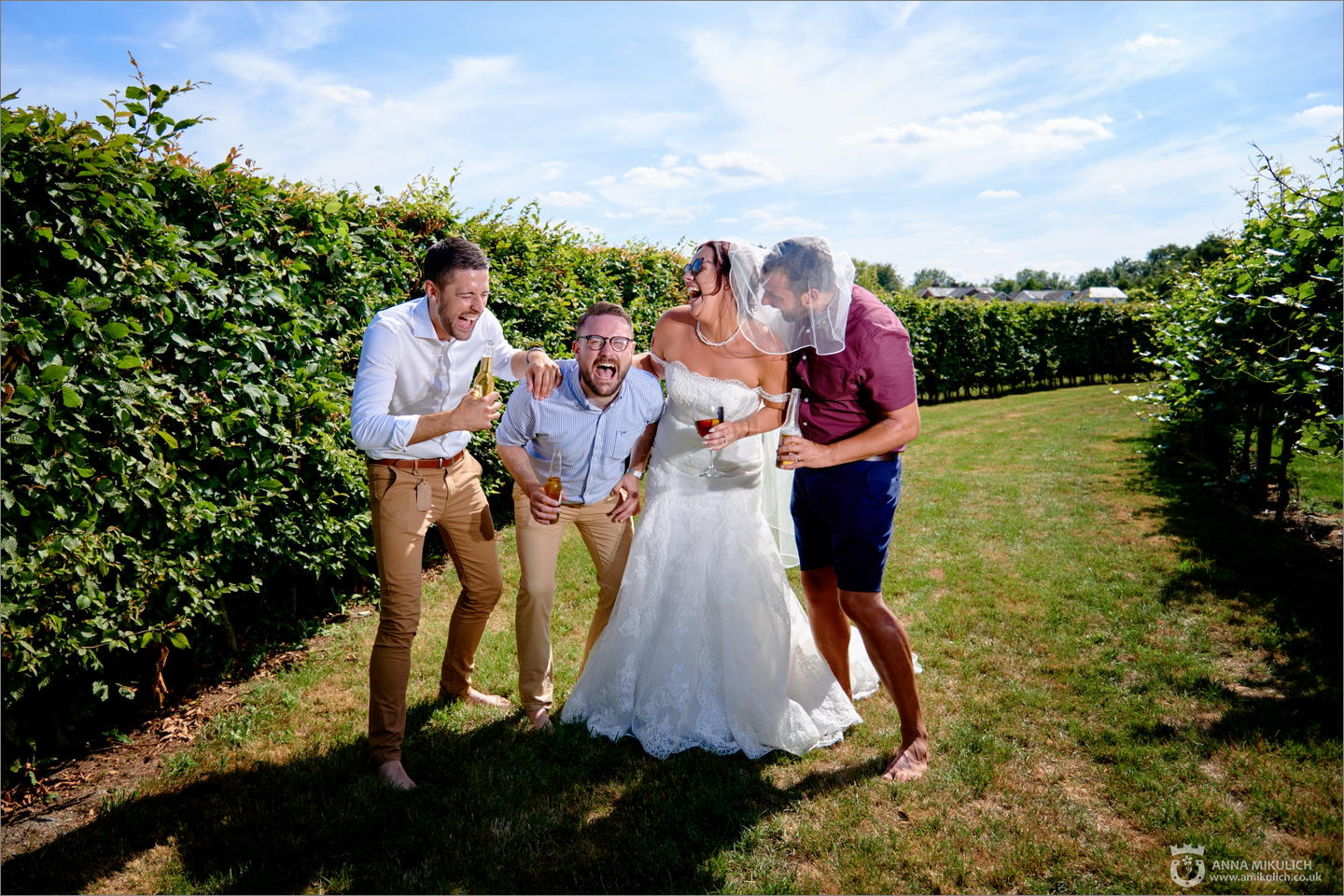 Who said the formals are boring? We always try to capture the true characters of people - because this is what matters!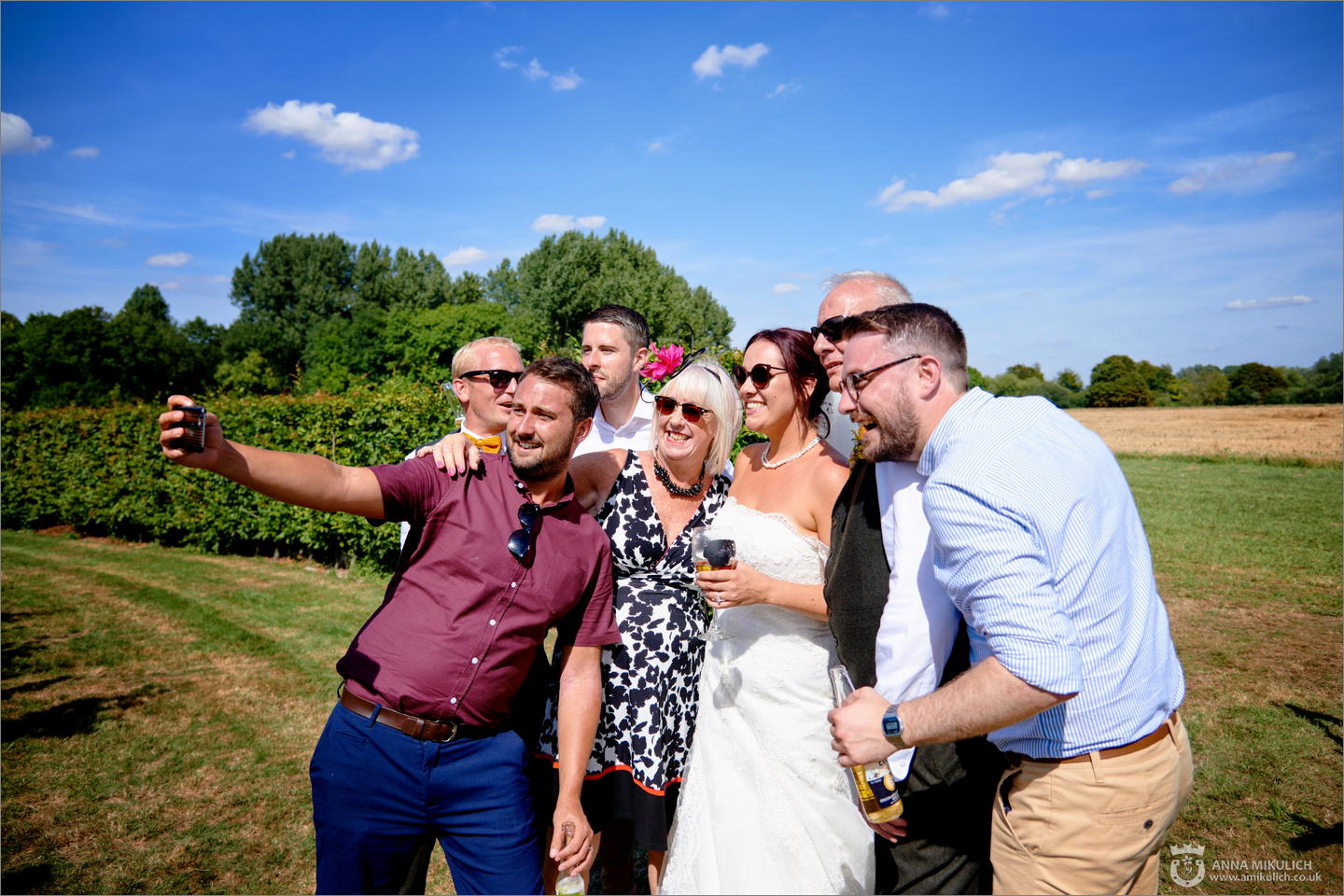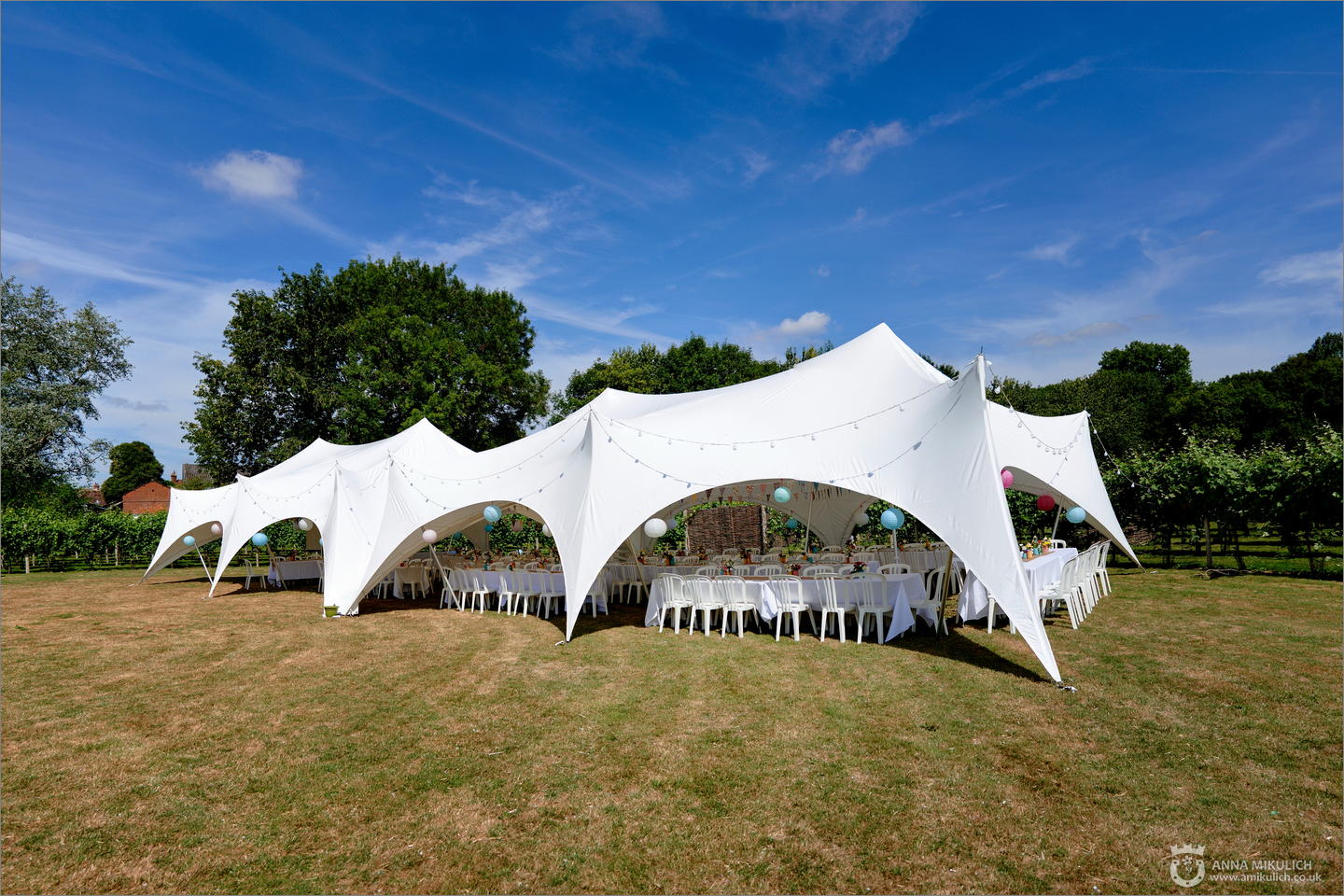 The reception part of the wedding offered a spacious marquee which offered much-needed shadow and a selection of snacks and refreshments. This arrangement created a very relaxed and very informal party.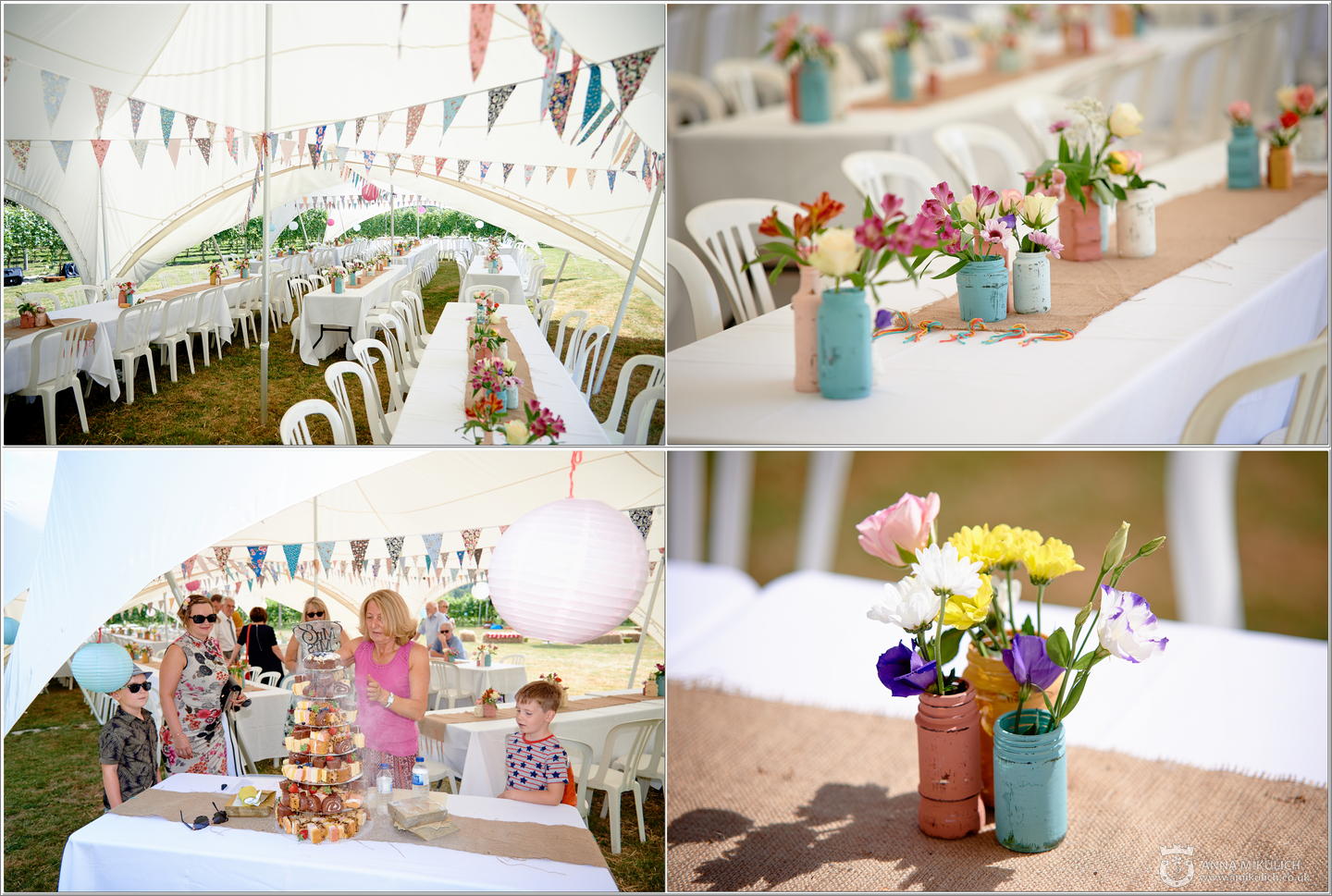 We happen to know, that all of those stunning decorations were created by Hannah, James and their friends! Those pictures will help them to remember how beautiful was their wedding and remember all the effort they put in to make it so!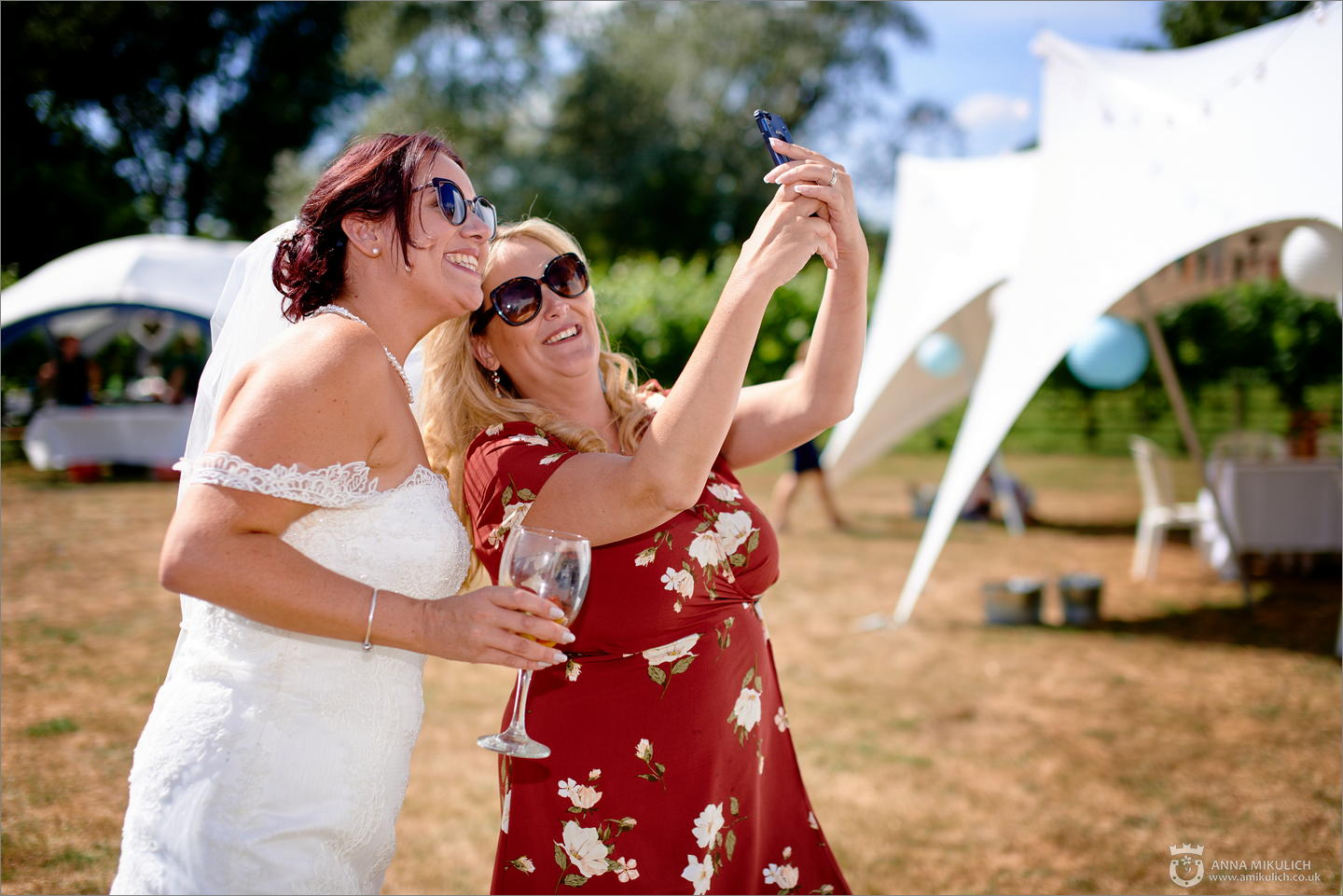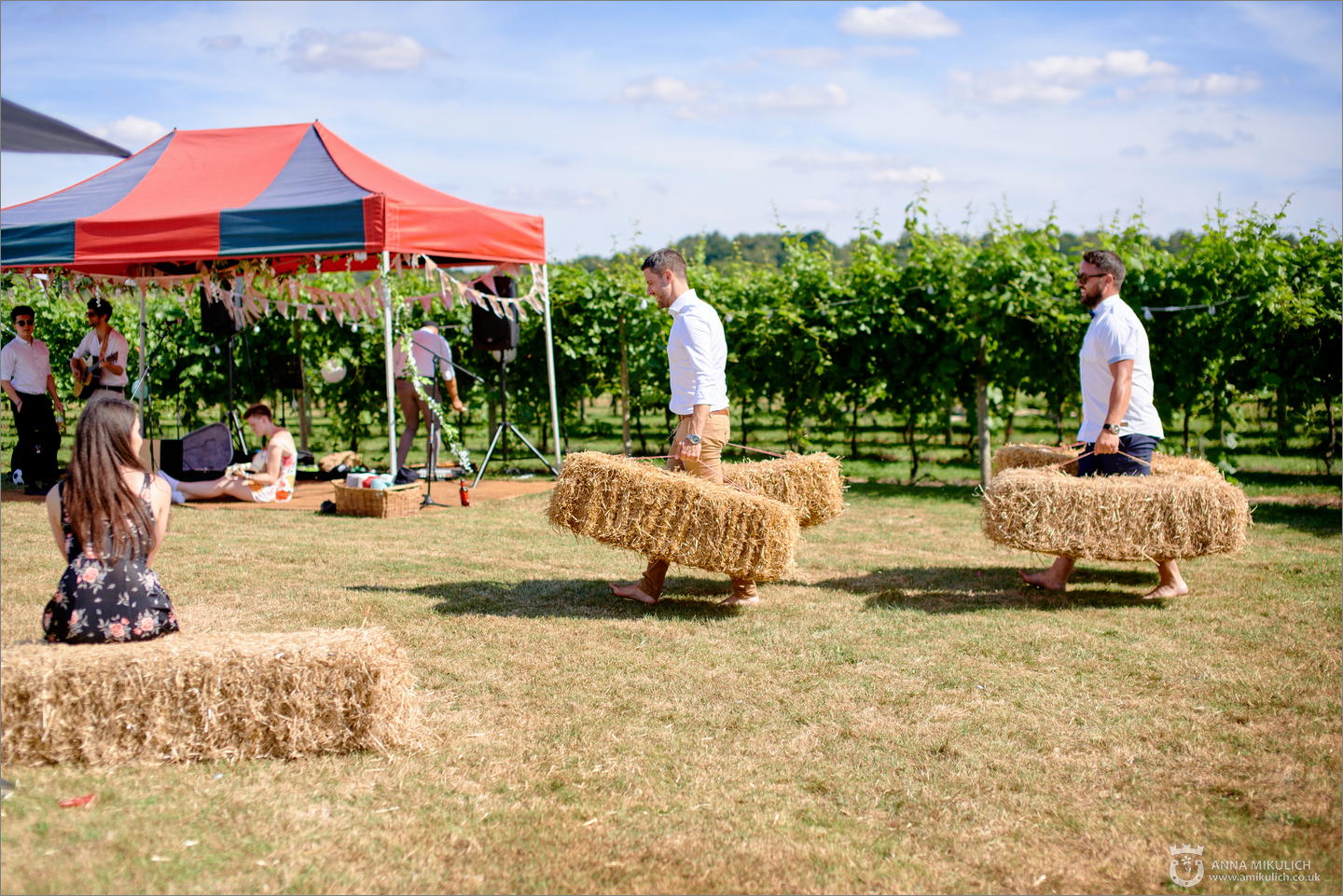 Teamwork in action! It is always great to see friends that are ready to help with anything on a wedding day!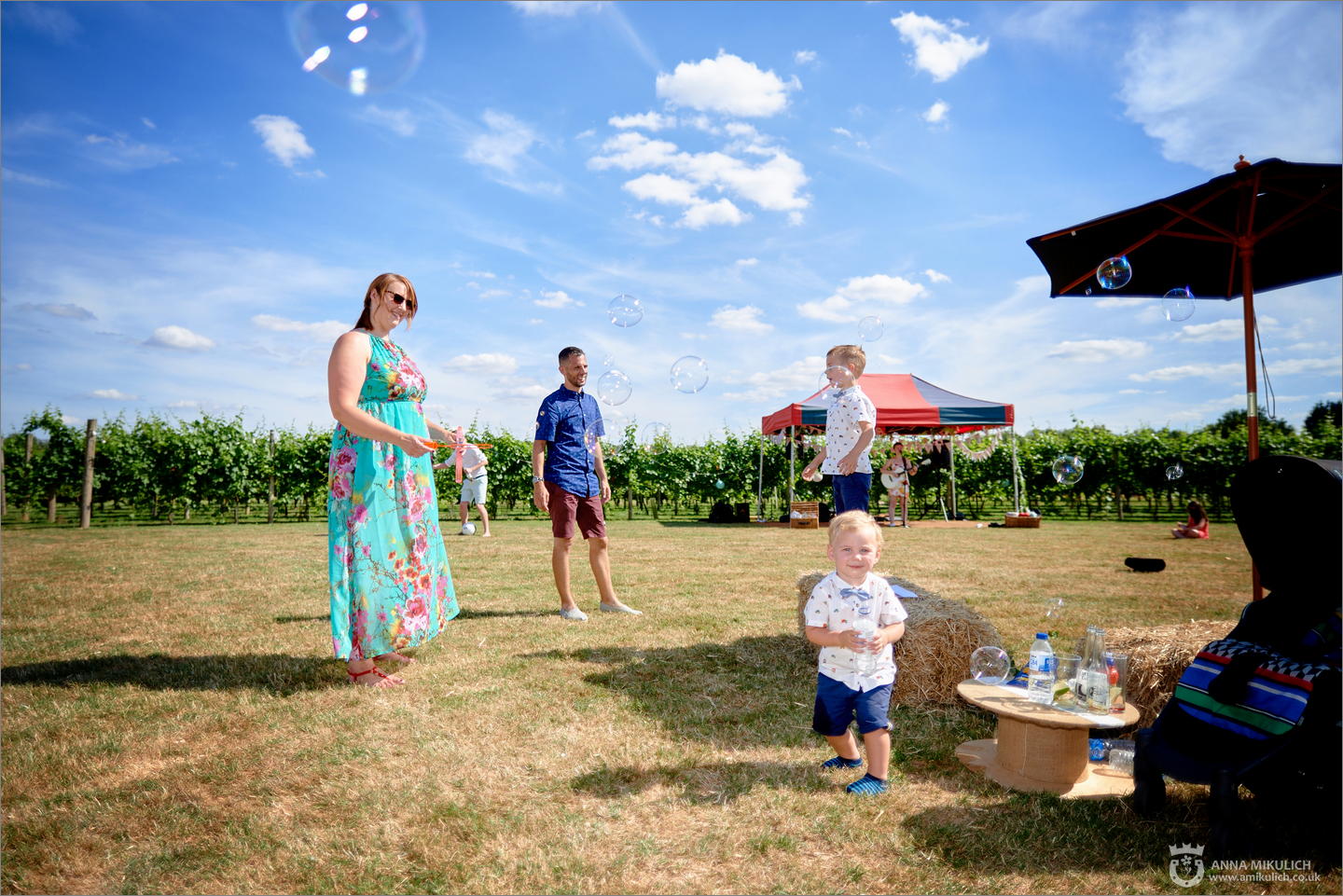 Every guest, even the little ones, was taken care of! So many activities, toys, and entertainment. At some point a real Magician appeared - it is hard to say now who enjoyed those tricks the most - the children or their parents!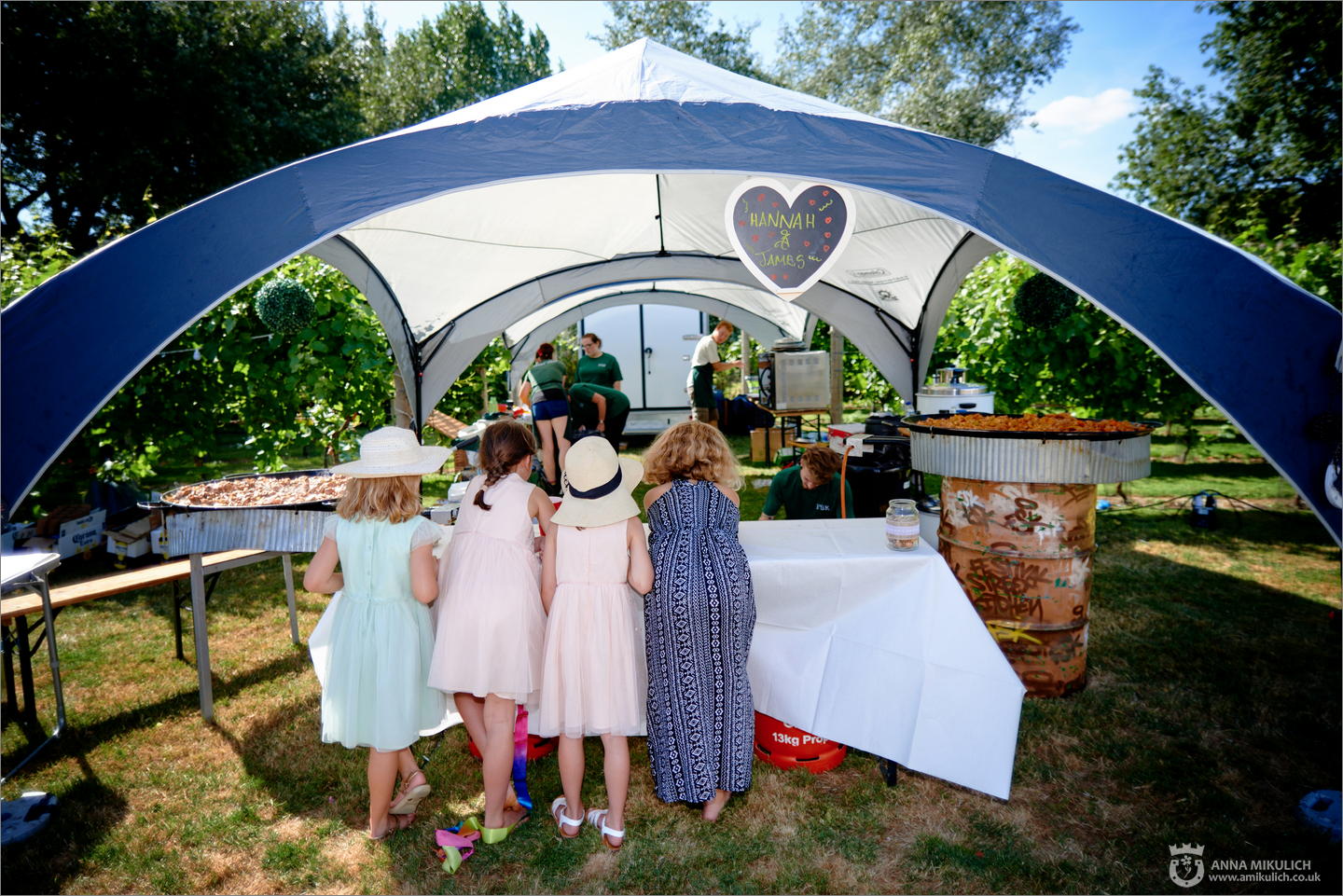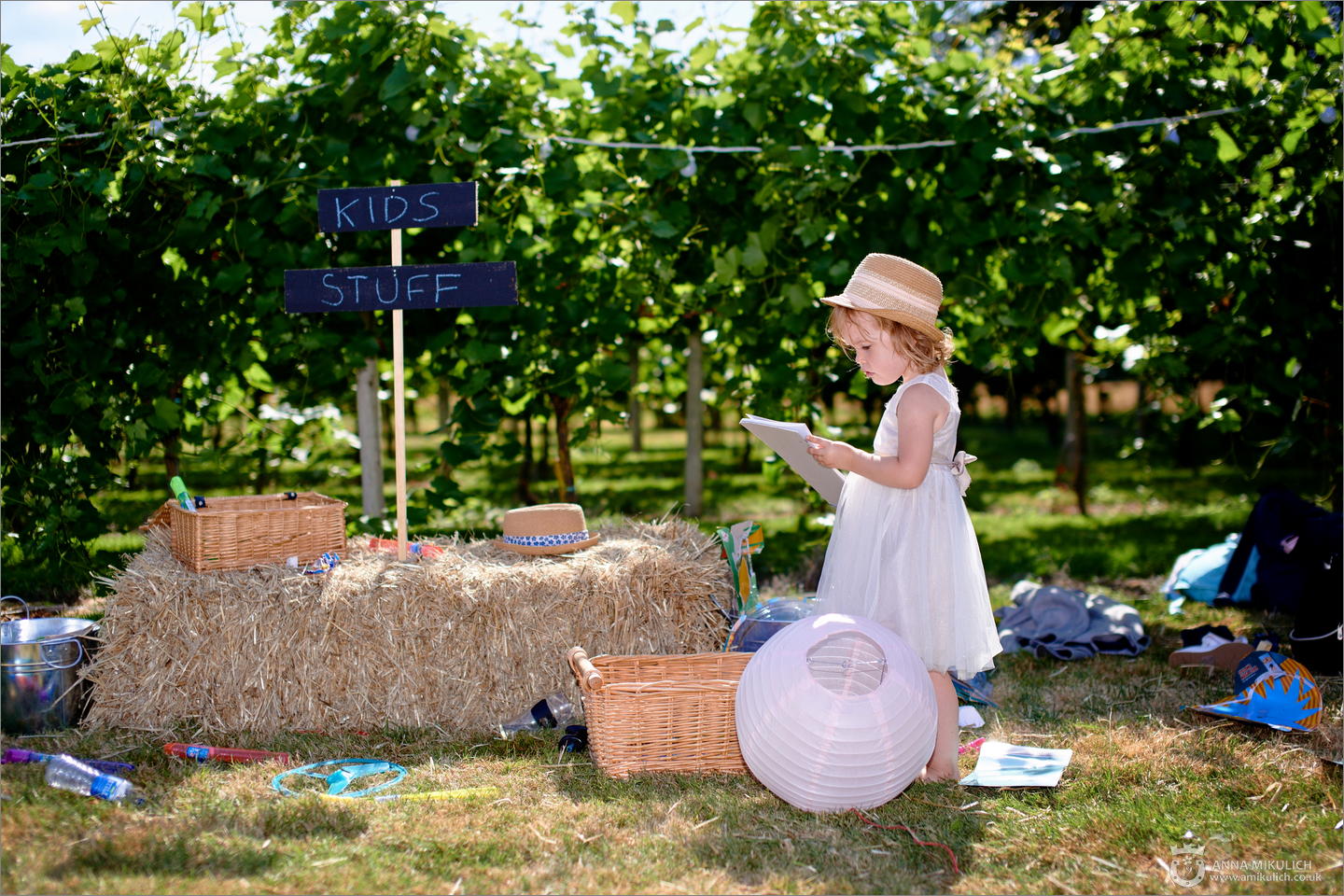 Bubbles, balls, games, drawing pads, toys - you choose!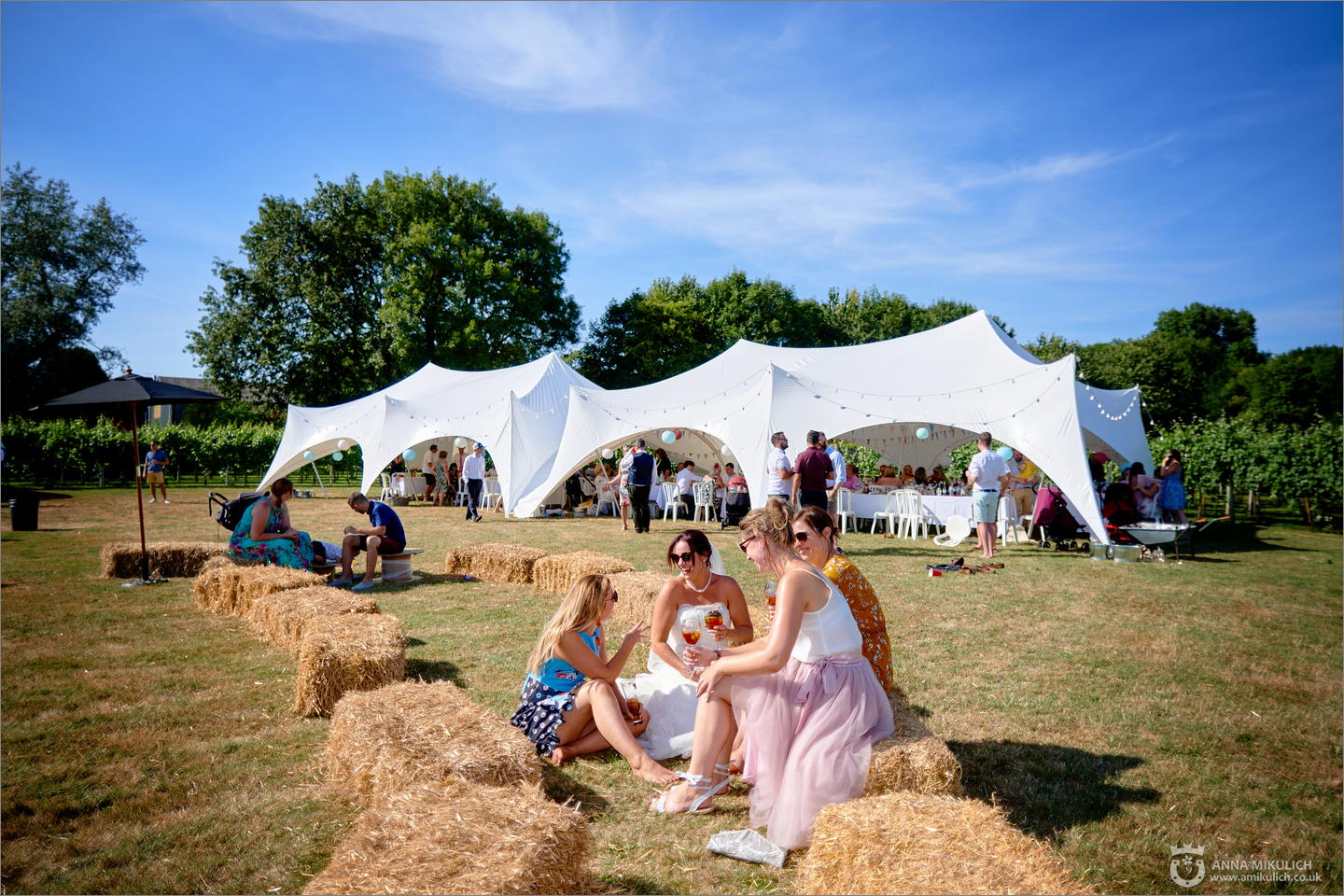 So many things happen so quickly this day! Now it is the time to slow down, have a chat, enjoy the wedding party.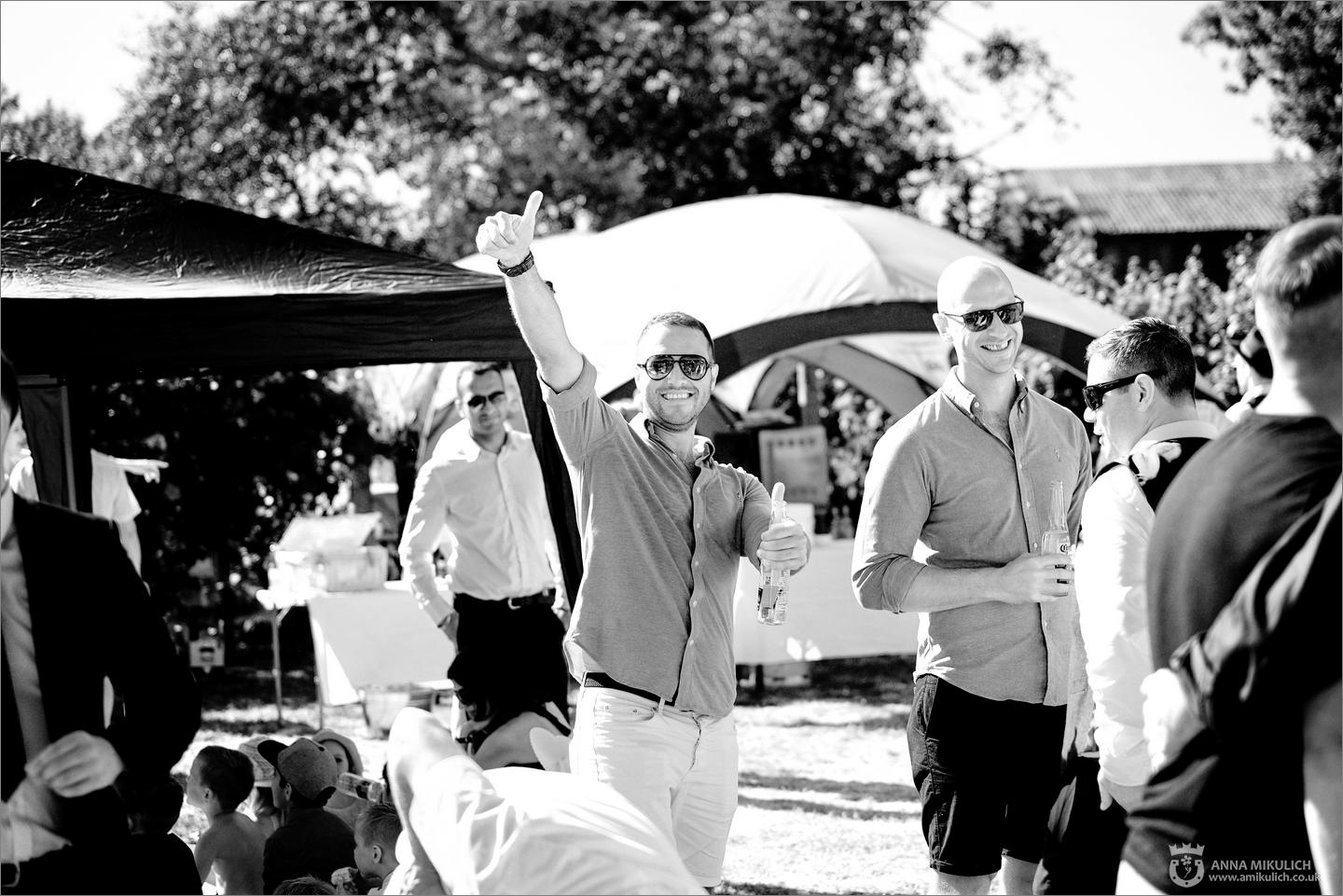 If your outdoors wedding is taking place during the summer and the weather is expected to be warm, you should consider making ice cold drinks available outside.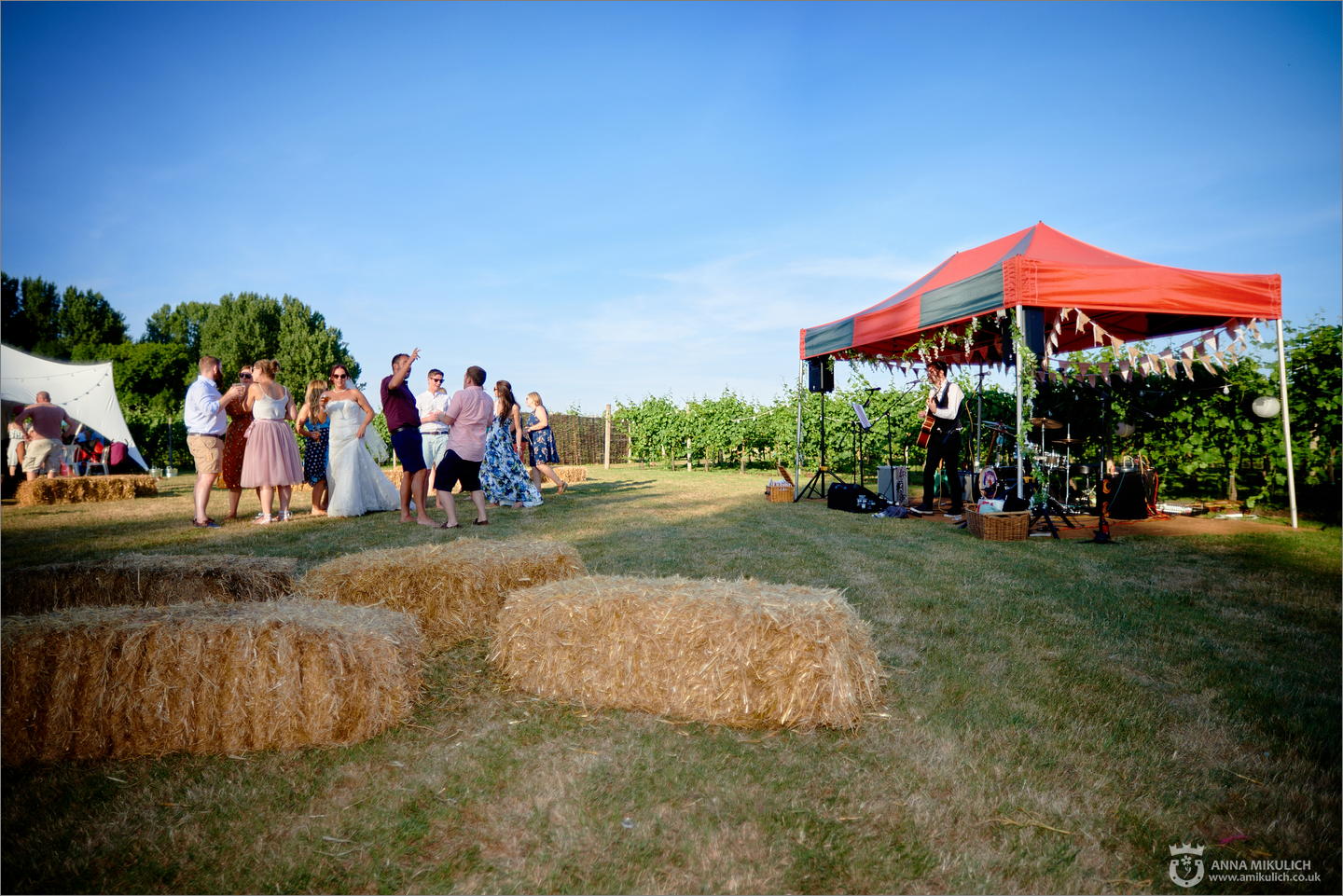 Nothing can beat the live music performance. It is just better than any record, so alive and matching the spirit of the open-air wedding.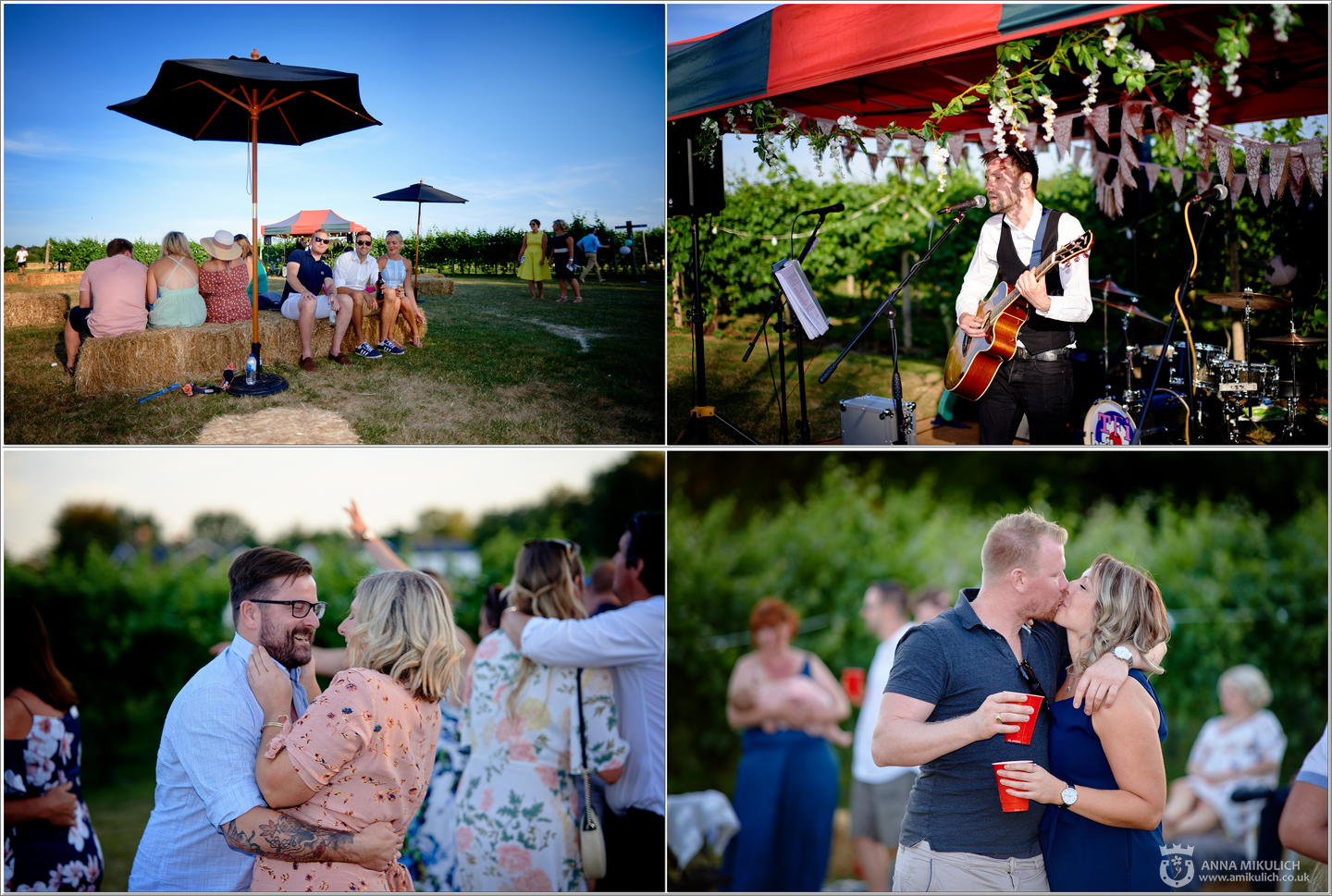 Hit the dance-floor! This is part of the wedding to have a real fun!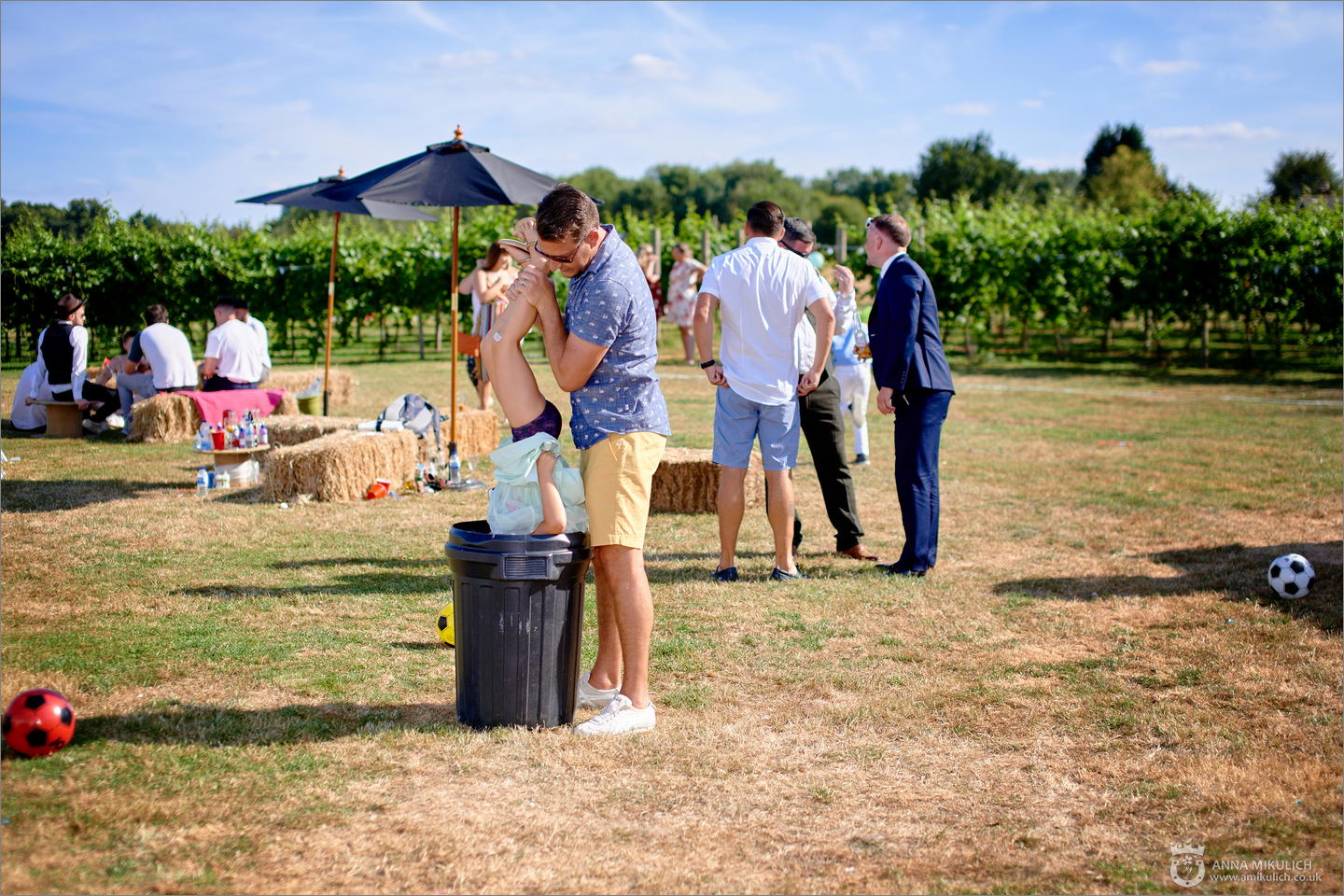 Carried away a bit? Not even for a second!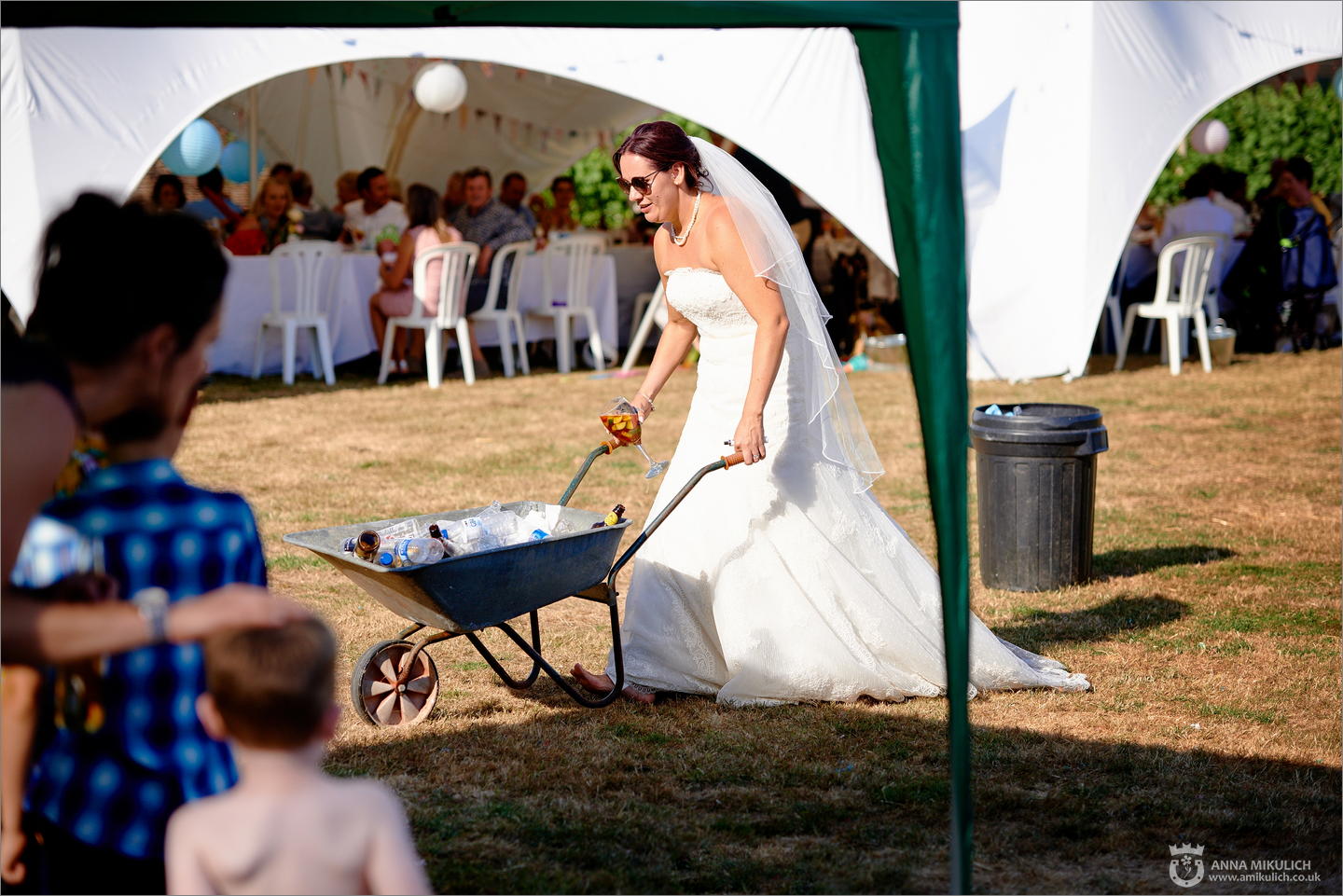 It was one of the hottest days of that summer! It is hard to believe but it was so hot that even the bride herself had to grab a wheelbarrow full of ice and run for more drinks! Wow!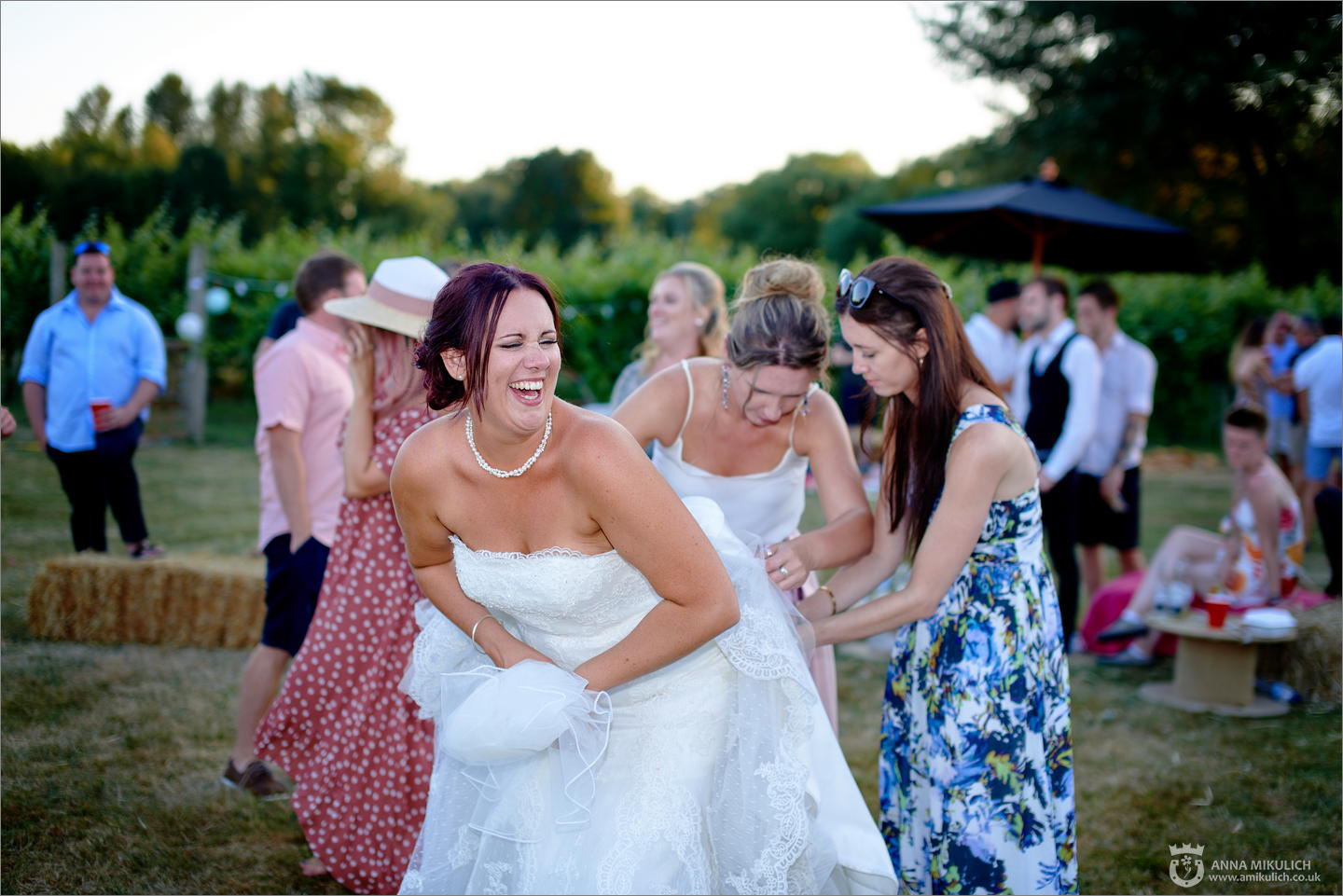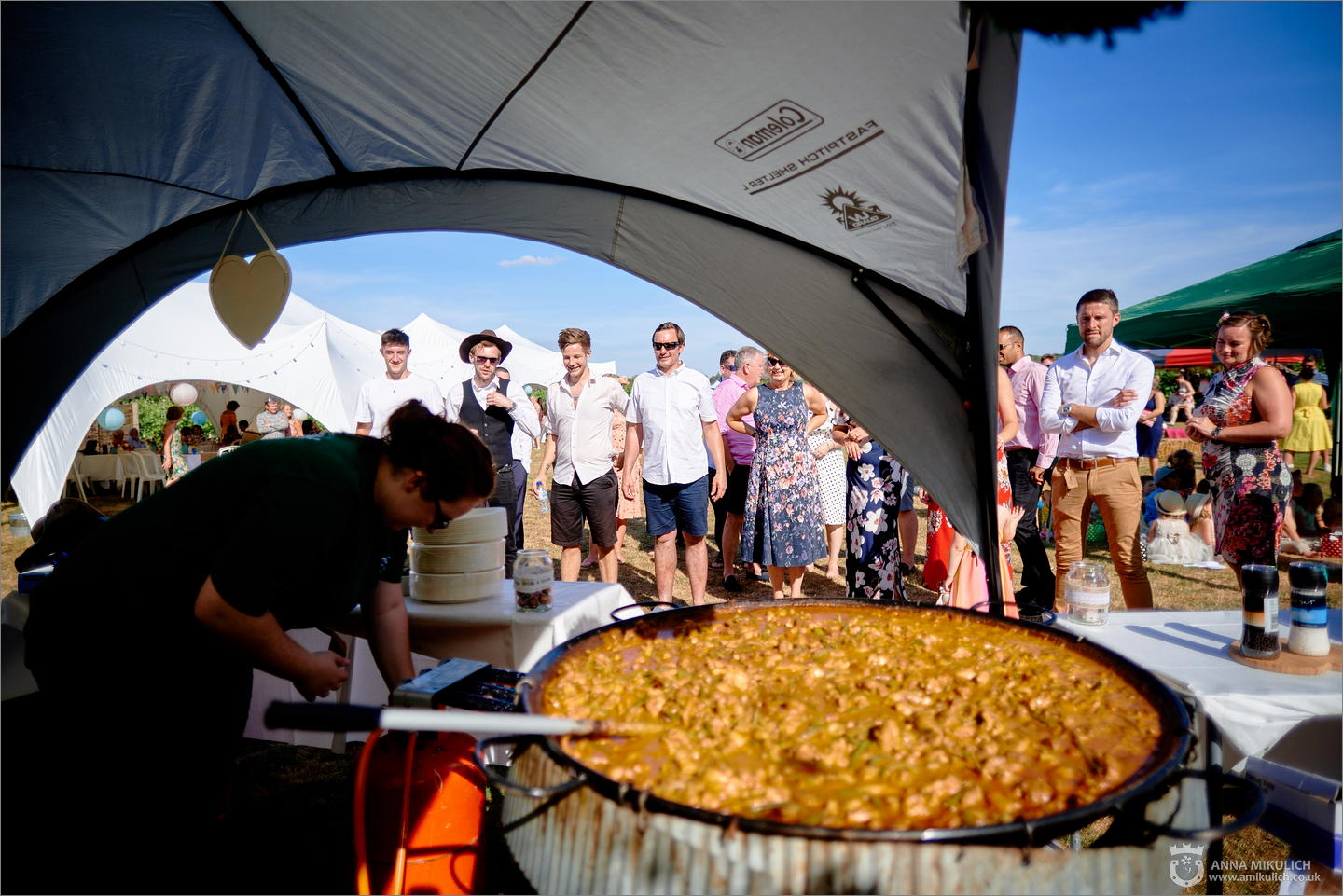 Basingstoke Street Kitchen stellar performance! Guests are waiting patiently to have their turn to try a freshly cooked, steaming wedding breakfast.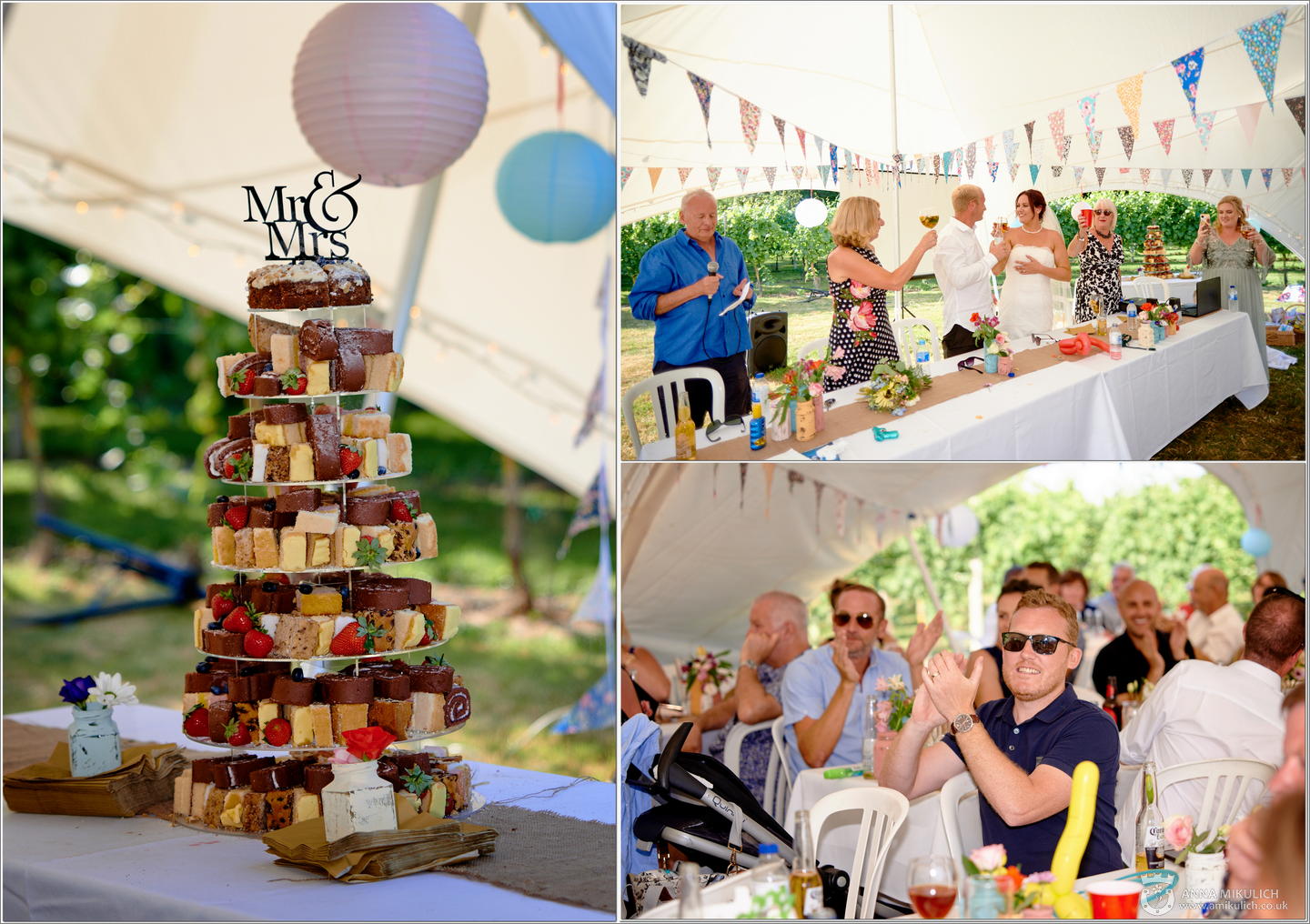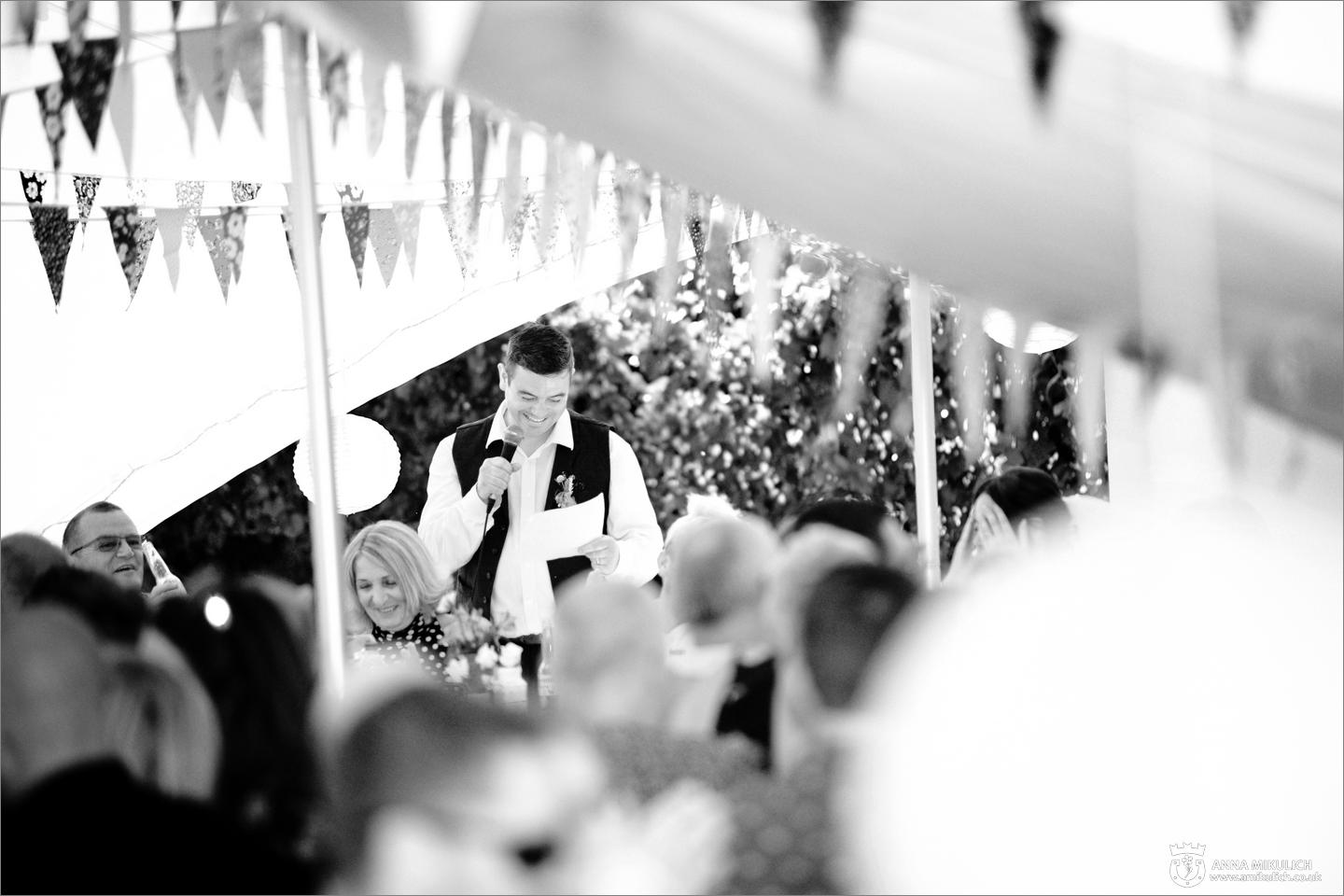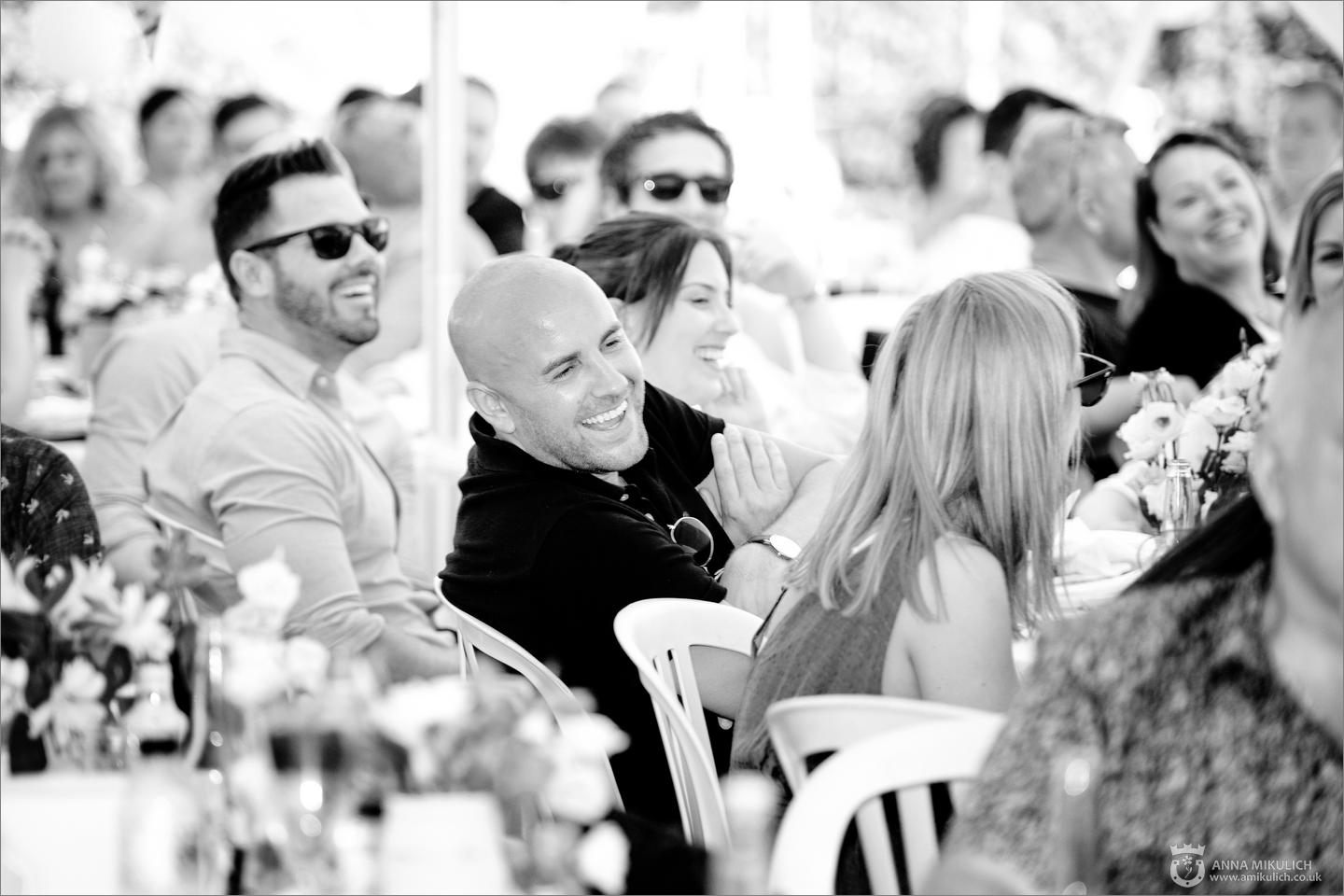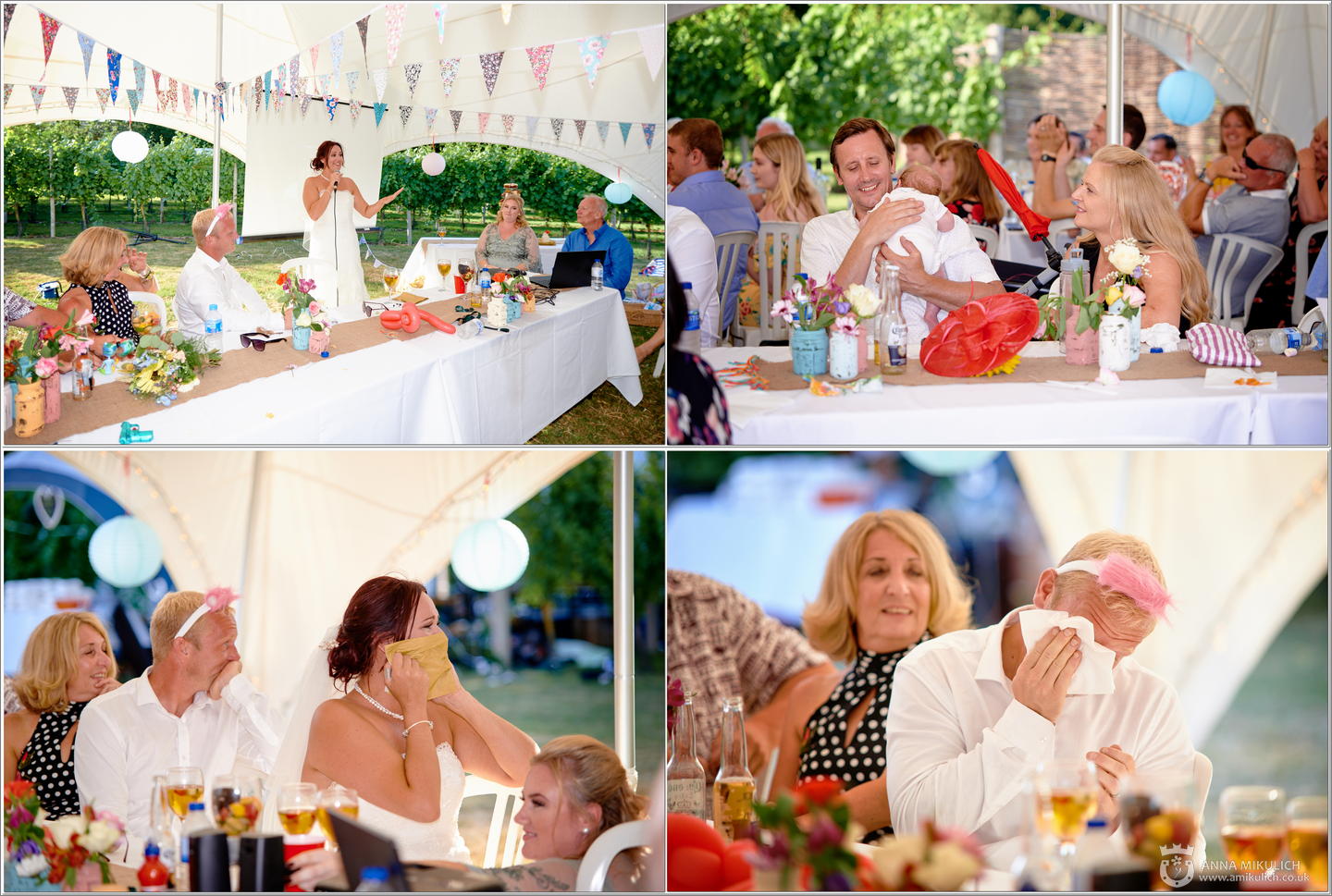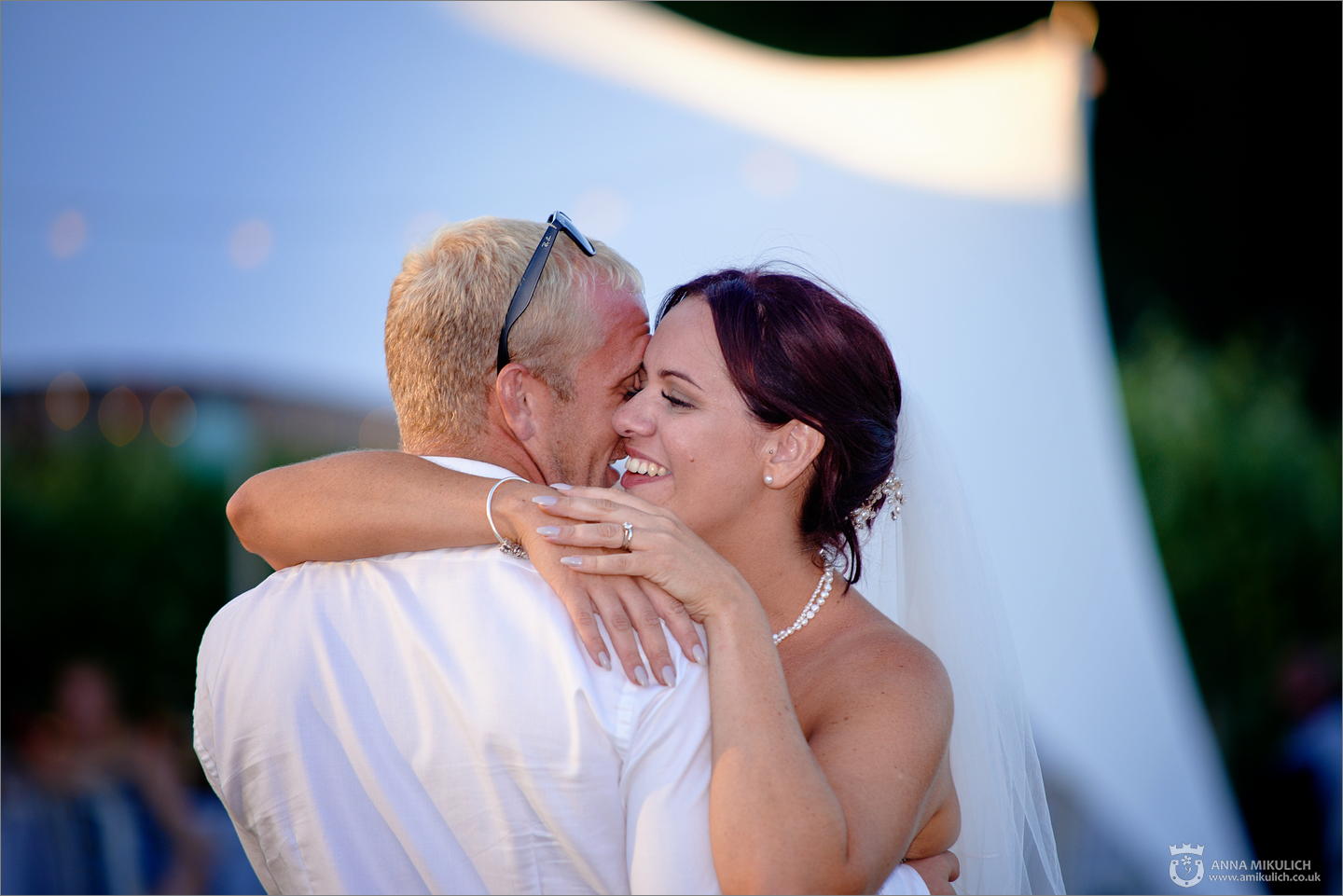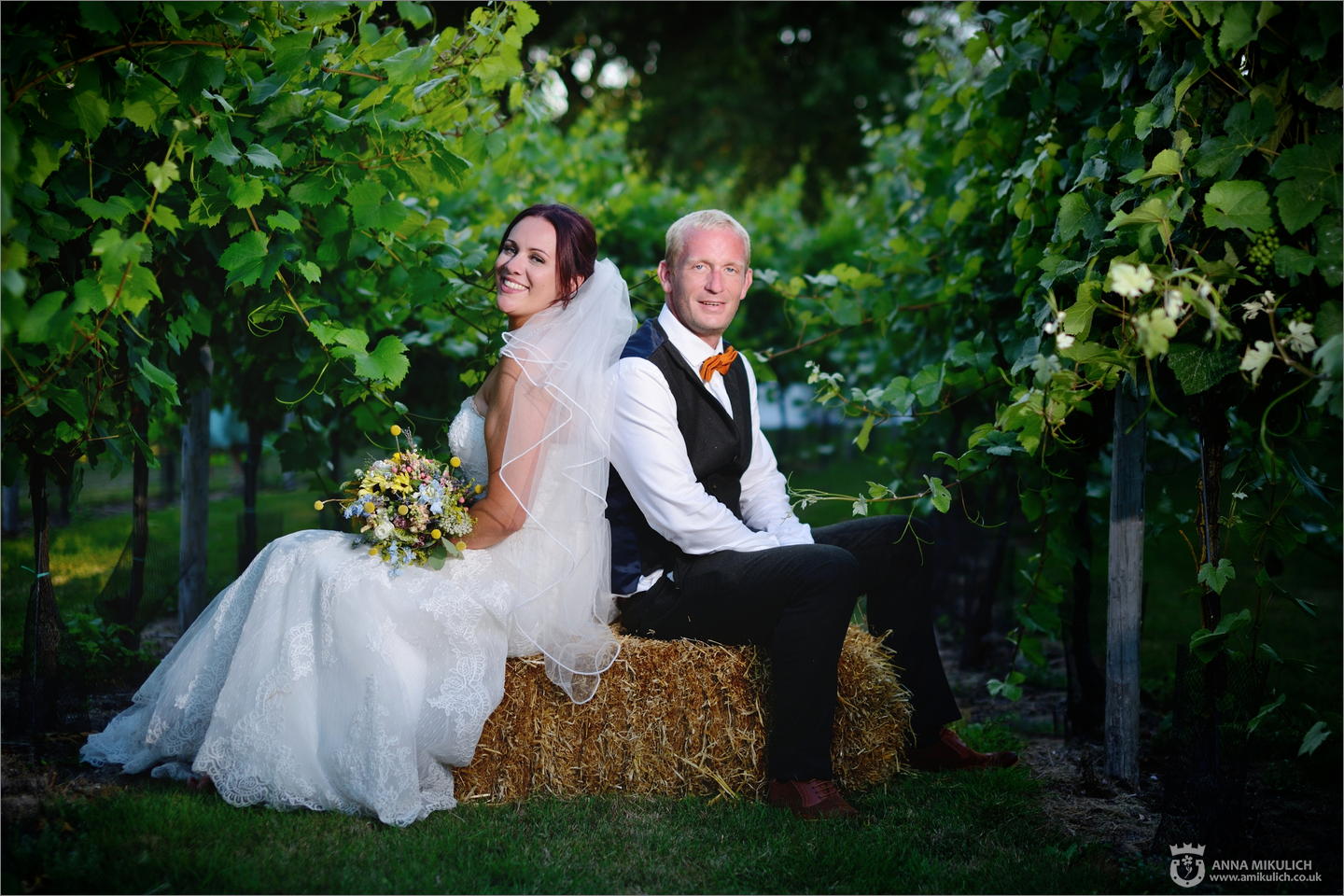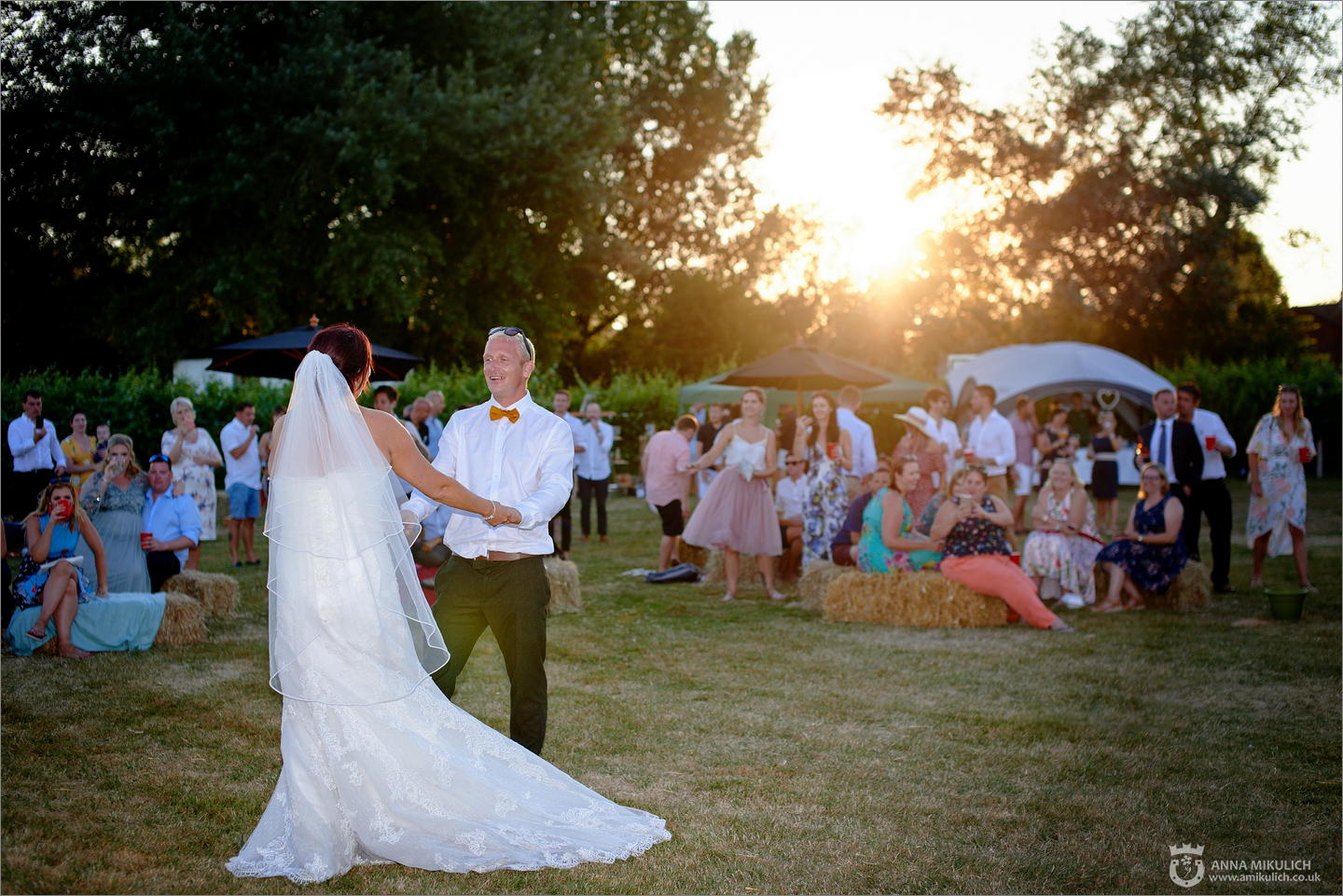 After a very emotional wedding and reception, the time for the first dance came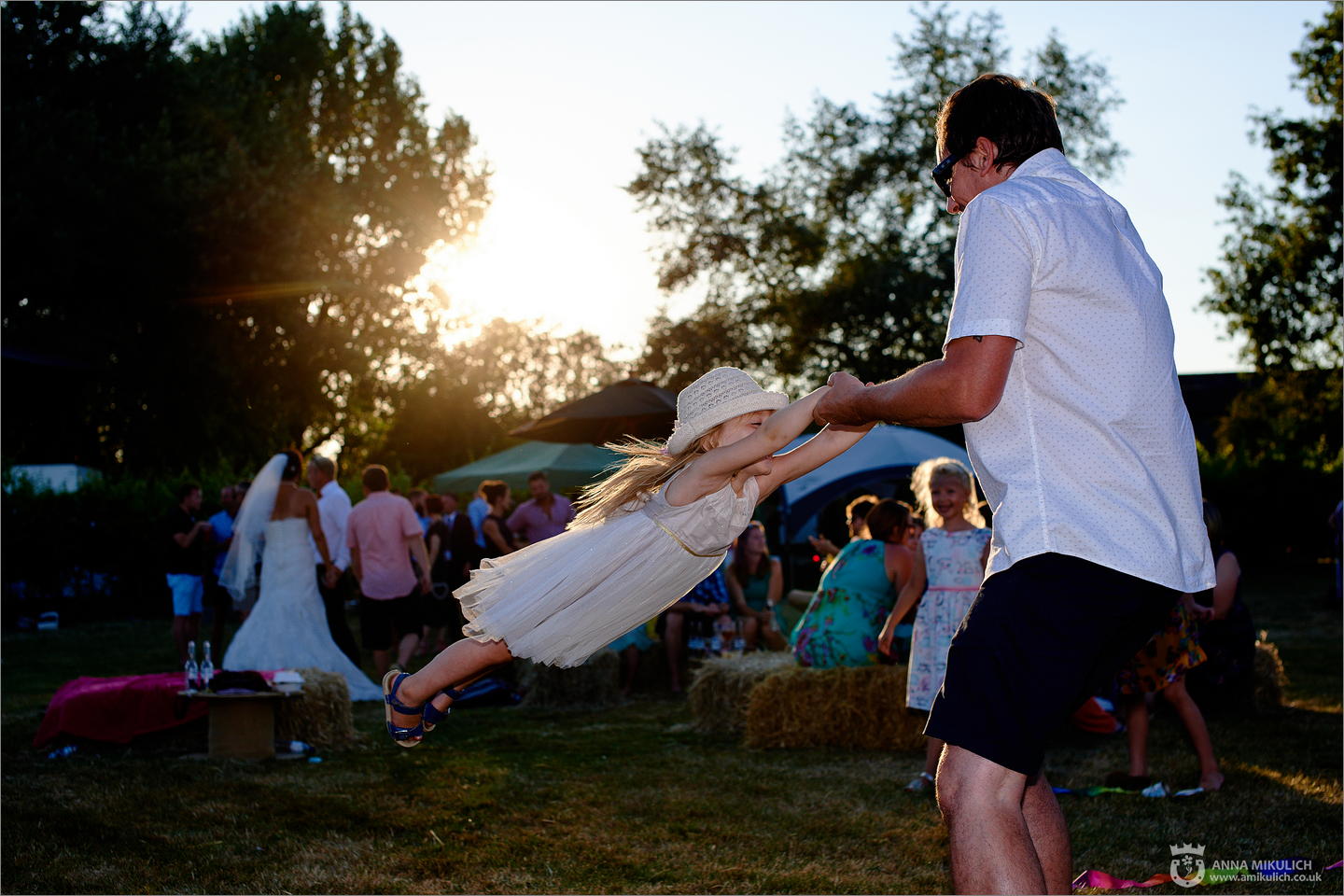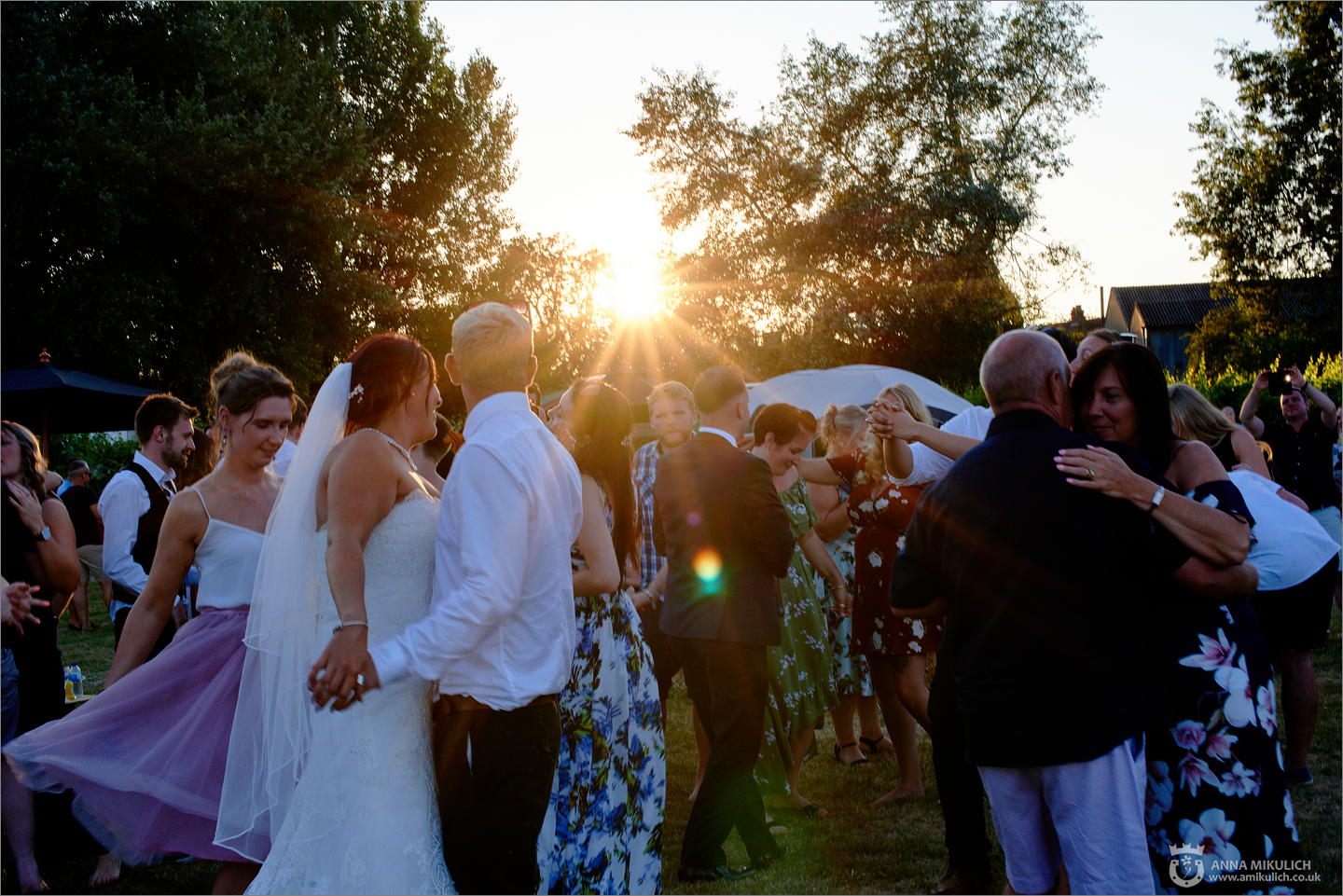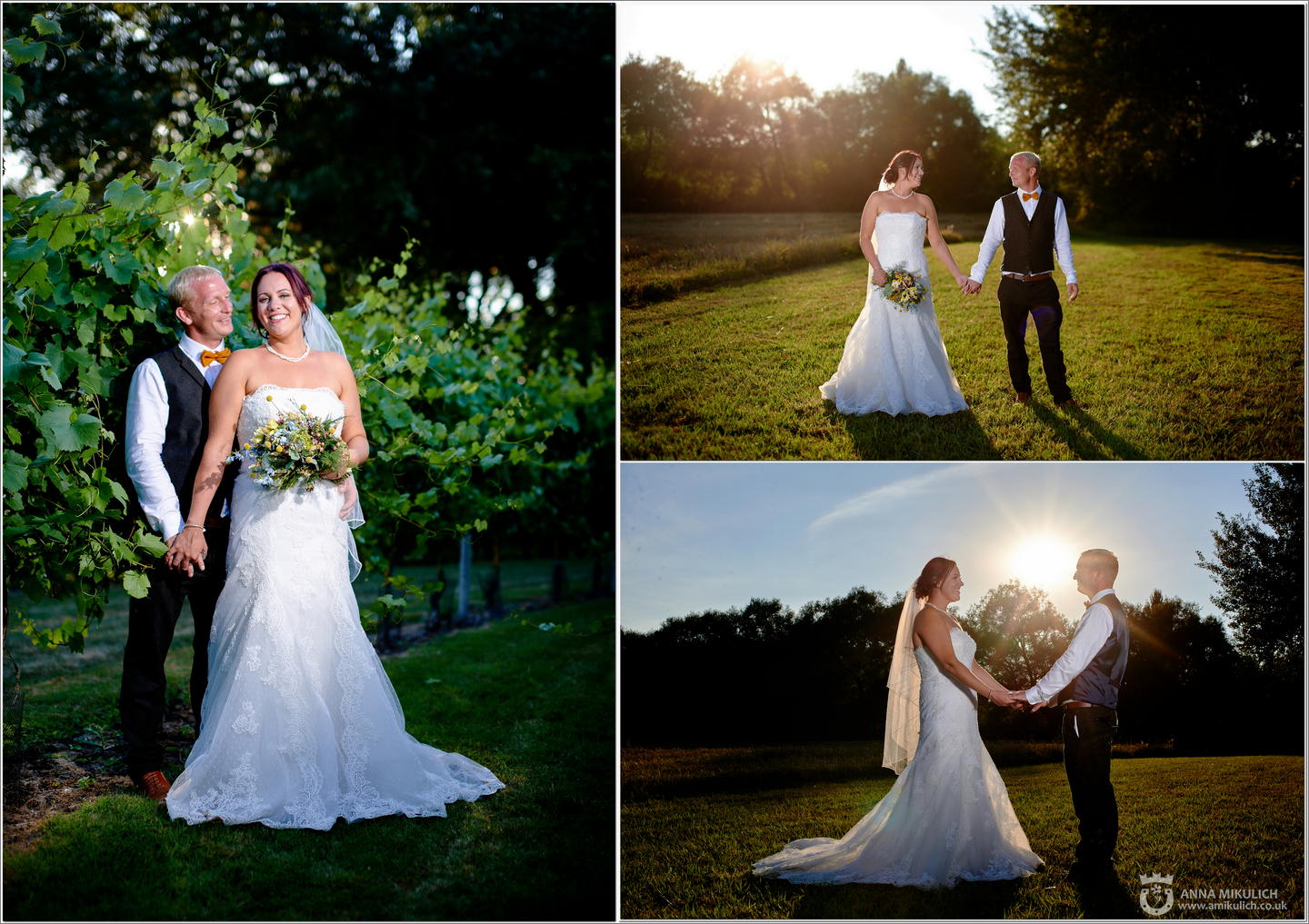 Fast-forward to the end of the day and here comes the real treat for the wedding photographer. The low-setting sun turned the venue into a magical setting. We seized this opportunity to make those stunning evening pictures with a setting sun and our beautiful couple - Hannah and James!
All in all - that was an amazing wedding day to remember. Everything was great and everything was beautiful. Only the happiest faces of best friends and family. The day was full of events and full of fun. We really admired the venue - Fullerton estate did a good job and offered a fantastic setting and facilities for that great outdoor wedding! It worth a long journey for some of the guests as far as from Australia to witness it all!
Please do get in touch if you are planning your wedding and you're looking for a wedding photographer to capture your big day in a natural way! We would love to talk to you about your plans!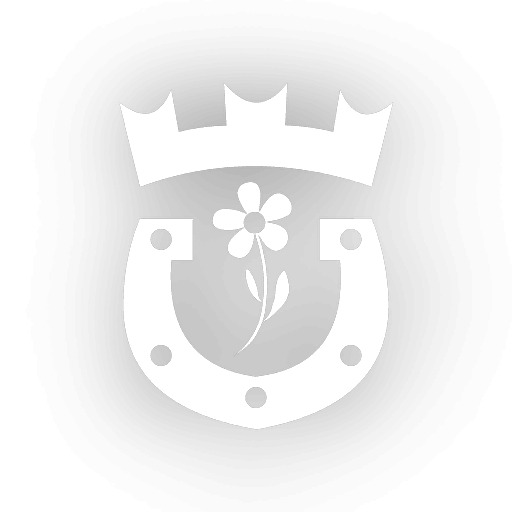 Anna Mikulich
wedding photography
Wedding Photographer Hampshire | Wedding Photographer Surrey | Wedding Photographer Berkshire | Wedding Photographer Oxfordshire | Wedding Photographer Basingstoke | Wedding Photographer Winchester | Wedding Photographer Farnham | Wedding Photographer Reading | Wedding Photographer Oxford | Wedding Photographer Portsmouth | Wedding Photographer Southampton | Wedding Photographer London | Wedding Photographer Guilford | Wedding Photographer Woking | Wedding Photographer New Forest | Wedding Photographer Petersfield | Wedding Photographer Alton | Hampshire Wedding Photographer | Surrey Wedding Photographer | Berkshire Wedding Photographer | Oxfordshire Wedding Photographer | Basingstoke Wedding Photographer | Winchester Wedding Photographer | Farnham Wedding Photographer | Reading Wedding Photographer | Oxford Wedding Photographer | Portsmouth Wedding Photographer | Southampton Wedding Photographer | London Wedding Photographer | Guilford Wedding Photographer | Woking Wedding Photographer | New Forest Wedding Photographer | Petersfield Wedding Photographer | Alton Wedding Photographer
Copyrights © 2021 Anna Mikulich. It is not allowed to use any materials and media from this website witout granted permissions. This website uses Google Analytics service for purposes of performance and accessibility analysis only. This service is using webbrowser cookies technology to track website visits. By using the website, you agree that it is allowed to place these types of cookies on your device. If you see this website snown with errors - please let us know! We are wedding photographers, not website developers - but we will try to sort it out! Website administration: admin@amikulich.co.uk