Wadham College Oxford Wedding Photography
Dominic & Katharina's Wedding in Oxford
We always love to take wedding pictures in Oxford with all those old and magnificent buildings and streets. But true beauty is to see two loving people - that made the day shining a million times brighter - well done, Dominic and Katharina! Congratulations on getting married, it was a pleasure for us to be a part of your vivid and energetic wedding day!
We are pleased to show you some of their beautiful photos - enjoy!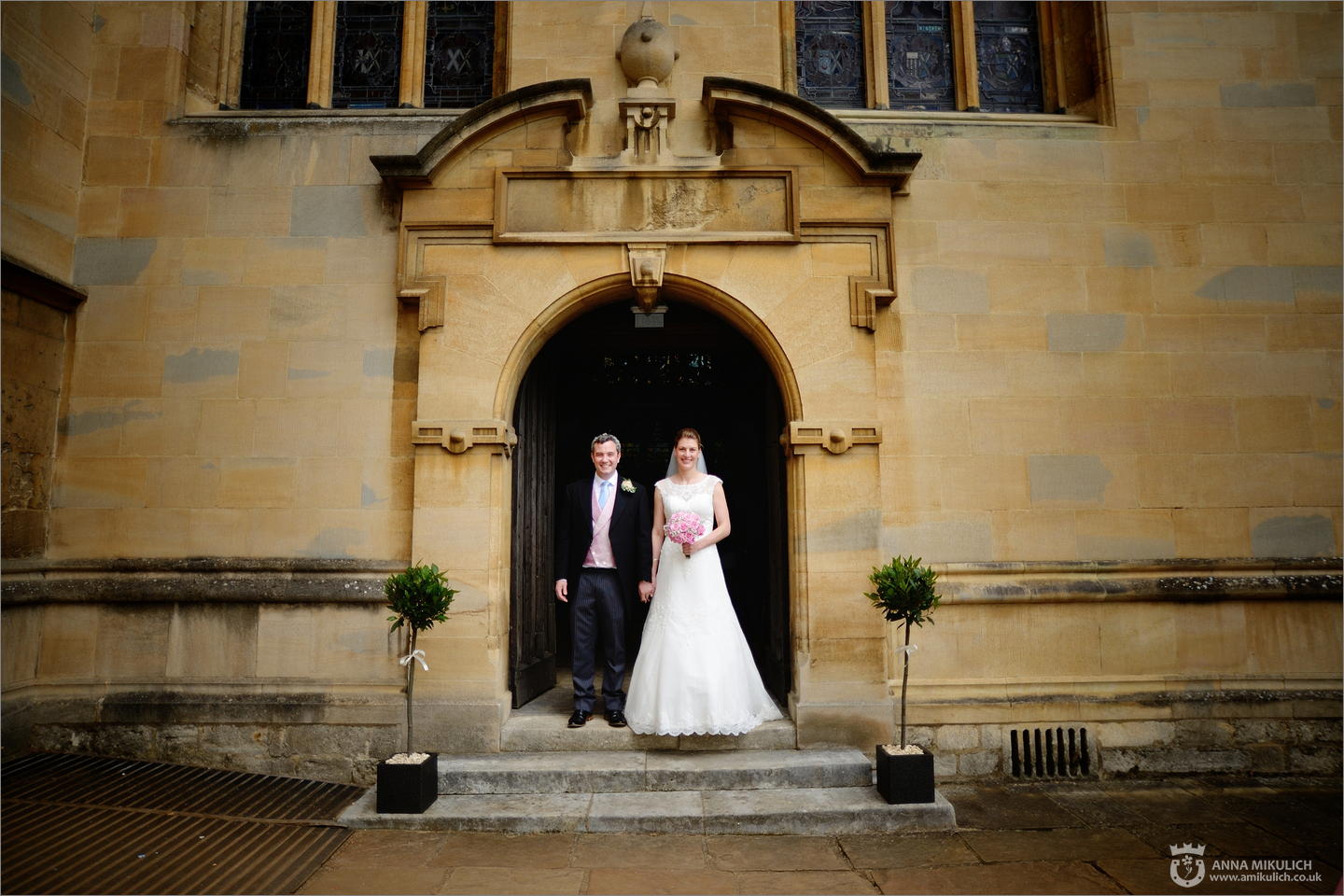 Welcome to historical Oxford! This city must take a very special place in the life of Dominic and Katharina. Here, they lived, worked, met each other, fell in love, and got married. Oxford always seems to be a very romantic place with all its narrow streets, magnificent historical buildings, shady parks, and the river splitting the city into two parts.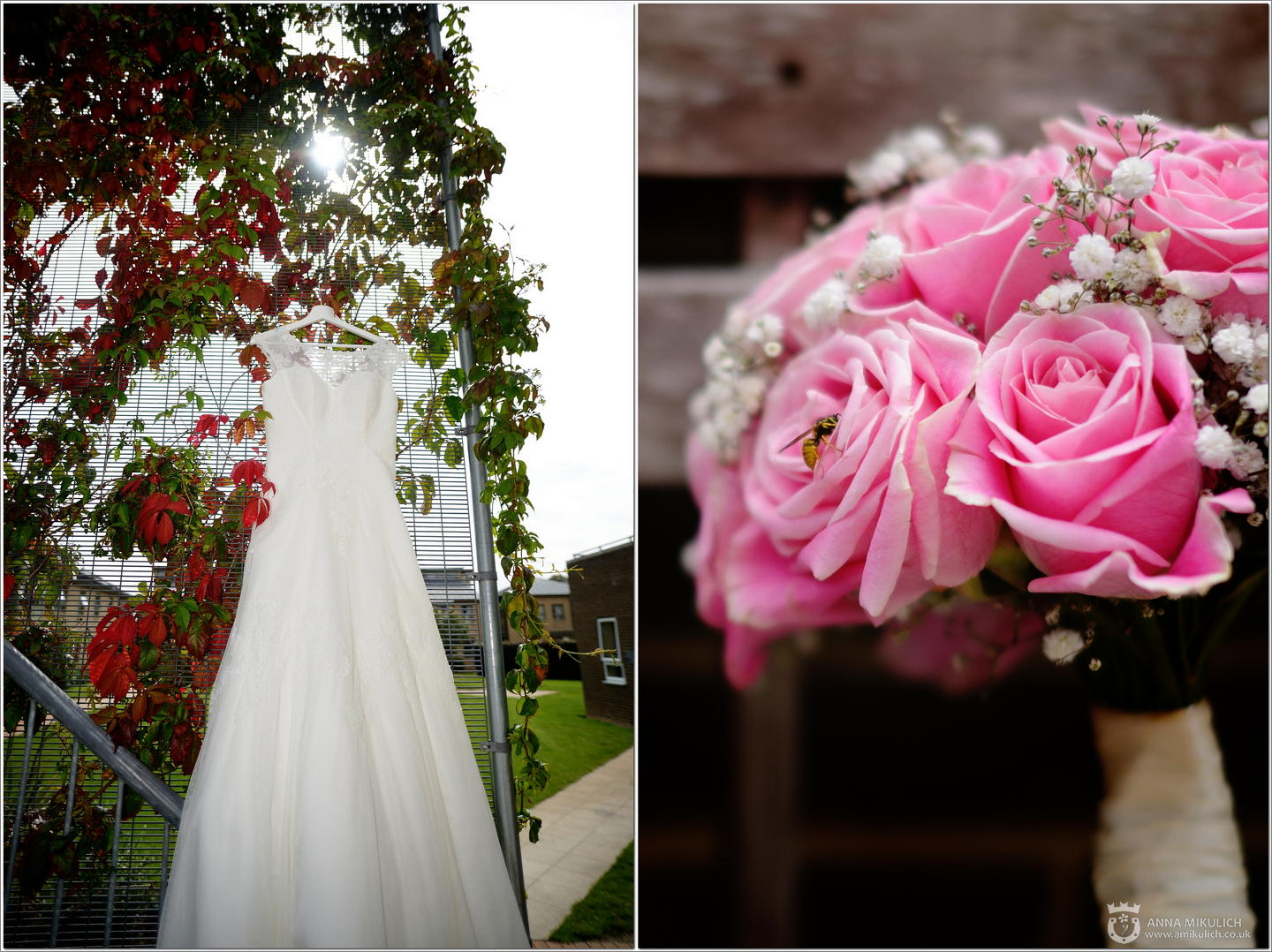 Our wedding coverage usually starts with the preparation of the bride. This is a very important part of the wedding day as a lot of things happen so quickly. We must not be late, and we arrive much earlier than even necessary for all of our weddings. There is no excuse for the photographer to be late! While girls are getting ready we are starting our photography coverage with wedding details pictures: the most beautiful wedding dress, delicate bridal bouquet, elegant shoes - all is set and ready for a wedding day in Oxford! All of those little details captured in pictures will help to keep the memories alive about that very special day.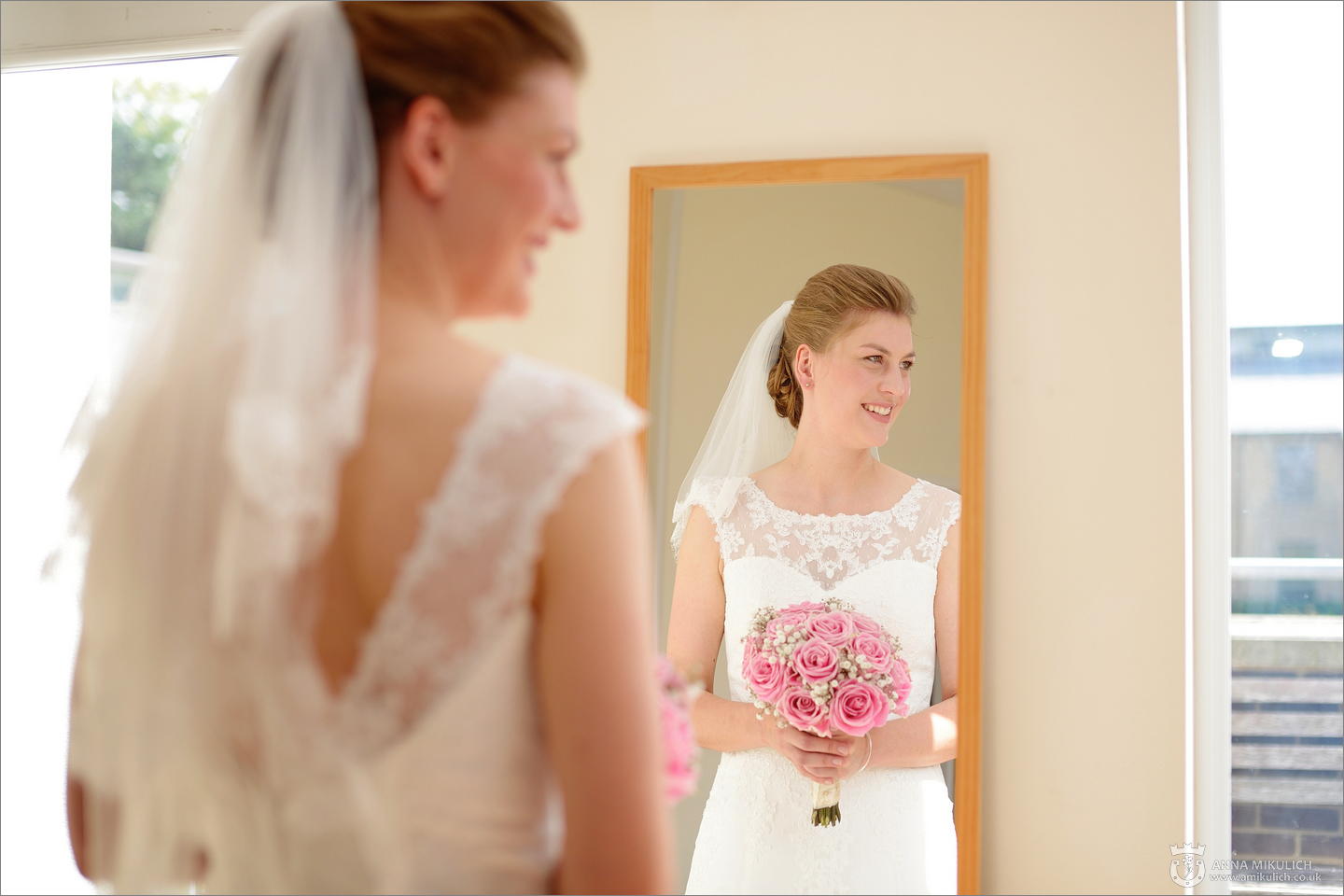 First of all, Anna went to Katharina's house to meet the bridal party and to capture some 'getting ready' shots of the bride and bridesmaids and captured all the excitement of getting ready for the big day. At the same time, Dmitry set off to meet Dominic and his groomsmen at a nearby pub in Oxford to see what the boys were doing. It is really helpful to have two photographers during an entire wedding day. Imagine that: the bride and the groom are typically unaware of what happened with each other on a wedding day before they will see each other at the ceremony. Two photographers are the chance to see what the other party was busy with on a wedding day for the first time!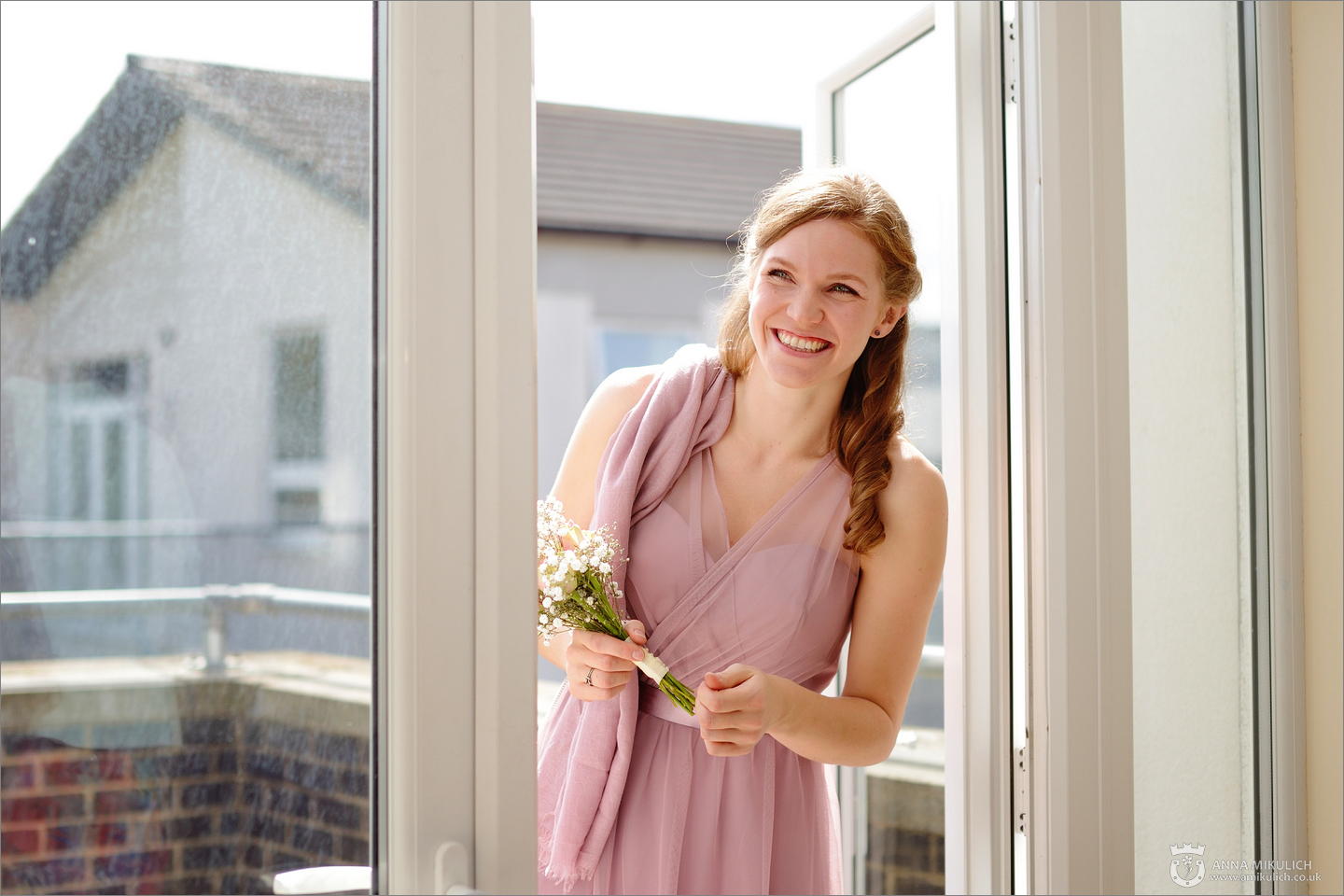 Katharina preparation was full of friendly jokes, smiles, and fun! It was a great atmosphere, and the girls enjoyed this time! We love taking pictures during the preparation! There is not much pressure on timing, and there is the expectation of something great to happen in the air.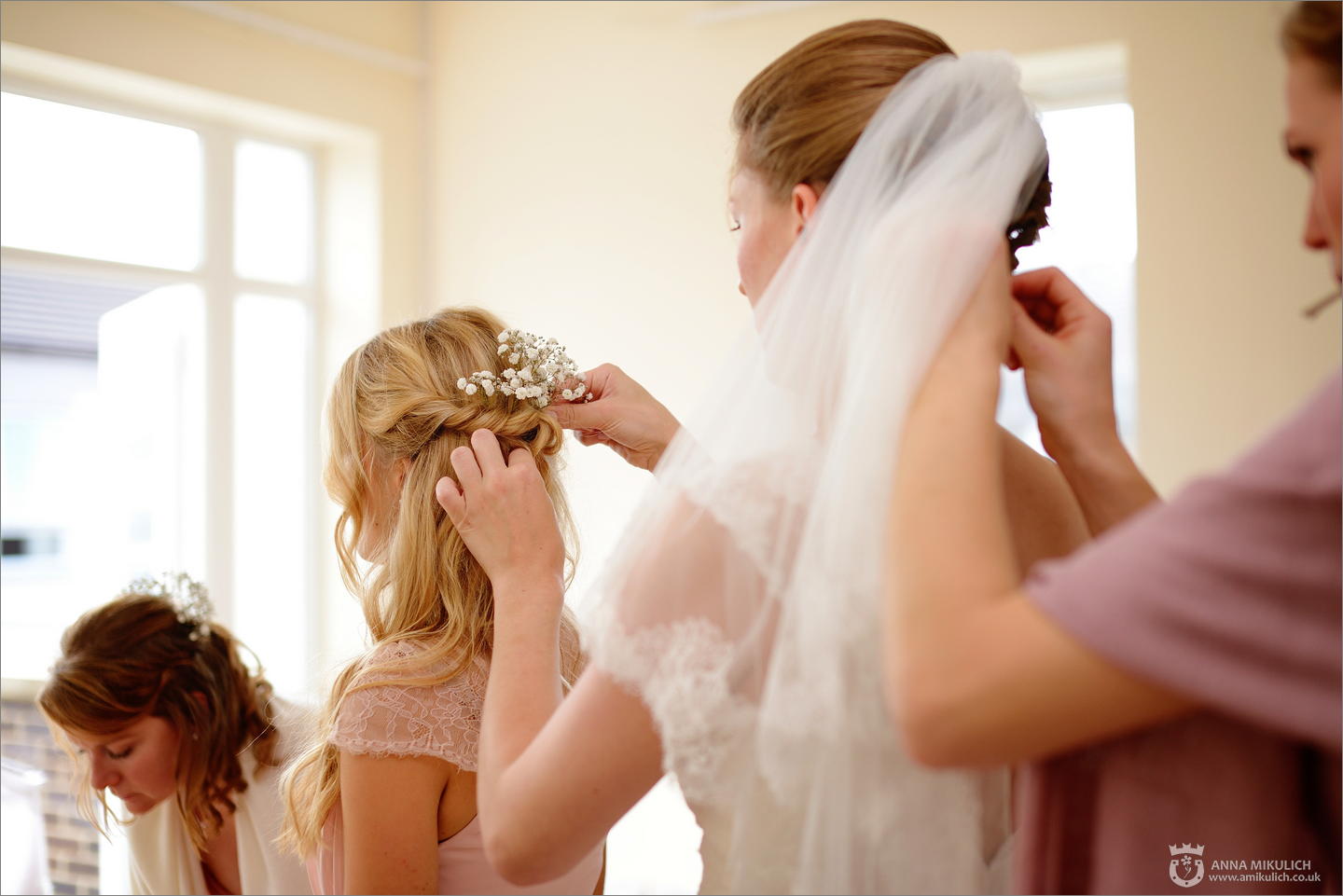 The final touches! It takes a combined team effort to reach the goal! What efficiency! There is always a place for creativity and optimization!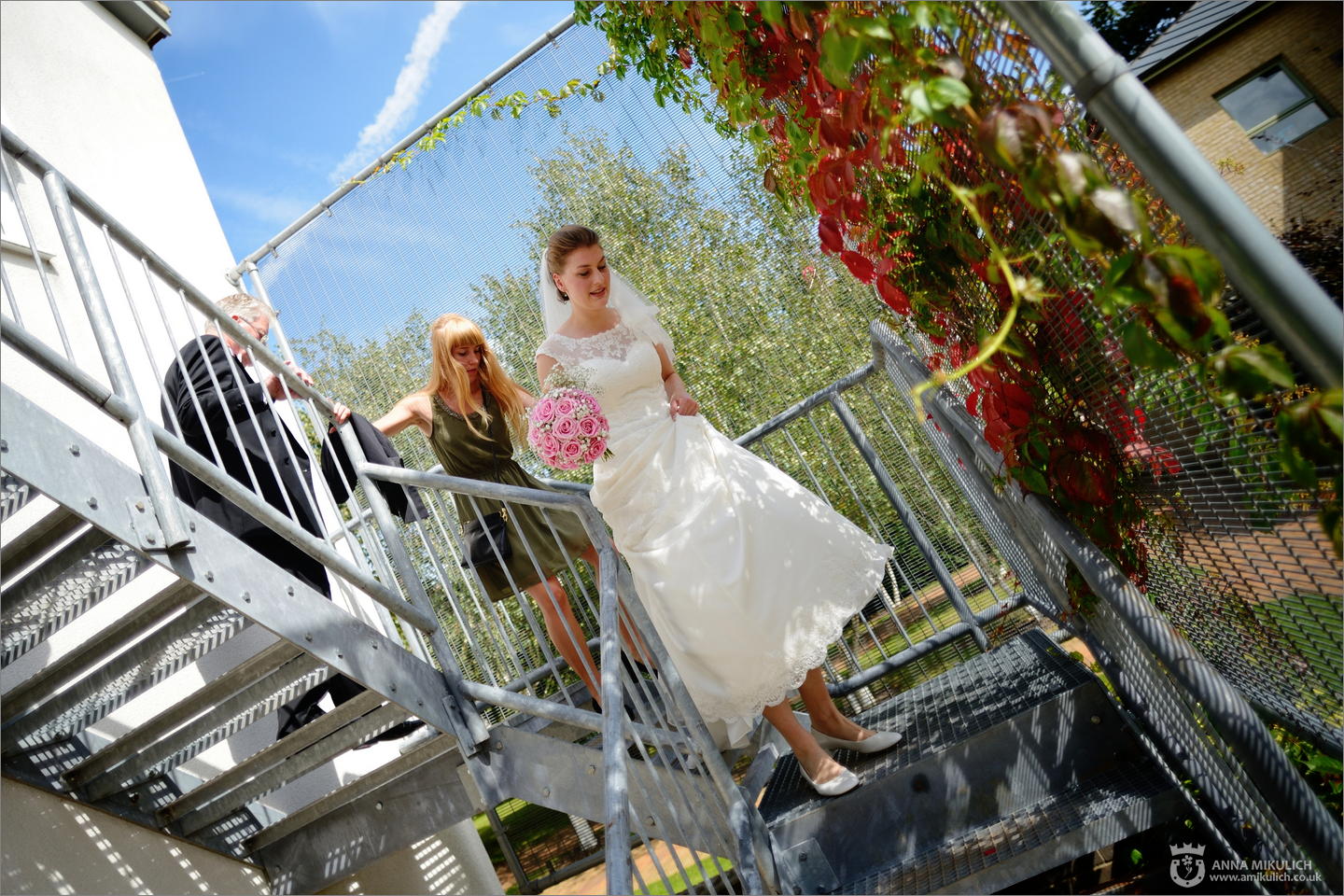 The time flies fast, and it is almost time to go! All of those elegant shoes and beautiful dresses require extra attention on a wedding day! The bride must be extra careful with all of those steep steps and narrow passages!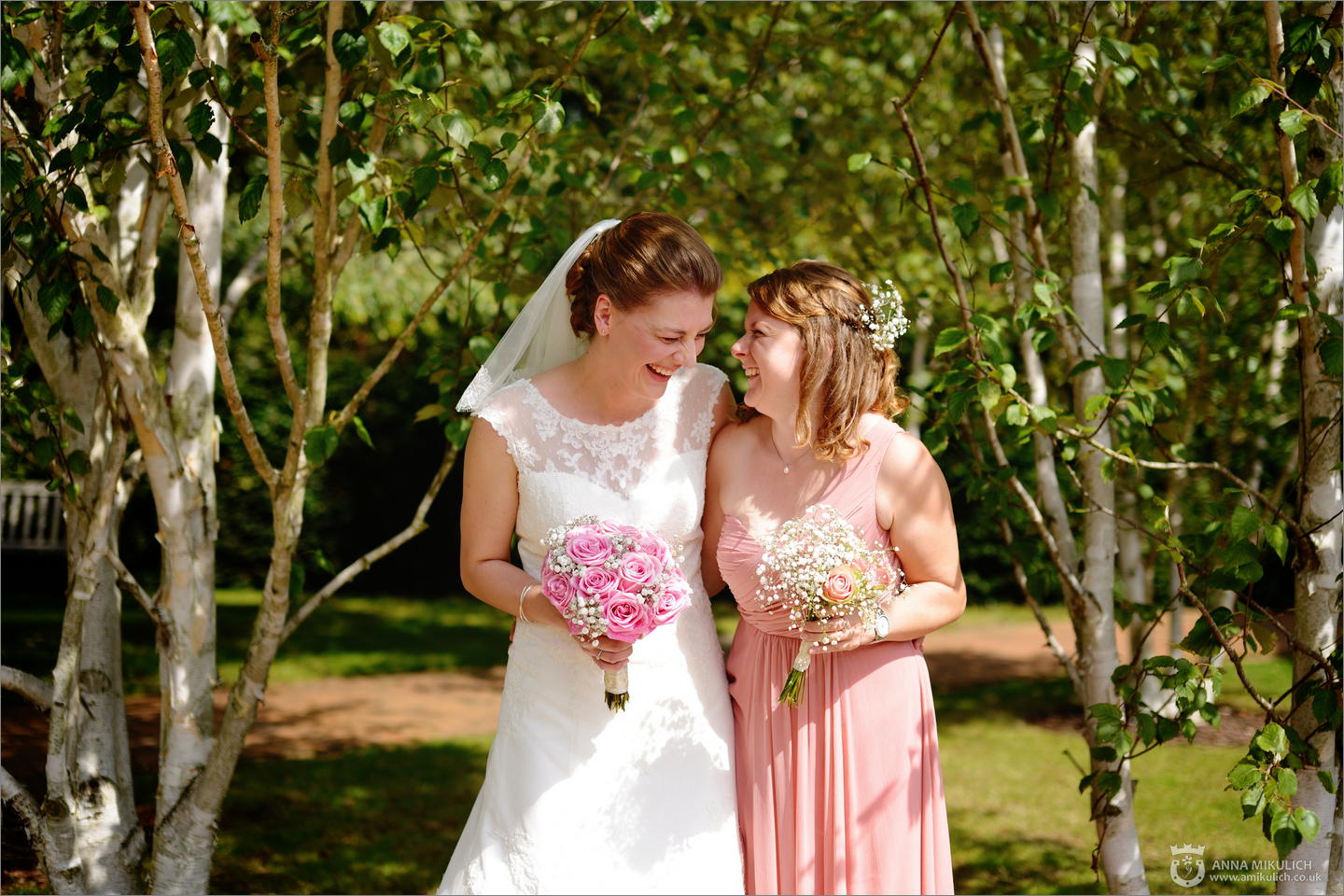 It is great to have your best friends supporting you on such an important day. Have we said 'great'? No, it is a 'must-have' thing! For so many times we saw examples of true friendship on different weddings. Best friends are the ones who will cheer you up, be a helpful hand, and support you throughout the day.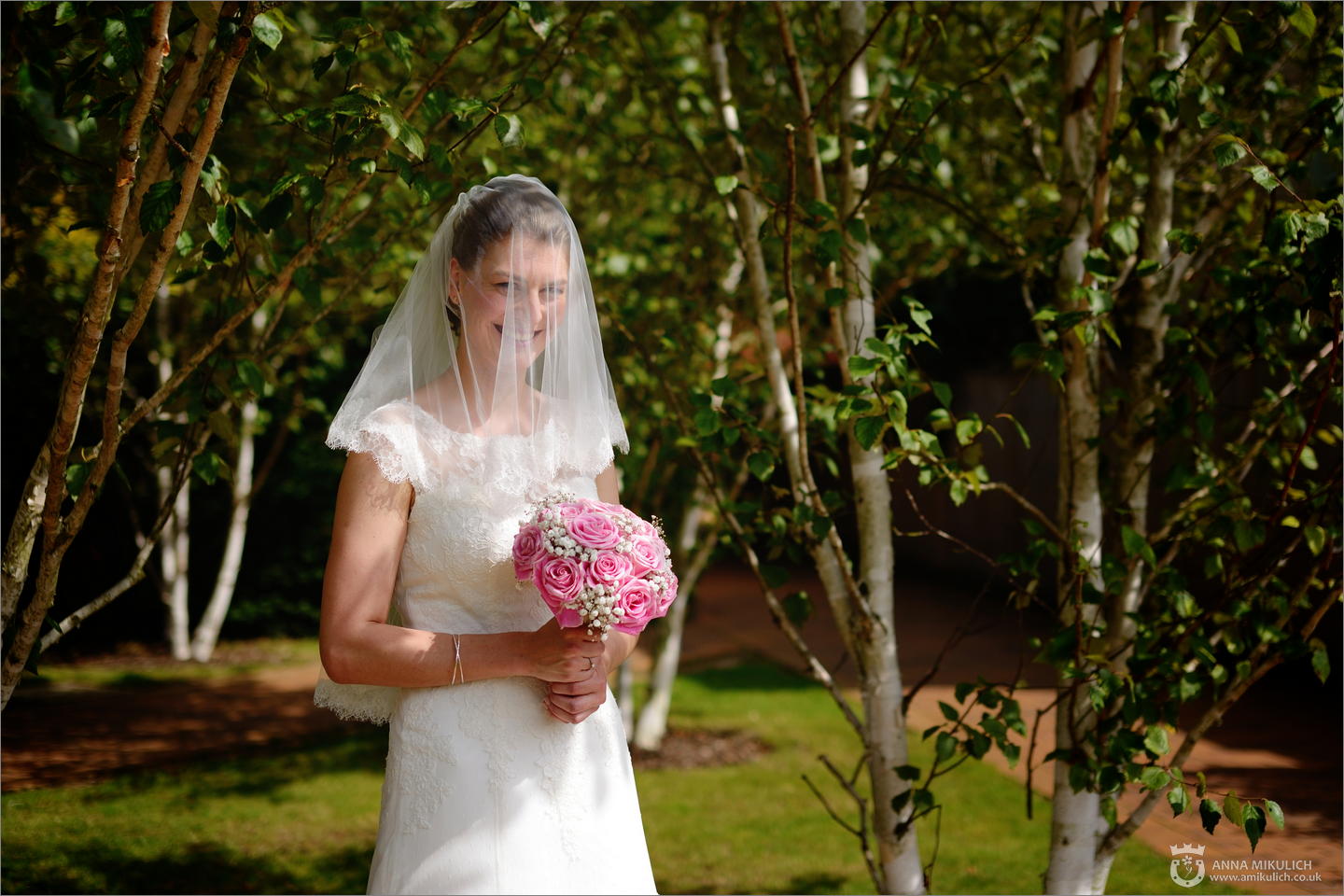 We are heading up to the ceremony venue. Katharina looks just stunning! All of those hours preparation, days spent to choose the right dress are paid off. We have the most beautiful bride, and there is nothing else to wait for!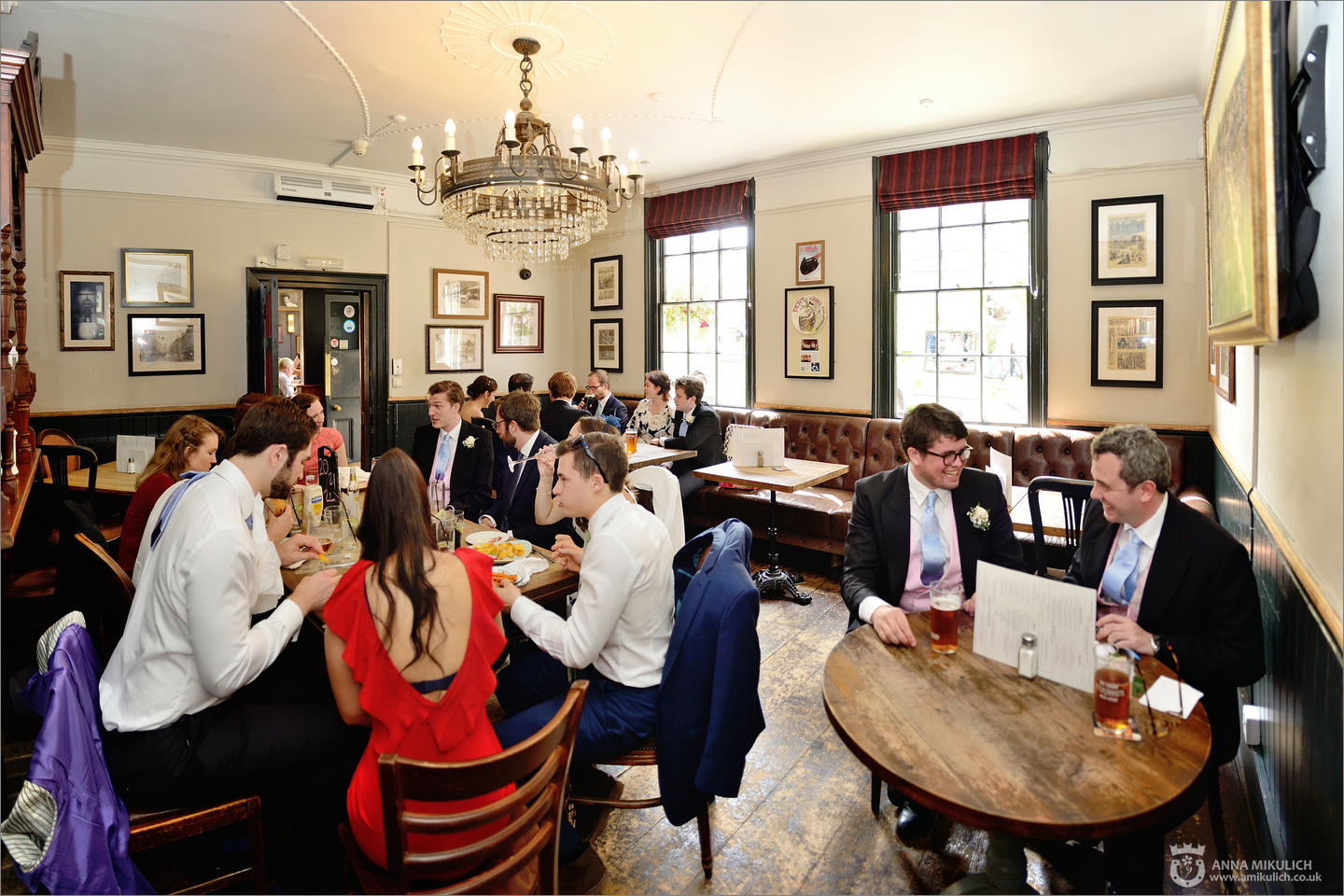 Meanwhile in the Oxford City center... Dominic and his friends started the day at King's Arms pub, Park Street, Oxford. A good pub is a perfect way to start the wedding day! Nothing can beat a couple of pints of ice-cold beer in the summer heat in a good company of friends. You could hear some friendly laughter and support from John, the Best Man, and some funny suggestions to the final touches on the groom's speech.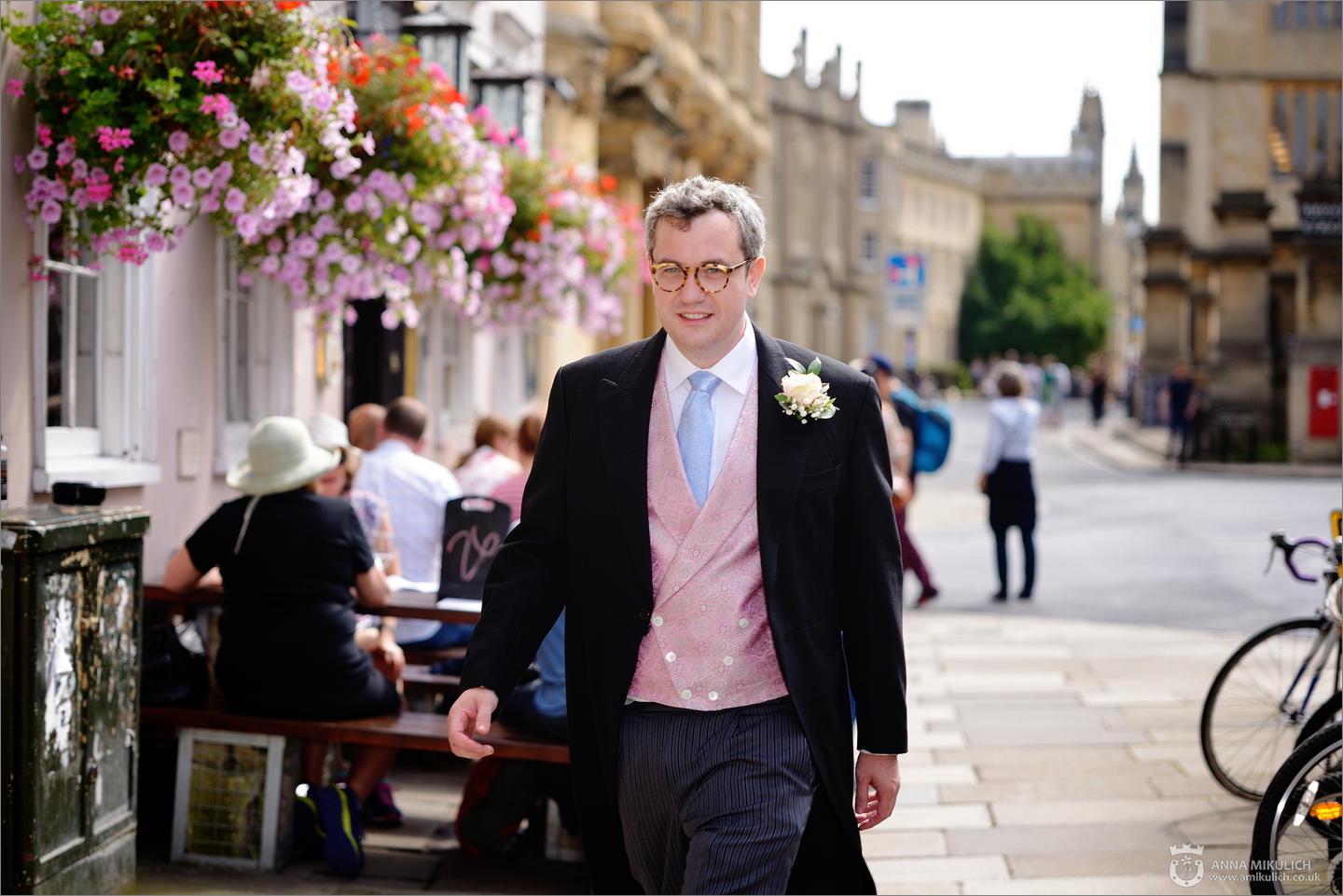 The time has come! Dominic is walking down the street to the Wadham College Chapel. We can only try to guess that this very moment he is composing himself and thinking about that most special moment when he will see his beautiful bride in just moments. The good thing about Oxford - you can easily walk across the central parts on foot - no chances to get stuck in traffic!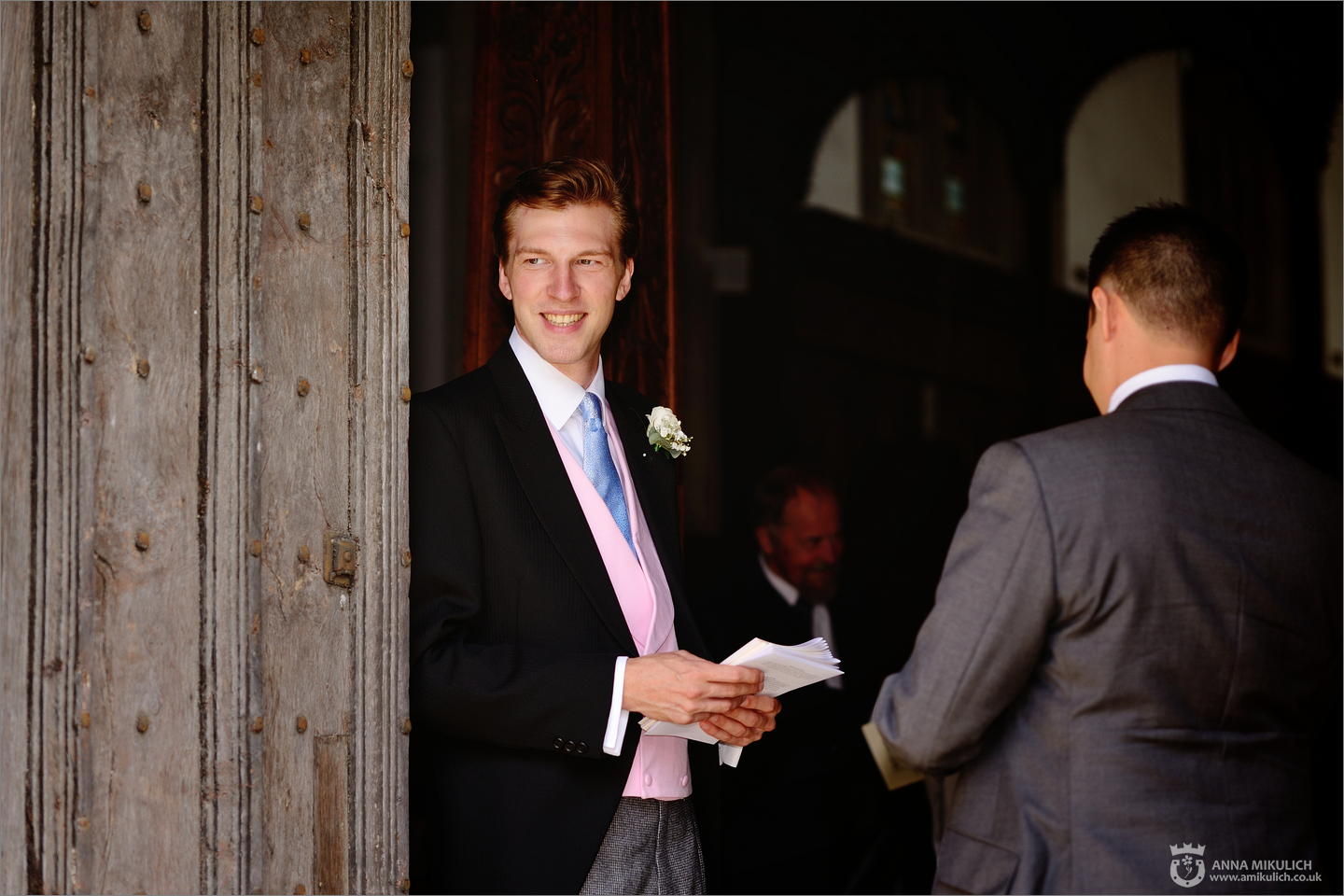 The wedding was well organized, and even the smallest details were taken care off. Dominic and Katharina's friends provided all required support to meet and greet the guests. It is always great to see people helping other people, especially on such occasion as a wedding day.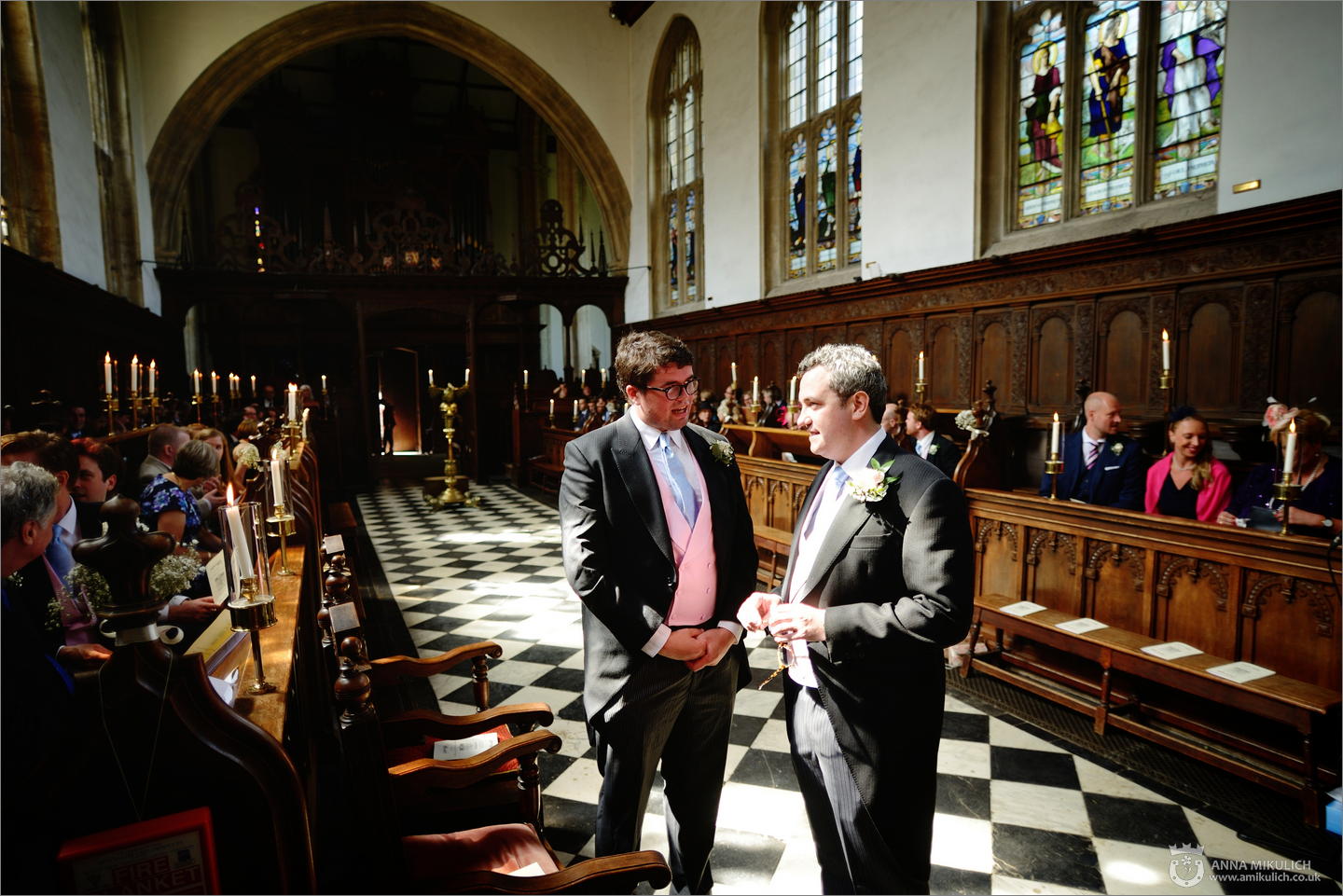 The time is running fast, and we are just moments away from the start of the ceremony. All the guests are in their places, everything is ready to start. While Anna is still following the bride on her way to the Wadham College Chapel, Dmitry is taking pictures of guests and Dominic waiting for Katharina arrival. We always understood the fact that the guests were getting themselves ready for the wedding day, and you can read this expectation of something great to happen in their faces.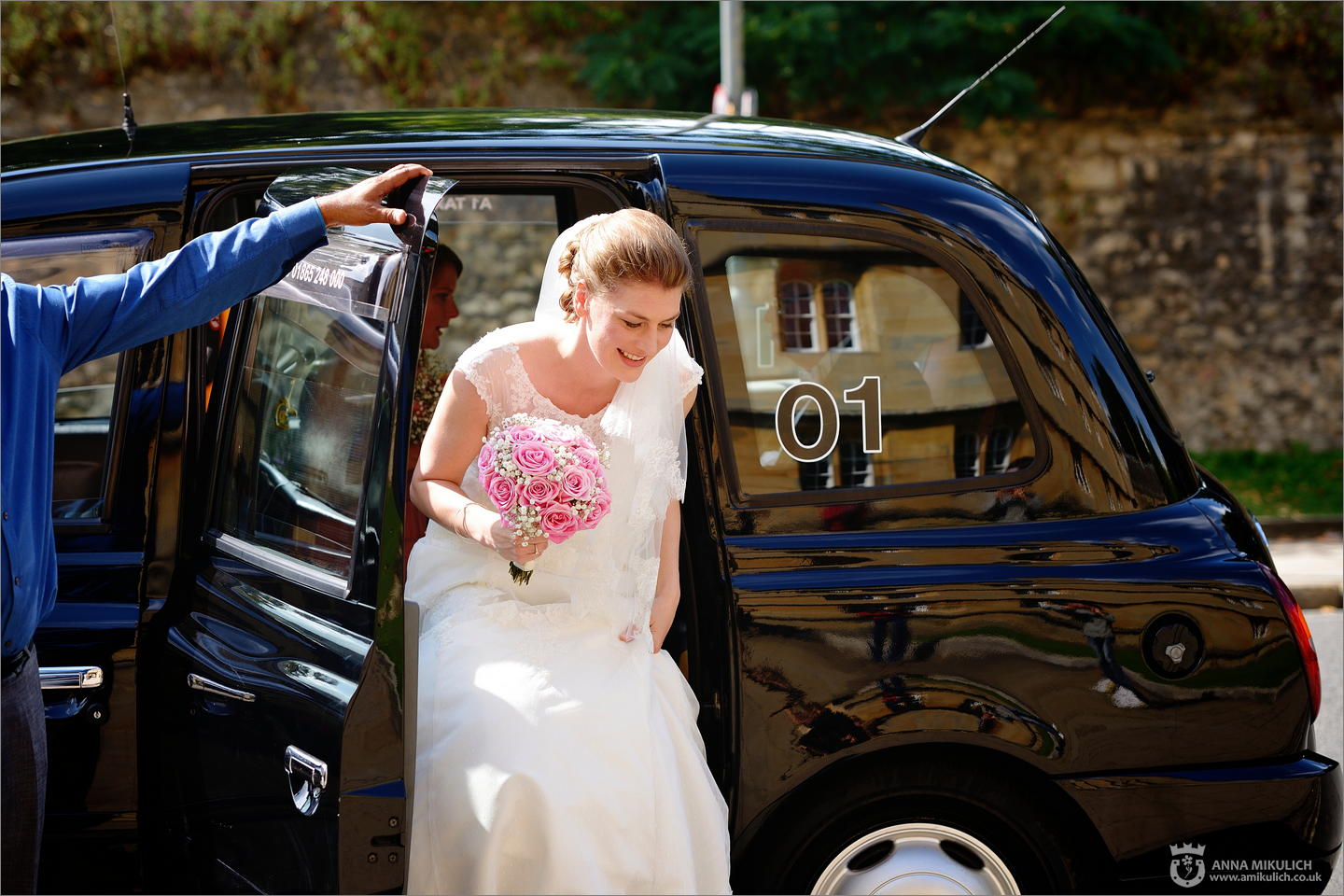 Here comes the bride! This is the moment everyone was waiting for. The wait is over, and we are just seconds away from witnessing Dominic and Katharina becoming the husband and wife. All days of preparation, decision making is in the past.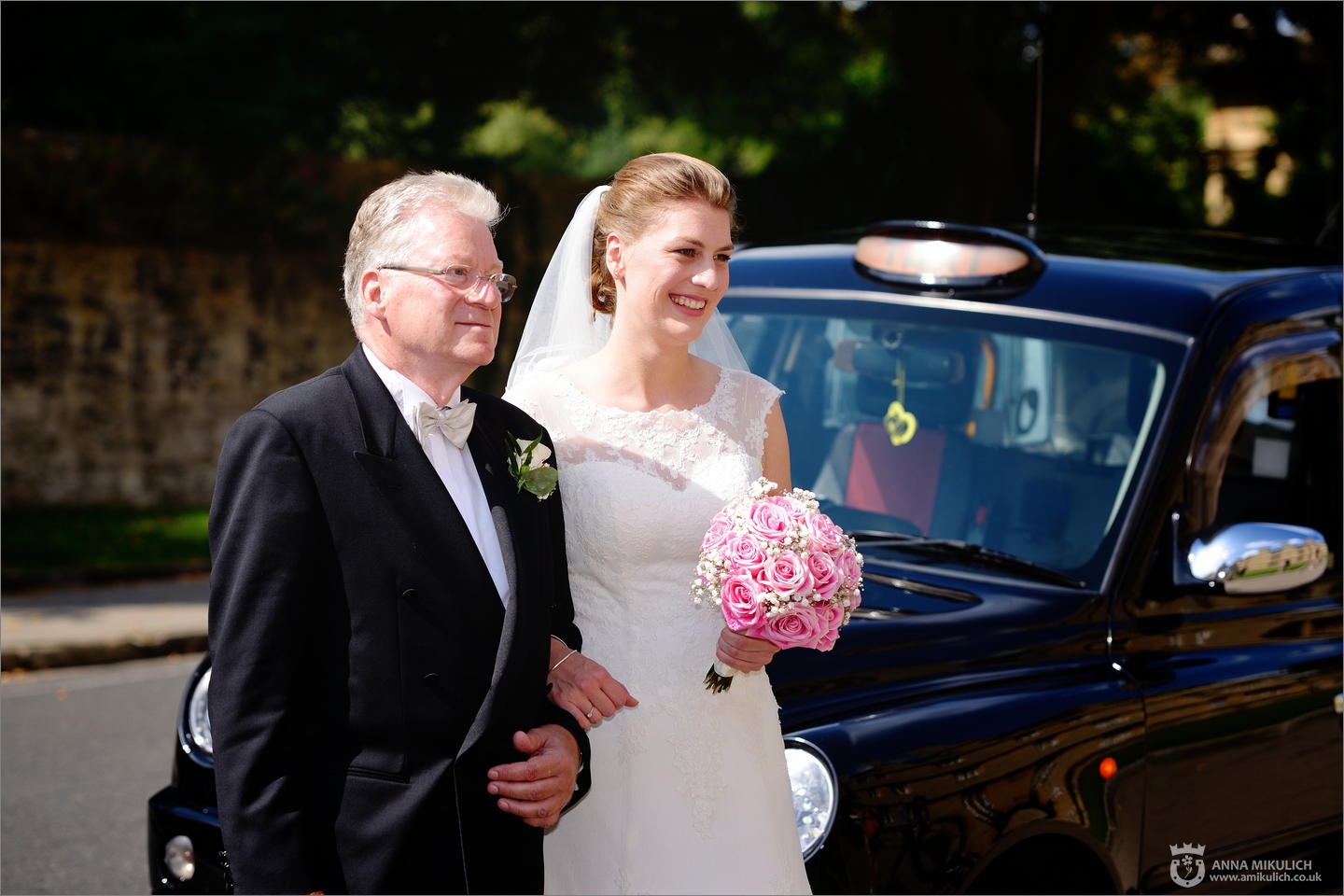 It is a very emotional and important time for Katharina's father - Harald. According to historical tradition, he is the person who gives away his daughter, he is the person with this great responsibility. Having two photographers on a wedding day allows us at Anna Mikulich Photography to capture those most important moments. We cannot say it is easy - somehow, we have to run in front of the father and the bride and still take some pictures! But it worth the effort!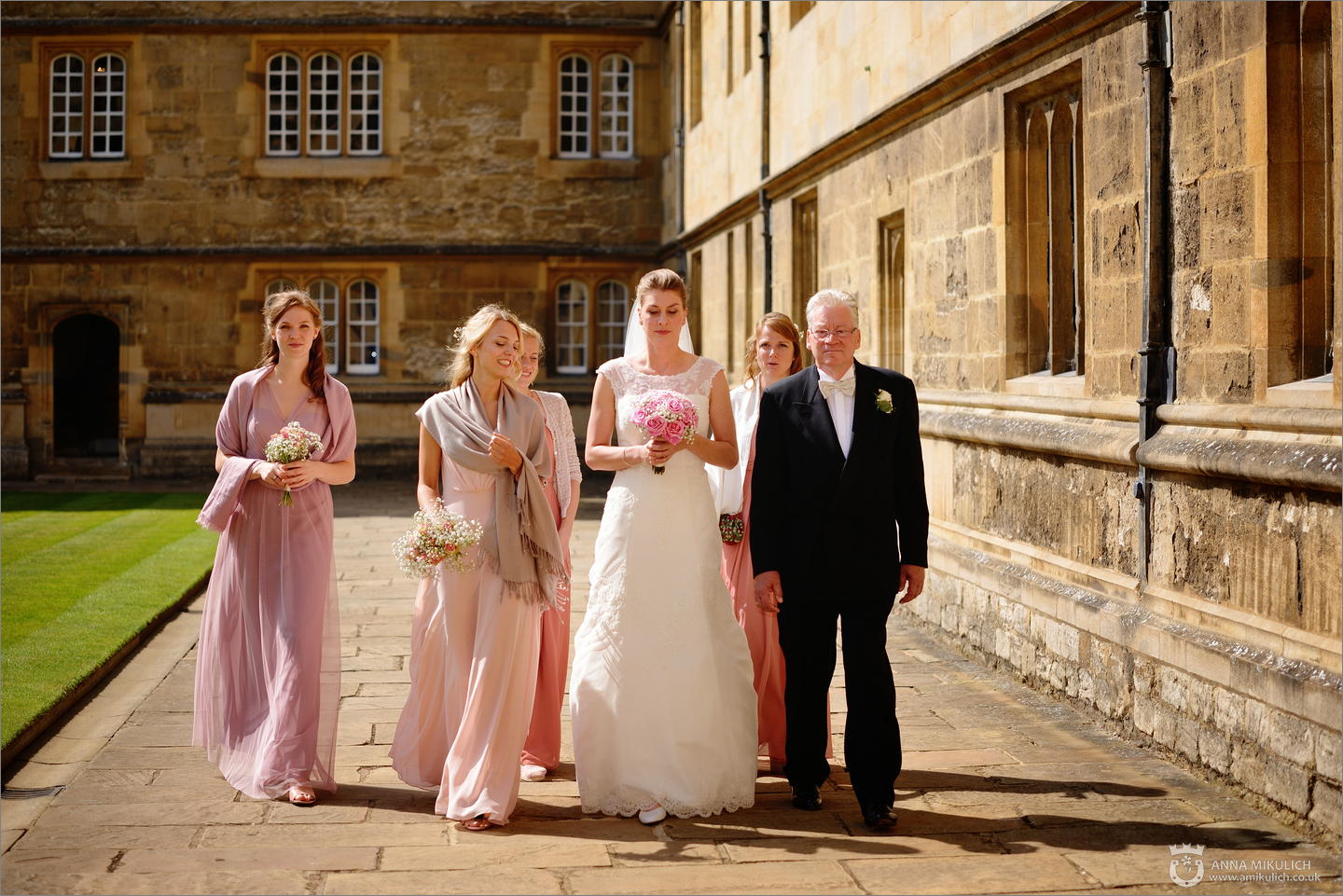 The bridal party arrives in force! Just look at those happy and smiling faces! We are seconds away to see the most important part of the entire wedding day.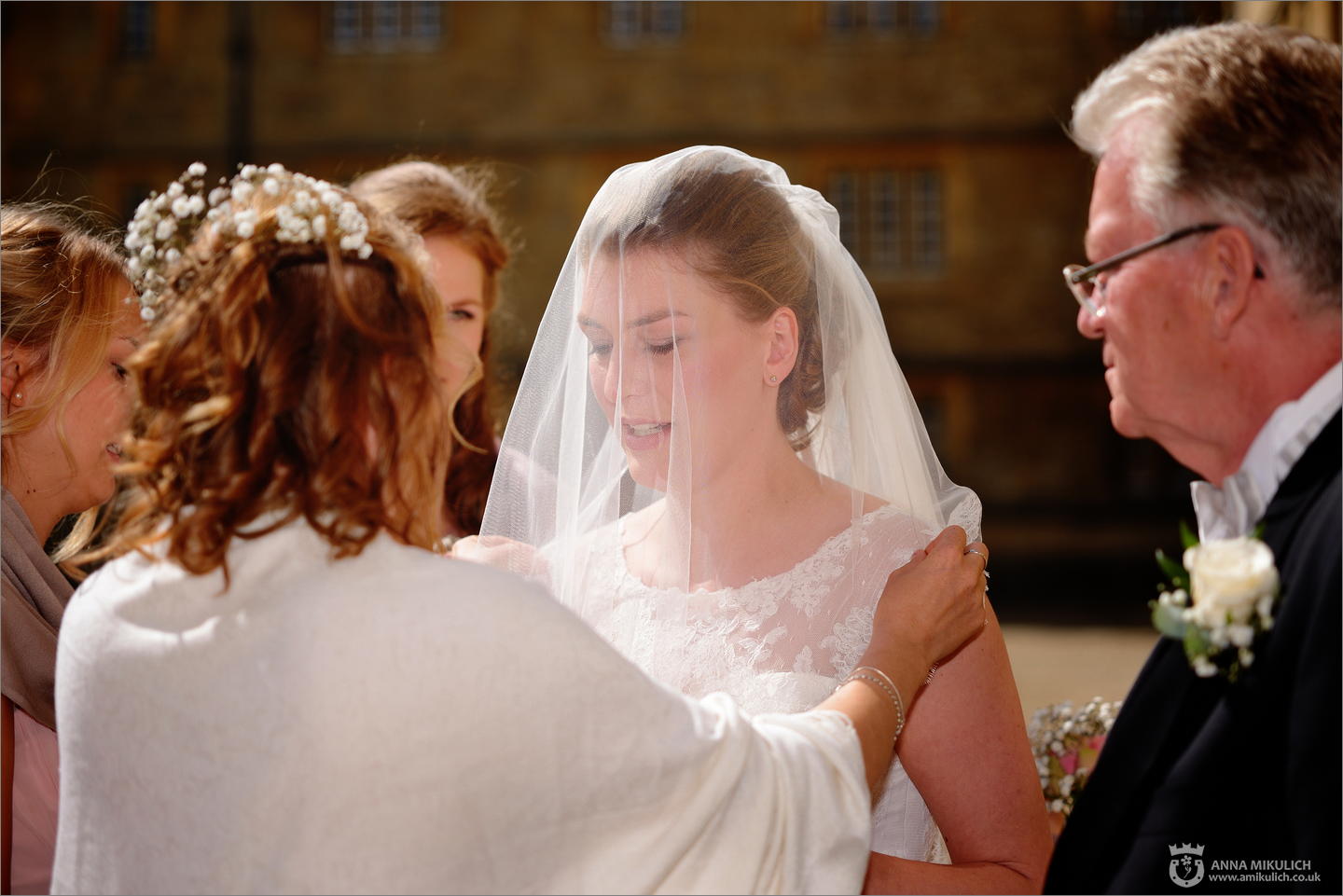 Perhaps, this is one of our most favourite images from that wedding. This is the picture of Katharina right in front of the chapel. Her expression and body language say everything about all the planning, preparations and emotions for the wedding day. All it takes is just to make one step further.
Every couple dreams about having great weather on a wedding day. Dominic and Katharina were blessed with clear blue sky and a bright sun bringing in the atmosphere of happiness and joy. You could feel that amazing summer day even inside the chapel - here and there you could see coloured spots from the stained glass of that ancient chapel in the heart of Oxford.
Bridesmaids are coming in. Such a glorious view! All the guests went dead quiet and enjoying the procession. This what everyone was waiting for. This is what Dominic and Katharina were waiting for!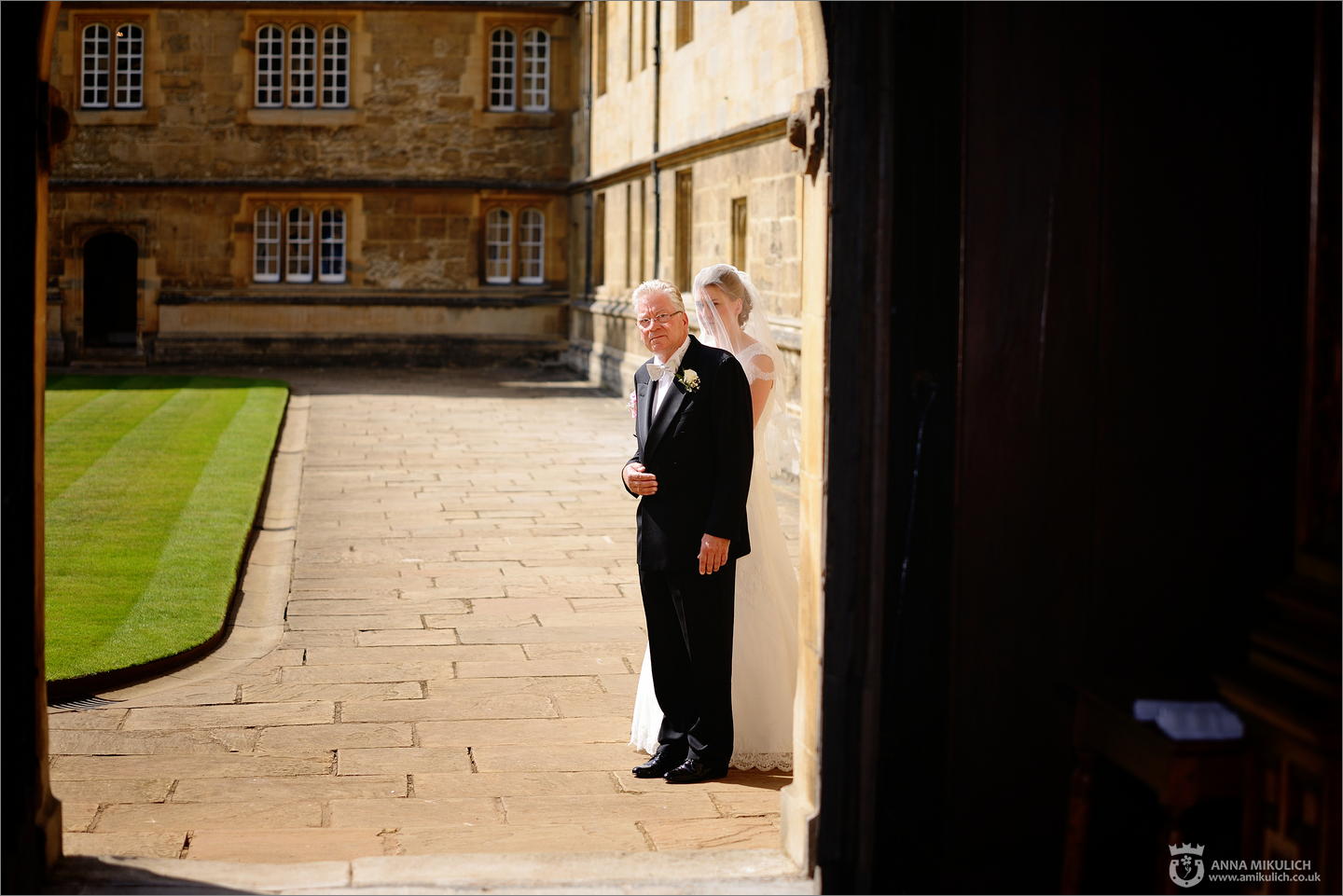 Sneak peek of curiosity! We can only guess that the wait felt so long for Katharina before she was called in. (It was a very short wait, but just imagine being seconds away from one of the most exciting moments in your life! So exciting! Can't wait!) By this time both Anna and Dmitry are at required positions, having the right cameras with the right lenses - ready for action!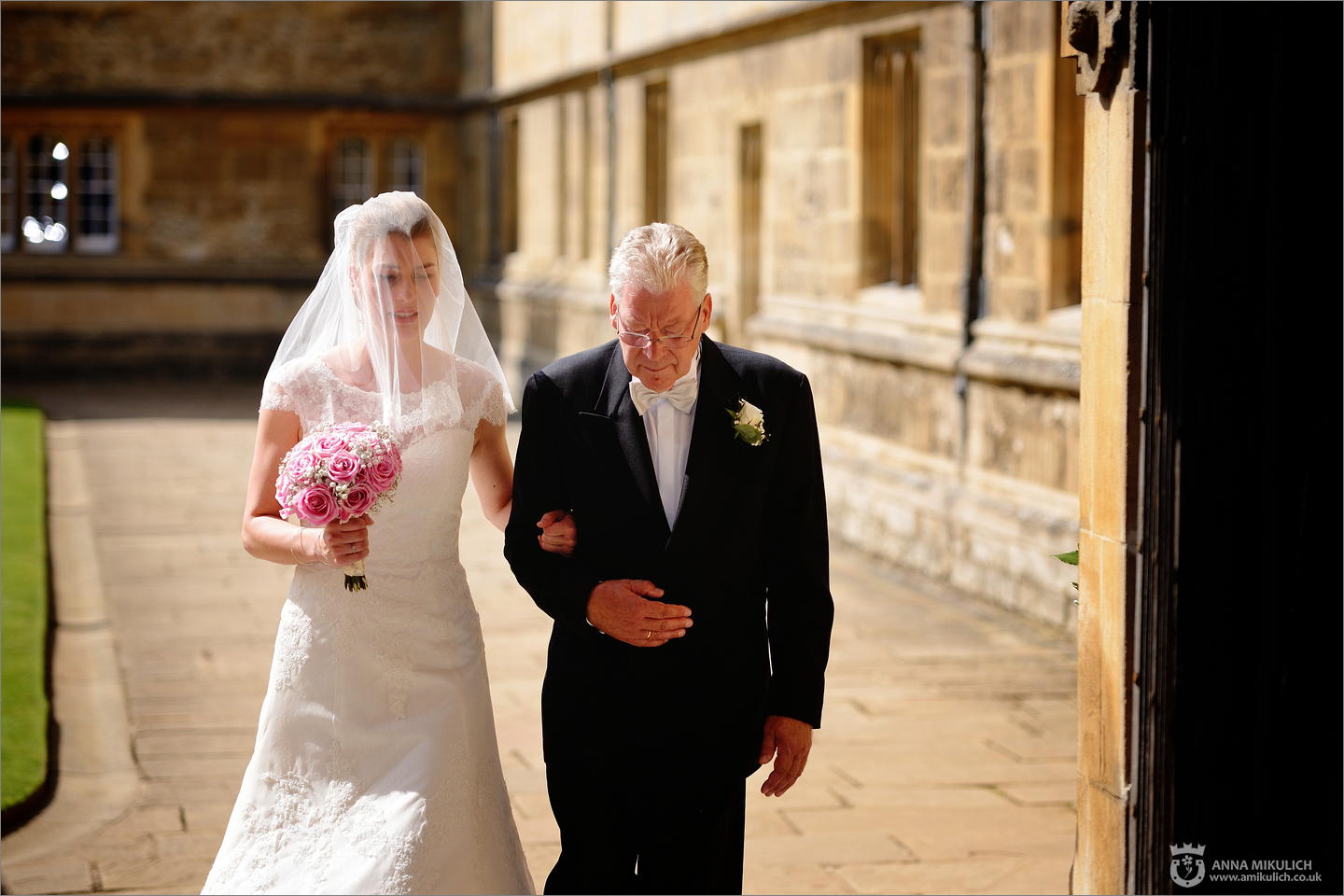 Breathtaking picture. Breathtaking moment. Now it is for real - the guests and Dominic are about to see how beautiful Katharina today in her wedding dress. There will be tears of joy for sure! We hope that the pictures like this really help to re-live those moments in years.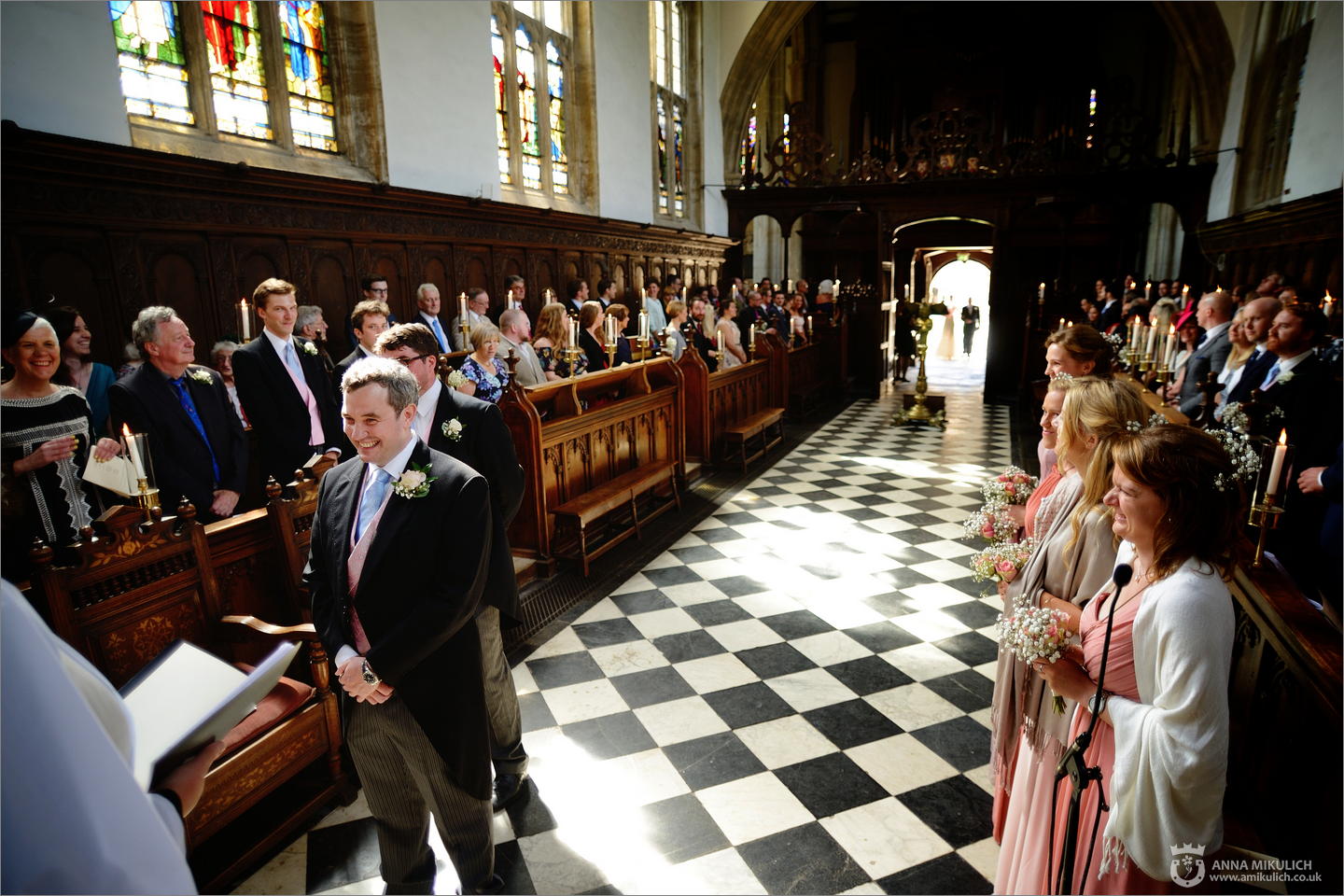 This is the start of the most difficult part of the wedding for the photographers. We have to be in the right place at the right time. There is no margin for error - events happen so fast, and there are no chances to have a second take! Those pictures are extremely important and must be done right! We are so happy we did everything right for Dominic & Katharina's wedding! Just look at this beautiful picture, everything is just amazing!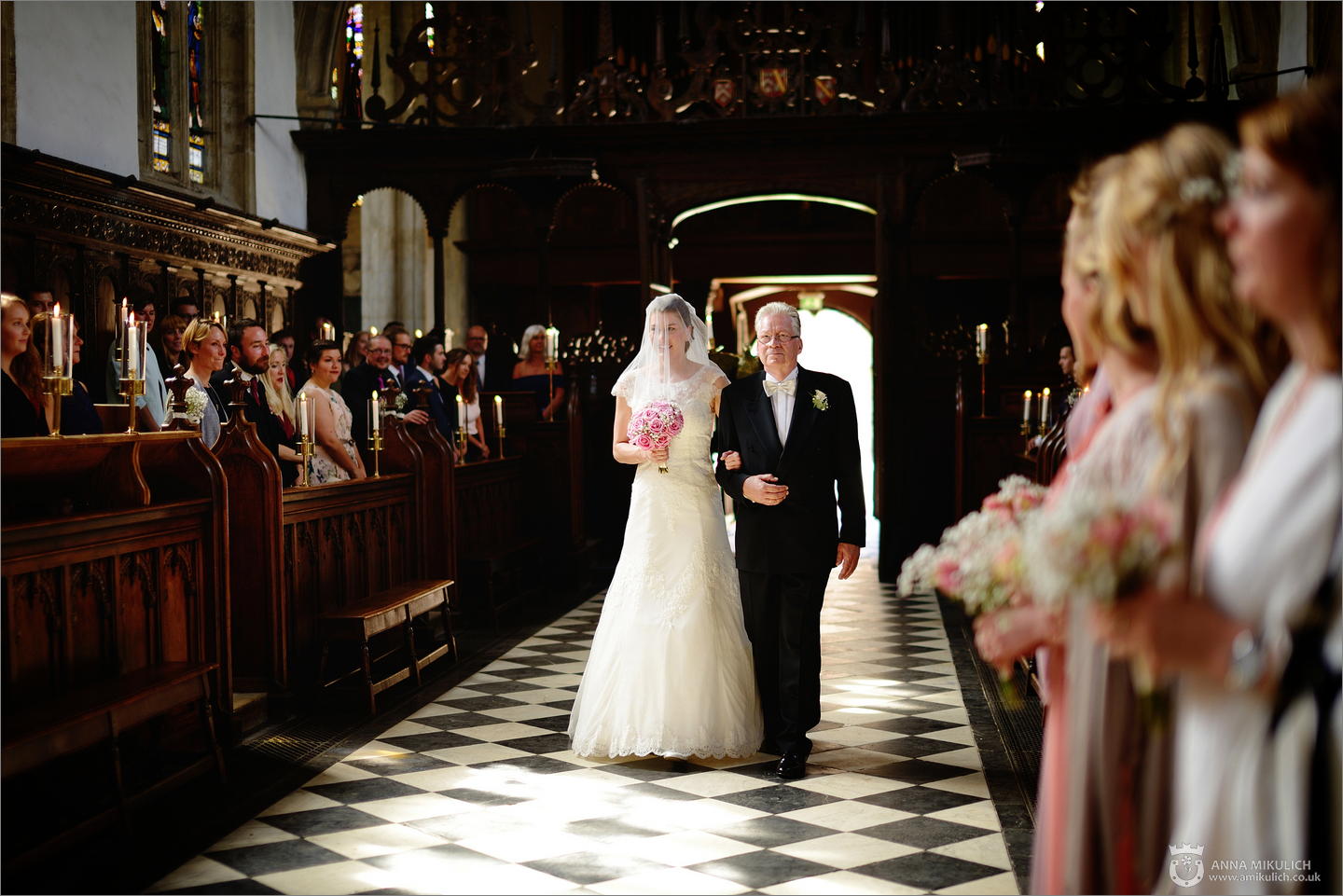 Harald, father of the bride, must be so proud to lead his beautiful daughter on that special day. This must be such an overwhelming and very emotional moment for any parent!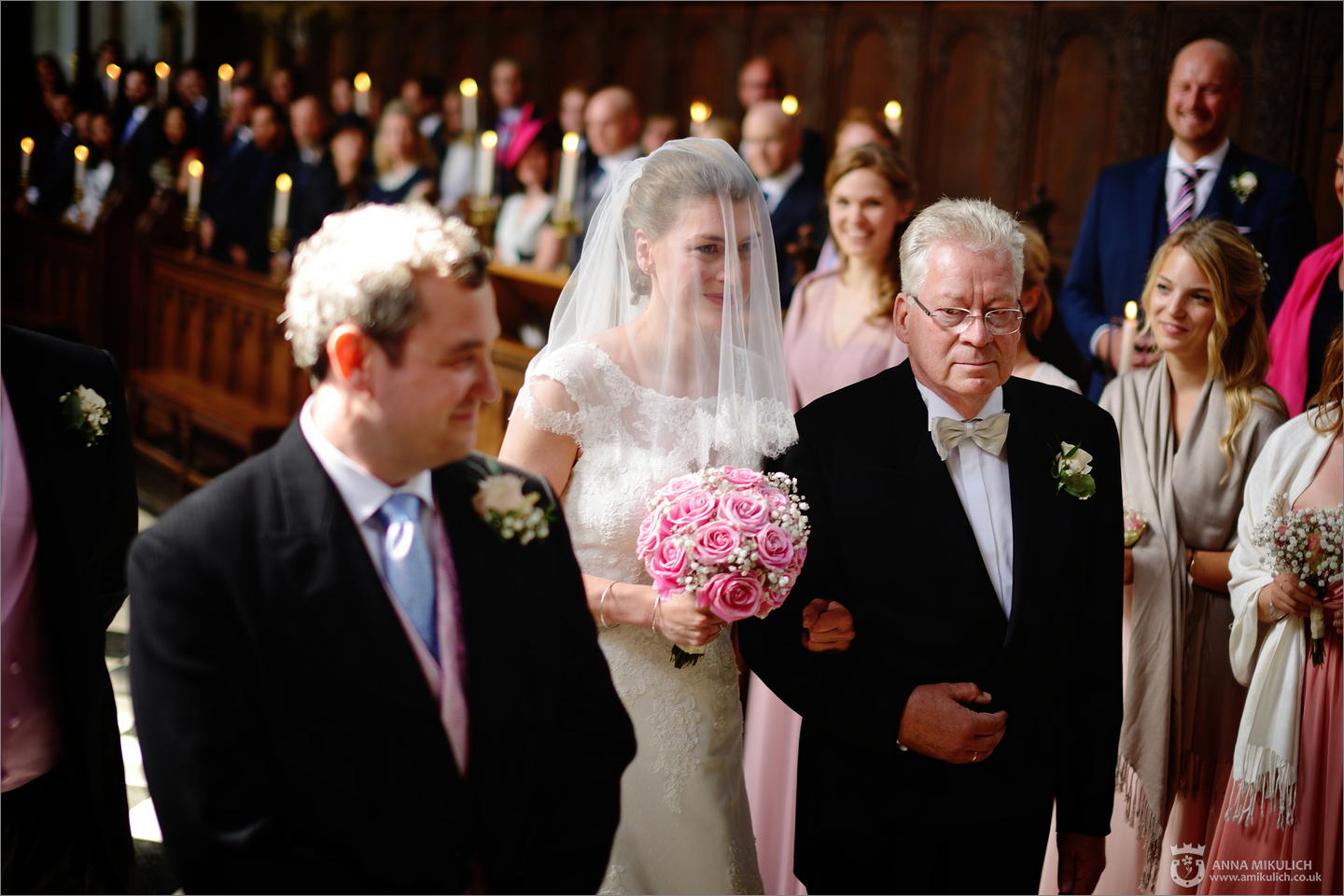 Katharina is almost there. The final steps. All it takes for Dominic is just to turn head slightly to take a first look at his amazing bride. This is so emotional!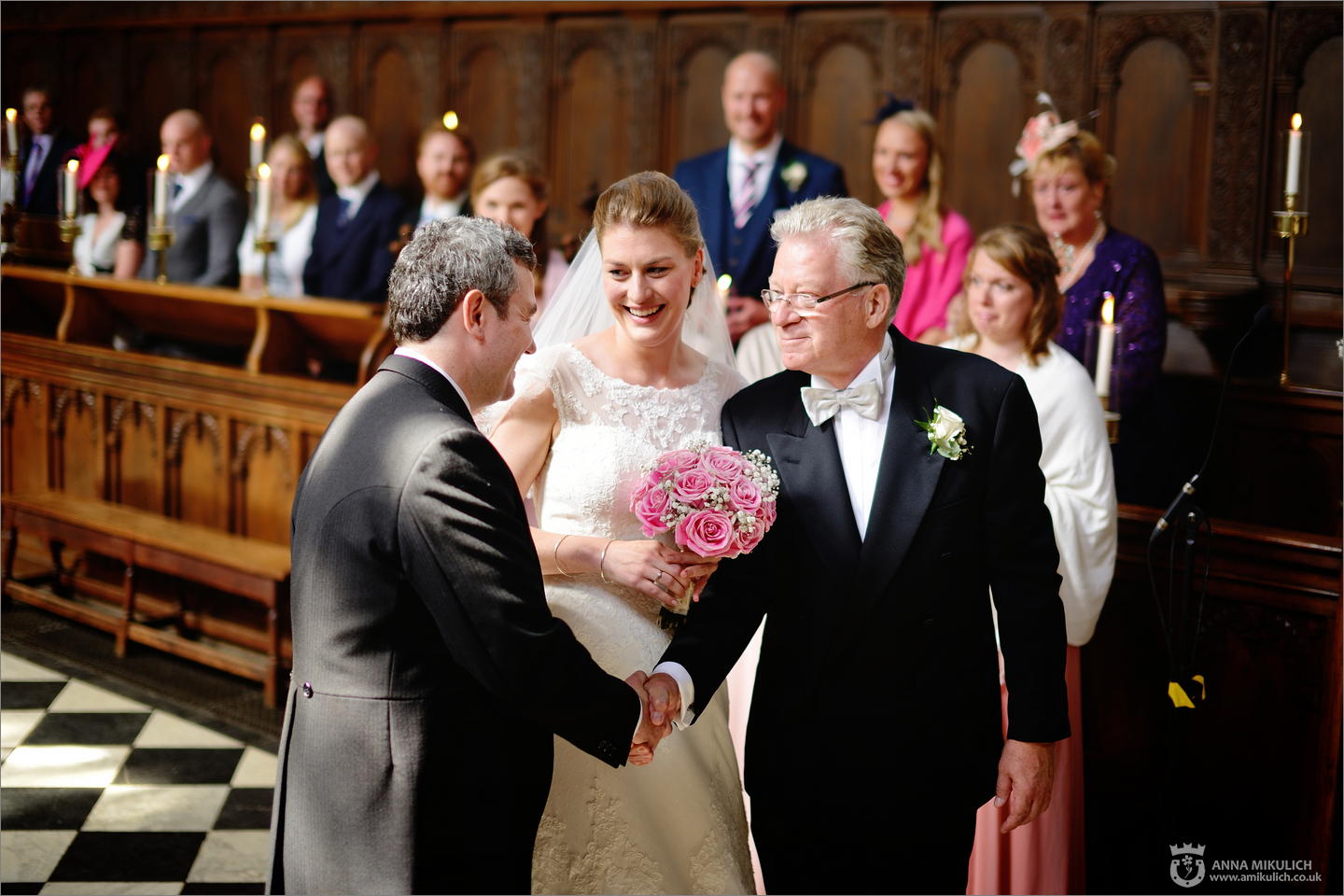 The traditional moment of the father giving his daughter away. It means a lot to the father as he recognizes Dominic as the right person to take care of his beautiful daughter. This tradition builds important connections between families.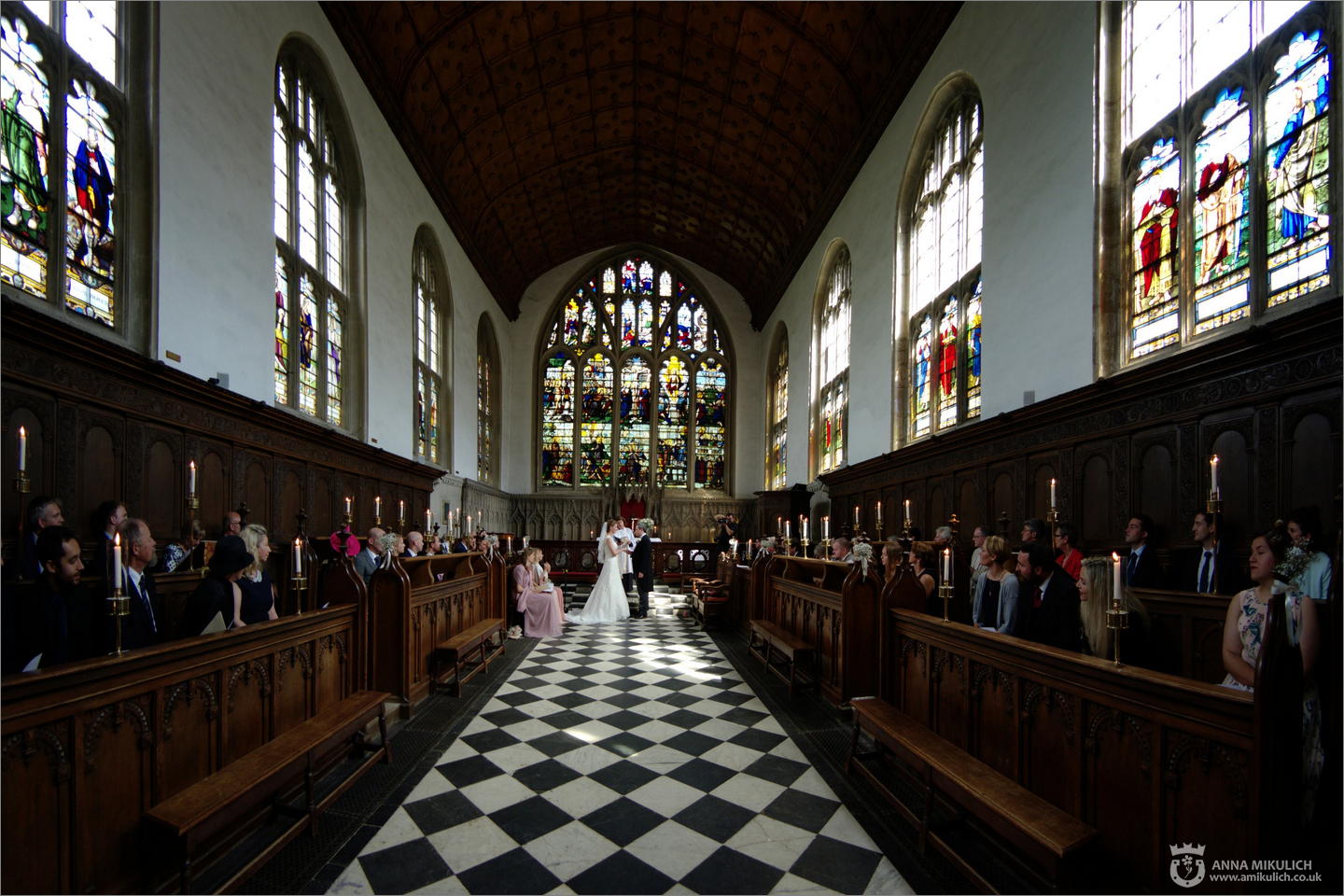 This is such a beautiful chape at Wadham College. This is the best location choice to have a great wedding ceremony. We love the stained glass windows, amazing floor, gothic style ceiling as well as the fact it is a quite small hall. It means all the guests are very close to the action as well as Dominic and Katharina can feel their support and see their smiles so clearly! This picture is a perfect example of having the second photographer on a wedding day. This is the only chance for Dominic and Katharina to see how their wedding looked like from the line of the guests!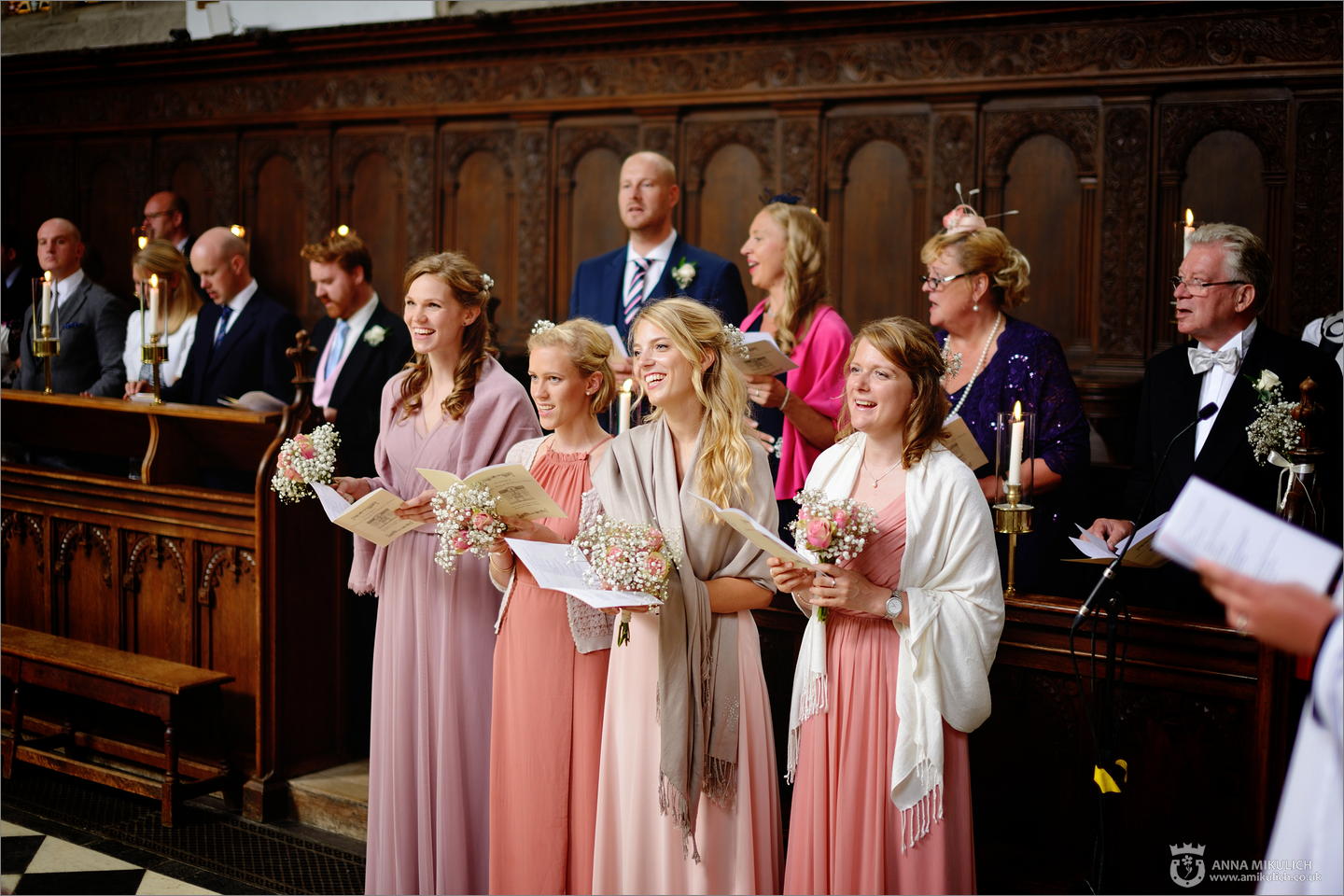 We love weddings where friends and family go extra to show their love and their support for DOM and KAT. What could be better to express your feelings as a poem or to sing a beautiful song? It is so touching! Well done!
There is always a place for a traditional speech. DOM and KAT enjoyed the reading by a member of the family. This speech was about the importance of taking care of each other, about the place of love and patience. Great reading!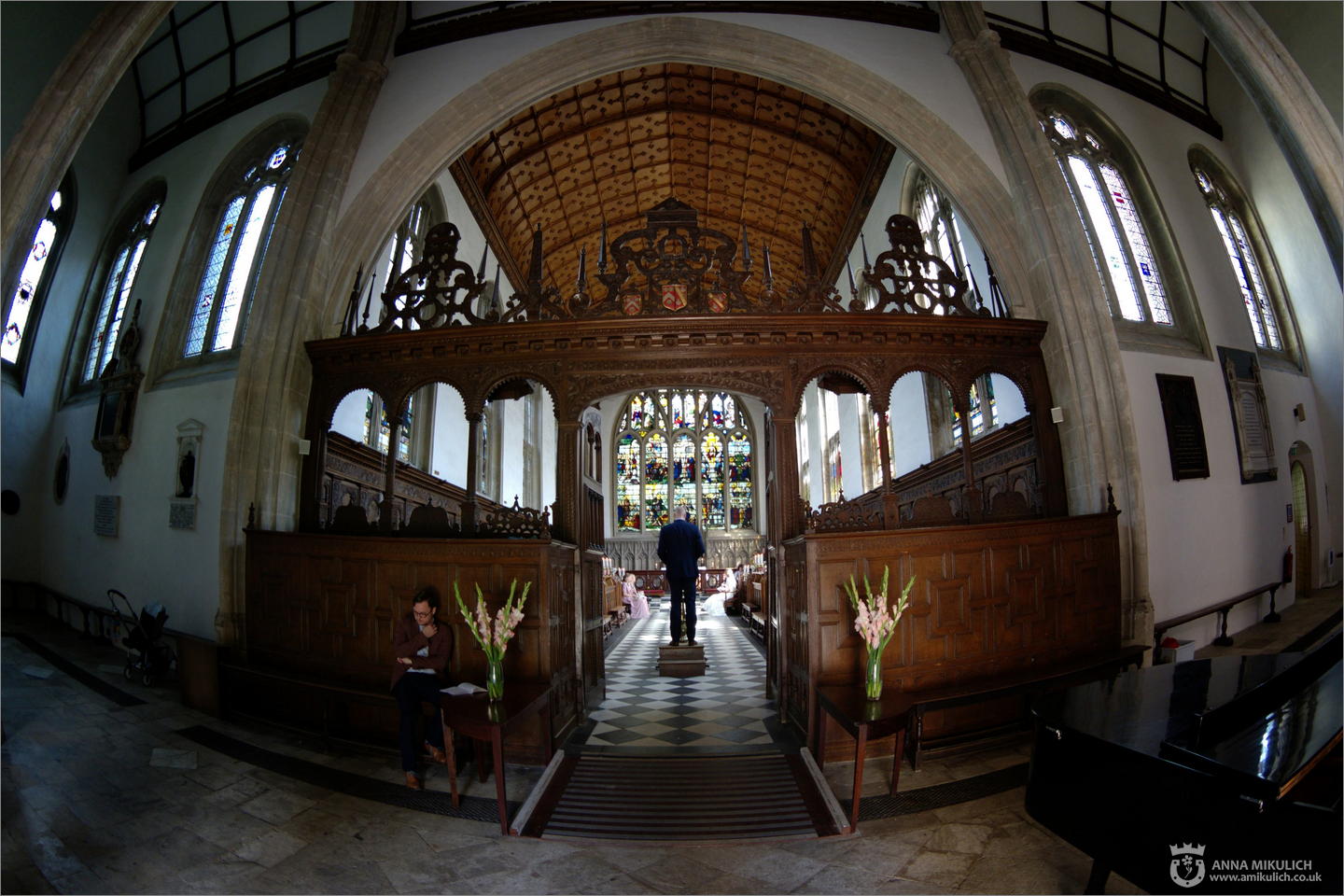 We love to explore quirky views! Sometimes we bring extra special lenses - in this picture we have used an ultra-wide fish-eye lens to help to capture a wider view of the chapel.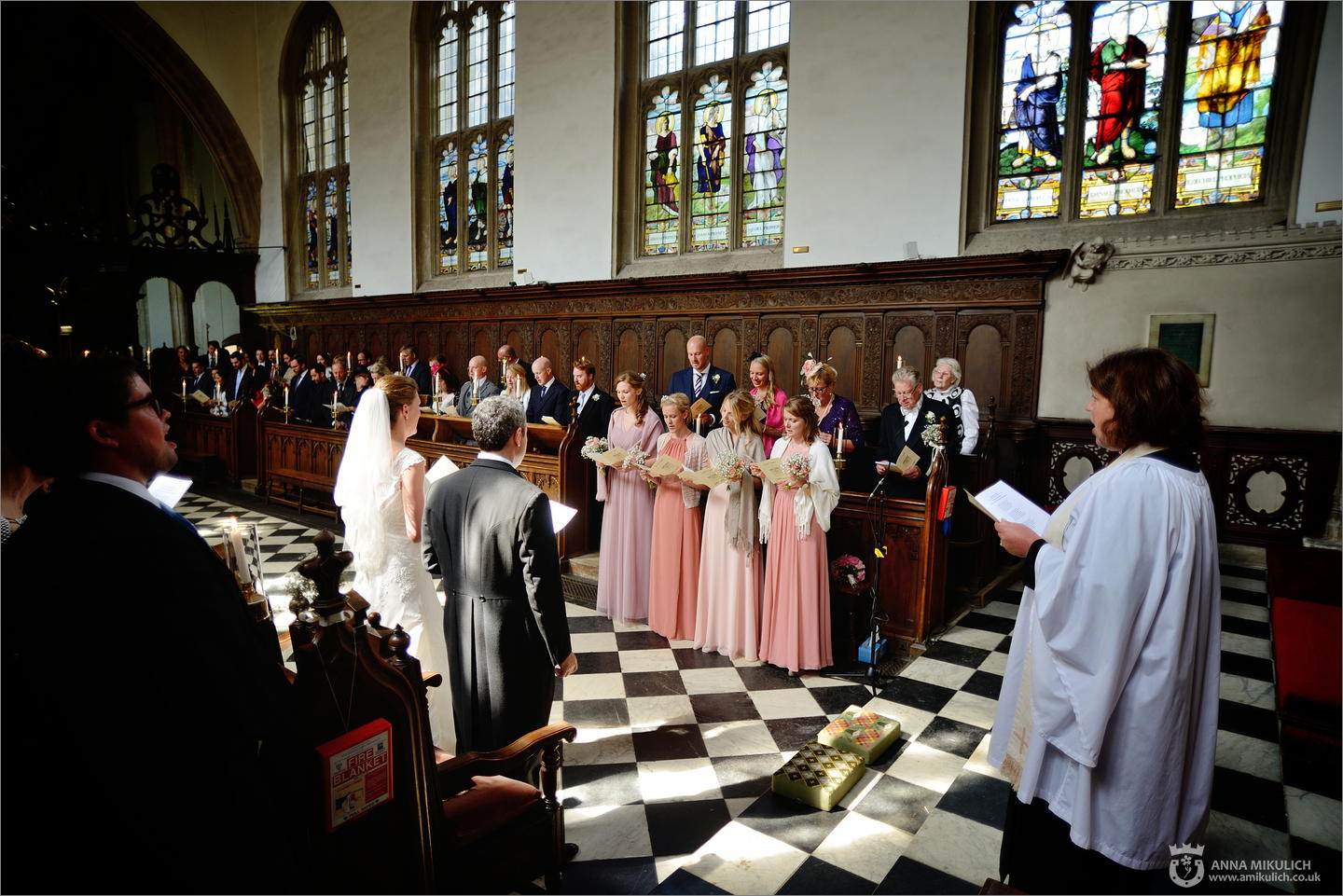 The Vicar of Wadham College chapel was full of energy and delivered the most amazing speech on Dominic and Katharina's wedding. This speech was not only about serious things but about the things that make all of us happy in family life with some hilarious practical examples! (She was all-prepared!)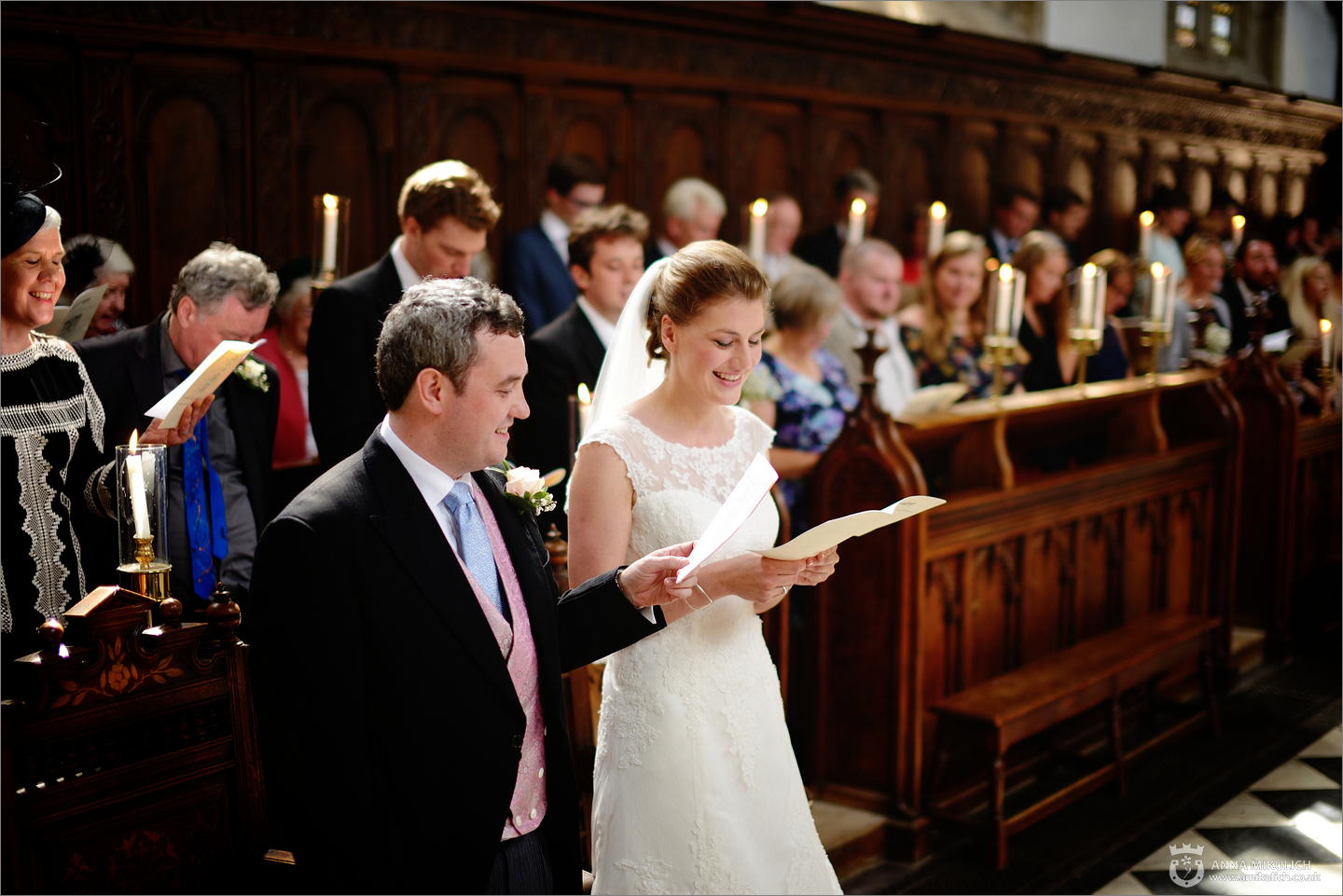 We enjoyed taking pictures at Wadham College Chapel. It provided the most amazing natural light, creating a beautiful bride and groom images. It is a thing of beauty, and it was an absolute pleasure to shoot there!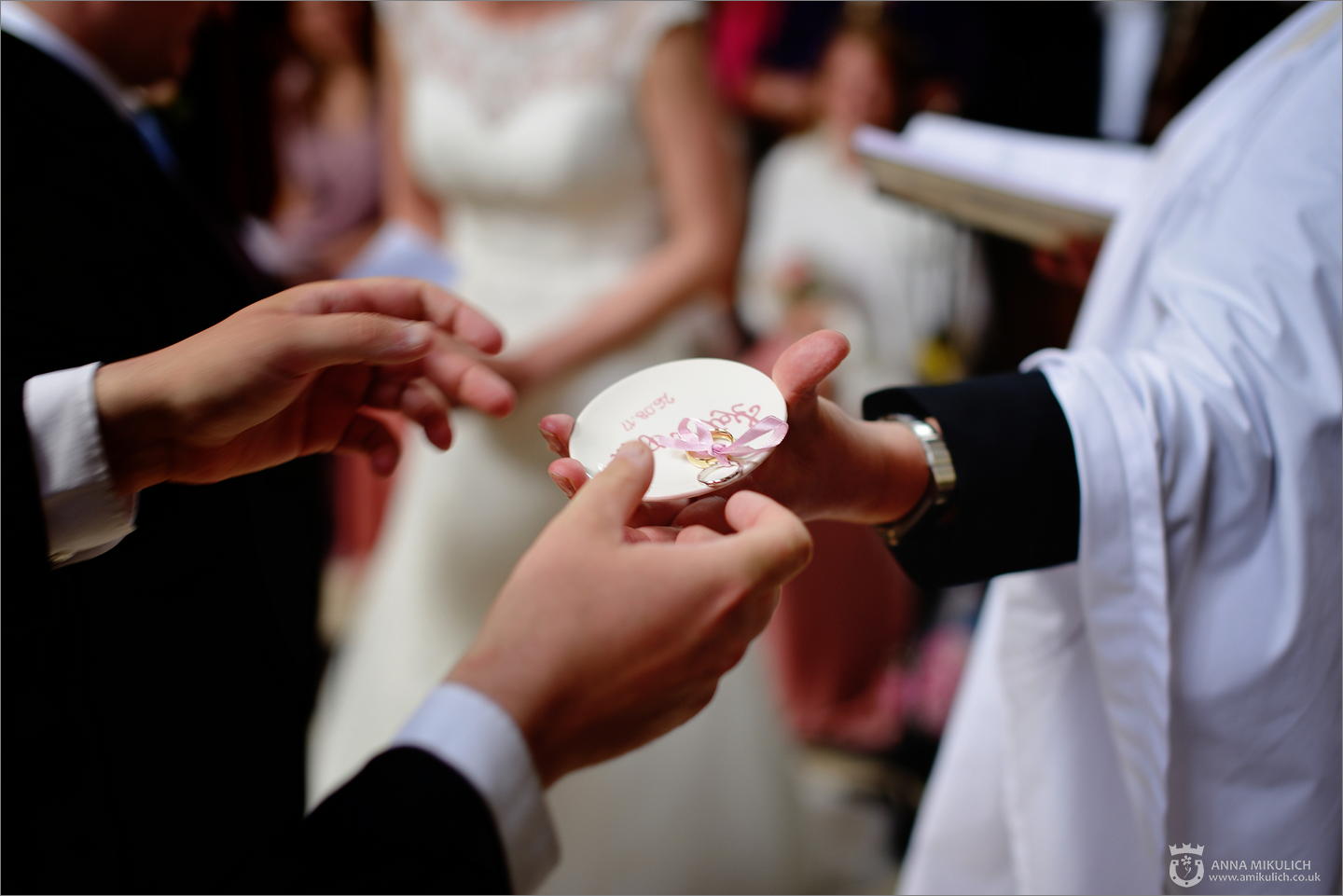 This is one of the presents from Vicar with a special meaning. As we were saying earlier - the ceremony is quite a tricky part of the wedding for us, the photographers. Things happen very quickly, there are activities we were never told about - it takes from us all attention and skills to not to miss those smallest details that made this wedding ceremony so special.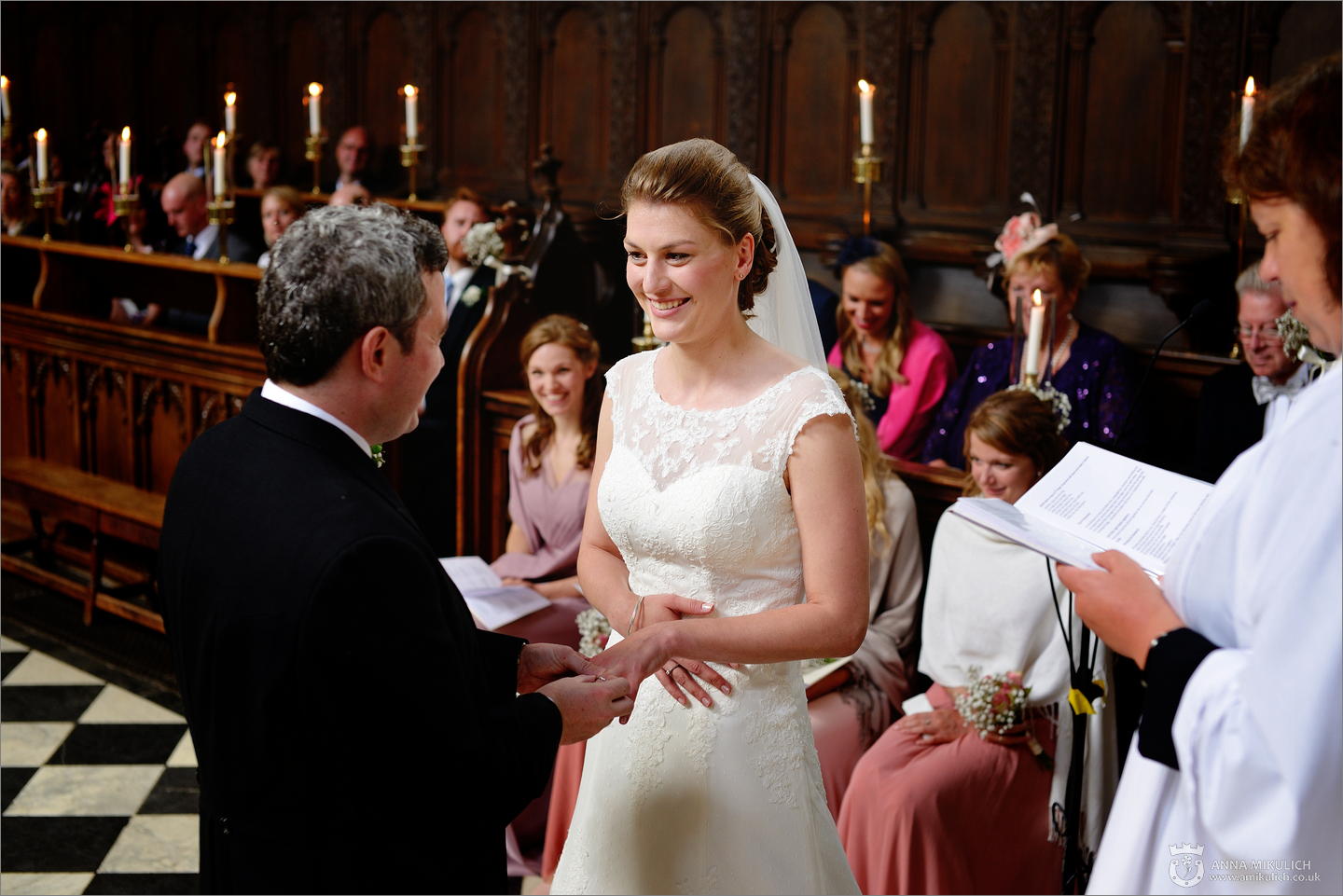 The ring has no beginning and no ending, which symbolizes that the love between two people will never cease. It a tricky job for a wedding photographer to capture a great picture of the exchange of the rings. We took those pictures guided by our experience as well as intuition to guess the right spot. But technical aspects aside - just look at those happiest faces! It is such a pleasure for us to see people so happy!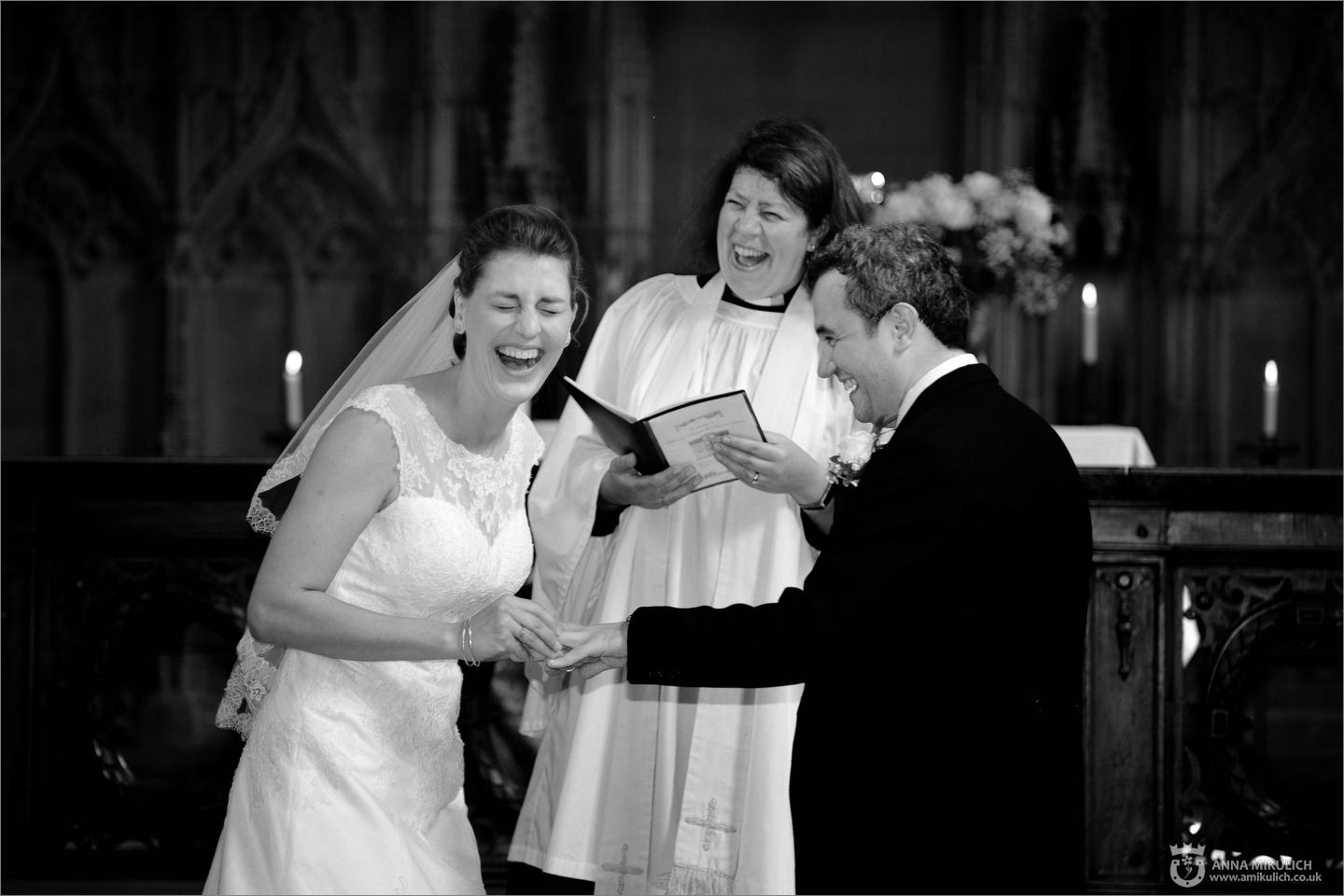 We love people smiling. We, even more, love people with sincere smiles and open hearts. The is true love in the air! We love our job so much at such moments!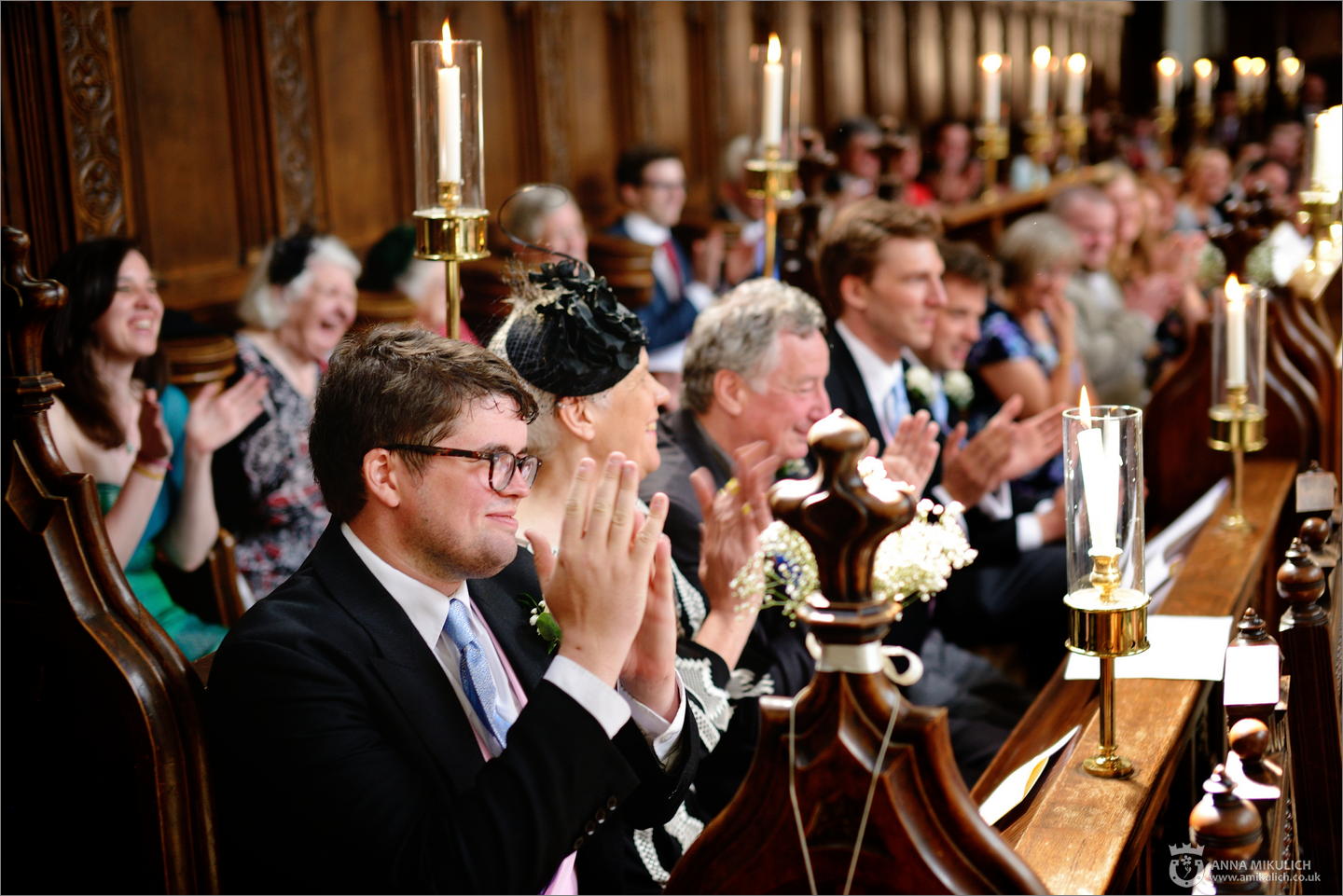 We never forget about the guests on a wedding day. Those are the most important people to Dominic and Katharina. Dominic and Katharina asked them to come to share their happiness and joy with them. They needed support from their best friends and family too!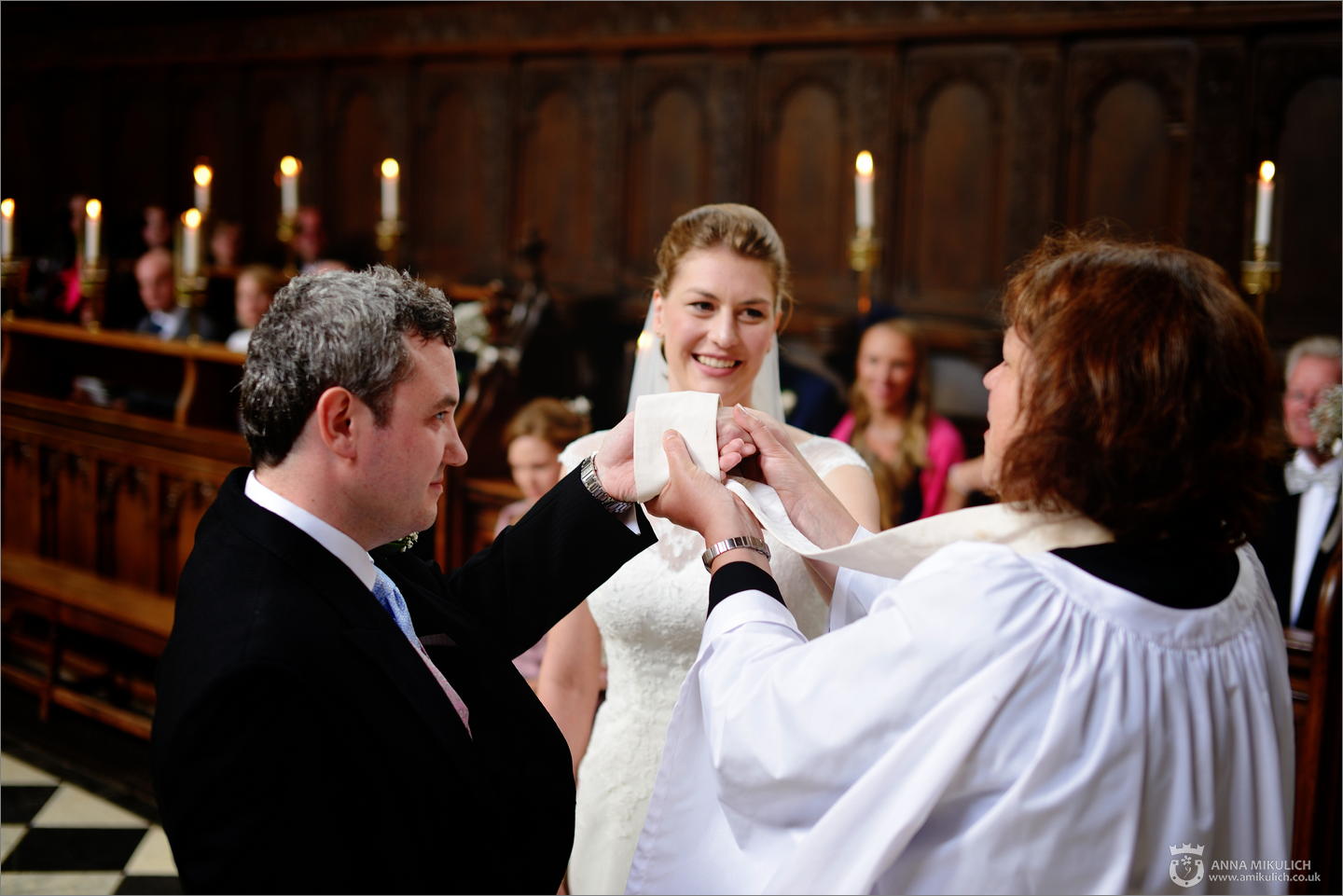 The culmination of the wedding ceremony. Dominic and Katharina said all the vowels, and in a matter of seconds, they would be declared as husband and wife! All eyes on them. The guests are catching every single word said!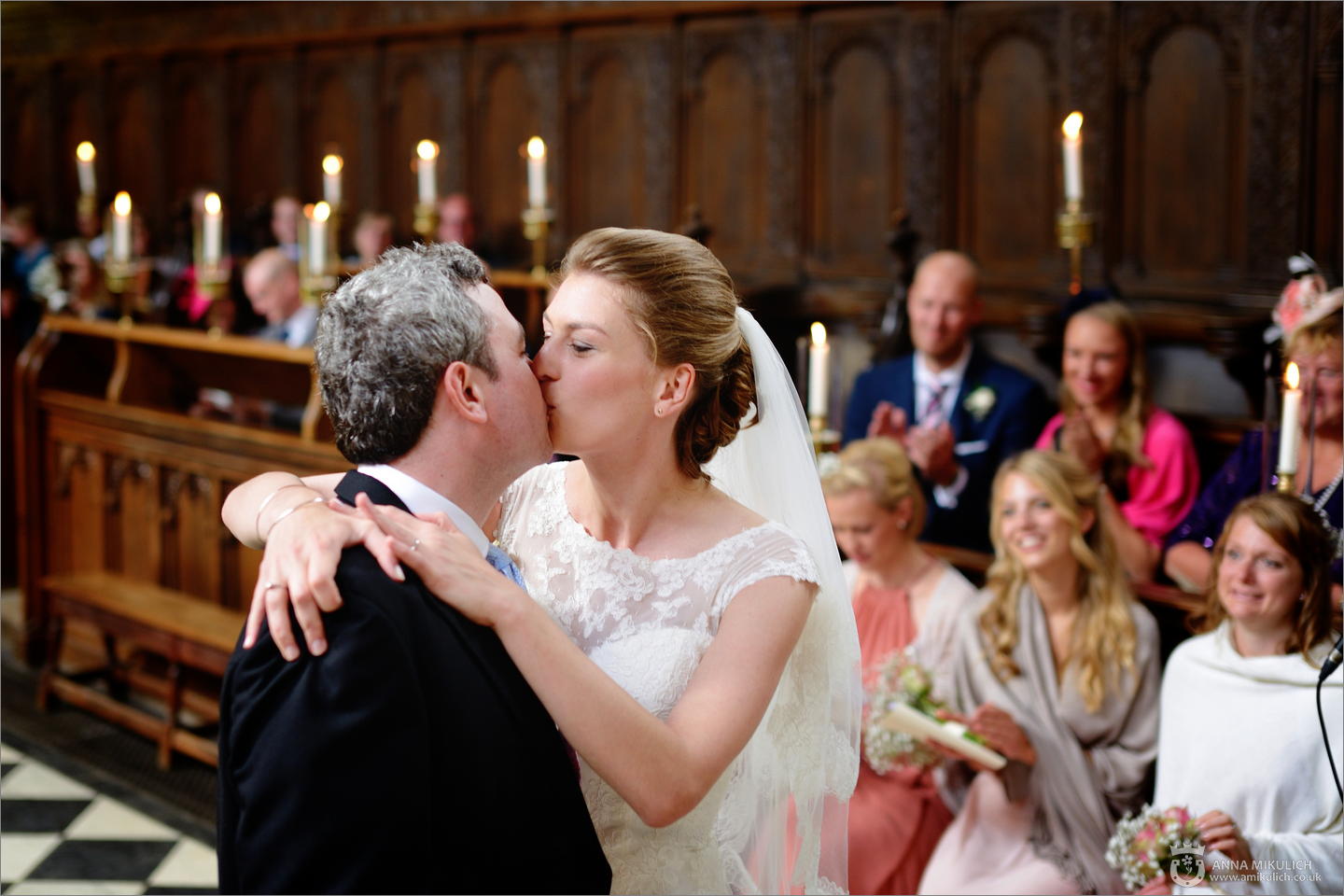 You may now kiss the bride! It meant a world to Dominic and Katharina but for us, the wedding photographers, this is just a blinking-eye fast moment to capture such an important moment. We are so delighted that we have done it right! Congratulations Dominic and Katharina!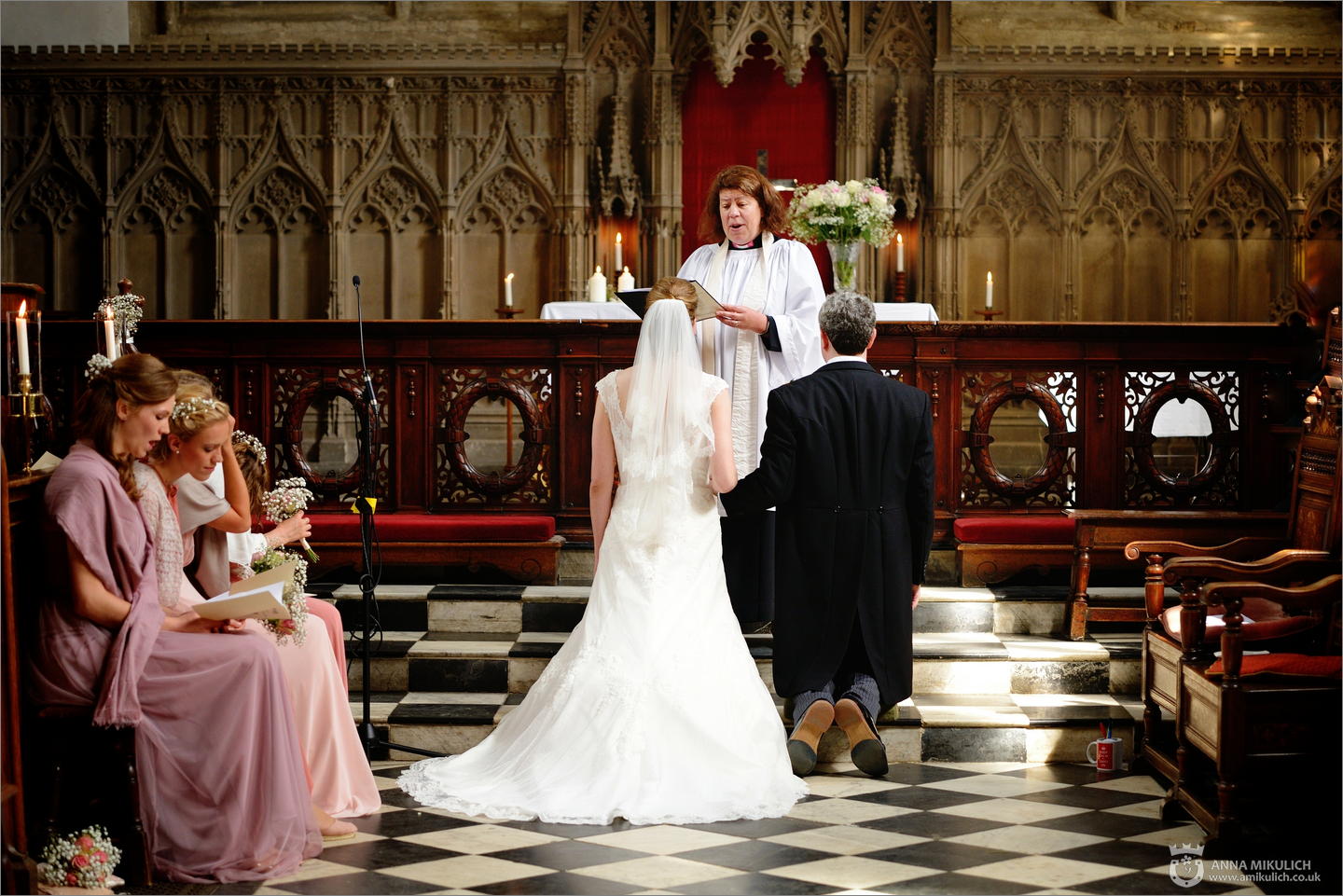 We try to take pictures from different viewpoints on a wedding day. It is challenging in churches and chapels as they are quite limited in space - but it worth trying!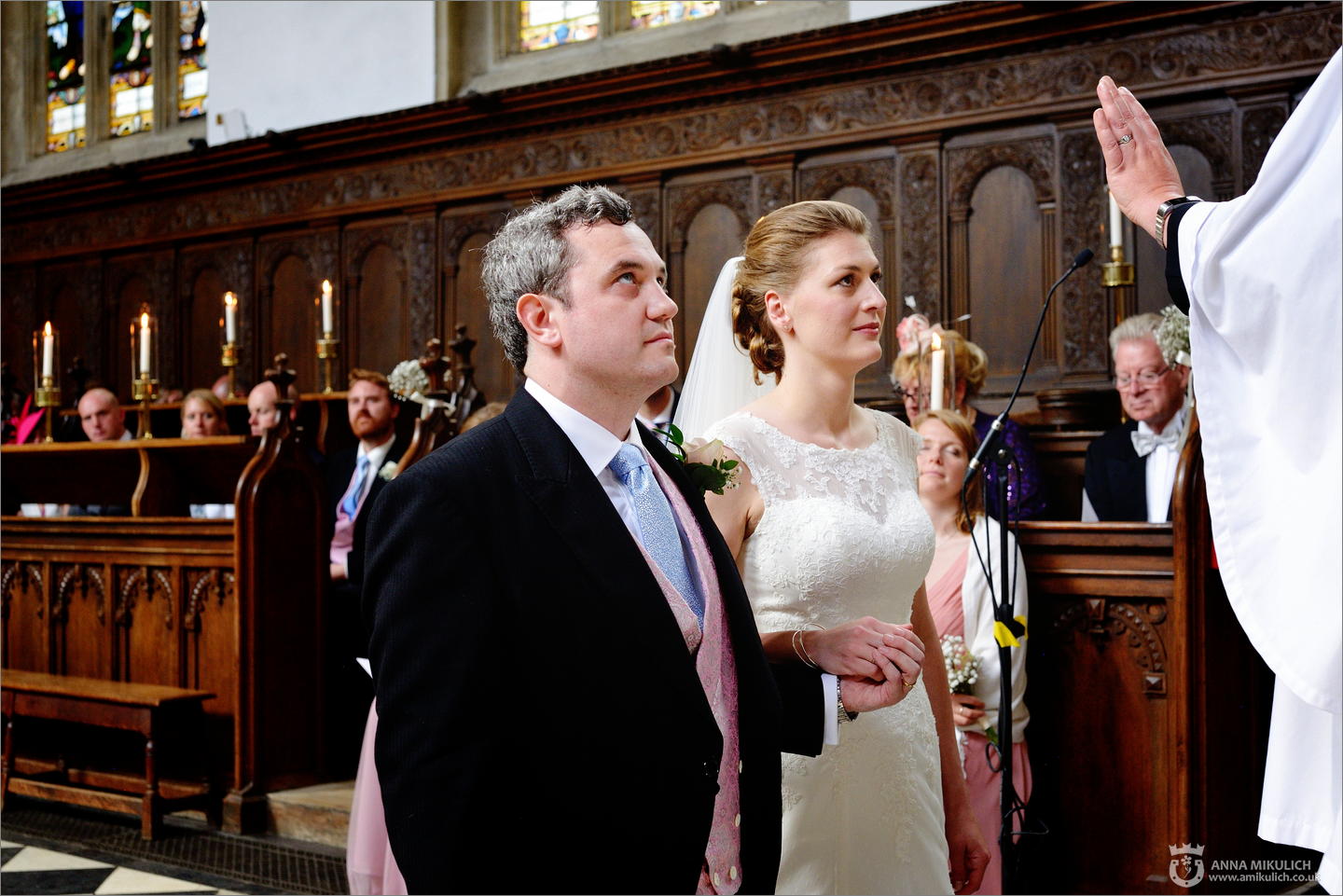 The final part of the ceremony. Dominic and Katharina are receiving the blessing and best wishes for their newly created family. This is a very intimate moment.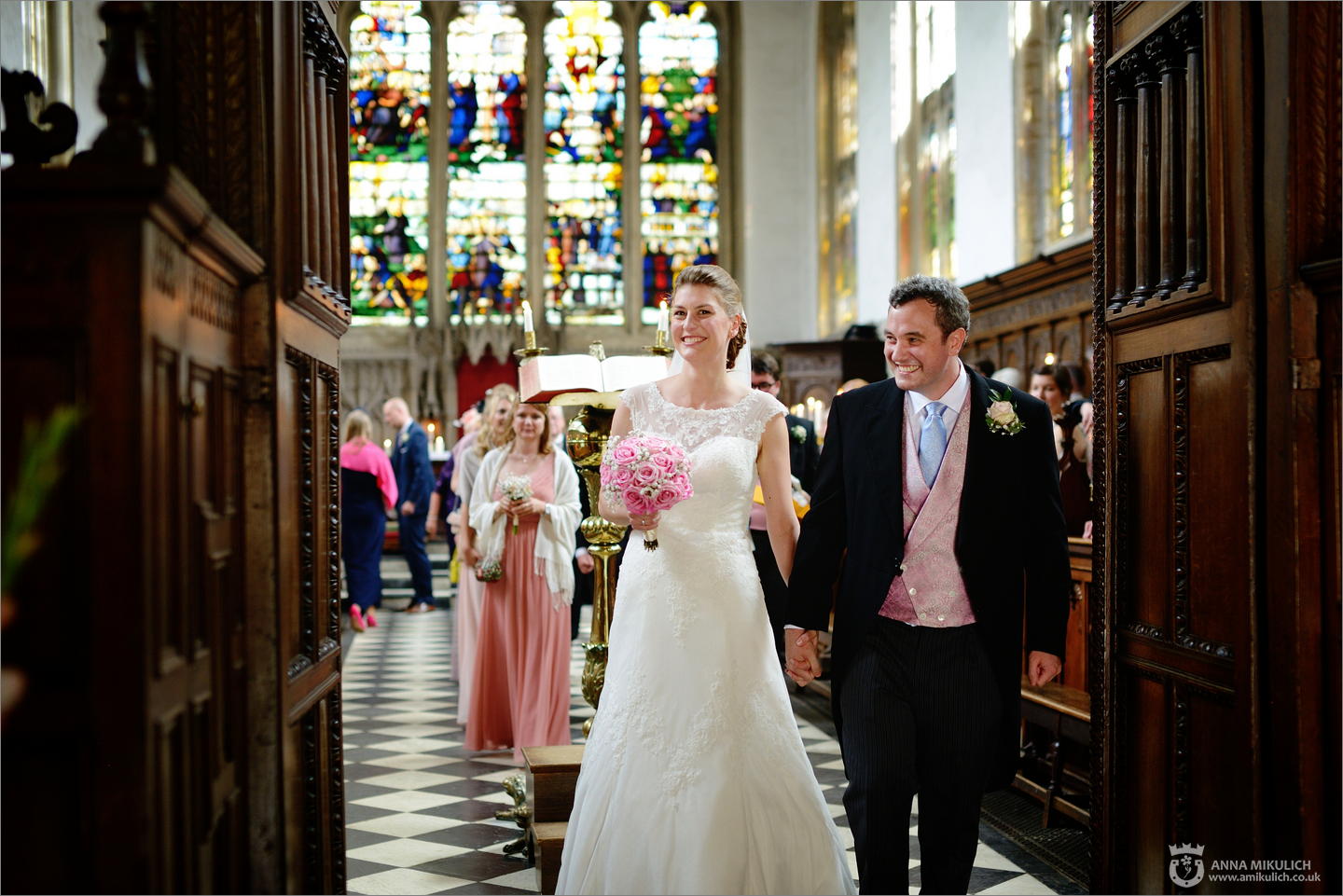 It is time to reveal Dominic and Katharina as husband and wife to the world! Now - the celebration time! It is time to breathe again and to remember the best parts of that ceremony.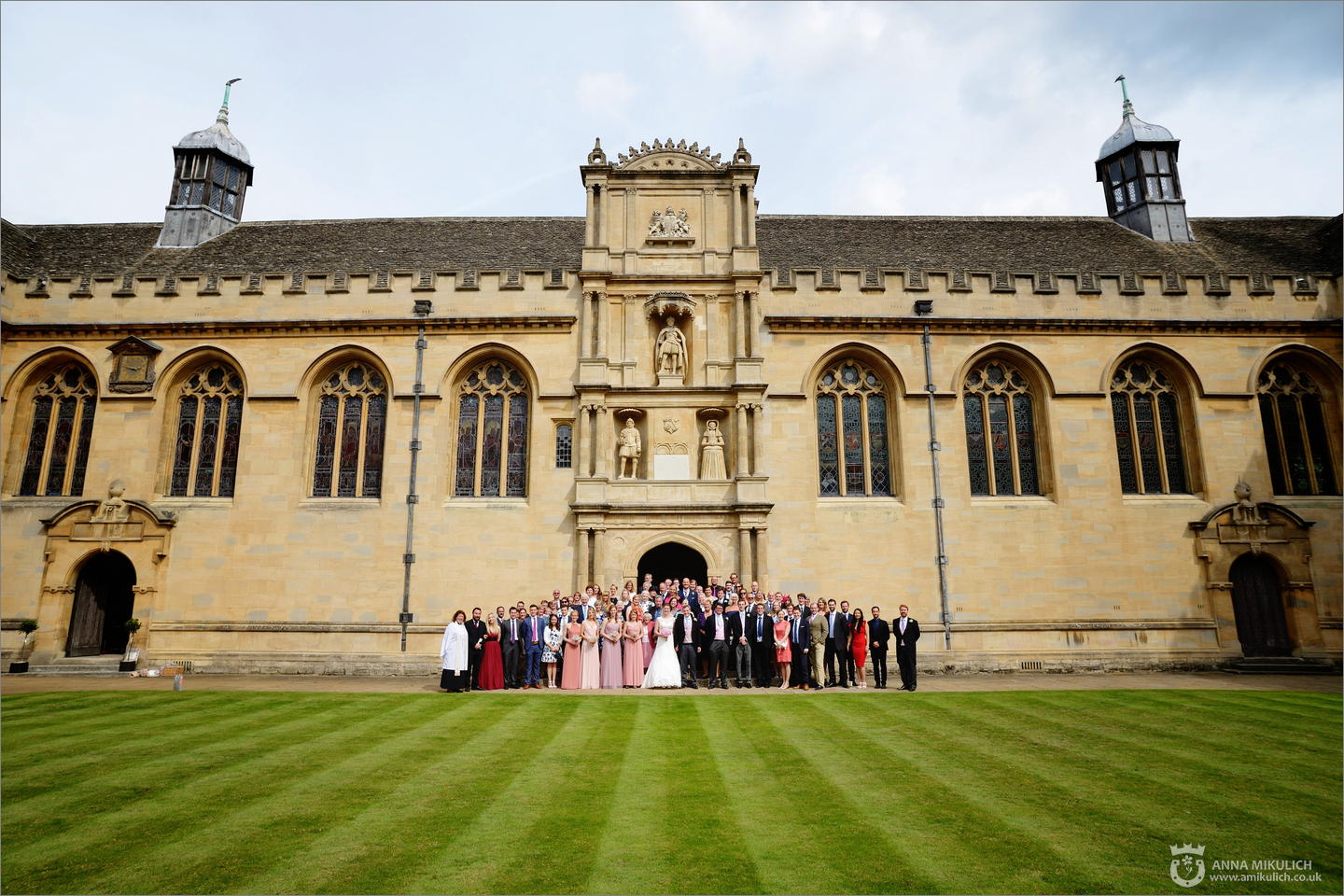 Look at this amazing picture - all the important people to Dominic and Katharina are there: family and best friends are here to share the joy.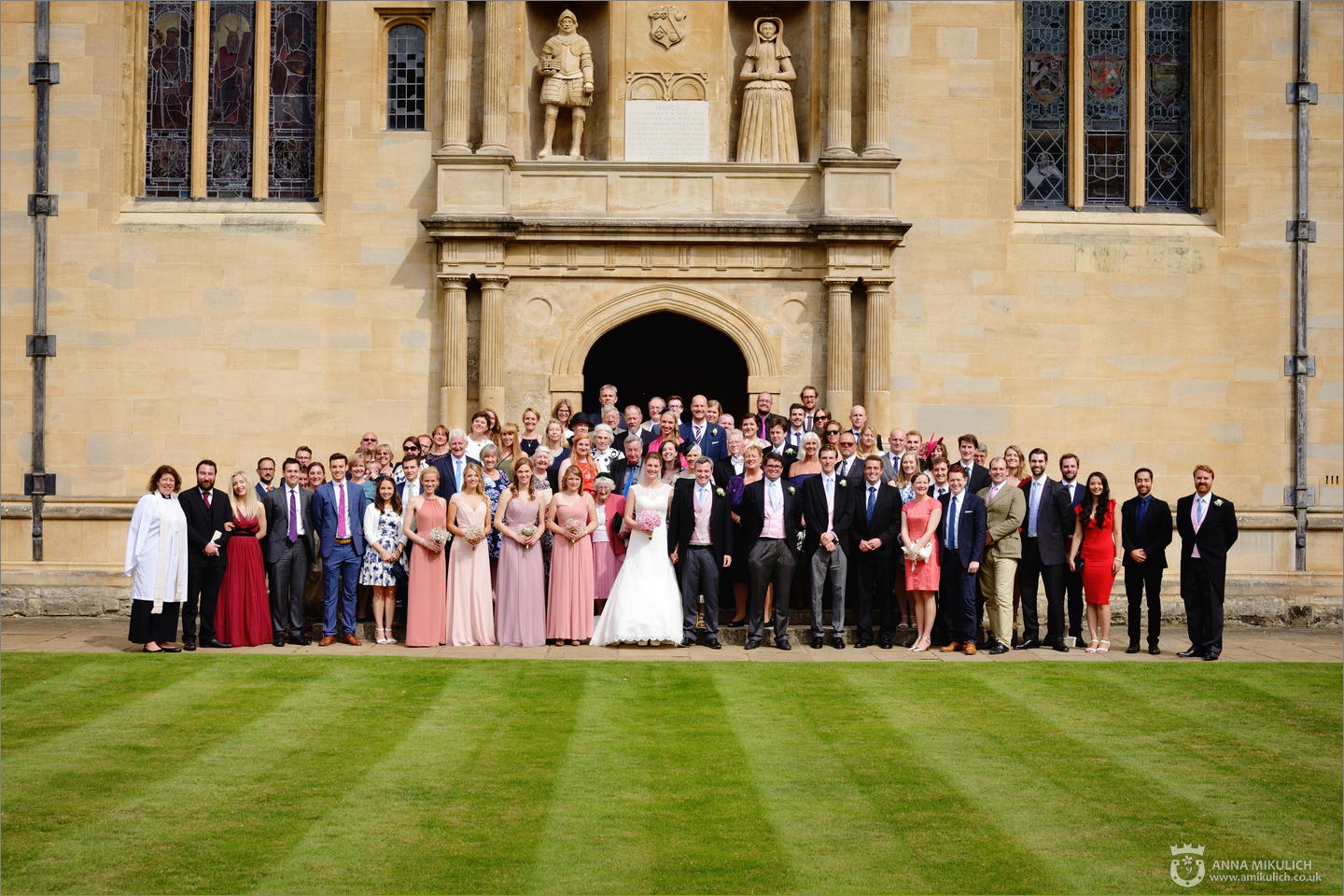 We love taking large group pictures. There is a lot of things happen to make this picture, to find the perfect place, to bring all the people in, to take the pictures with all eyes open and everyone looking into the camera. Sounds like a lot of activities to perform? Indeed. But we love the result - here you can see an entire wedding party, all happy and smiling faces!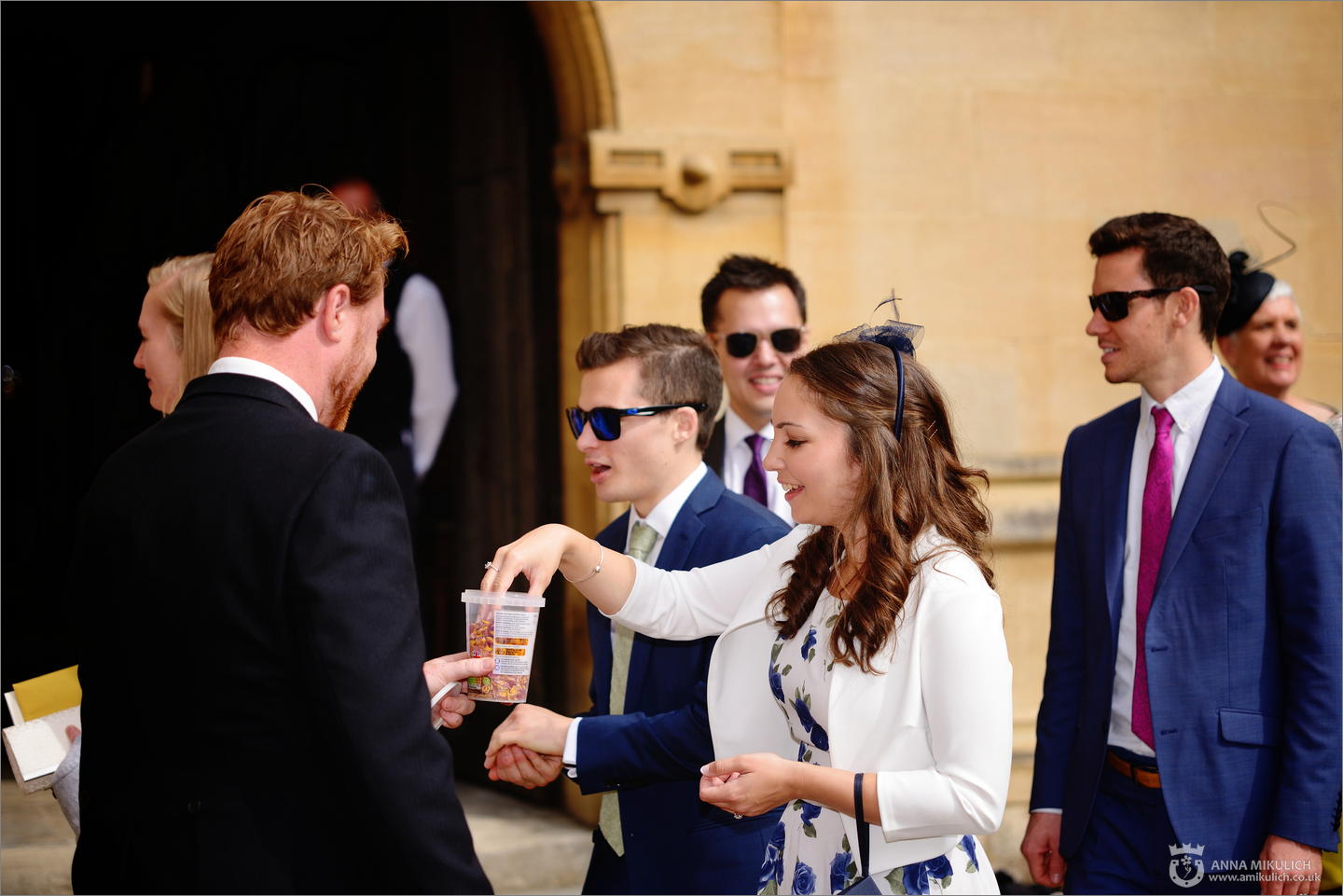 Confetti time! Grab more, throw further - the only strategy! It is nice to see a well-organized wedding where are friends are ready to help even in the smallest errands like making sure all the guests are having confetti! Well done!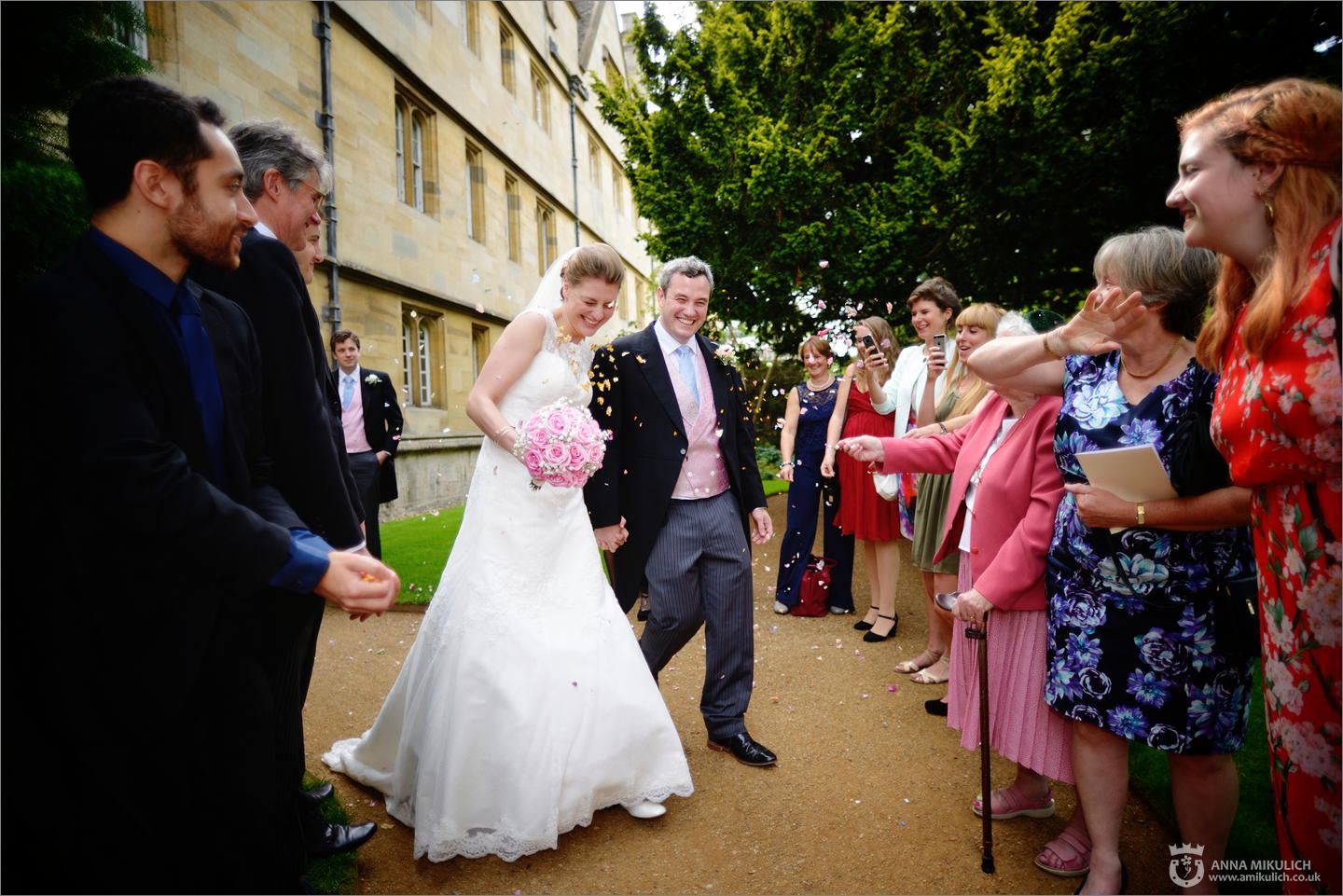 Here come the confetti time! Dominic and Katharina are ready to dive into the storm of confetti particles and a hurricane of laughter!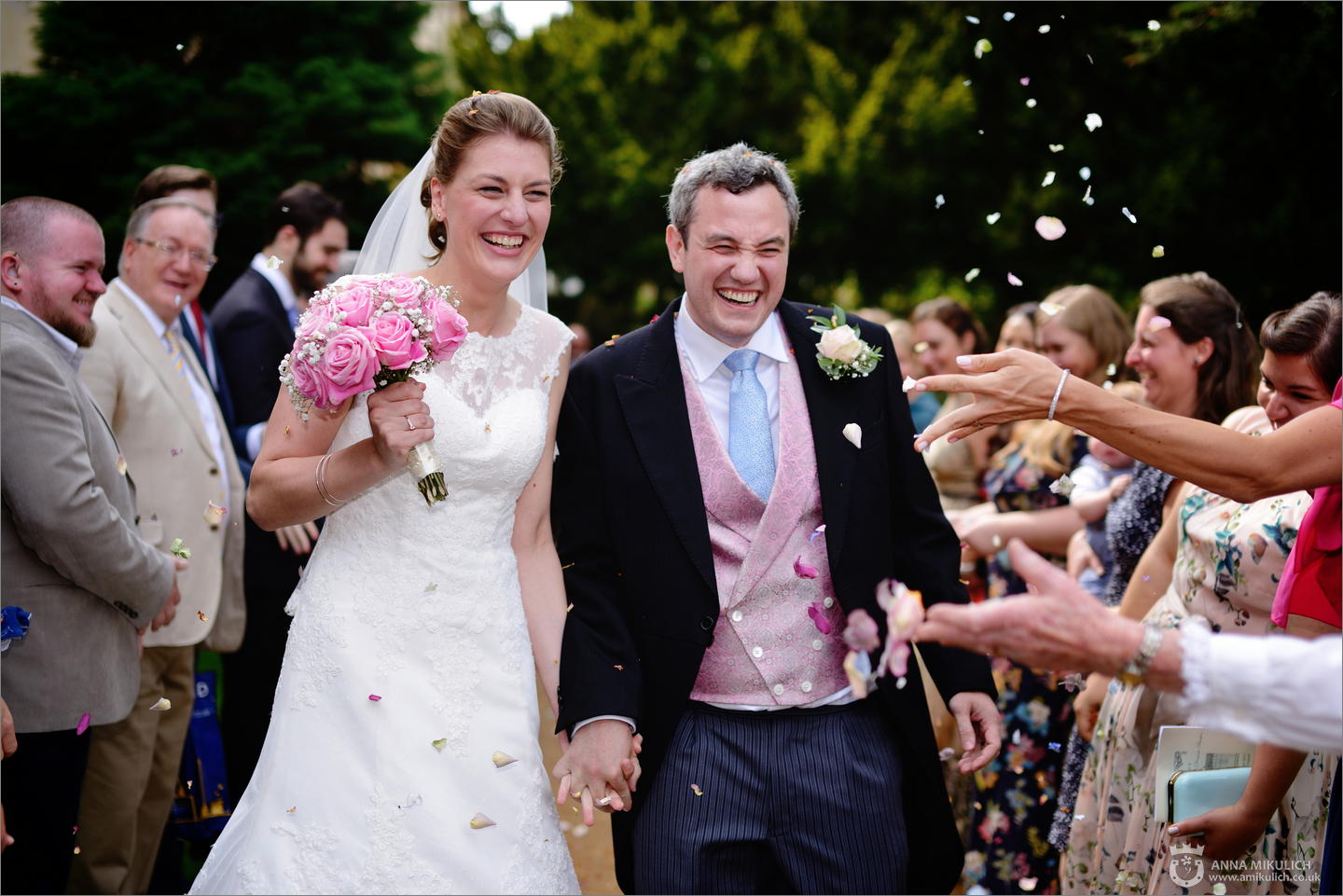 We love confetti! Let the emotions go wild and reveal the true self. It is so much fun for everyone!
We love to see sincere smiles, strong hugs. It is always a great please even for the photographers to see such true examples of most honest happiness. We are confident the pictures like this one will bring smiles in years to come.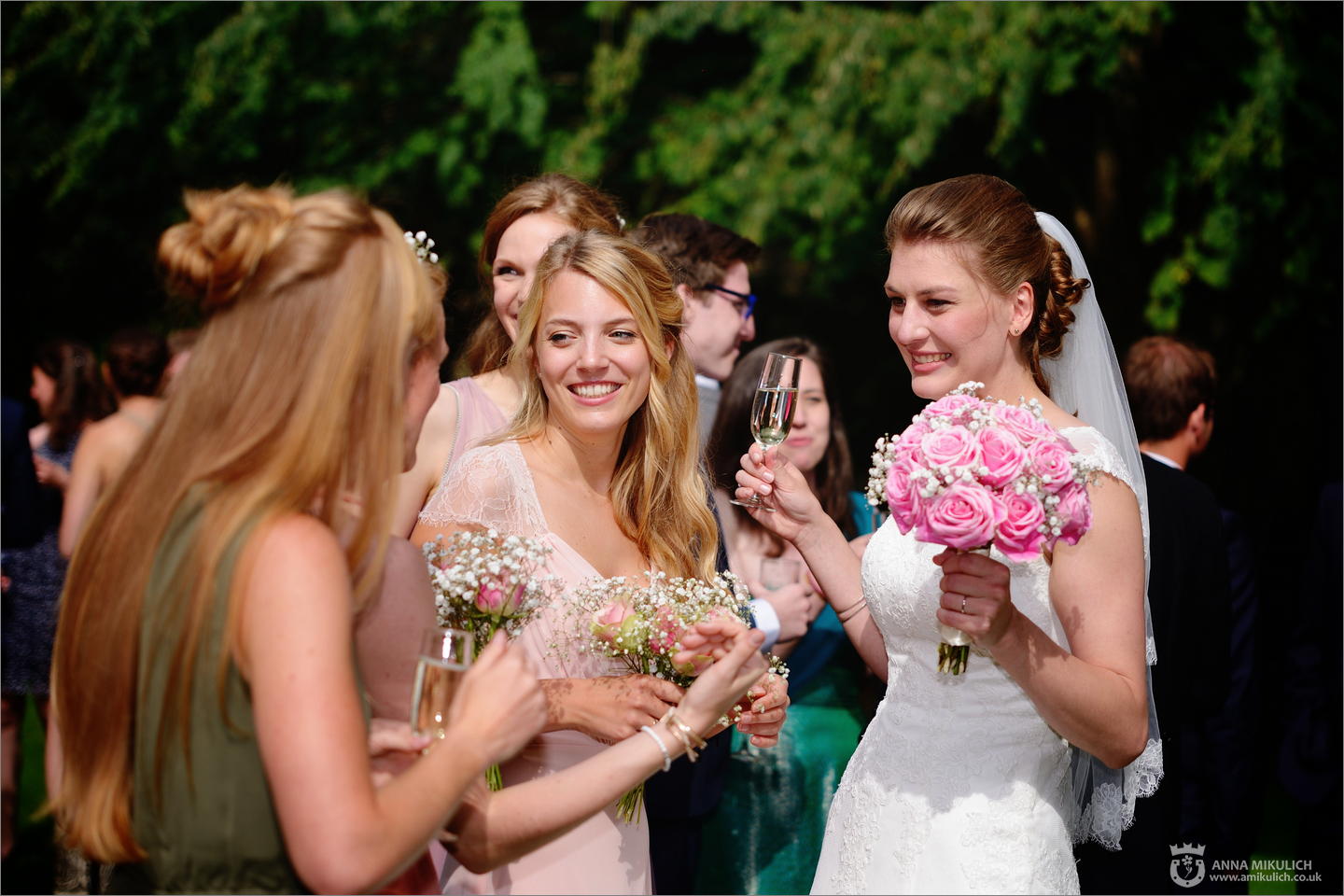 It is always handy to have a secluded place to have welcome drinks, share your emotion and to congratulate the newlyweds. Oxford is an amazing contrast between crowded central streets and tranquil college inner yards. Wadham Colledge has a beautiful garden completely shielded from the rush of Oxford streets.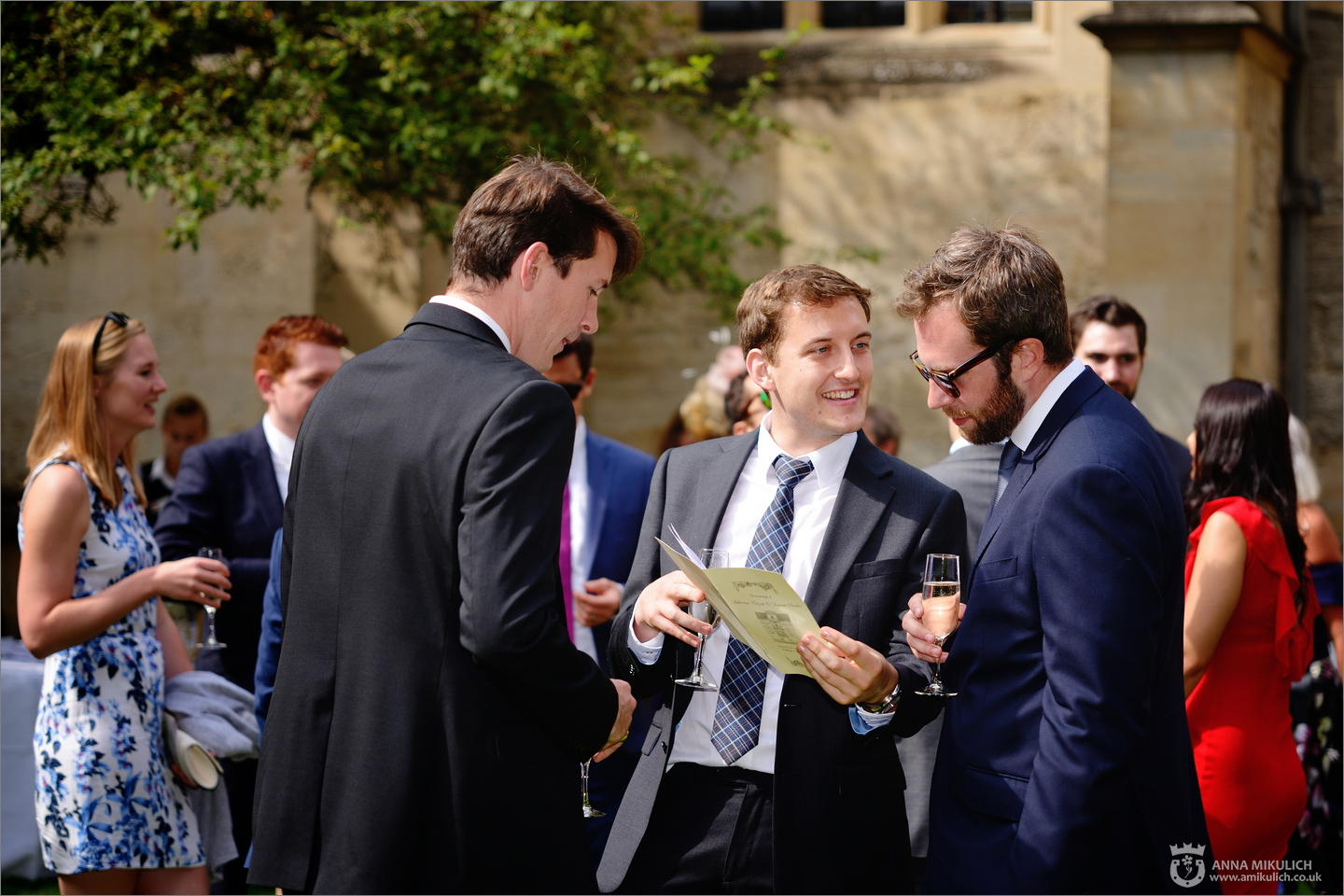 This is the time for the guests to have a chat, to exchange their thoughts about the ceremony, to have a refreshing dring and get themselves ready for the party.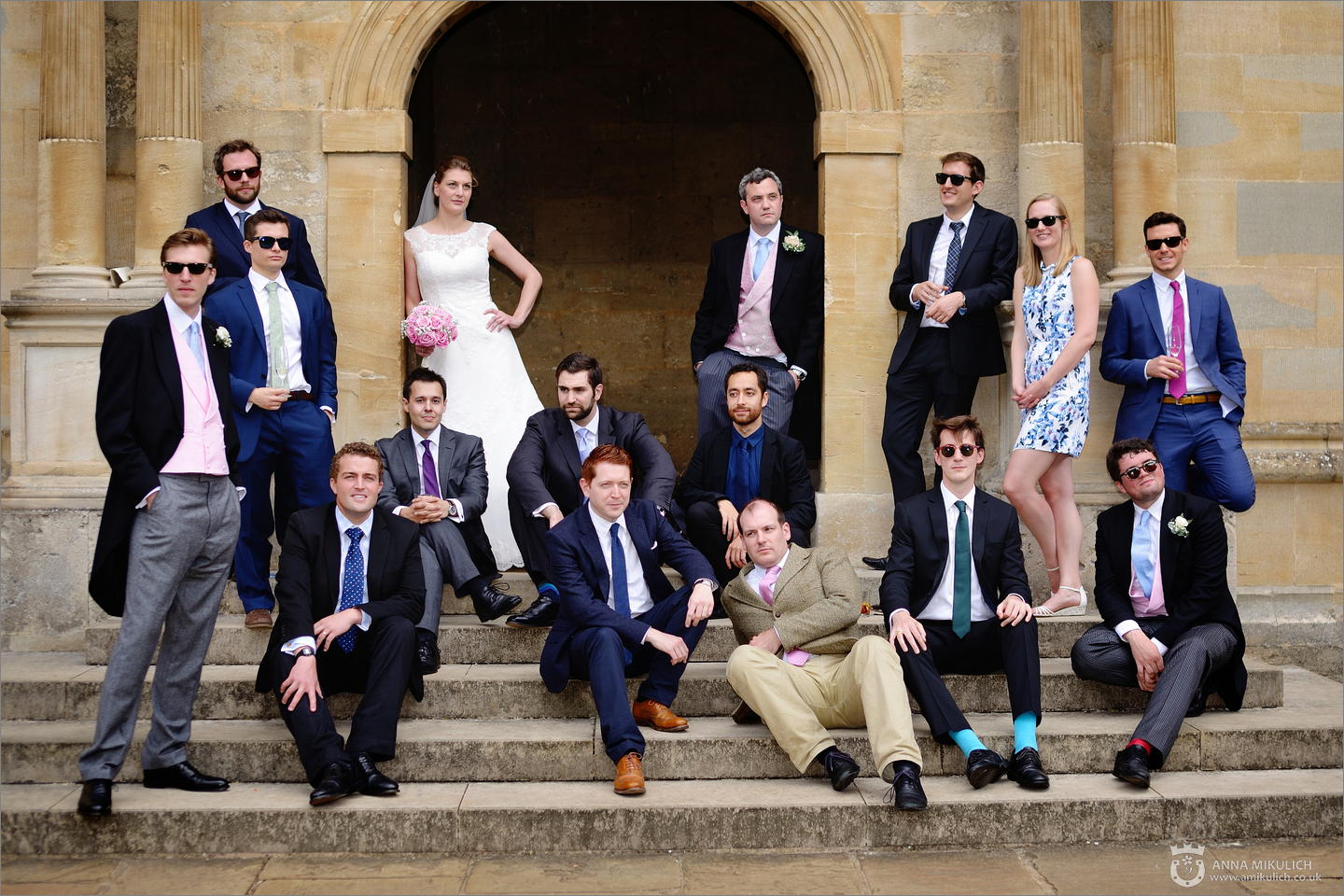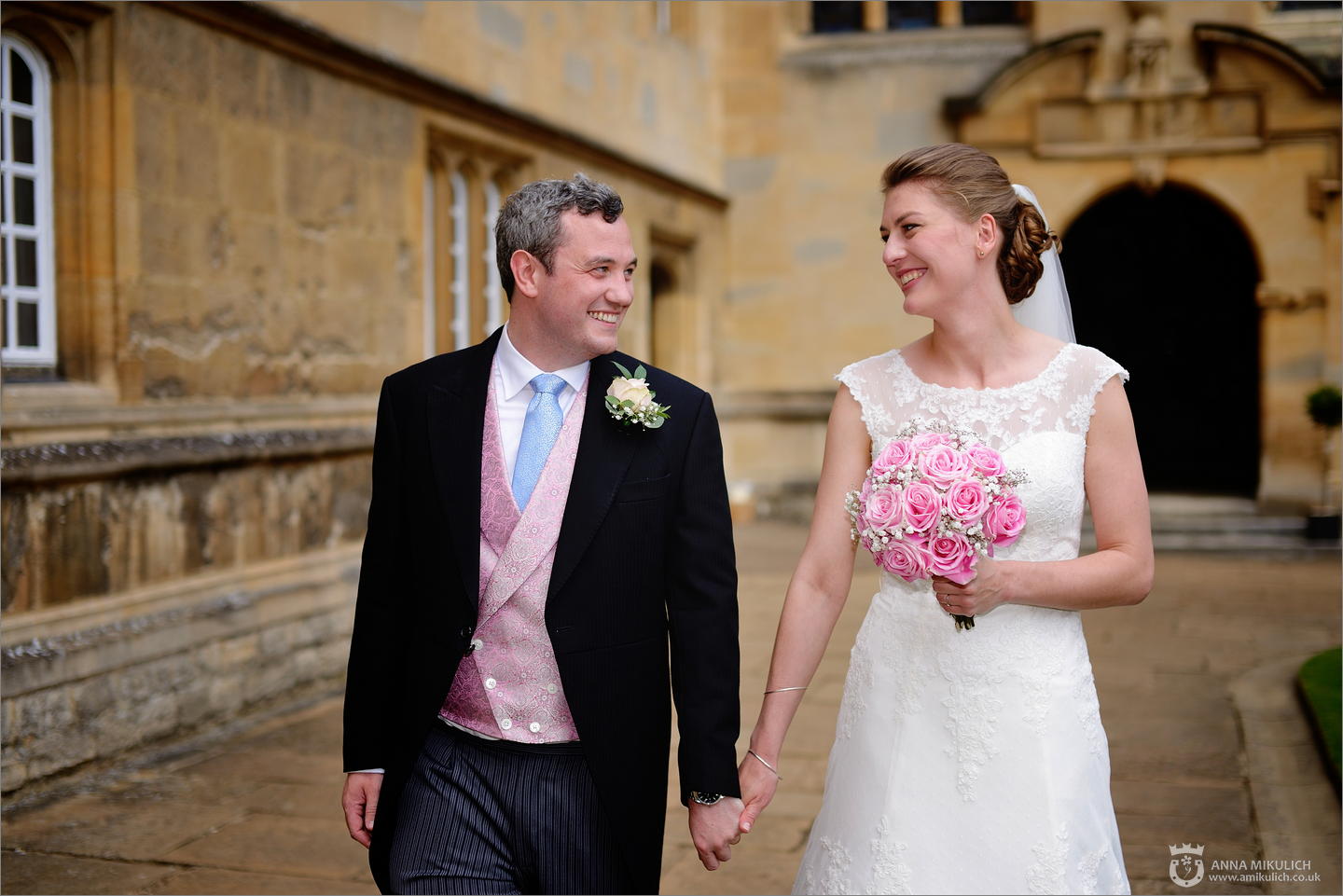 For the first time, Dominic and Katharina are walking together as husband and wife. This is a completely new chapter in their lives, and they are ready for all the great things to happen.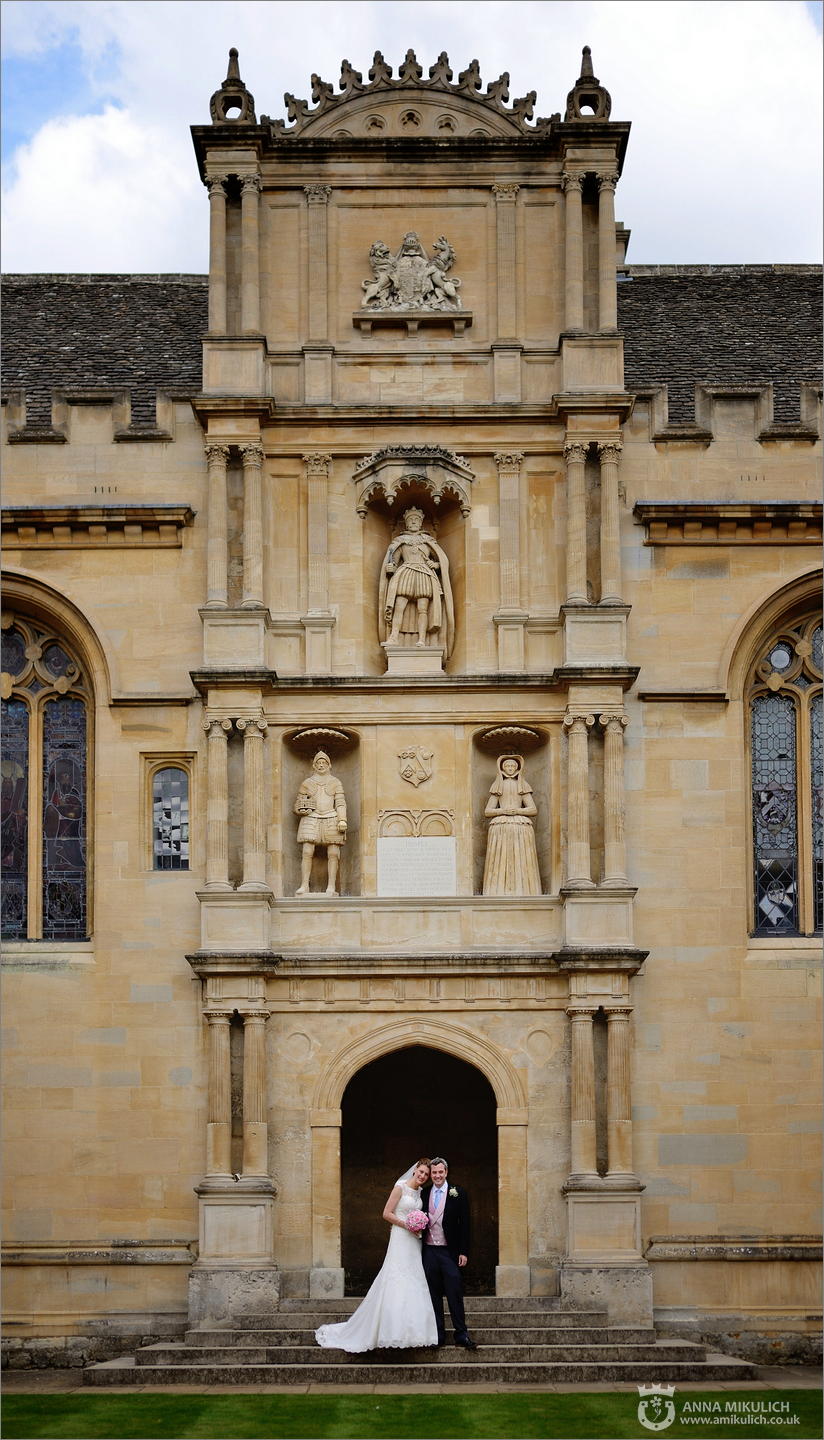 Wadham College is full of intricate details and provided plentiful locations to take some stylish bride and groom shots.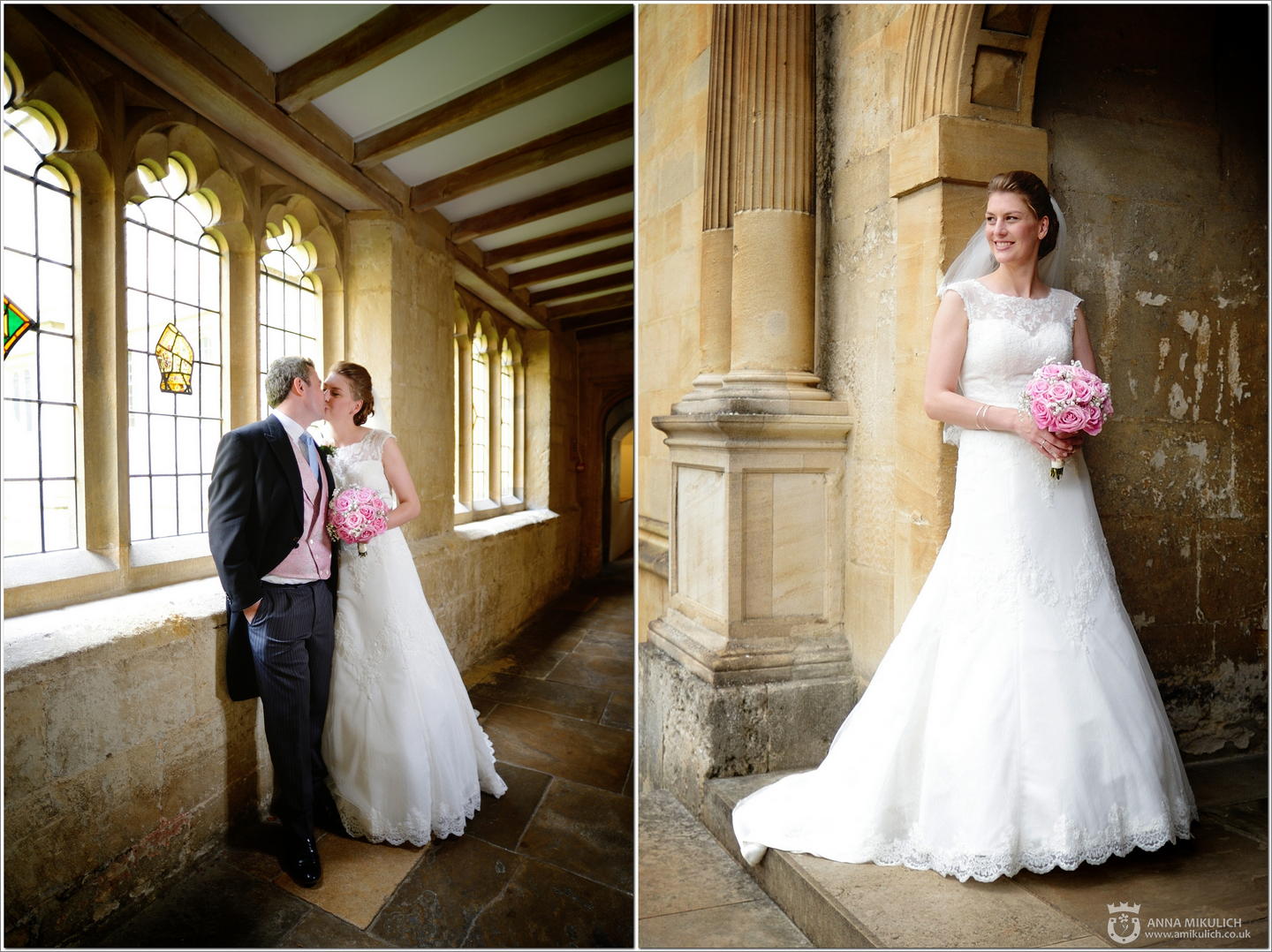 While the guests were boarding the double-decker bus outside the Wadham College, we seized the opportunity to take a few snaps of Dominic and Katharina in their familiar environment.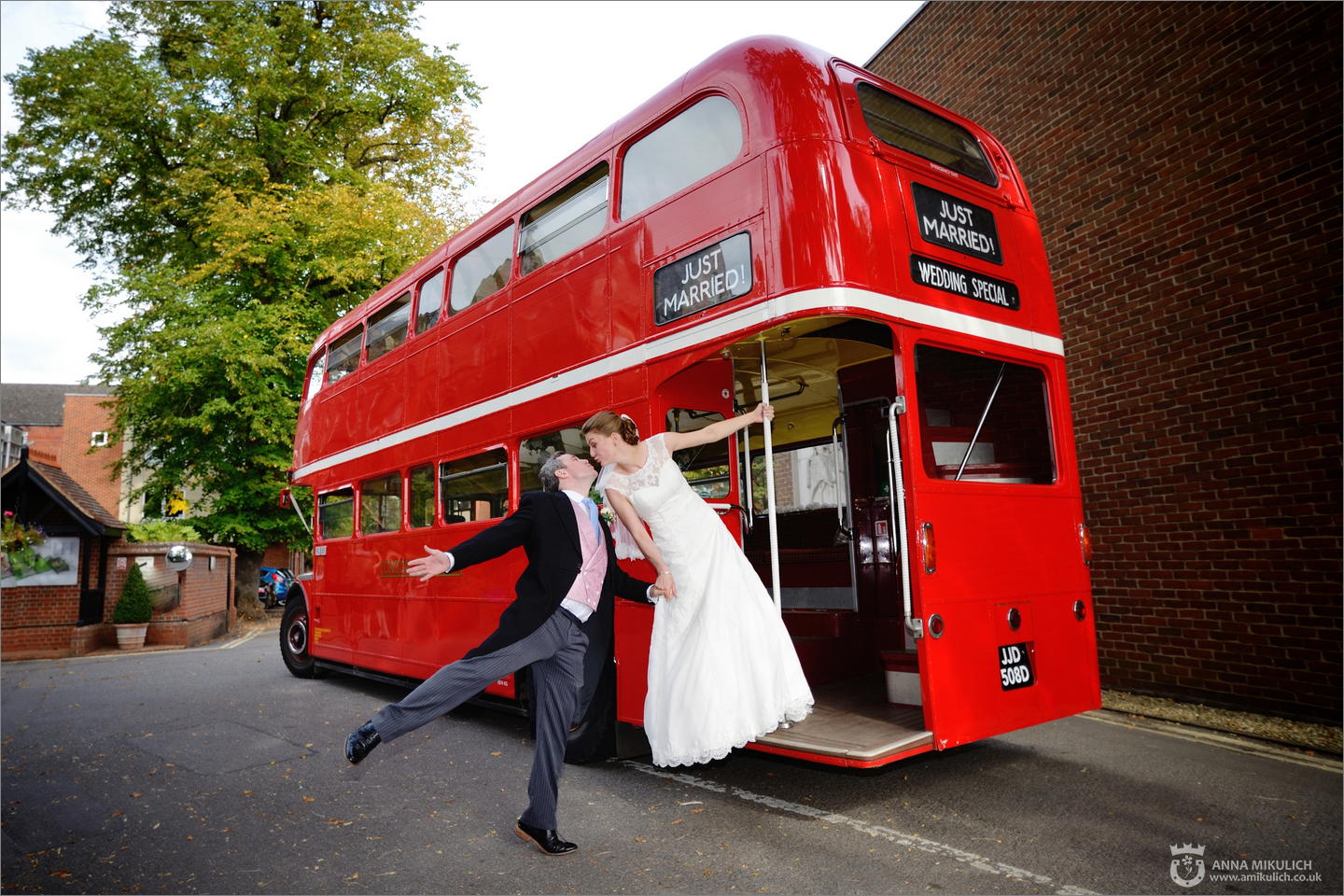 Once we had shot some portraits on the grounds it was time to head off to the private double-decker bus Dominic and Katharina had arranged, that would provide them with their transport to the reception venue. A short journey later they arrived at The St Edwards School!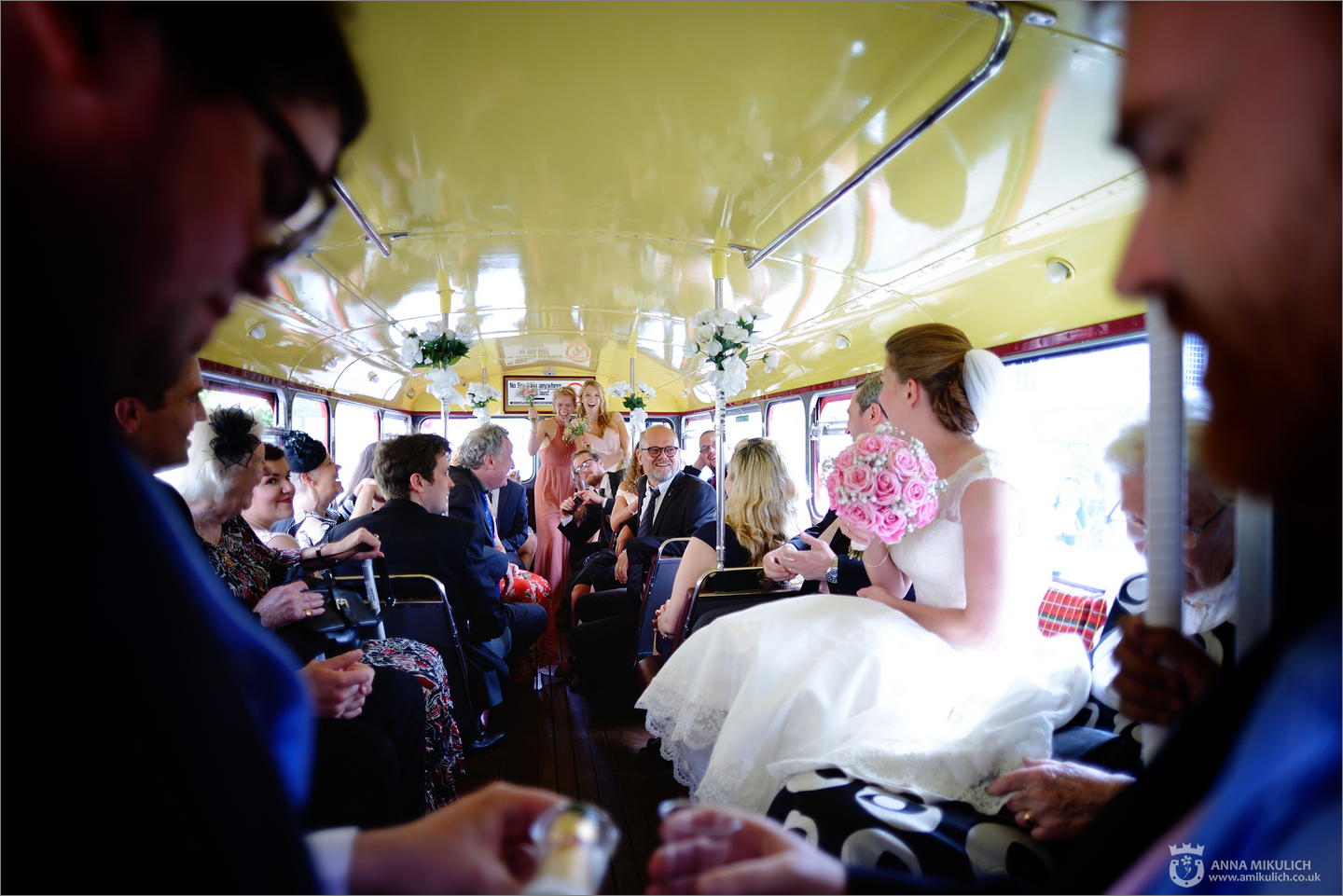 We absolutely love wedding buses! It is so much fun! You get twice the fun if it is a classic Routemaster double-decker (bright red, of course) strolling through the City of Oxford in a company of family and best friends.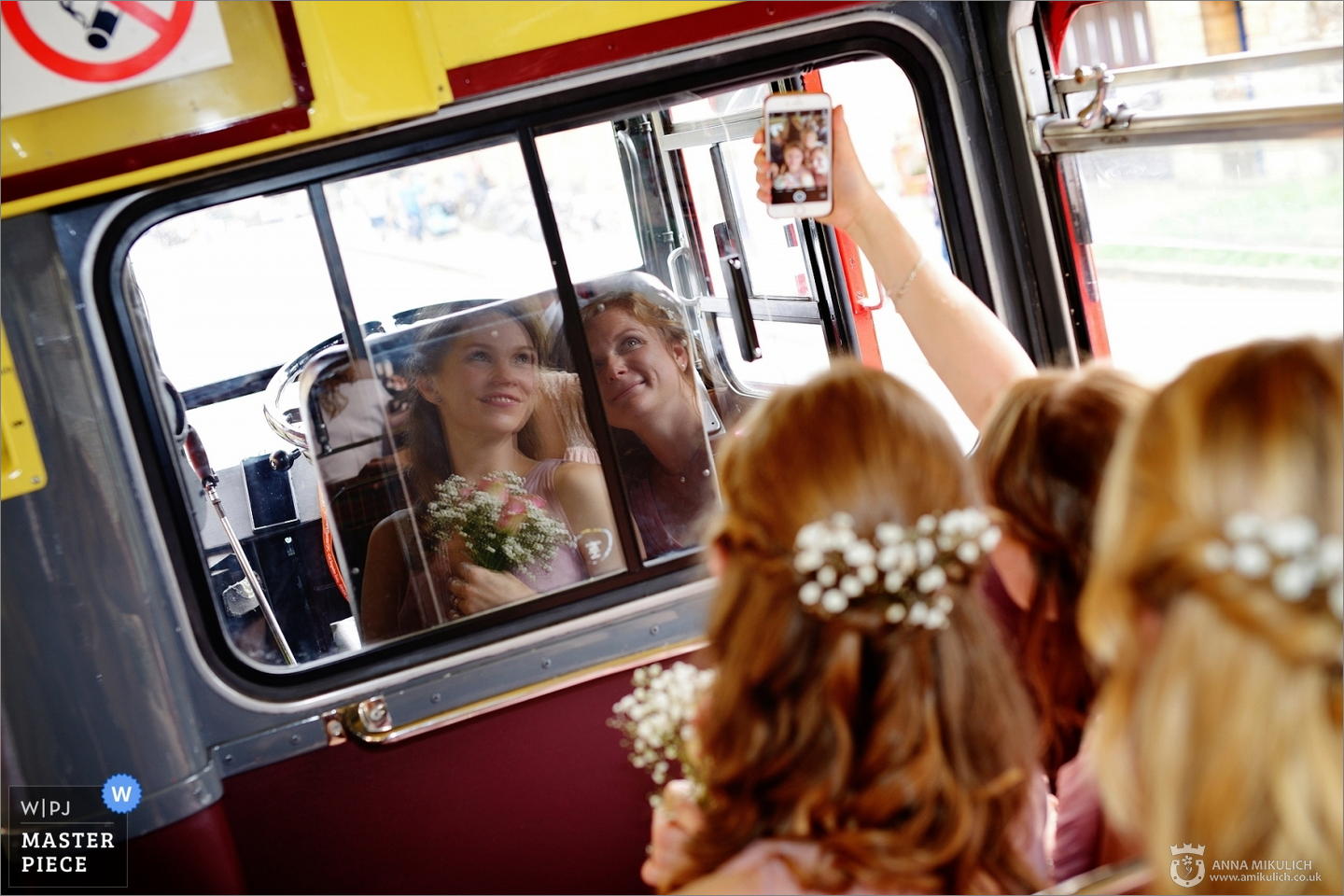 Some time later this picture would win one of the photographic competition, but we would like you just enjoy the moment we were happy to catch. The double-decker bus of full of people and it was hard even to turn around, still - we were pleased to find the smallest and most curious details!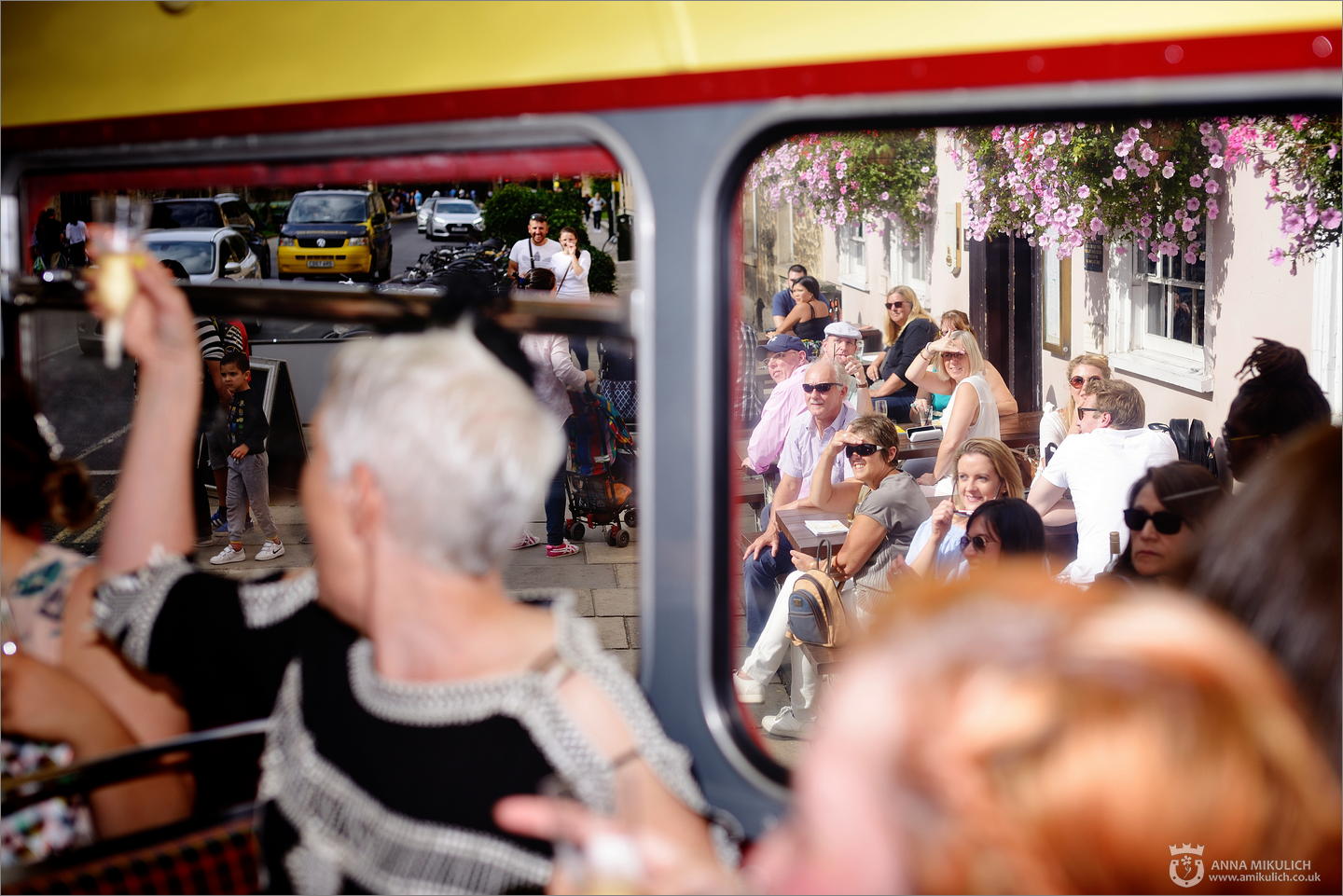 Party bus is storming the streets of the city of Oxford! So many people waved back at us and cheered up the appearance of that red bus! Such strong support from local people!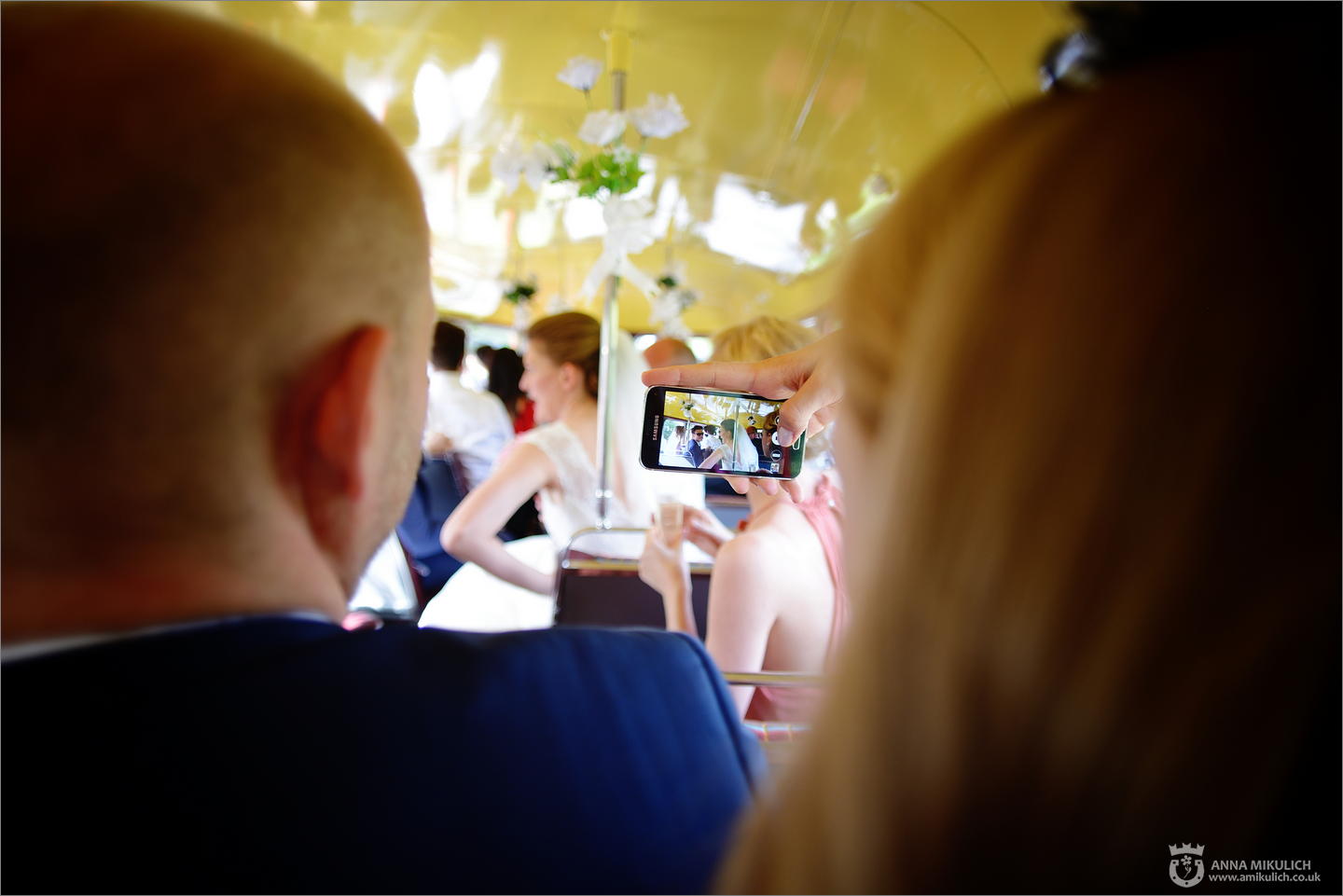 The bus was fun! Tightly packed fun! Just imagine turning around a full bus if you have 2-3 cameras with flashes and a backpack on you!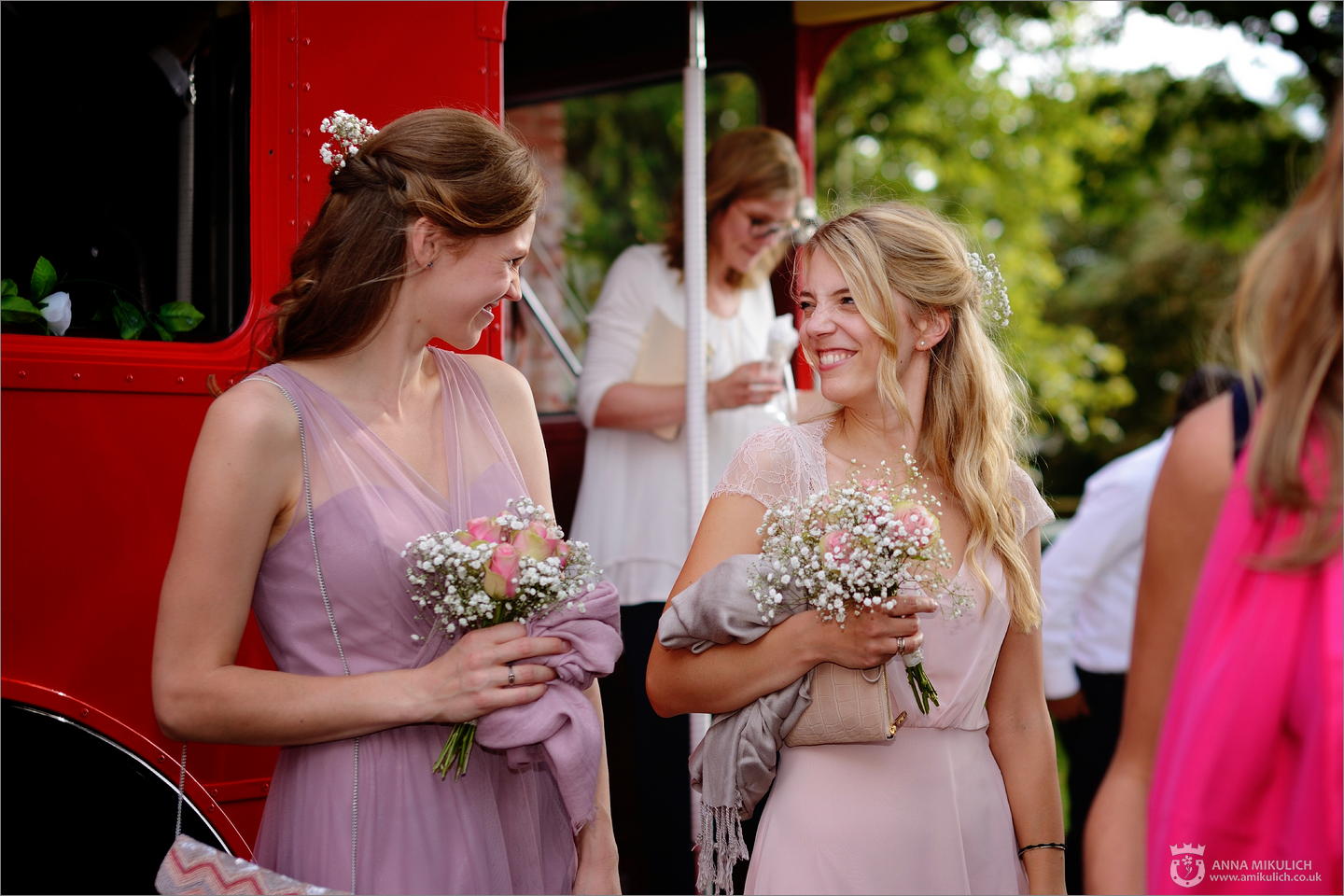 The bridesmaids looked stunning in their pastel-coloured dresses. They were shining with smiles and making this wedding even a bit brighter and happier!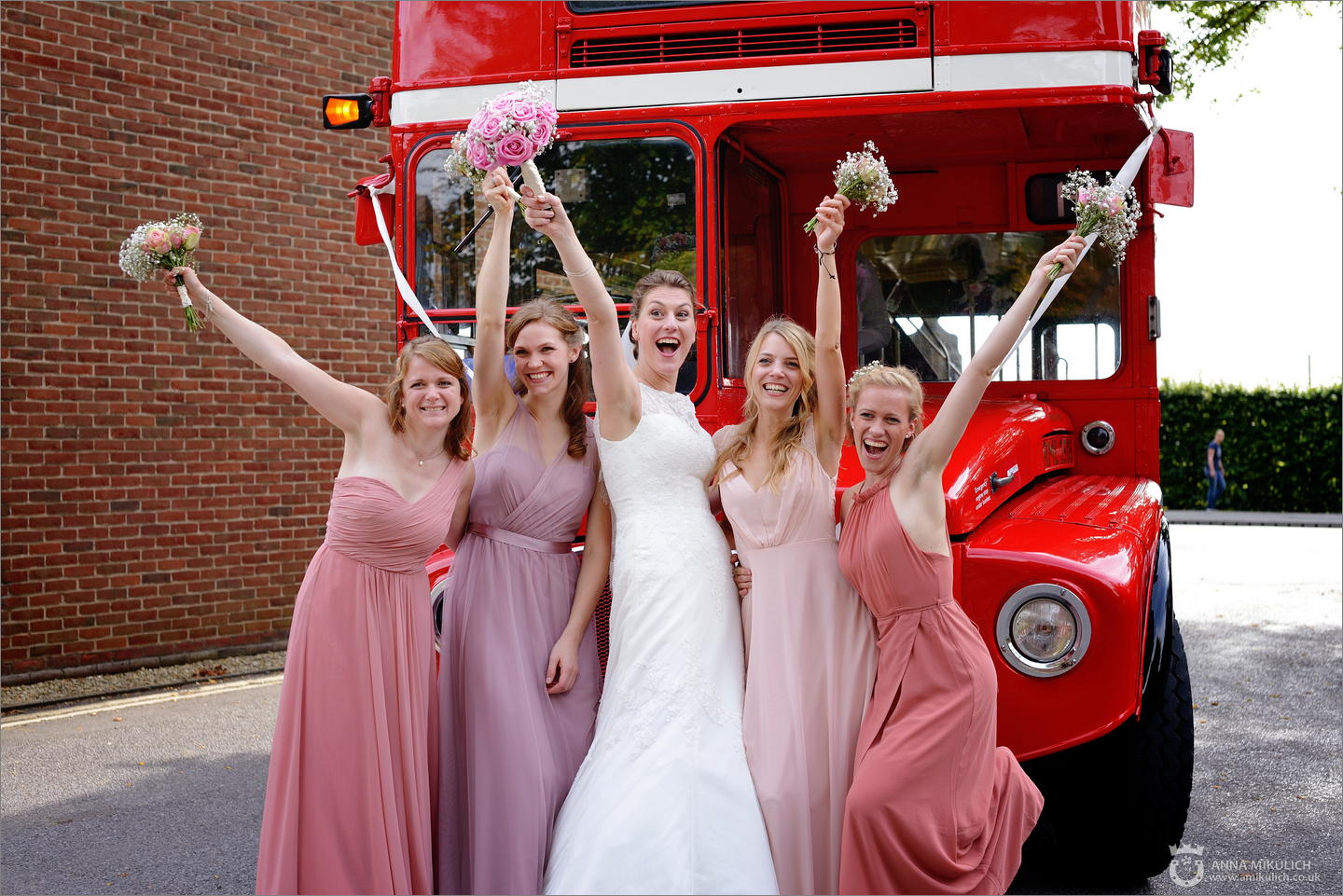 Money shot! Take two! Horray!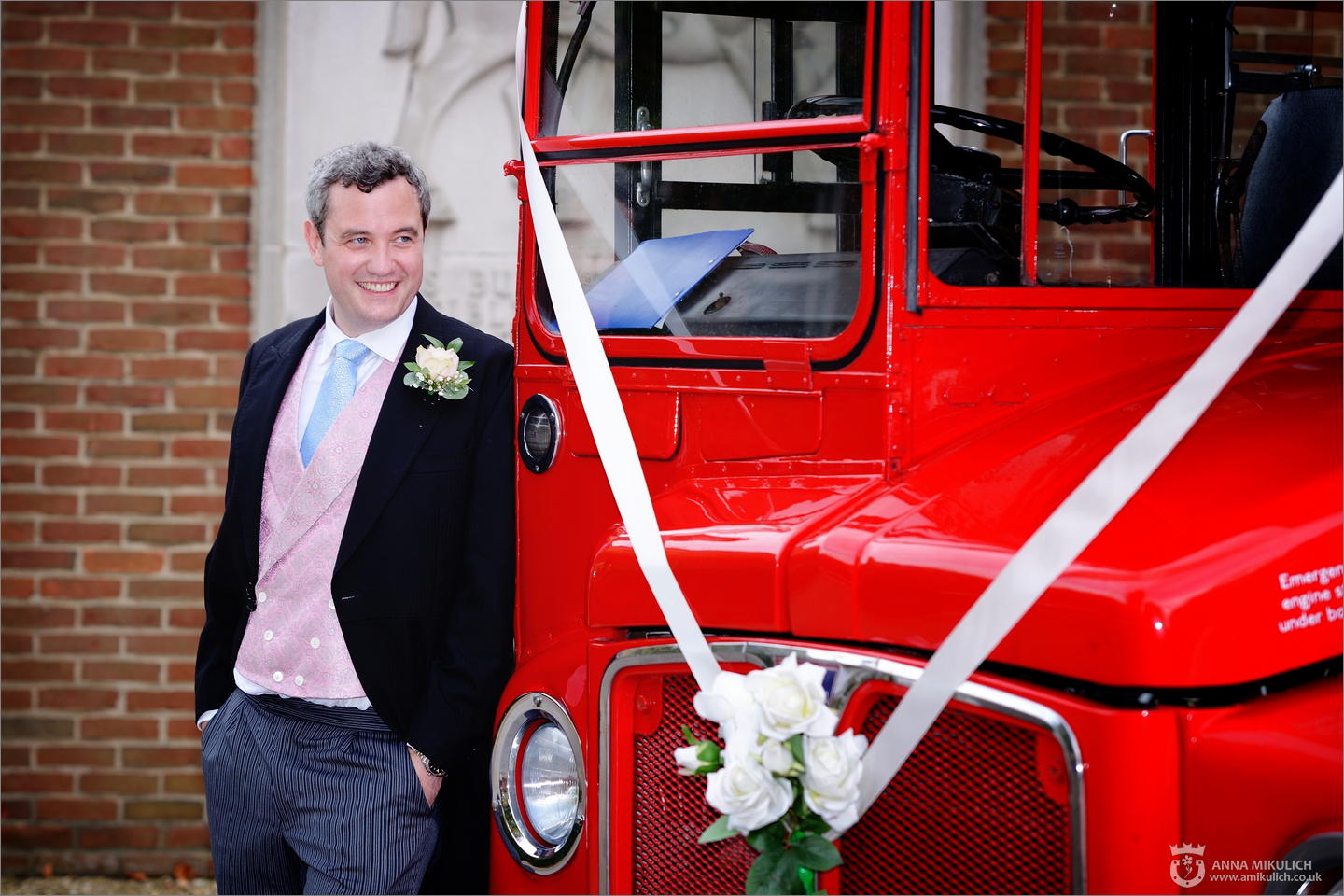 There is something special about the bright red double-decker bus dressed up as wedding bus. It is both very traditional and contemporary at the same time! Excellent choice!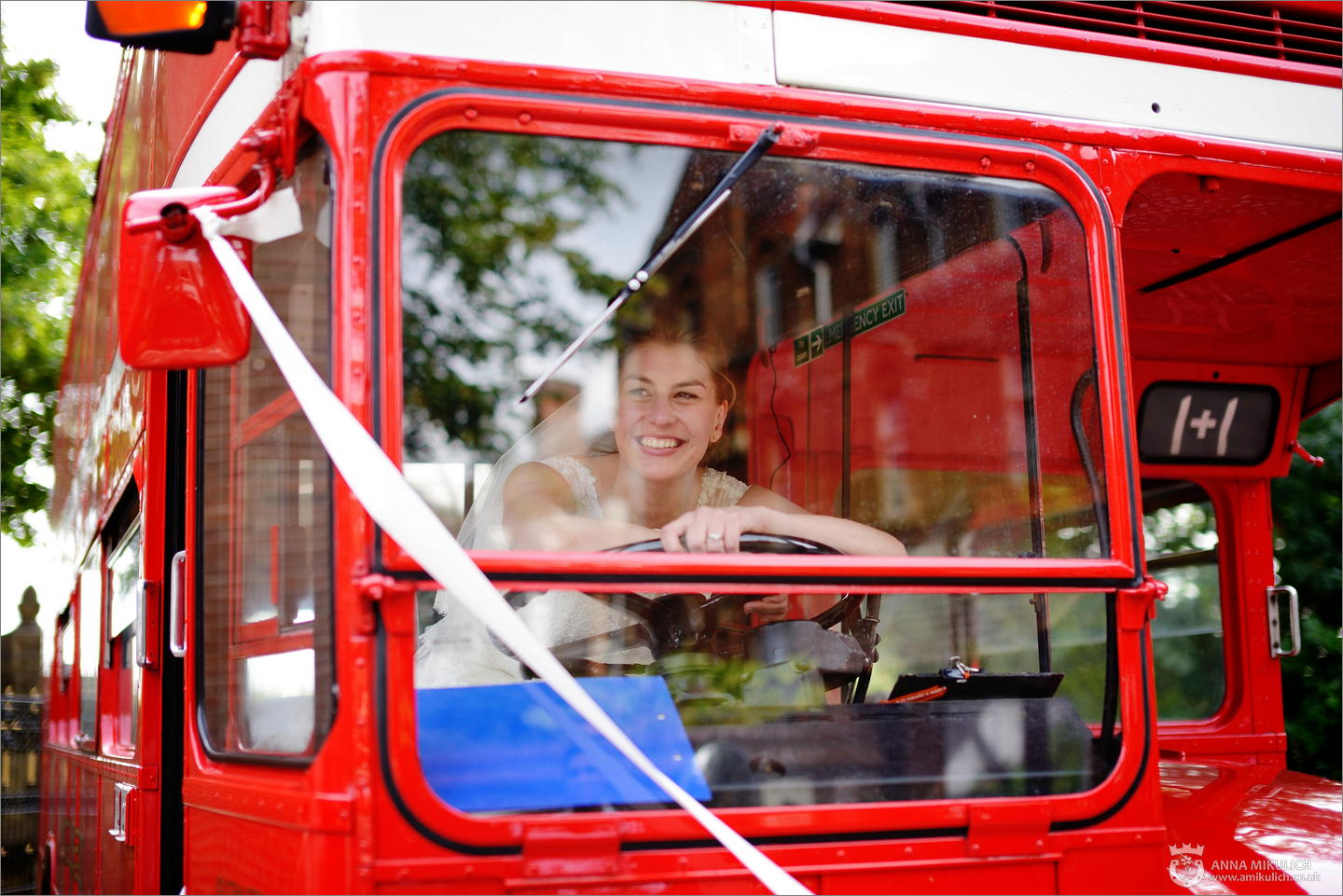 Beep-beep! Here comes the bride! Not sure if the wedding dress any comfortable to drive a bus, but KAT looked like a pro behind the wheel! Honk-honk!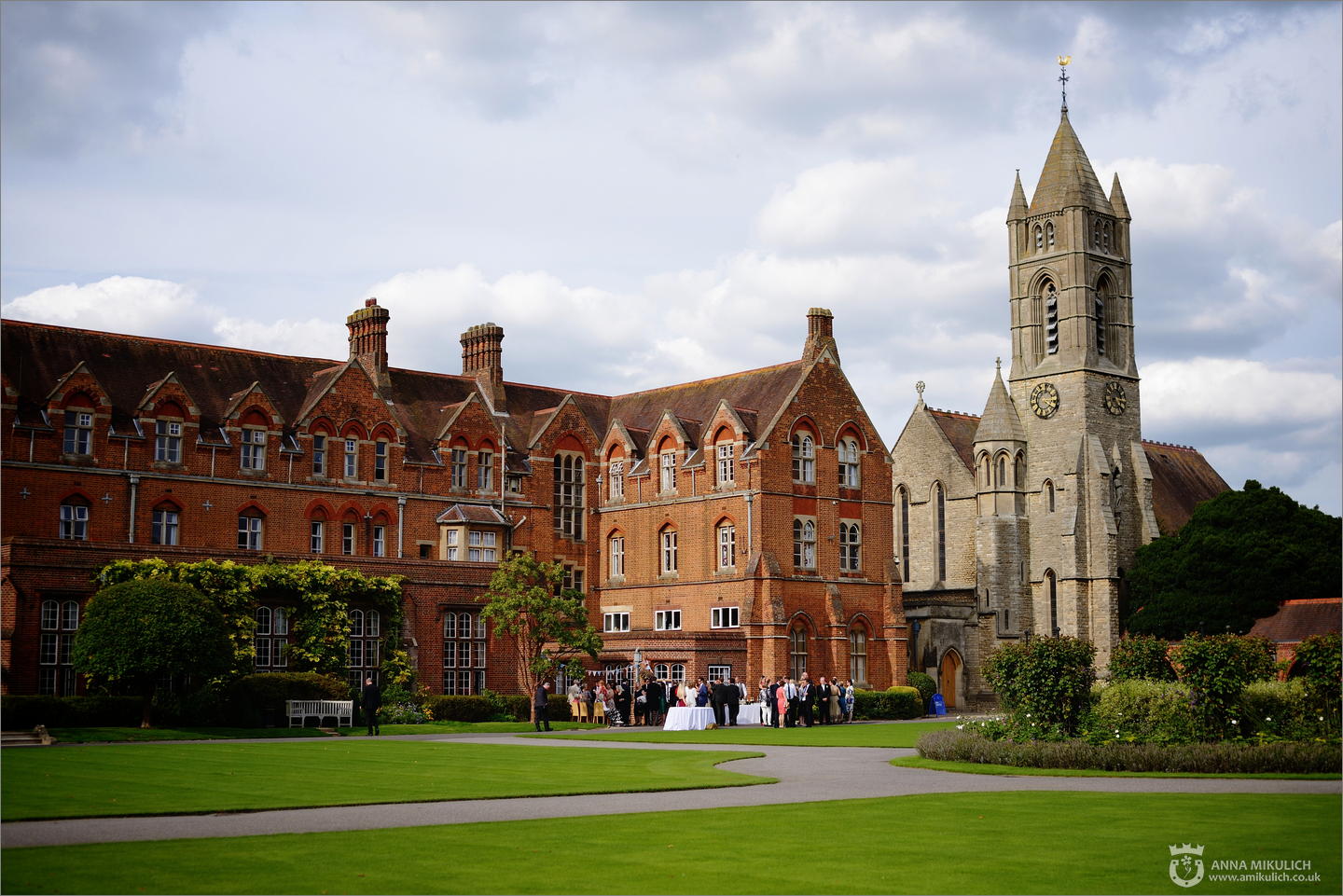 The wedding party moved on to the St. Edward's School in Oxford for the wedding breakfast and evening celebrations. No matter how many times you have visited Oxford before it would continue to amaze you. We are so happy to work as wedding photographers in Oxford every single time!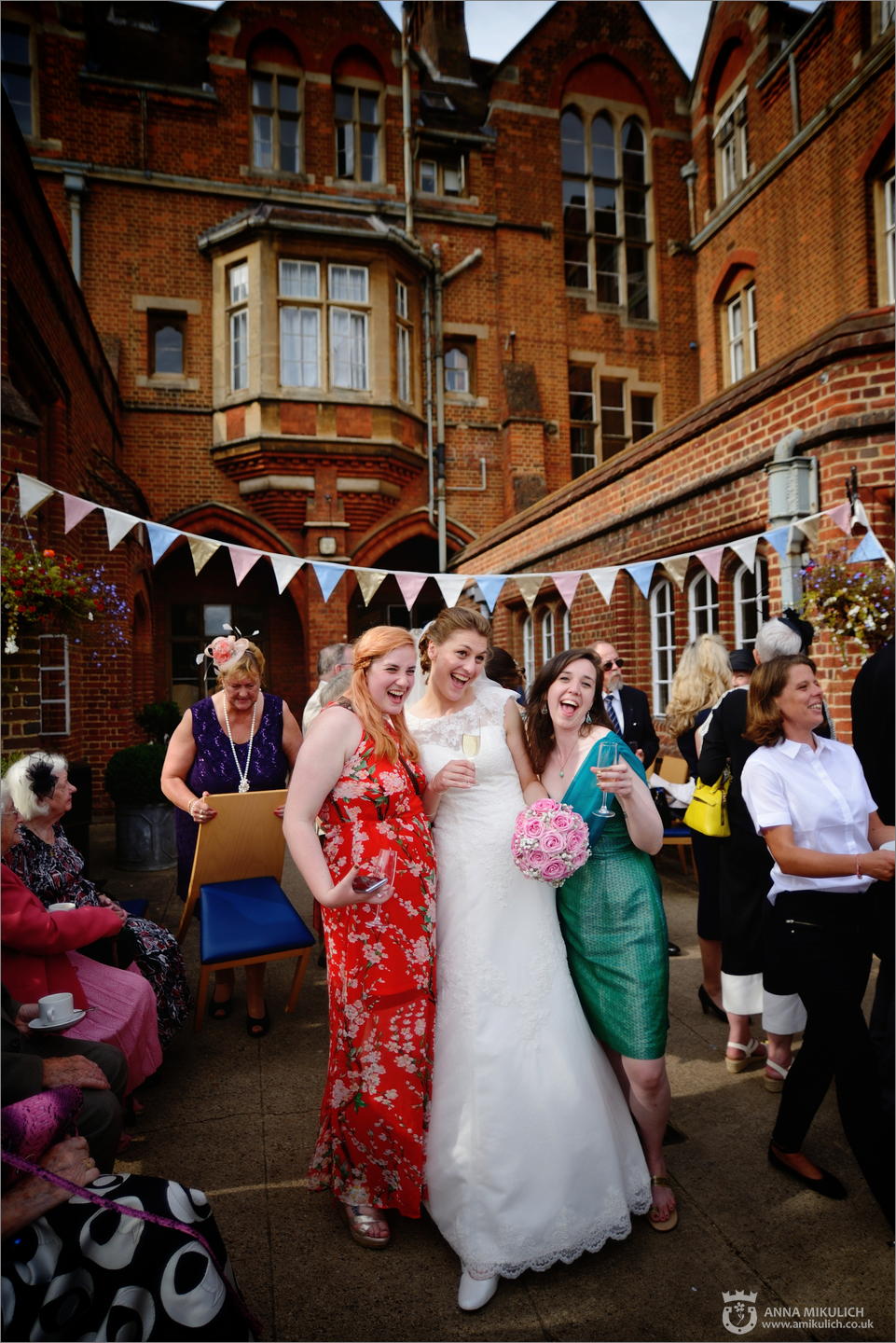 The guests are arriving to have a wedding breakfast. Everyone is so excited! We will hear the speeches, we will see the cake very soon!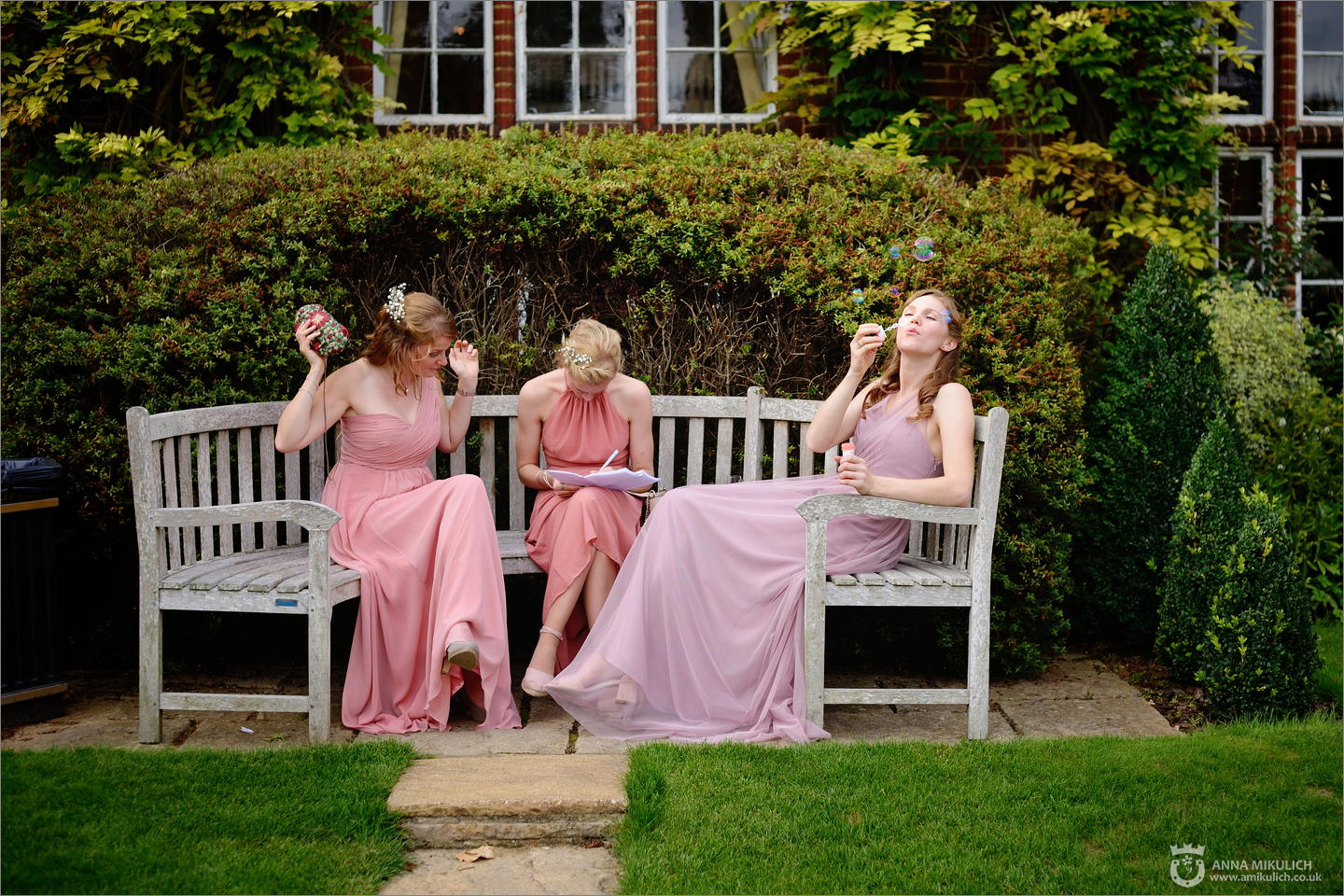 The girls were bursting with fun! It was such a happy occasion and they have really enjoyed the day. We were running among the guests, trying to find the best views!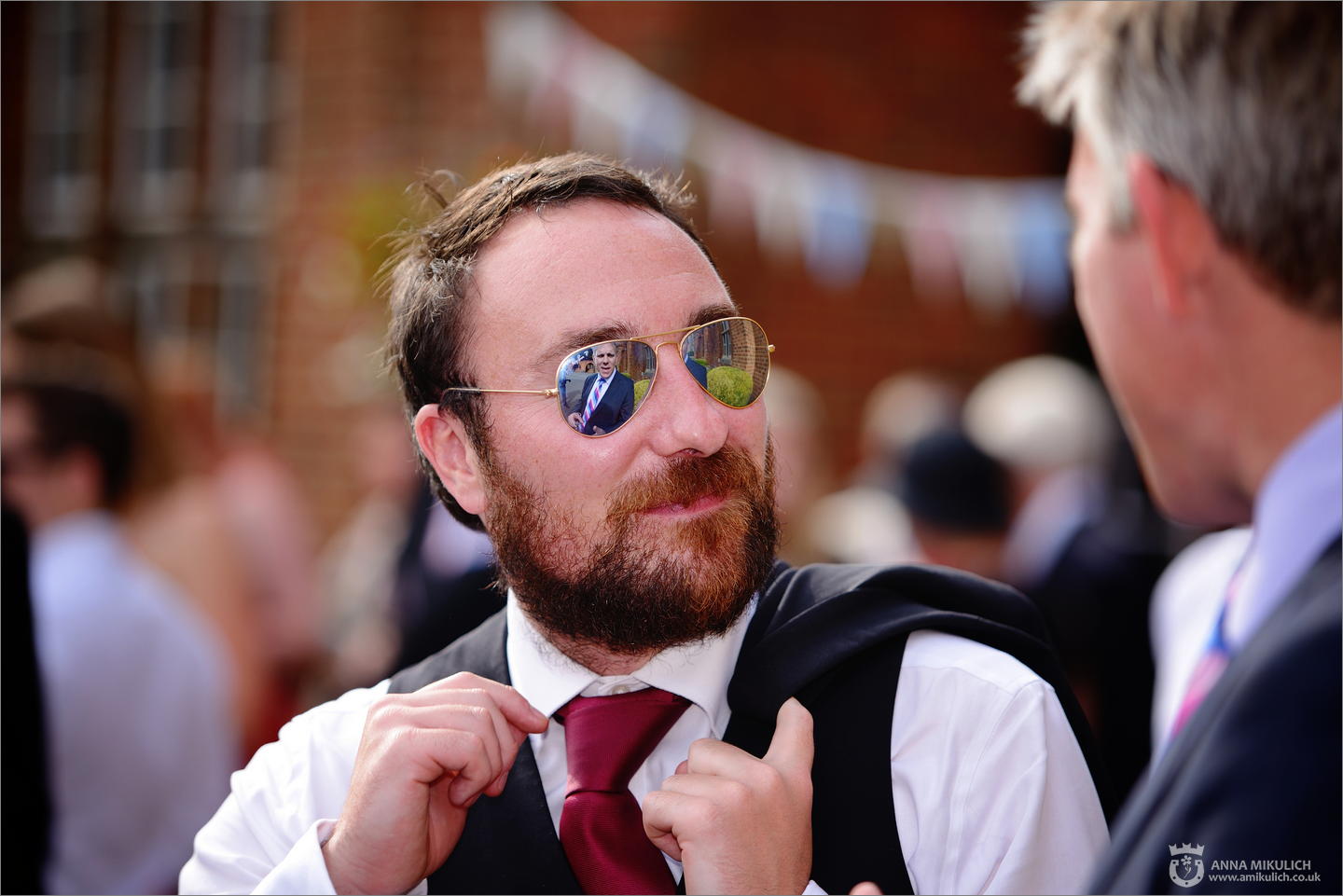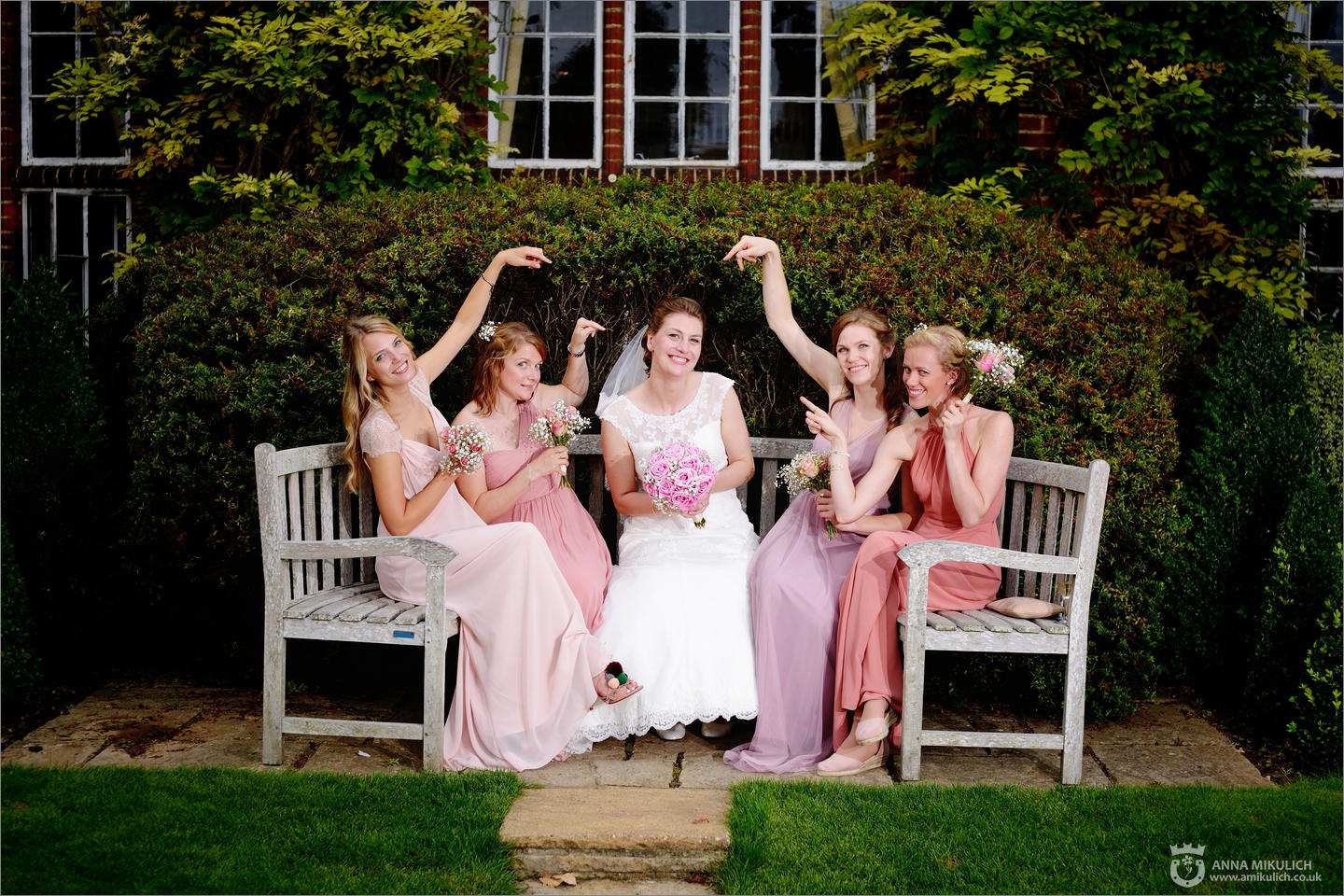 We always try to make group pictures less default-looking. The St. Edwards School venue was full of beautiful corners, spacious areas, and cozy benches.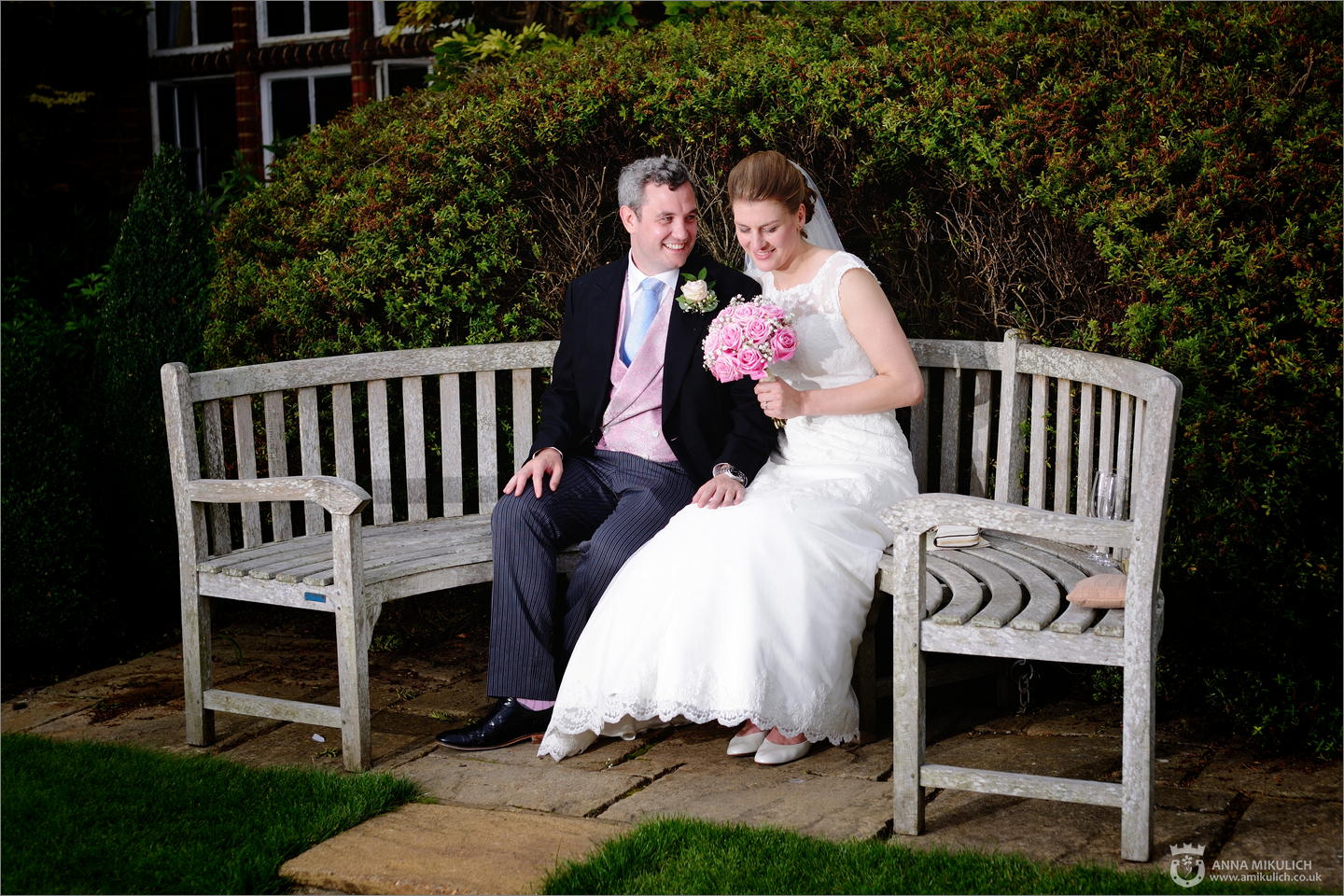 At some point, we took some portrait of Dominic and Katharina. For the first time during the wedding day, we have a chance to re-take the picture the way we like. We can choose the pace and bring the lights to take the pictures the way we like!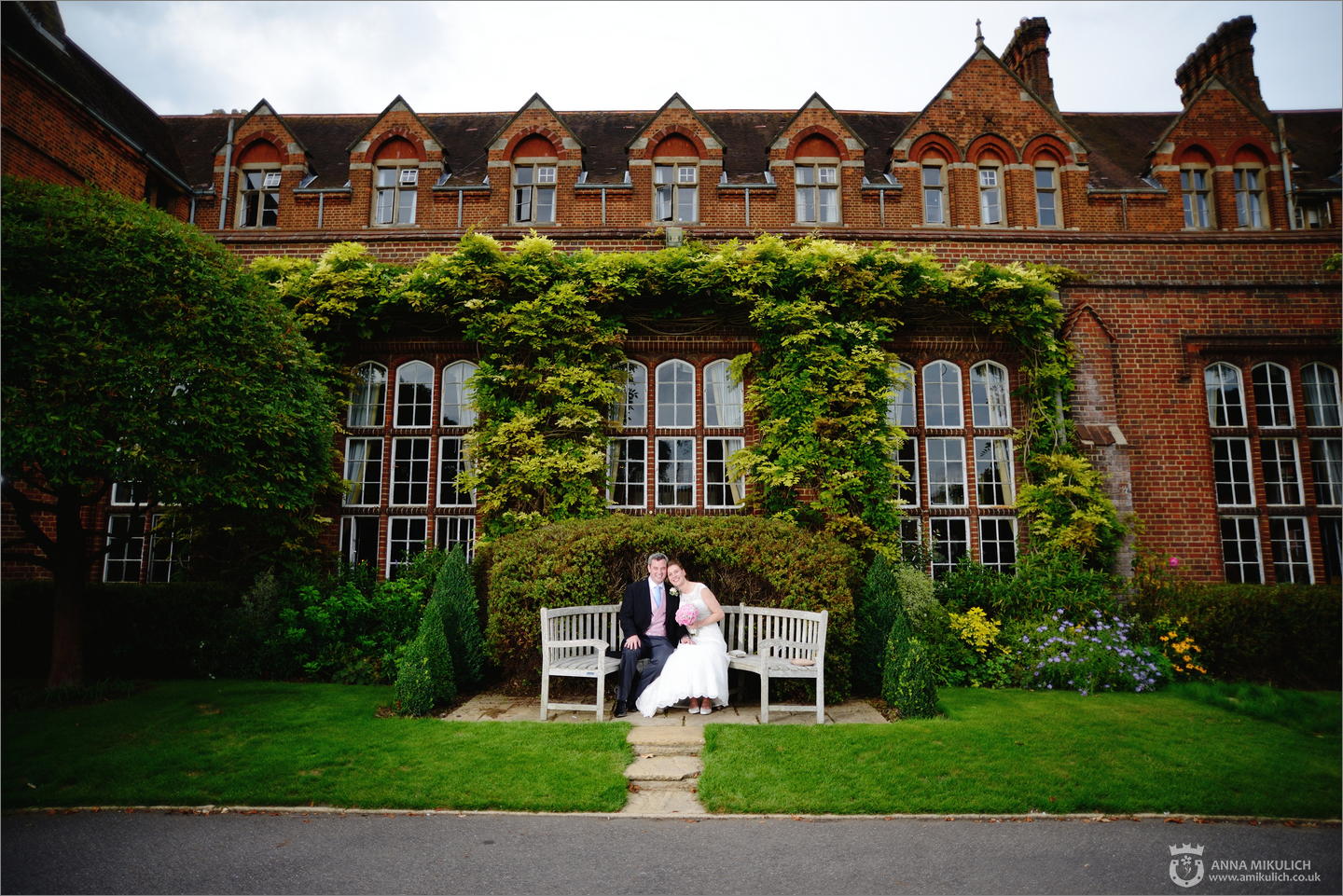 Dominic and Katharina made the right choice. St. Edward's School is just an amazing match for their perfect wedding.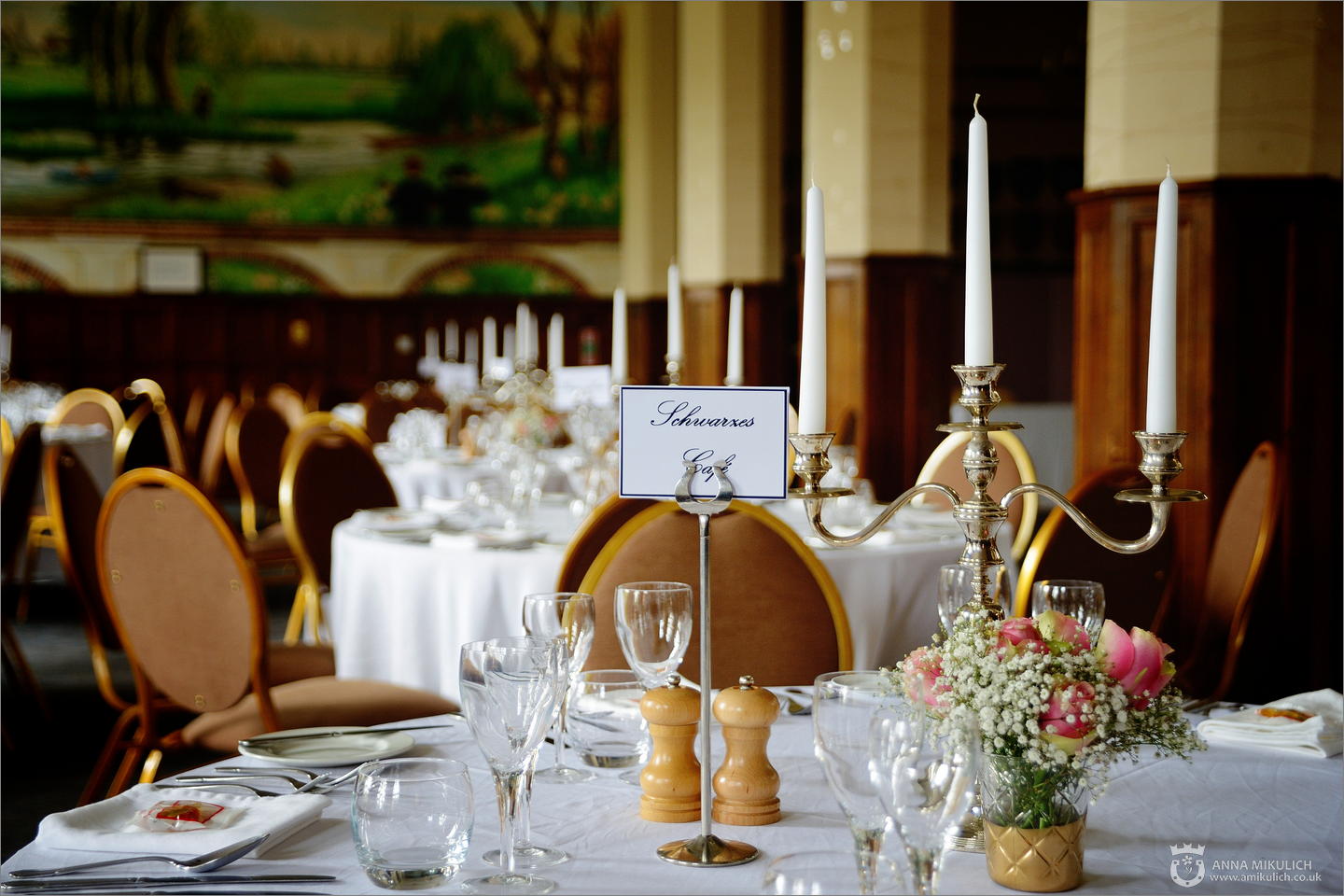 The venue was beautifully decorated with many personal details. We always understand how much time and effort Dominic and Katharina put into decorating the place the way they liked!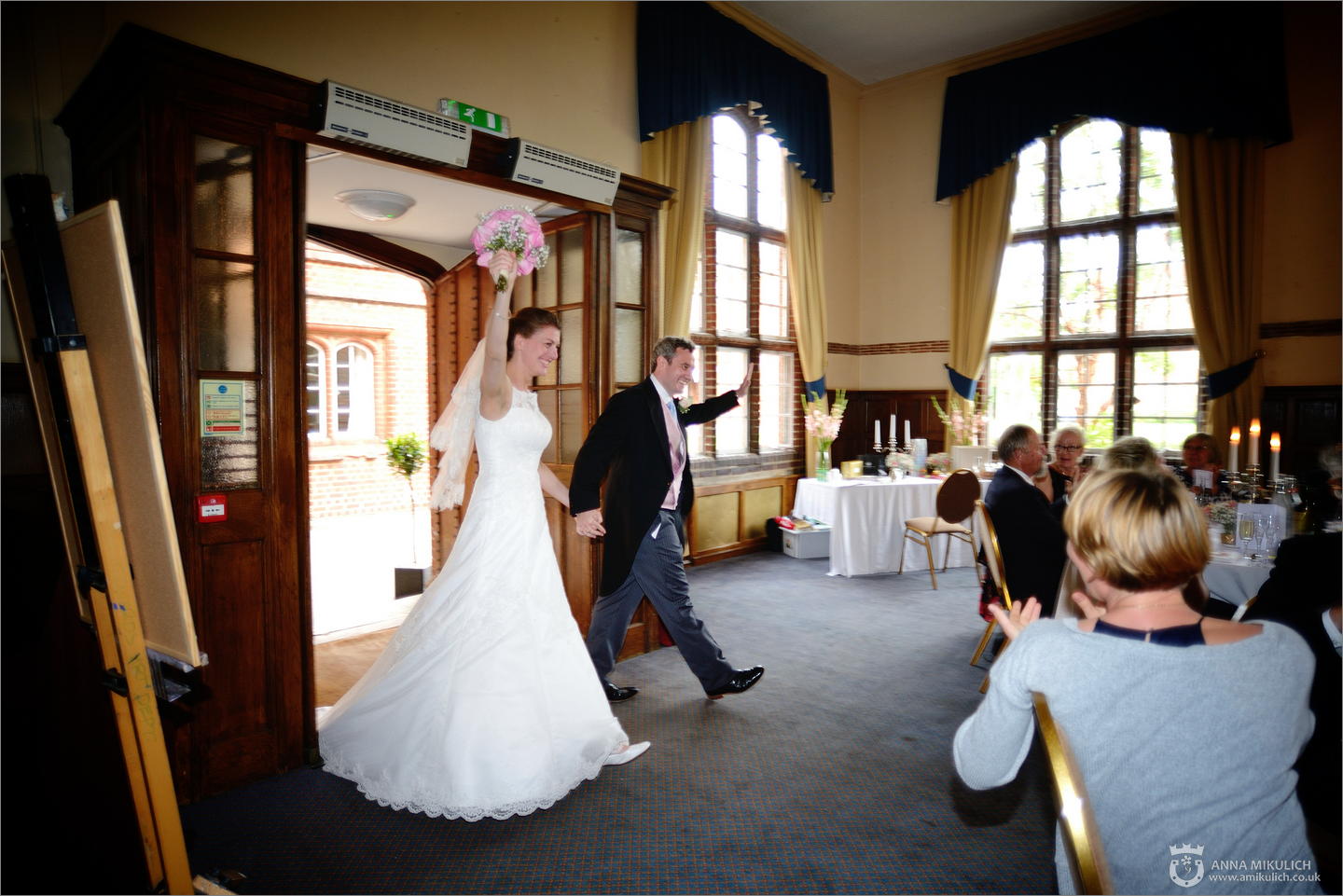 It is time for the bride and groom to take their places. Guests were waiting patiently for the moment Dominic and Katharina were announced and entered the hall!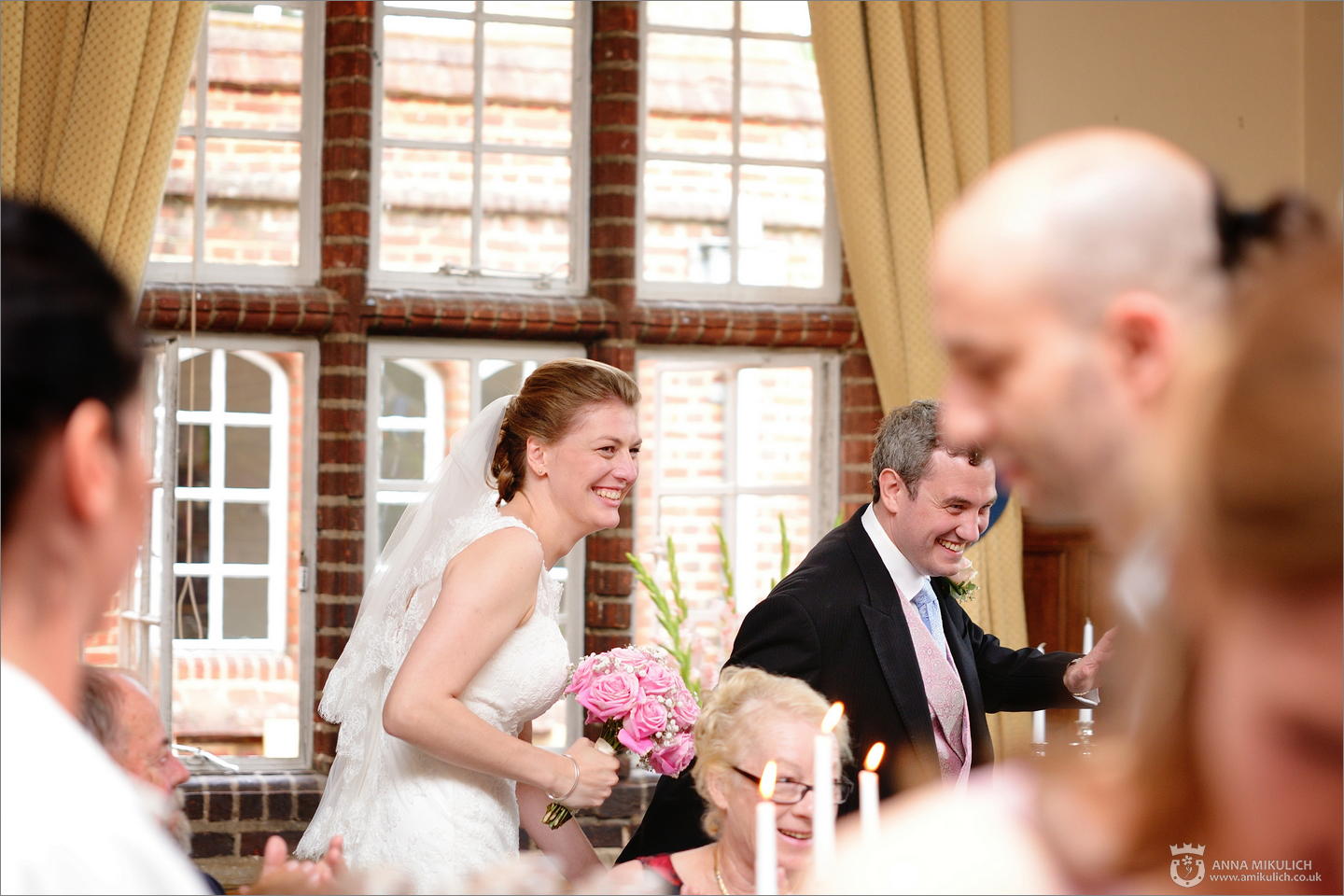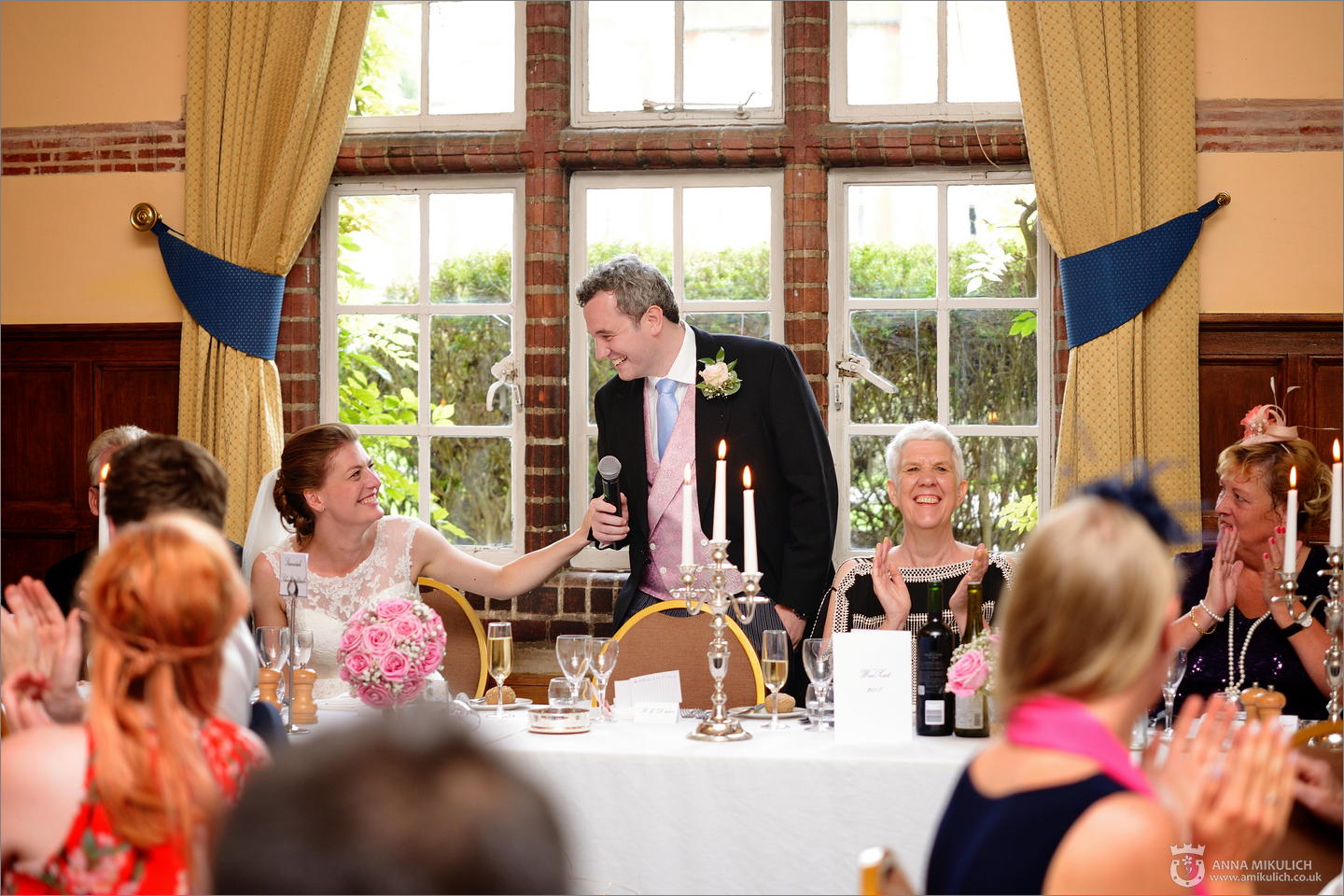 Wedding speeches are always both emotional thing and fun. It is a chance for the guests to hear some intricate stories or have good laughter when a good joke or two will be spoken.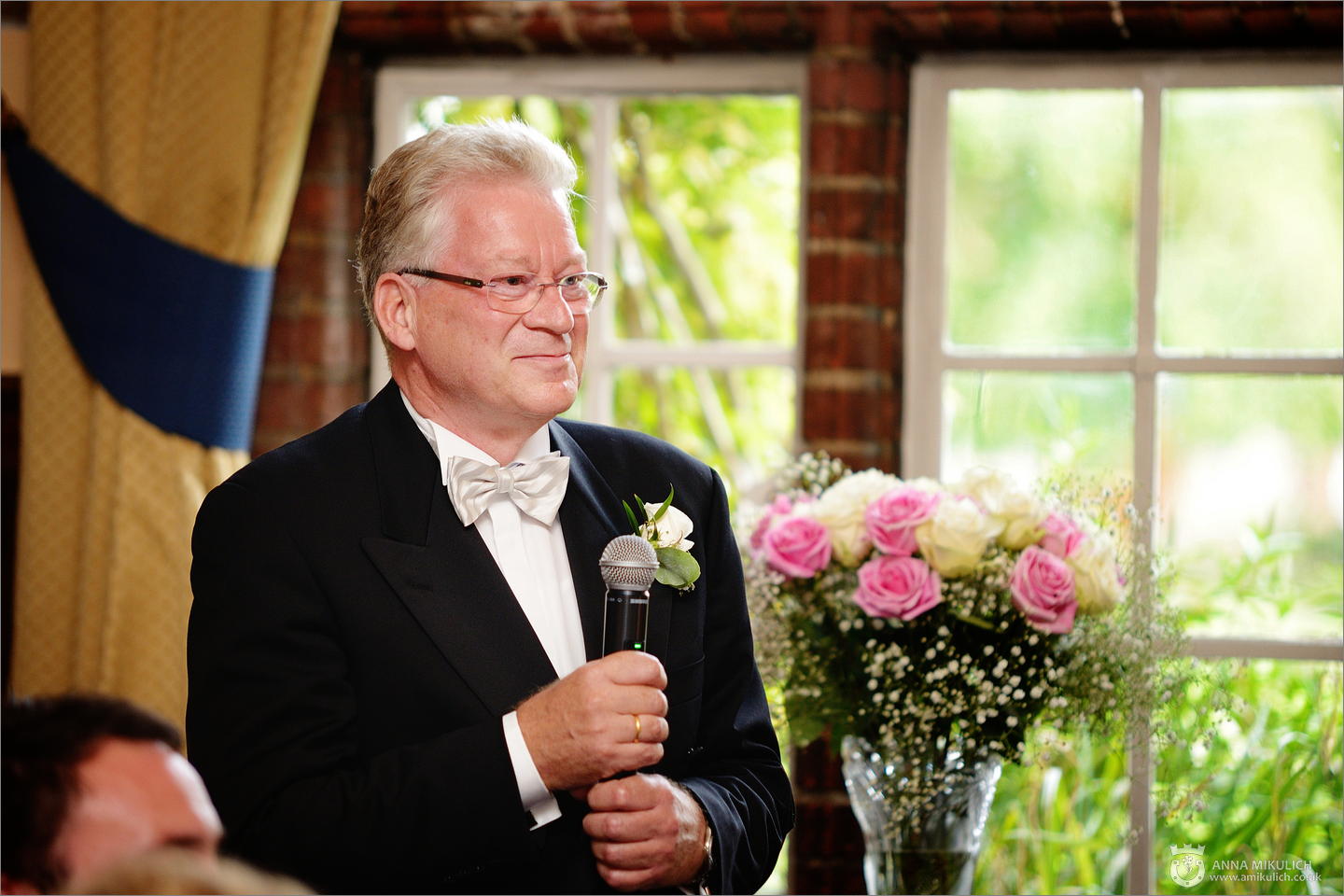 Father's speech. Harald took it seriously and was well-prepared. His speech was full of wisdom and best wishes to Dominic and Katharina. His speech is an indication of overwhelming support for Dominic and Katharina. As for us - it was time for well-thought light setup and wise choice of places to take pictures.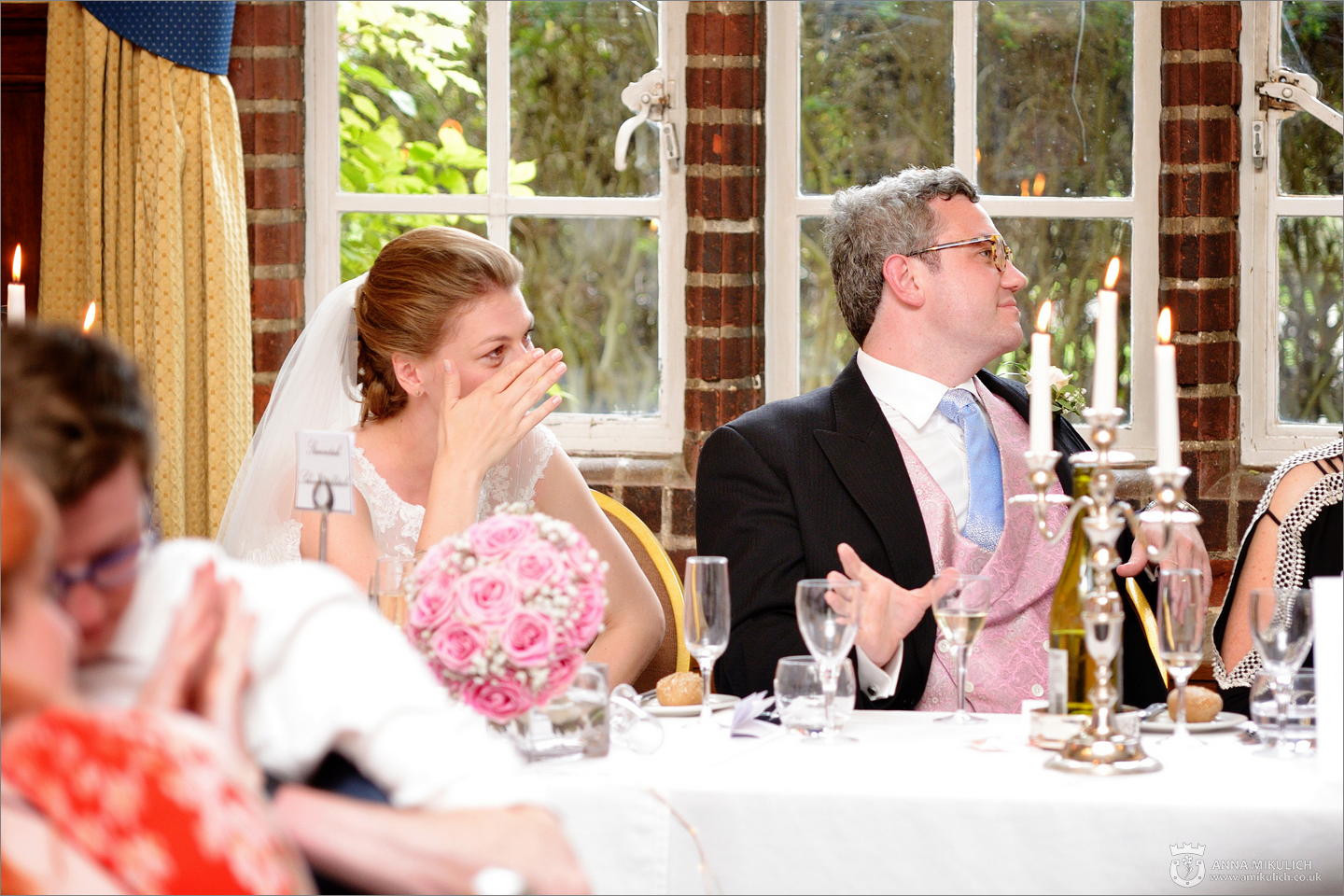 It is easy to get very emotional when people that mean a world to you are talking about simple and important things.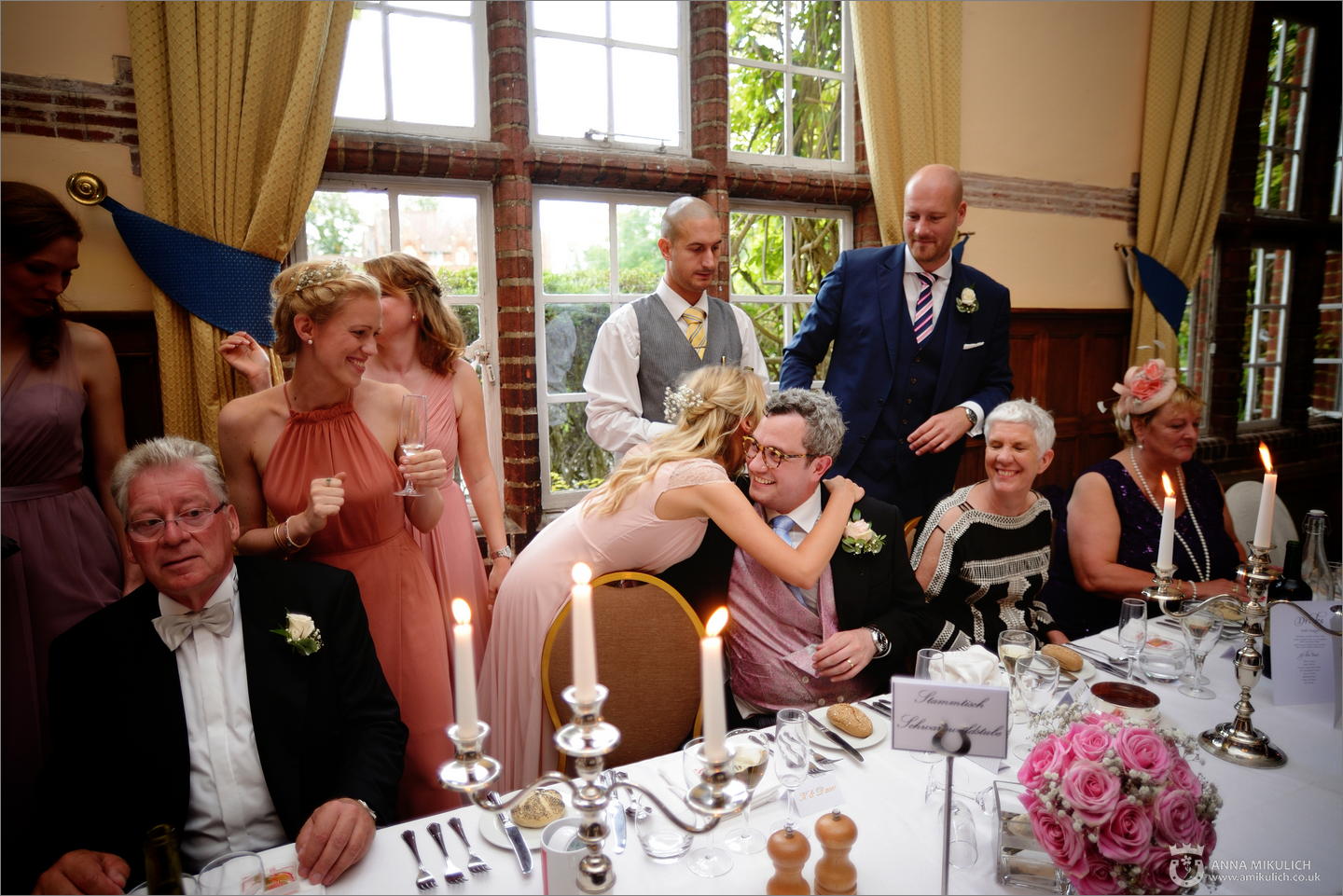 The speeches are over! It is time to level up the party!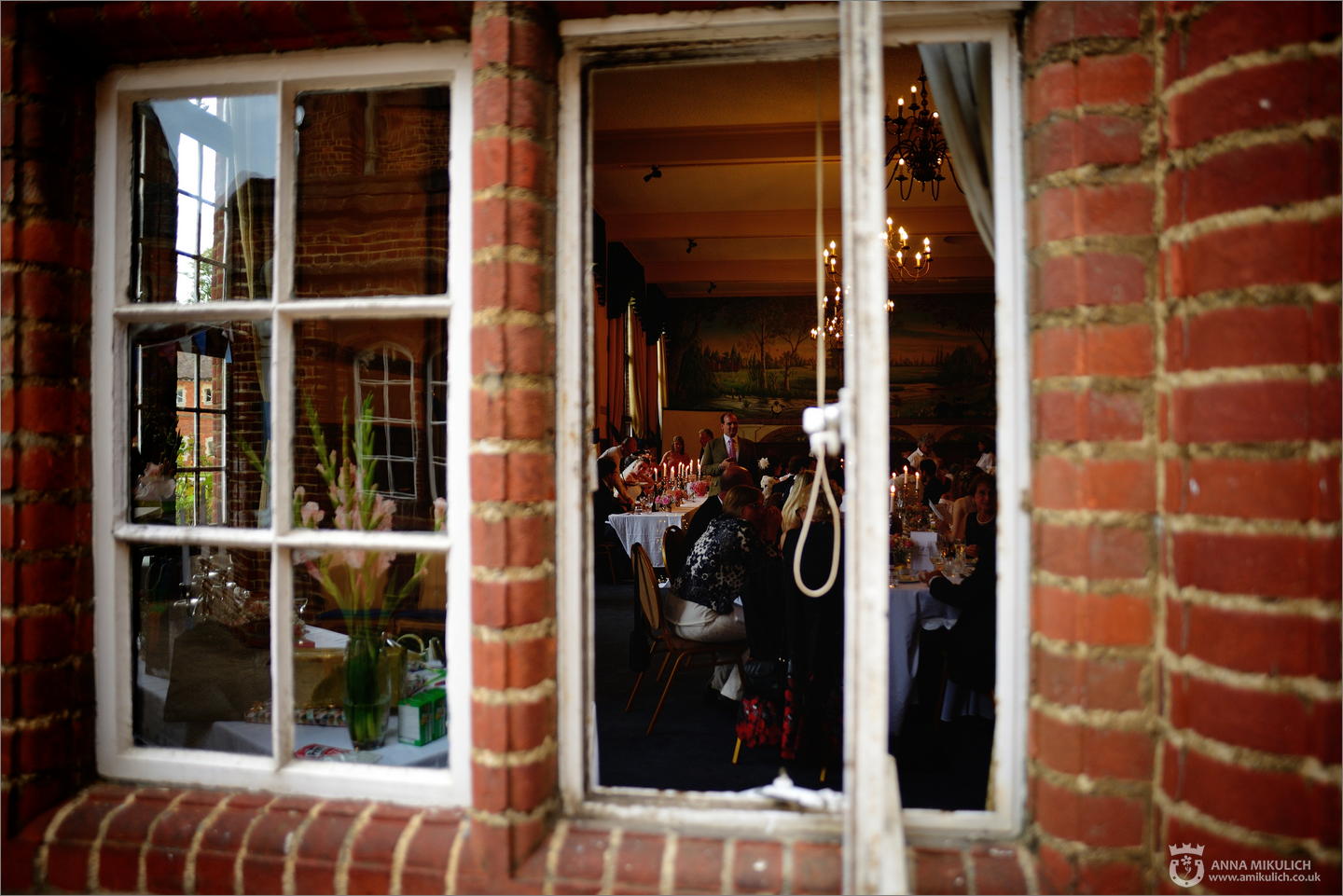 We love taking pictures from unusual and unexpected angles. It shows the day from a different point of view!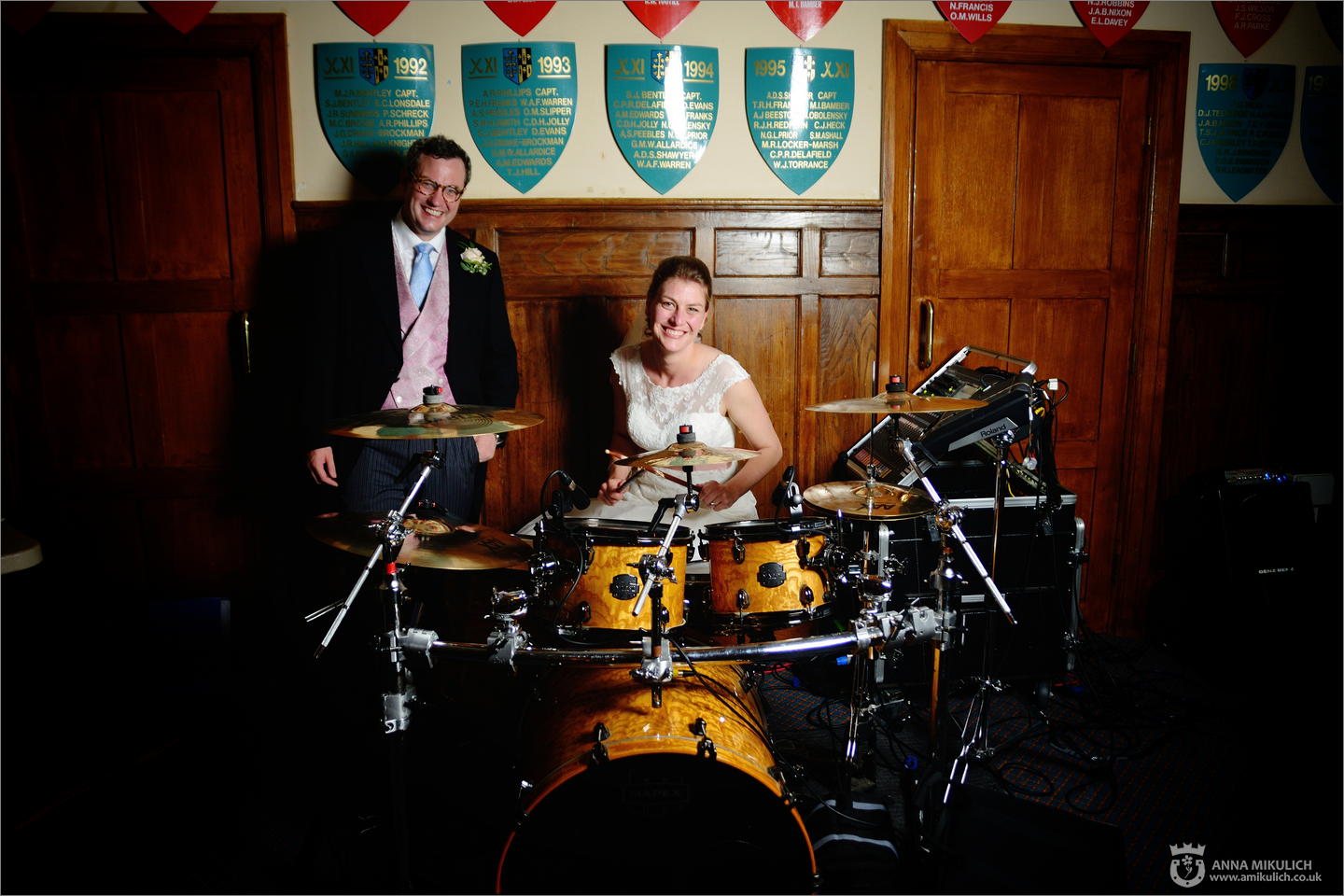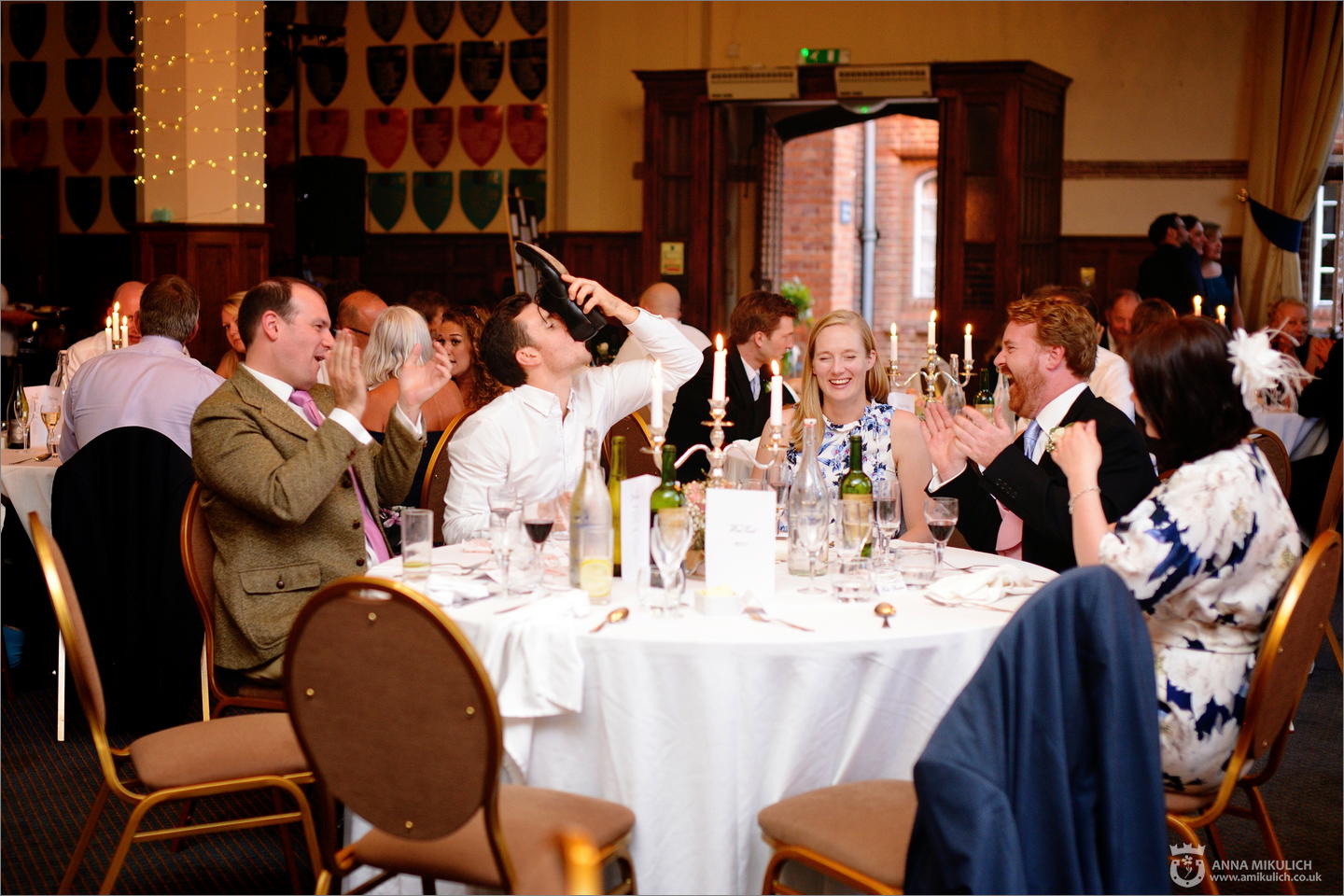 Guests enjoyed the day and were having a lot of fun! Dominic and Katharina's wedding was filled with friendly laughter, great jokes and full of sincere smiles.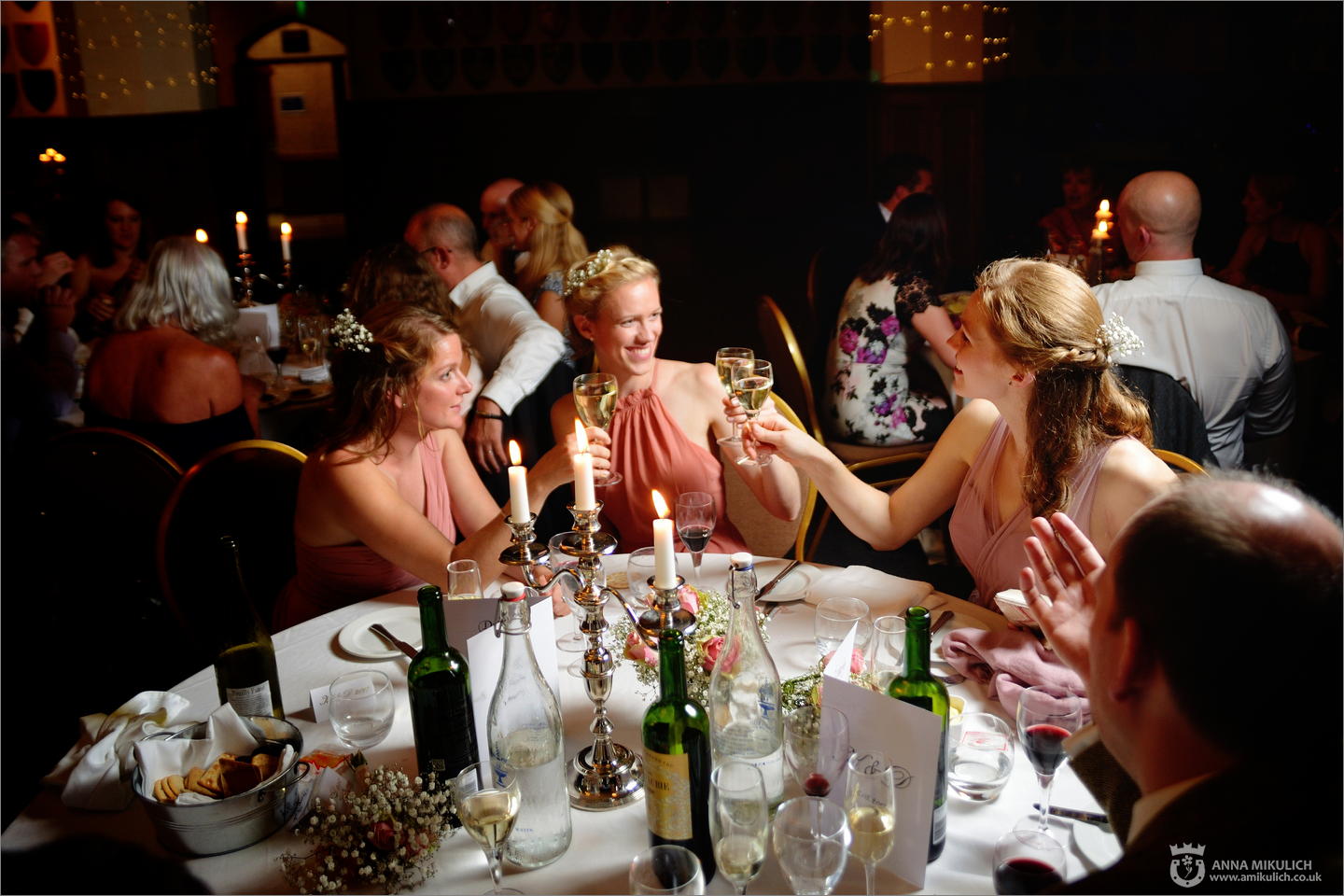 Bridesmaids were remembering the best parts of the day. And what a day it was so far!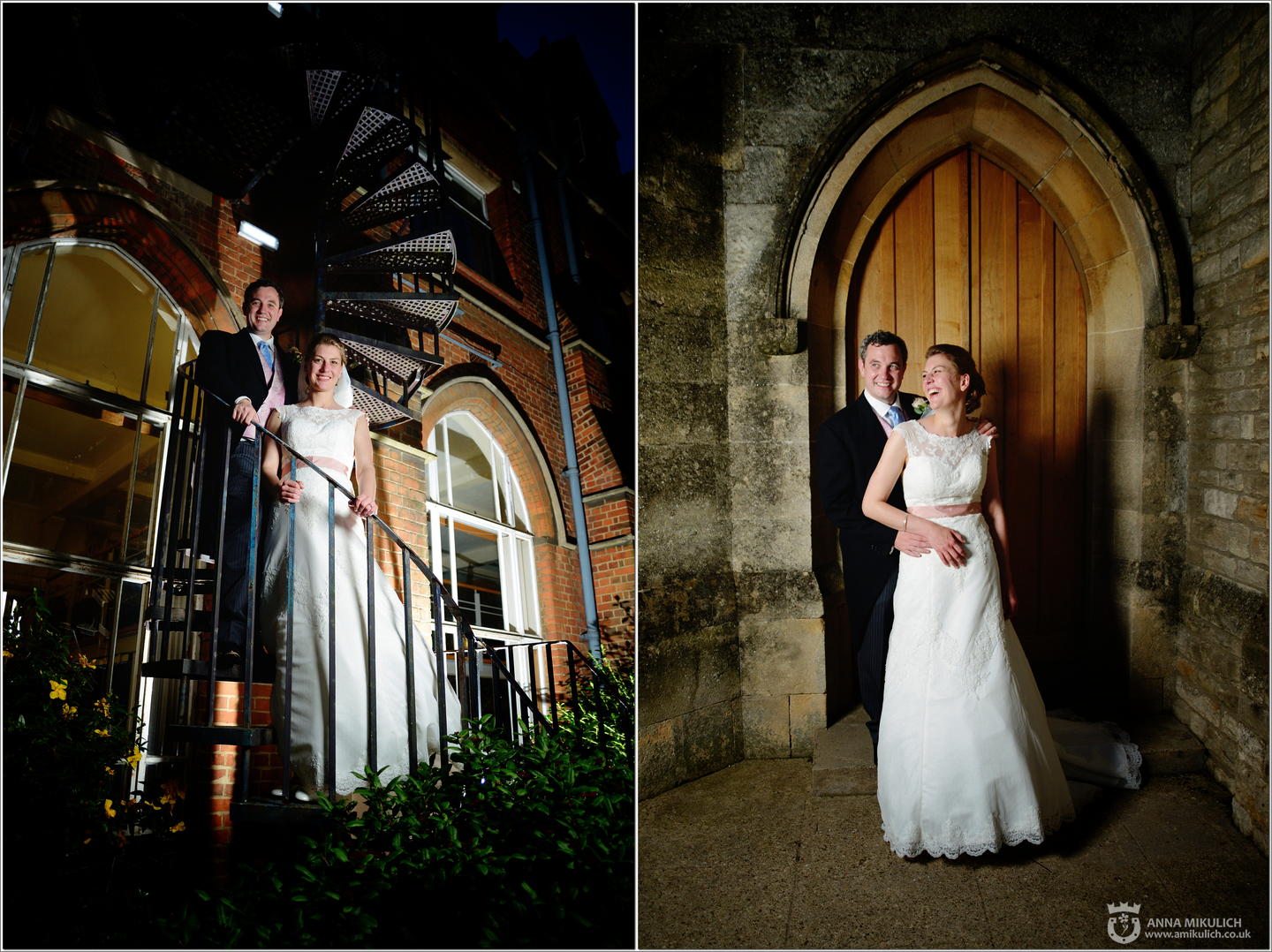 We headed back out for some more portraits before the first dance and the start of what turned out to be an EPIC wedding party!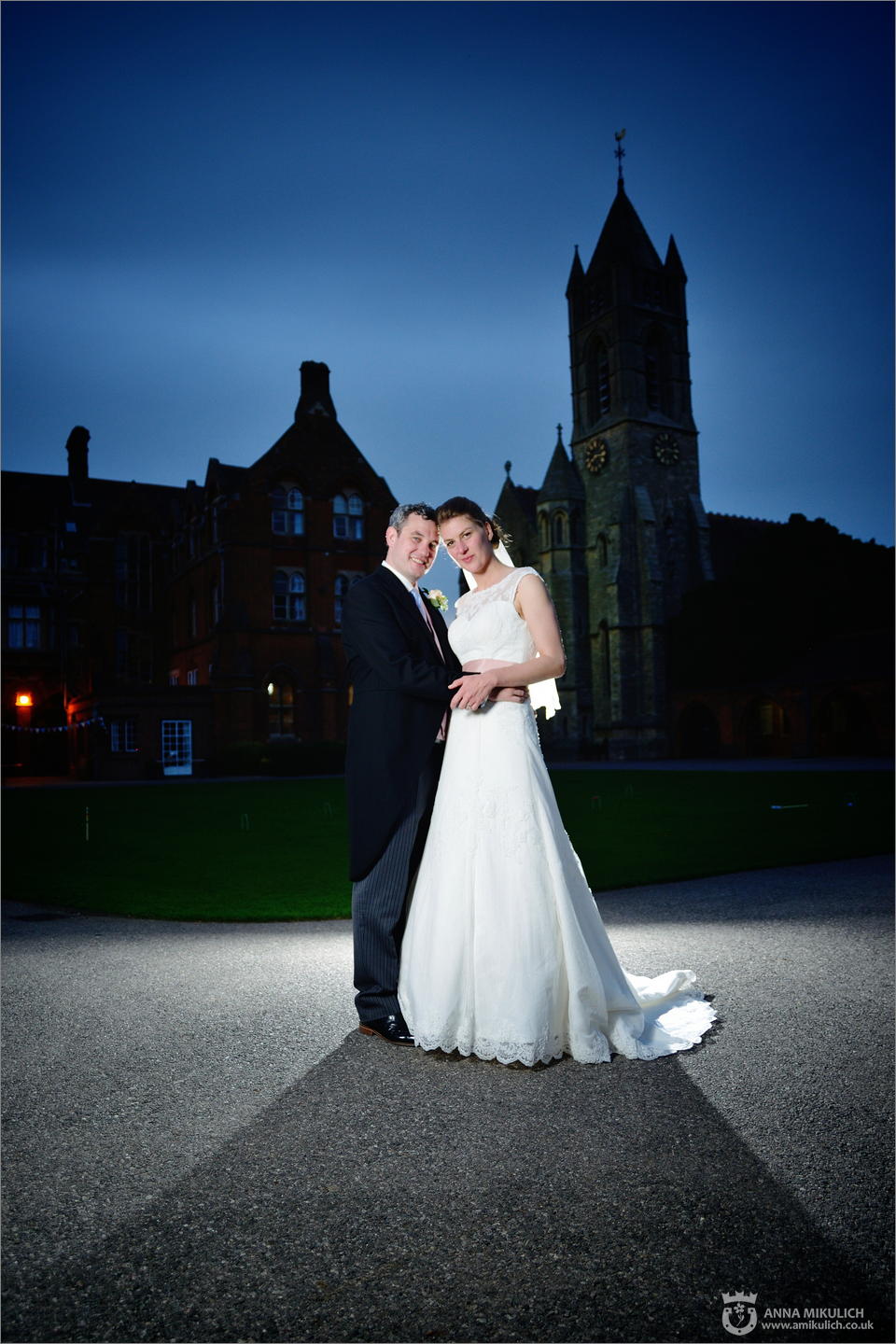 Dusk time pictures are always different. It is always a great difference between the process and the result. For Dominic and Katharina, it looked like some unusual activity in complete darkness - they did not see anything, then - a few blinding flashes later we have this great picture!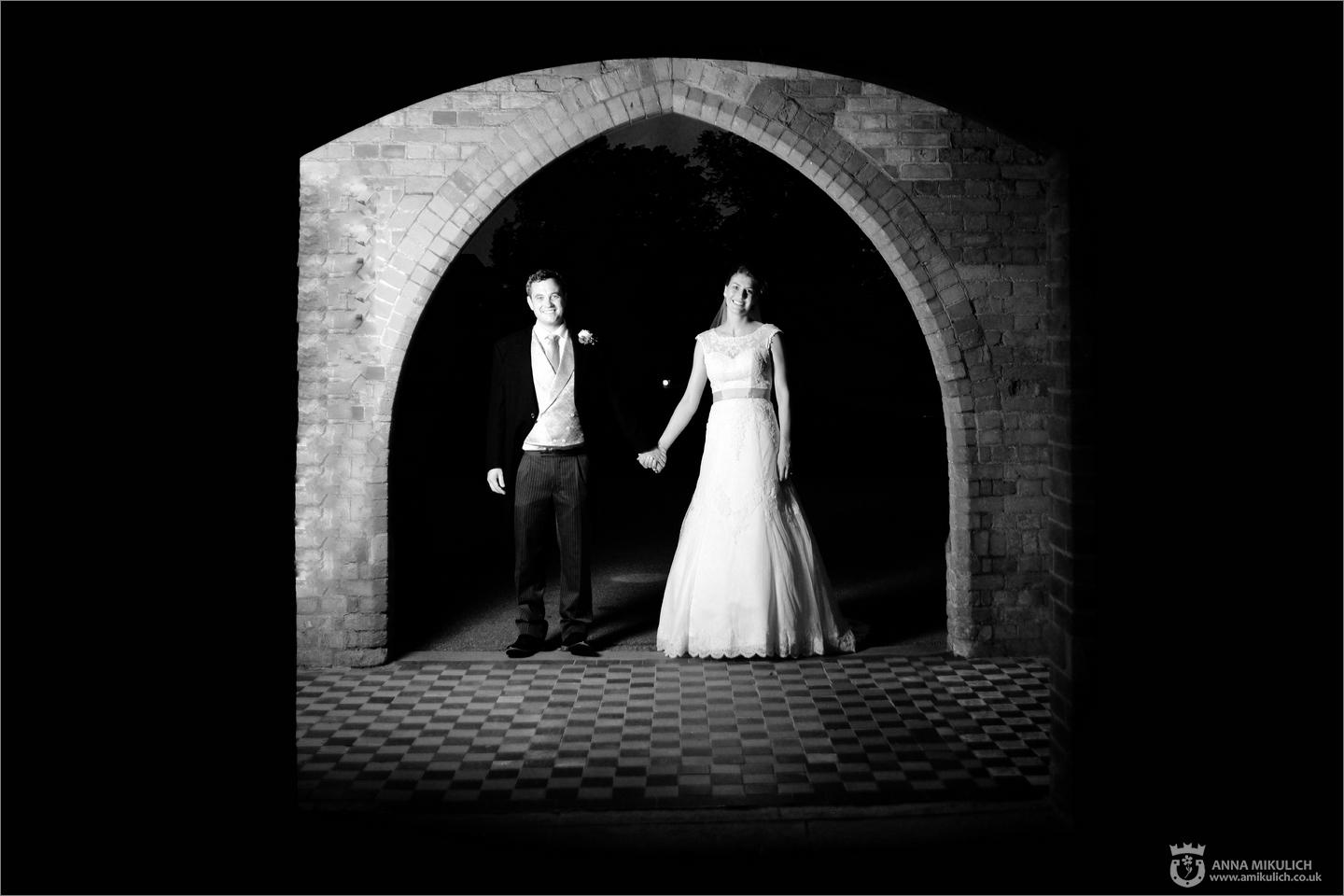 St. Edward's School is full of nice-looking passageways, amazing stonework, and classic arches. We always love taking wedding pictures in Oxford City.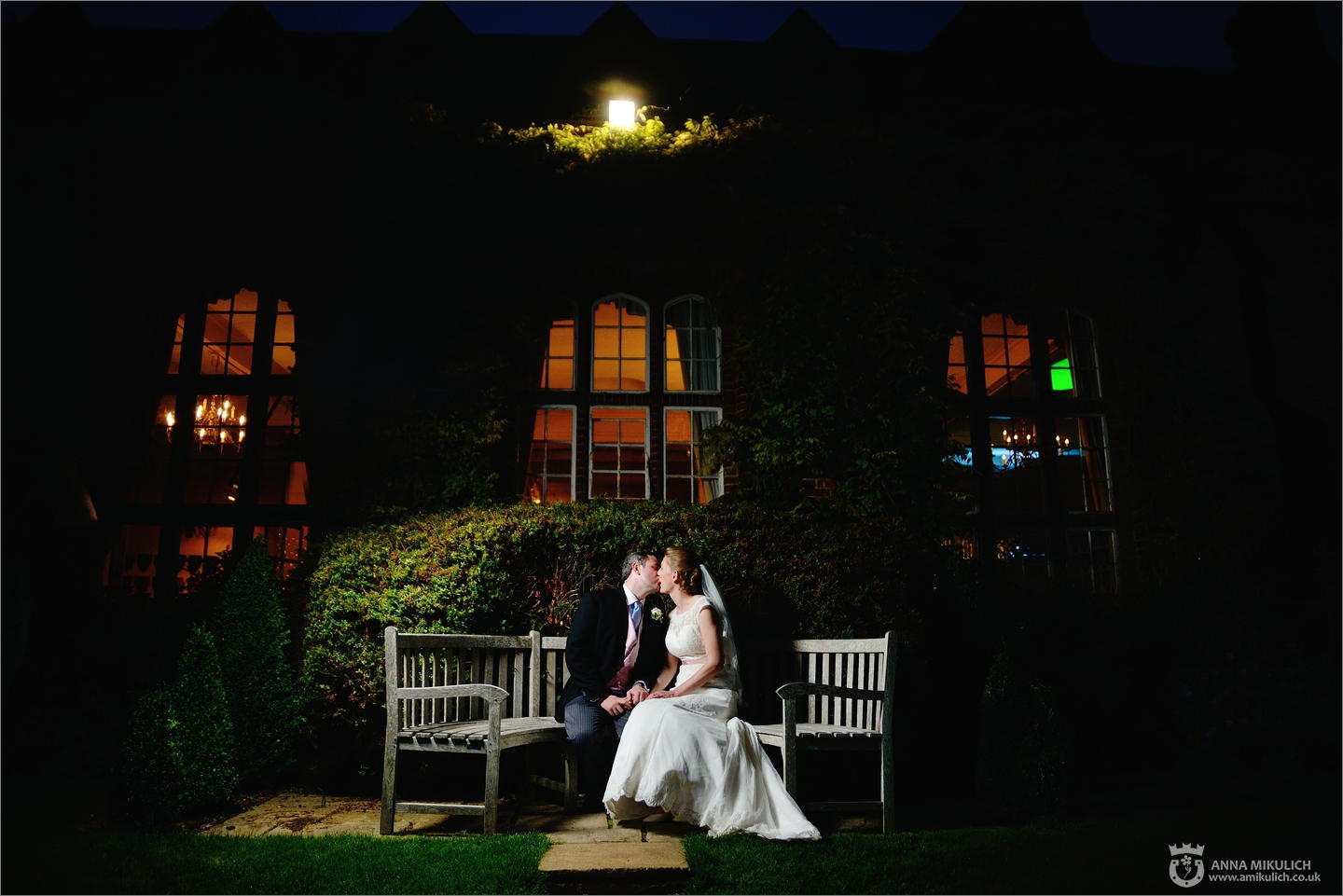 We love to experiment with lights. It takes extra effort and planning to make those pictures but they are so different and so beautiful! Thank you, Dominic and Katharina, for being so patient with us! As we have said earlier - this is a very interesting experience for our happy couple to cooperate with us in complete darkness!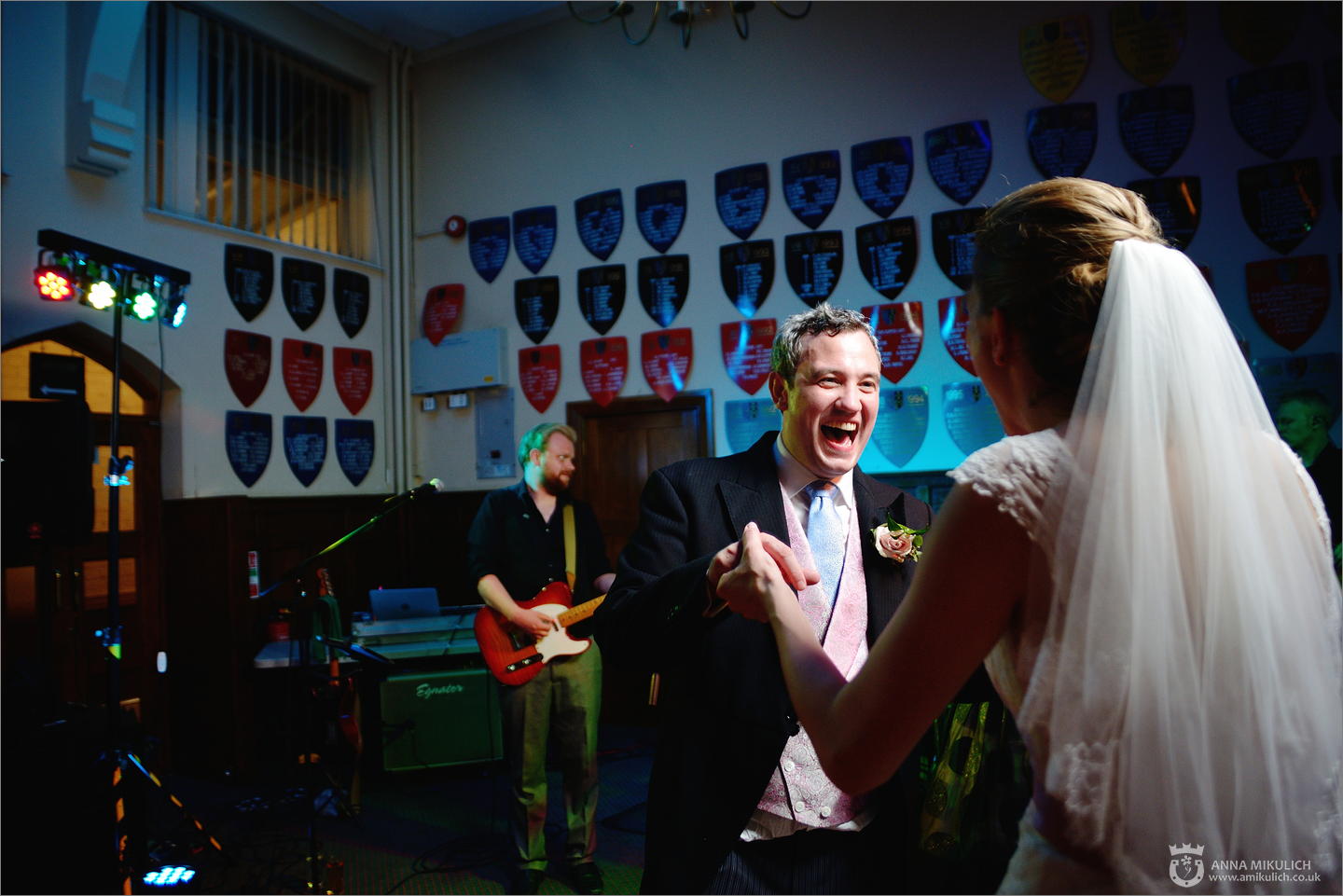 After the wedding breakfast and speeches, it was time for everyone to hit the dance floor. Dominic and Katharina had their first dance while their guests looked and admired how beautiful and happy they were on that day!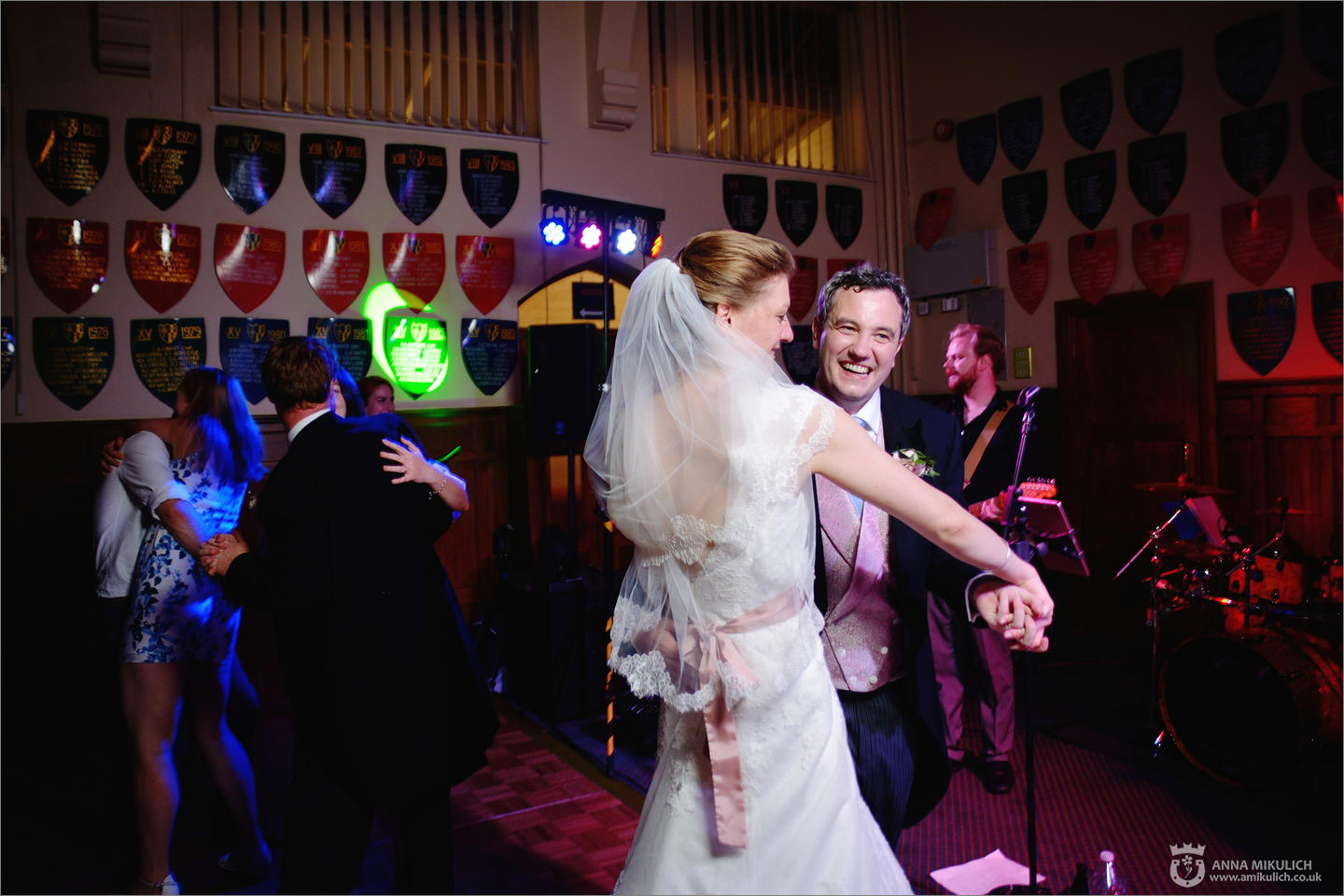 It is time for the guests to show their support and join Dominic and Katharina on a dance floor. It is always to have Live music on a wedding day. It just sounds different, better, more emotional.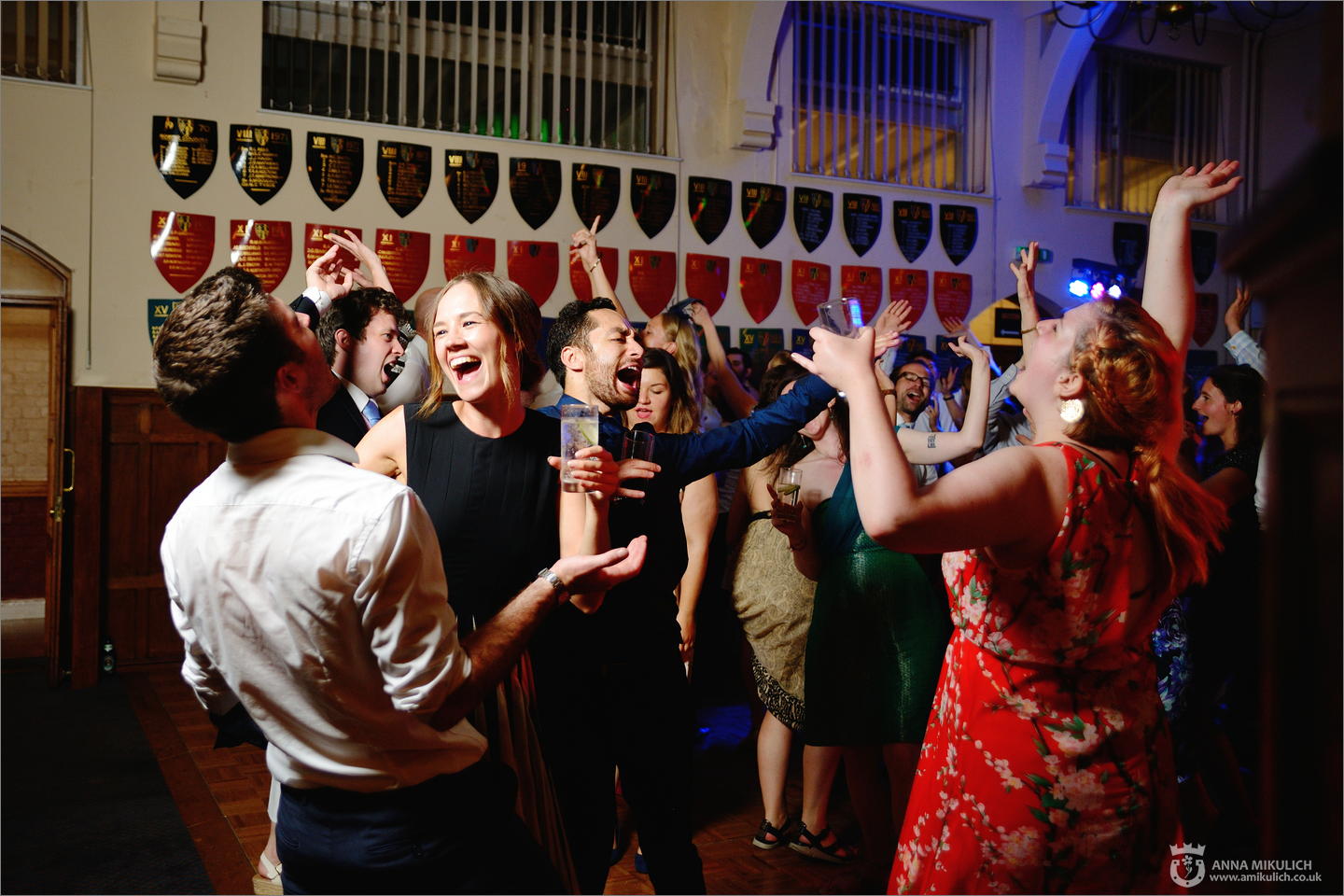 We love weddings where most of the guests are taking part in dancing. Dominic and Katharina's wedding was exceptionally good! It looked like everyone was dancing!
Such a beautiful wedding and a lovely couple, it's been hard choosing our favourite pictures to blog about. Dominic and Katharina, hope you love your sneak peek as much as we do! Wishing you every happiness for your future together.
If you are planning your wedding in Oxford or you're looking for the perfect wedding photographer to capture your big day, please do get in touch - we would love to hear about your plans and how we can capture your story!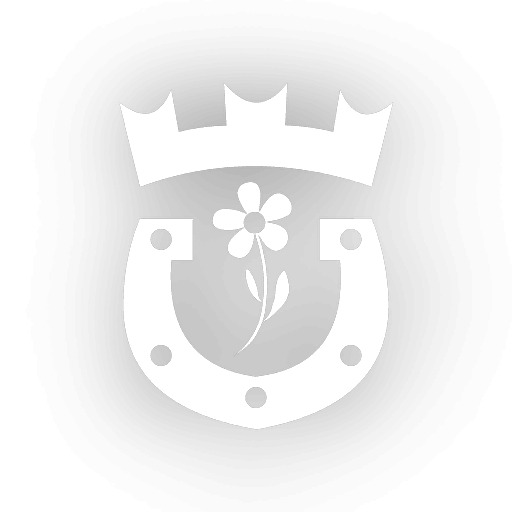 Anna Mikulich
wedding photography
Wedding Photographer Hampshire | Wedding Photographer Surrey | Wedding Photographer Berkshire | Wedding Photographer Oxfordshire | Wedding Photographer Basingstoke | Wedding Photographer Winchester | Wedding Photographer Farnham | Wedding Photographer Reading | Wedding Photographer Oxford | Wedding Photographer Portsmouth | Wedding Photographer Southampton | Wedding Photographer London | Wedding Photographer Guilford | Wedding Photographer Woking | Wedding Photographer New Forest | Wedding Photographer Petersfield | Wedding Photographer Alton | Hampshire Wedding Photographer | Surrey Wedding Photographer | Berkshire Wedding Photographer | Oxfordshire Wedding Photographer | Basingstoke Wedding Photographer | Winchester Wedding Photographer | Farnham Wedding Photographer | Reading Wedding Photographer | Oxford Wedding Photographer | Portsmouth Wedding Photographer | Southampton Wedding Photographer | London Wedding Photographer | Guilford Wedding Photographer | Woking Wedding Photographer | New Forest Wedding Photographer | Petersfield Wedding Photographer | Alton Wedding Photographer
Copyrights © 2021 Anna Mikulich. It is not allowed to use any materials and media from this website witout granted permissions. This website uses Google Analytics service for purposes of performance and accessibility analysis only. This service is using webbrowser cookies technology to track website visits. By using the website, you agree that it is allowed to place these types of cookies on your device. If you see this website snown with errors - please let us know! We are wedding photographers, not website developers - but we will try to sort it out! Website administration: admin@amikulich.co.uk